Anne de Thoisy-Dallem and her passion
for collecting old vanities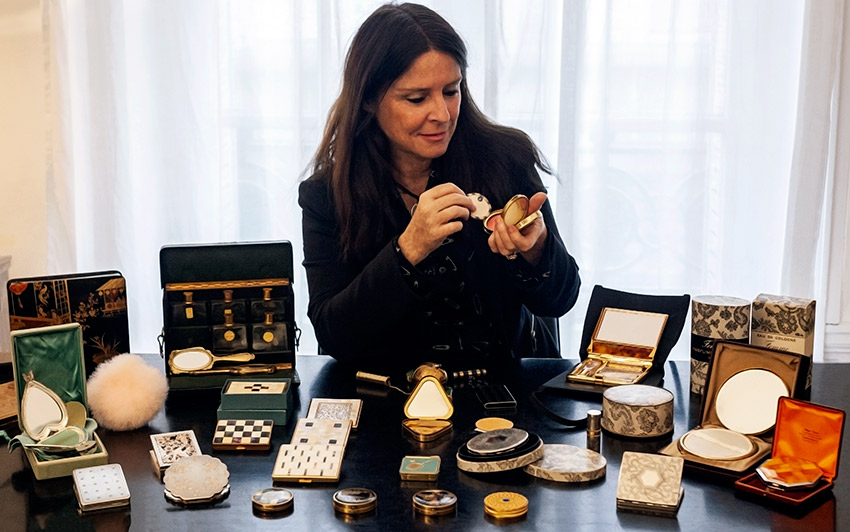 An extraordinary collection of 2500 pieces
catalogued with a museological criterion
    Anne's collection cannot be classified just as the result of a passion for bringing together beautiful pieces.
    Anne has an impressive background and experience as a curator of collections in museums. She holds a National Diploma in Museum Curatorial Aptitude from the National Heritage Institute of France, a Diploma in Higher Studies from the Ecole du Louvre, and a Master's Degree in Art History and Archaeology from the Sorbonne.
    With this in-depth knowledge of art and museography, she has built up an exceptional collection of rigorously selected and classified pieces. Also, the Anne de Thoisy-Dallem Collection is unique for its originality and state of conservation.
    In Anne's comments on each piece, she reveals aspects that help us discover very interesting historical aspects of the time in which they were created. 
HIGHLIGHTS of VANITIES and POWDER BOX
1900's
Parfum Oréade advertising fan, L.T. Piver. Paris around 1900. Design: Octave Denis Victor Guillonnet (1872-1967) 29 x 23 cm. Color lithograph (Maquet Printing house, 10, rue de la Paix, Paris) and wood. Anne de Thoisy-Dallem Collection, Paris.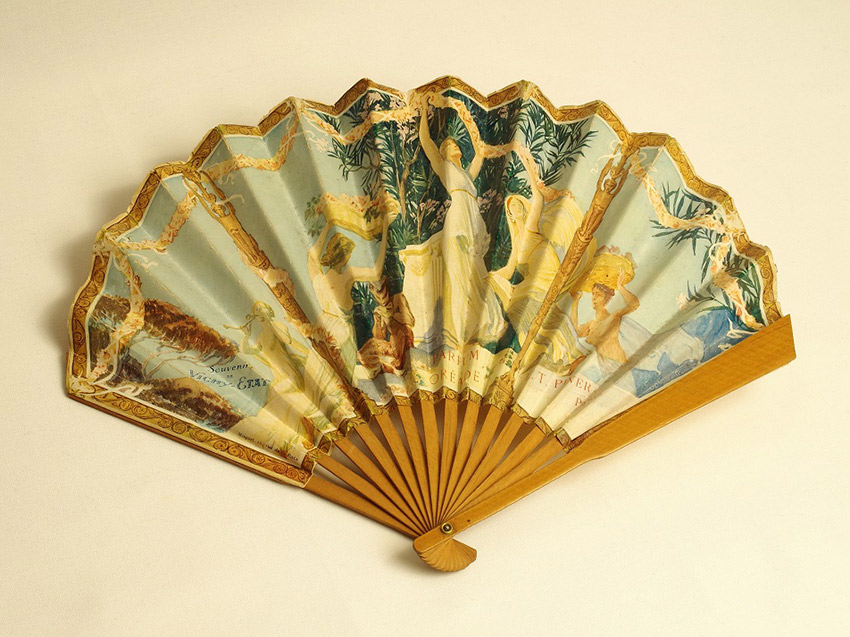 This fan is signed « O.V.D Guillonnet » in white, on the bottom right when open. Guillonnet (1872-1967) was a French painter, medal artist, decorator and illustrator. As a student in the Ecole des Beaux-arts in Paris, he became a popular painter for representing sport and for portraits. He was a very talented decorator for the National Palaces, the Town Halls and the World Exhibition in Paris. He was interested in Decorative Arts, he designed stained glass, menus for the Presidency of the Republic, mosaics, ceramics, tapestries and fans.
    As he didn't like his christian names, he used to sign as « O.V.D Guillonnet ». On this fan, a group of five young, fair women and a faun bring mythology's muses to mind. Wearing white draperies, sometimes half nude, holding wreaths or baskets of flowers, bathing and playing flutes, they are bearing gifts for a divinity of nature near a marble altar.
    During the XXth century, Guillonnet spent a lot of time at the Mediterranean seaside near Nice. The influence of this seashore is obvious in his drawing: blue sky, pine trees, transparent water, large pink and white laurels. On the left side, one can read « Souvenir de Vichy-Etat », on the right « Parfum Oréade LT. Piver Paris », and on the back, over a yellow pattern adorned with vessels of flowers, « Vichy Célestins ses pastilles-comprimés Vichy Etat » and « Parfumerie L.T. Piver, 10, Boulevard de Strasbourg, Paris ». Vichy-Etat was an important thermal Company. These kind of paper fans were often perfumed and given away for free.

1900's
Anthea, Roger et Gallet Vanity case, Paris. Circa 1900. Side 17.8 cm. Cardboard, paper, velvet, silk, glass. Anne de Thoisy-Dallem Collection, Paris.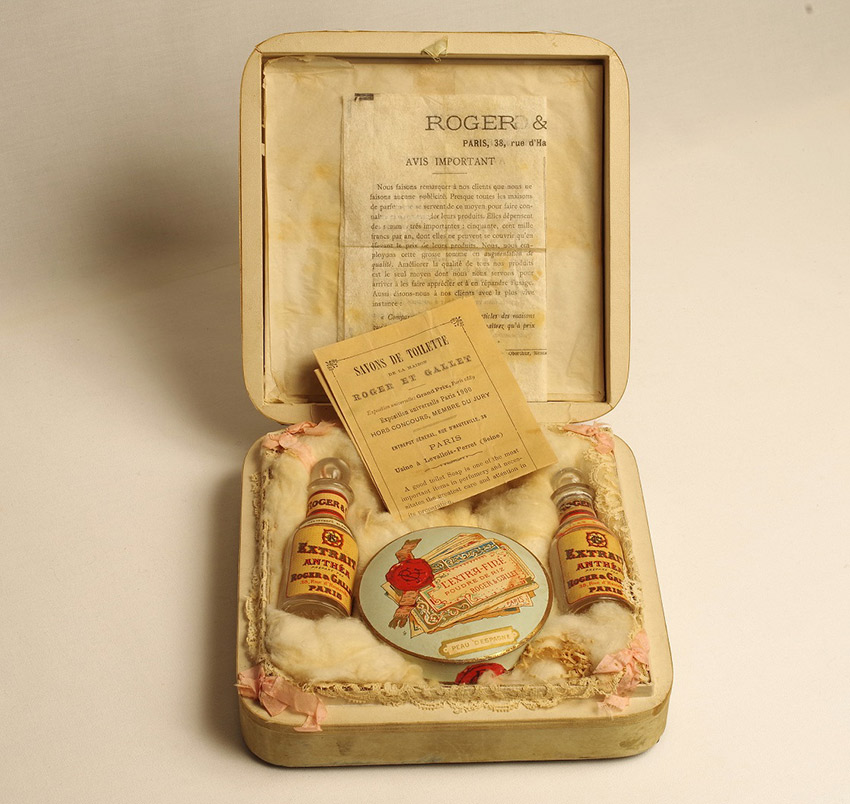 « Parfumerie » in French used to mean a perfume line at the end of the XIXth century. The Roger et Gallet perfumery house was one of the first to launch this kind of product. Founded by brothers-in-law Armand Roger and Charles Gallet, the Parisian brand has designed fragrances, beauty products and soaps for over 150 years. A round powder box « L'extra fine poudre de riz Roger et Gallet Paris peau d'Espagne » (Roger et Gallet Paris extra-fine rice powder)  and two « Extrait Anthea » perfume bottles have been placed in a pale green velvet sheathed box, one bottle marked « Héliotrope blanc » (white Heliotrope) the other « lilas blanc » (white lilac) and a « Savon extra » soap. All of them are placed in wadding and surrounded by paper which imitates white lace. A piece of white paper with pink ribbons, accompanied by explanatory and advertising brochures protects the products.

1920's, Powder boxes
    Two half-doll powder boxes: These kind of pieces started to be made during the 1880s' in Germany and they have mainly German origins (important manufactures like Dressel and Kister, Goebel, Volkstedt, Karl Schneider in Thuringia and Bavaria). There is a good quality French fabrication in the North of France (Henri Delcour in Boulogne-sur-Mer, Fourmaintraux-Dutertre, in Desvres).
    Before World war II, most women were homemakers. From their mothers and grandmothers they learned needlework such as embroidery, lacemaking, crochet and knitting. During the Twenties, they could buy a nudie half doll and, for leisure and ornament, dress it completely with pieces of fabric, ribbons or lace.
    Nudies used to have jewelry, buns, topknots, waved blond or brown hair styles, hats etc. They had red lips and pink cheeks.  It was possible to purchase « ready-to-go » factory-dressed doll or « Do-it-yourself » dolls. These porcelain half-dolls were stitched or stuck on powder boxes or other types of boxes (tea-pots, candies boxes…)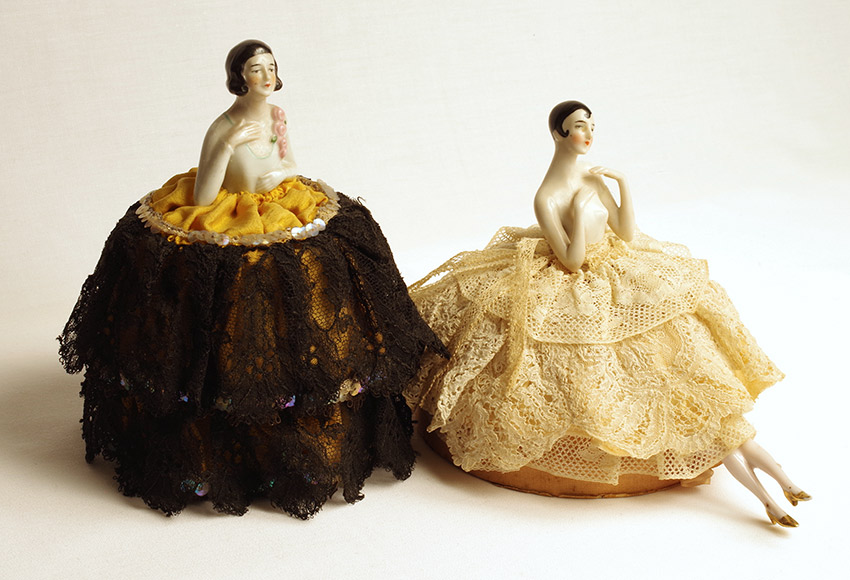 LEFT: Half doll powder box with yellow fabric and young lady with a black lace skirt. France. Circa 1920. 13.5 cm high. Porcelain, fabric and lace. Anne de Thoisy-Dallem Collection.
    The young girl here has mid-length black hair. Her china torso is dressed in a white and pale green leotard. On her shoulder are fixed porcelain roses. She is wearing a large black lace petticoat. The carboard powder box is sheathed in an old green fabric. One can read on a fabric label « Rosette Delien ». This half-doll box is probably  French. 
 RIGHT: Half doll powder box with white lace skirt young lady. Germany or France. Circa 1920. 13.5 cm high. Porcelain and lace. Anne de Thoisy-Dallem Collection.
    This delightful powder box shows an Art Deco woman with short dark hair styled into a distinctive kiss curl. Her head resembles a Pierrot, very fashionable subject in that period. She is holding her two hands lifted against her porcelain chest. Beneath her nude torso, she wears a lace petticoat. Underneath, the carboard powder box is sheathed with pale pink fabric. A pair of thin and white legs wearing golden shoes has been stitched through two holes in the ceramic.
1920's,  Two half dolls from Germany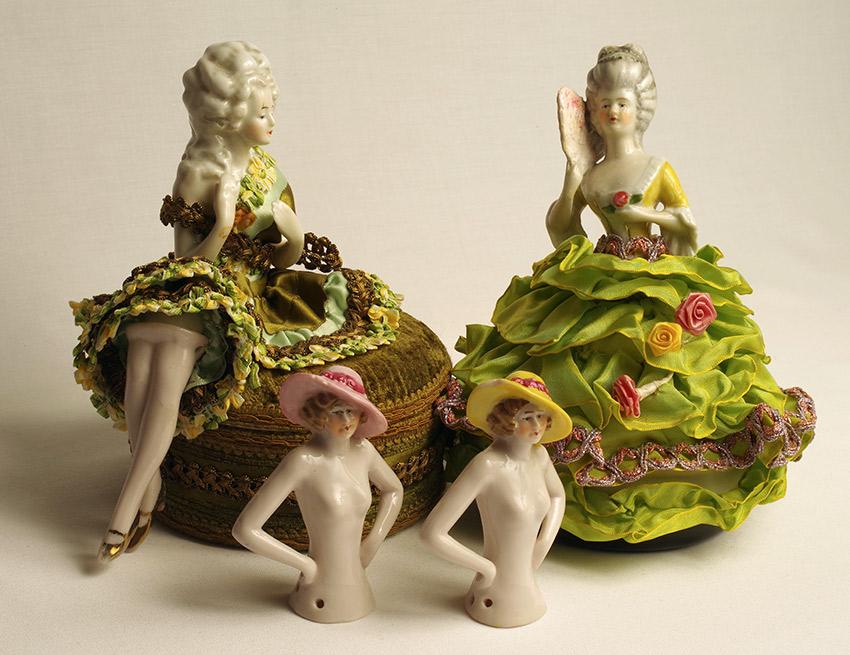 LEFT: Half doll powder box with seated marquise in green. Germany. Circa 1920. 17.8 cm high. Porcelain, fabric, mechanical lace, mother-of-pearl, carboard. Anne de Thoisy-Dallem Collection.
    Very nicely designed, decorated and produced, this sweet half doll is in the style of an 18th century Court lady. Her lovely rosy-cheeked face is topped with a grey, wavy bun. She is dressed in a green silky gown with yellow and green ribbons. She is sitting on a white plastic powder box covered with greenish yellow velvet. Her porcelain legs end in golden shoes ; on top of one leg is written n° 100 and at the bottom of the torso n°195 2. These numbers were important for information on selling.
    RIGHT: Half doll powder box with marquise holding a fan in green and pink. Germany. Circa 1920. 16 cm high. Porcelain, fabric, plastic, carboard. Anne de Thoisy-Dallem Collection.
    This half doll powder box is very similar to the previous item and displays a Marquise with a high, powdered, grey and white wig. There was great nostalgia for the Eighteenth Century during the Twenties (the manufacturer Goebel even labelled a half doll Marie Antoinette of France).  She is holding a closed, pink fan in her delicately molded right hand and fingers, and in left hand, a rose against her chest. She is wearing a yellow and white top with lace sleeves. The long, layered skirt is acid green viscose adorned with little yellow and pink roses and bright pink gallon. Underneath, the black plastic powder box is from Caron.
    On this photograph, we see on the first ground two nudie china half dolls wearing large, sloping summer hats in white porcelain. They have waved hair, rouged cheeks and red mouths, and are standing with their hands on their waists. On the base, four holes allow clothes to be attached using cotton or metal threads. There is a number on the porcelain (1246) while the word « Deutschland » is written in black inside the bodies.

1920's-1930's, Seven metal modernist compacts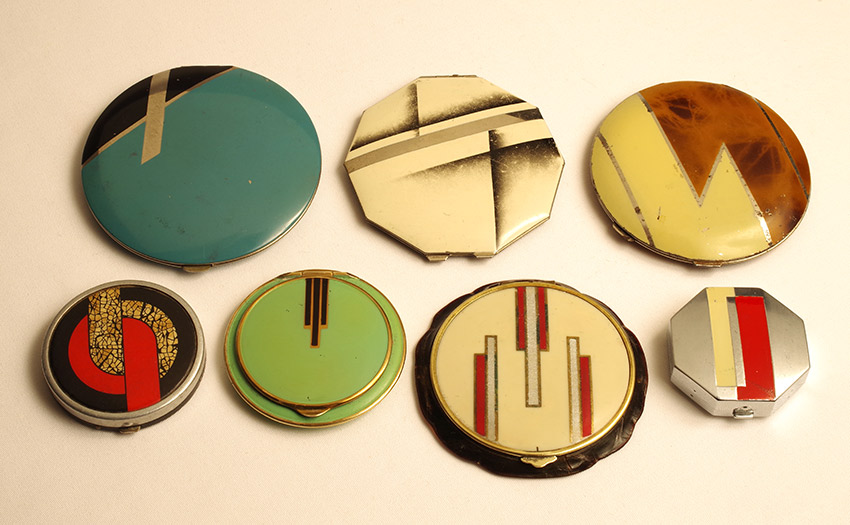 What is called Art Deco today was called « Moderne » at the time. L'exposition internationale des Arts décoratifs et industriels modernes (The International Exhibition of Decorative Arts and modern Industries) in Paris, held from April to October 1925, gave its name to this style which appeared as early as 1910 and lasted until 1940. On this photograph, geometrical and colored compacts with design inspired by contemporary abstract painting are displayed. On top, the round blue one is marked « Made in France », the decagonal one « Made in Tchekoslovakia » and the round, brown, ivory one « Germany ». They were very modern for the time and remind us of the Czech painter and graphic artist Frank Kupka (1871-1957), the pioneer and co-founder of the early phases of the abstract art movement.
    Along the bottom, four more compacts display geometrical compositions. On the left, the decoration of the small round one with a red loop on a black background is reminiscent of a painter like Fernand Léger. Another loop imitating egg shell is a very fashionable Art Deco pattern. The next display wear another Art Deco pattern, a stylized New York skyscraper. The last one is an octagonal American Barbara Gould compact with a red and white lined pattern.

1920's, Two chained compacts
LEFT: Pendant Vanity with an enamel rose. United States. 1925-1930. 5.3 x 7.7 cm.
RIGHT: Gold brass oval chatelaine. Paris. 1920-1925. 8 x 5.7 cm. Gilded brass.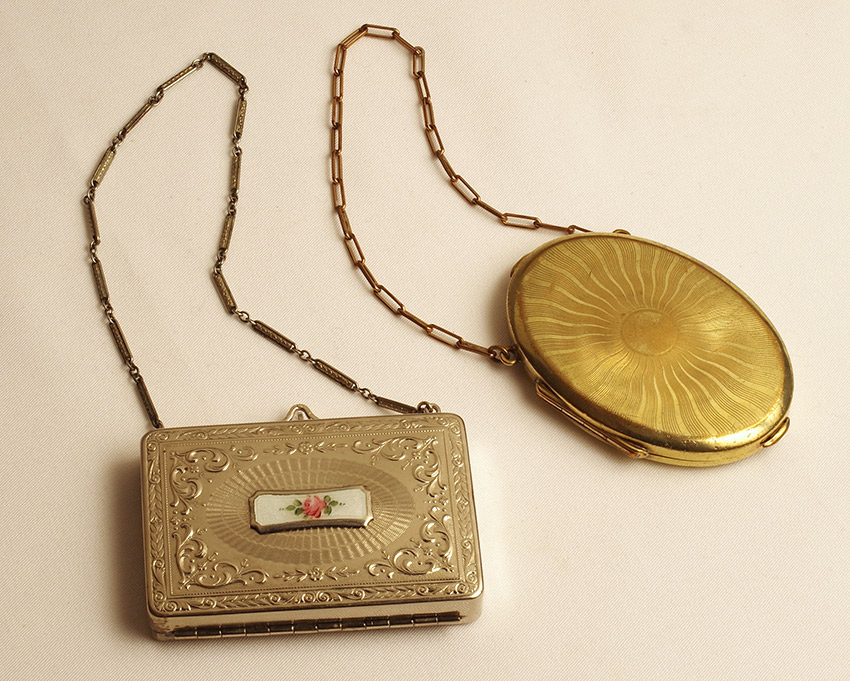 LEFT: These chain-compact is in white metal. It could be a D.F.B (D.F. Briggs Co) product but has no mark on it. On the top and the base, the design is inspired by a book binding. A small rectangular white enameled plaque is decorated with a pink rose. The long wrist-chain comprises flat bars linked together by rings. Inside, we find a metal sifter, a powder well and two wells for coins. These compacts are easy to carry but elegant and their chain handles were very suitable for the independent Flappers of the Roaring Twenties.
    RIGHT: These pendant vanities, metal make-up boxes with long wrist-chains, were mainly made in France and in the States during the Twenties. In Paris, a society called Oreum, 68, rue de la Chaussée d'Antin, claimed to replace gold with a metalware called « Oreum » but it was just gilded brass. Here, this oval golden brass chatelaine, probably French, is reminiscent of  Oreum's golden chained compacts. There is no maker's mark but an object like this, called a « Nécessaire de dame » in French can be frequently seen on advertising during the Twenties and the Thirties. In the States, the term found for such objects could be « Modern Essentials ». On the lid and base, engraved sun-rays spread around central circles. Inside, the mirror is in a very good state and two powder wells are protected with metal covers.


1920-1930-1940's, Powder boxes
Three solid-silver compacts « Made in Czechoslovakia »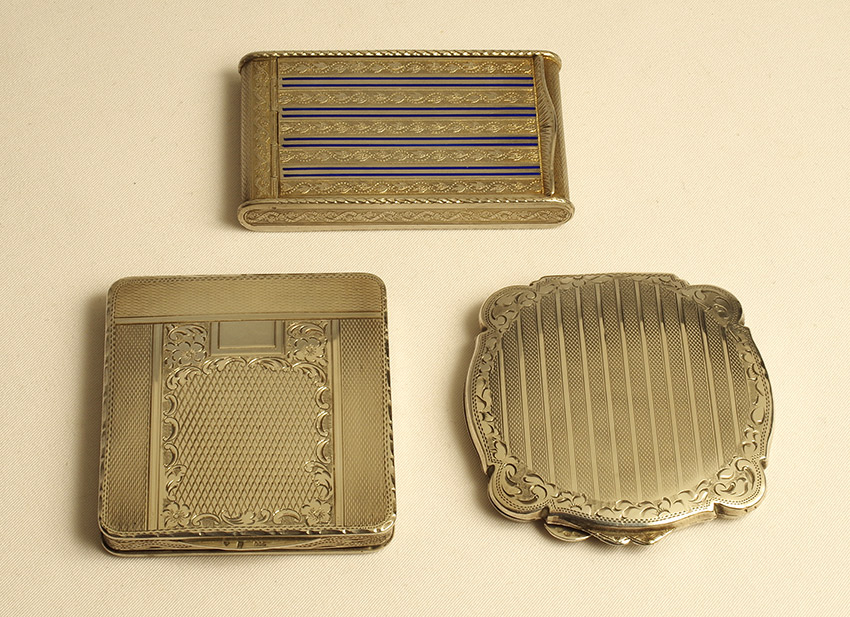 TOP: Silver compact with blue enamel stripes. Czechoslovakia.1921. 8.6 x l. 5 cm. Guilloché-worked and lacquered solid silver (935/1000). Anne de Thoisy-Dallem Collection, Paris.
    This compact made of solid silver opens like a precious casket. On the edge of the lid, is a hallmark with a dragonfly (a Czech hallmark valid from the year 1921). All the outside surface of the box is decorated with undulating flowered friezes with barley grain Guilloché-work. Blue horizontal lines in four banners cross the lid and the base. Inside, on the gilded-silver, is written the following dedication in German: « Dem Star der Januar programms Fraulein G.B Herzlichst zugeeignet Frankfurt am M. 31.1.22. A. Sp. » which means, in English  «For the January program star Miss G.B. Very warmly yours,  Frankfurt am M. 31st January 1922. A. Sp. ». This compact may have been offered as a gift or a prize for academic, athletic or dance performances.
    BELOW LEFT: Silver rectangular compact with geometrical pattern and flowers. Czechoslovakia. 1935-1940. 7.8 x 6.8 cm. Guilloché-worked and engraved solid silver (900/1000). Anne de Thoisy-Dallem Collection, Paris.
    On the pushbutton for opening the case is marked the silver content 900 near a hallmark with capital letters (A.W ?) and a triangular hallmark stamp with 3 at the bottom left. This last one is a Czechoslovakian hallmark for silver 900 between 1929 and 1940.The decoration is a mix of Art Deco style and a more old fashioned style, reminiscent of Art Nouveau and very popular in Eastern Europe. The lid is decorated with a cross-brace design. Its central compartment is framed with stylized foliage and flowers in the angles. Edges are adorned with wavelets all around the compact while the base has regular vertical stripes.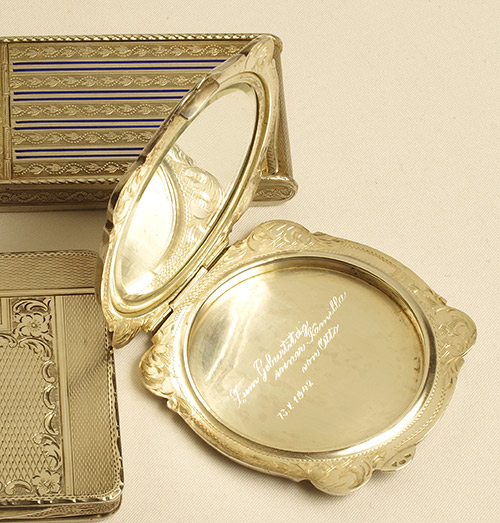 BELOW RIGHT:  
    The following compact has the same origin. This Silver compact with stripes (Czechoslovakia. 1940. 8 x 7.5 cm. Guilloché-worked and engraved silver 900/1000. Anne de Thoisy-Dallem Collection) displays the same Czech hallmarks on the edge at the bottom left.
    The decor is very similar in style with stripes and foliage all around it. Inside, in the powder well, the silver is engraved in German with the following text: « Zum Geburtstag Seiner Kamilla von Otto. 13. V. 1942 » which means « For Kamilla's birthday From Otto. 15th May 1942 ». It's probably a gift from a German called Otto to his girlfriend. So you can see how this German gift from the War period, found in France decades later, would open the door to imagination.
1922, Powder box
Powder box D'Orsay. Lalique. France. 1922. Diameter 10.5 cm. 4.5 cm high. Pressed, molded glass with brown patine effect on the top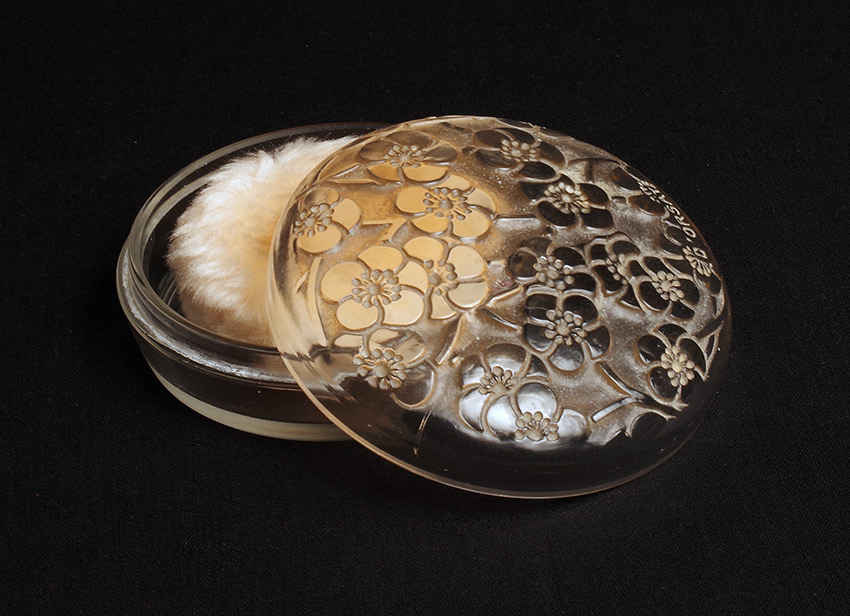 René Lalique, the famous French glass designer (1860-1945) worked for the Perfumer Coty from 1907. Very quickly, all perfumery big names asked him to design their bottles. Between 1912 and 1928, he created at least twenty-five bottles for D'Orsay. This powder box was designed in 1922. The similarly decorated bottle is a little older (1920) and was designed for the D'Orsay perfume called Le lys (Lily).
    The matching powder box then was used for different perfumed powders from D'Orsay house. It was also sold in Lalique's catalogue without the D'orsay label under the name « Emiliane » or « Eglantines ». Here, the top, marked « D'Orsay », is decorated with seventeen eglantine roses on transparent glass with a brown patine around the flowers. The base and sides are made of colorless glass and we can see a soft wooden puff inside. This very successful model was produced for decades.

1920's, Two powder boxes from the Twenties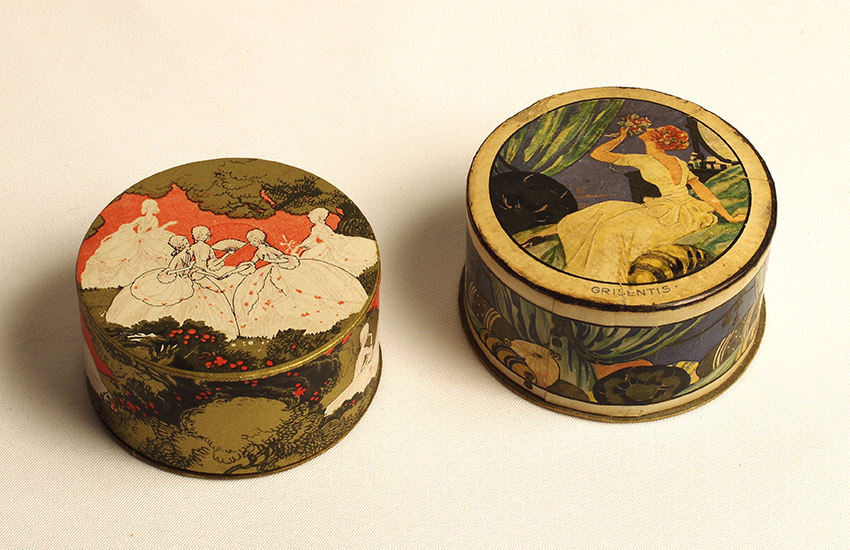 LEFT: Cendres d'amour Powder box, Hyalisia, Paris. 1925. Diameter 6.8 cm. Cardboard and printed paper. Anne de Thoisy-Dallem Collection, Paris.
    This cylindrical powder box, sheathed in multi-colored embossed paper, is adorned with a very delicate pattern: five ladies wearing French dresses from the XVIIIth century, with fans and powdered hair, in conversation in a park. Nostalgia for the XVIIIth century was very present during the first twenty-five years of the XXth century.
    The refined colors are salmon pink, gold and white. Inscriptions on the base indicate « Poudre de riz extra-fine au parfum Cendres d'amour [Love ashes], white shade » and « Hyalisia Perfumery. 13, rue de Douai Paris ». The box is full of powder and closed with thick, white paper marked « Hyalisia Paris ». This « Luxury Perfumer » existed in Paris during the Twenties in the elegant Nouvelle Athènes area.
    RIGHT: Grisentis Powder box, Auzière, Paris, Marseille. 1920. Diameter 7 cm. Cardboard and printed paper, Anne de Thoisy-Dallem Collection, Paris.
    This round box with green, blue, white and orange paper on cardboard is decorated with a drawing showing a woman in intimate surroundings. She is sitting on her bed near her dressing table. She is dressed in a long white gown, with her flower-adorned hair pulled back into a red chignon, and she is smelling a small bouquet held in her right hand. Under the scene, one can read « Grisentis ». The sides have patterns with cushions and ornamental trimmings. On the white base, a small label indicates the « Naturelle » powder shade. Edgings are underlined in black and gold.
    Grisentis perfume was launched in 1920 by the Auzière Perfumery, founded in Paris and Marseille apparently in 1856!
1930's, Display shelf (Parisian bench) 
    Display shelf in the shape of a Parisian bench and three Bourjois Ashes of roses powder boxes, around 1930. Bourjois Paris. 32.8 x 8.2 x 21 cm. Painted green wood and metal. Anne de Thoisy-Dallem Collection, Paris.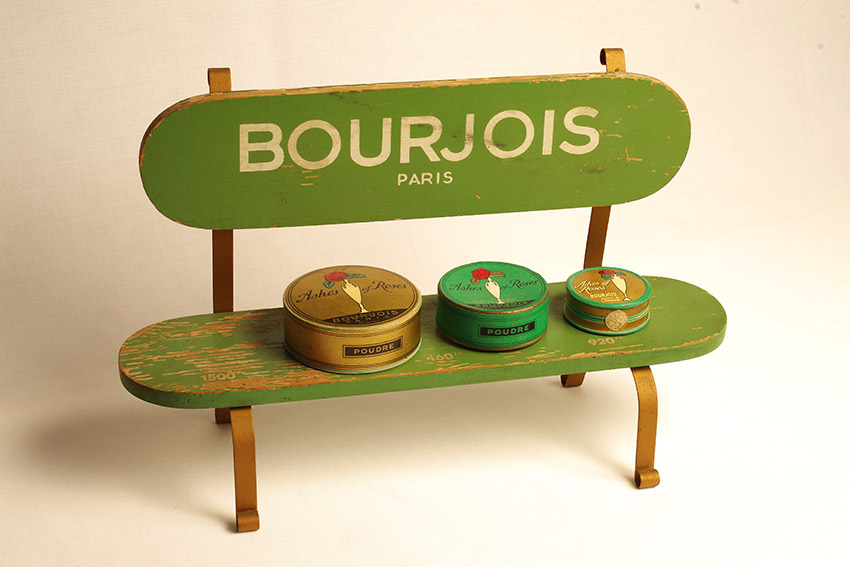 Bourjois, one of the oldest cosmetics houses founded in 1863, has always been a place for innovation and imagination. This amusing shelf display for Bourjois Perfumes evokes the style of green and romantic benches found in the French capital. They were placed in Parisian parks during the XIXth century by the architect Gabriel Davioud (Buttes Chaumont, Bois de Boulogne etc). The name of the brand « Bourjois Paris » is written in white on the backrest. Product prices are printed on the seat. They were probably perfume bottles considering the high value displayed (1500 francs, 460 francs, 920 francs). Throughout the Thirties, very original displays were in use in Bourjois shops, such as the marvellous miniature dressing table contemporary of this bench.
    Three Bourjois Ashes of roses powder boxes, Design attributed to Paul Iribe. 1909. Bourjois, Paris and London. Carton and printed paper. Anne de Thoisy-Dallem Collection, Paris.
    Golden box: diameter 7.2 cm. (from 1909)
    Green box: diameter 5.9 cm (from 1923)
    Small gold and green box: diameter 4.7 cm (from 1923)
    These round boxes are sheathed with different golden and green papers. On the top of the largest one, the inscriptions indicate « Ashes of roses – Bourjois » and « Paris France ». The two others indicate « Paris and London ». 
   The very simple drawing with clear-line design and bright colors are typical of the famous French illustrator Paul Iribe (1883-1935): a red rose with two green leaves is placed in a white single-flower vase. This announces the Art Deco period. Iribe was developing new kind of packaging with other fashion and perfume houses such as Poiret, Lanvin and Lubin. On the box bases, the color shades are indicated: « Naturelle », « Rachel » and « Mandarine ». The perfume Ashes of roses, a blend of roses and briar, was created by the legendary « nose » Ernest Beaux, the creator of Chanel N°5.
    The Ashes of Roses line was launched in France in 1909, in the States in 1913 and in England in 1923. In 1913, Bourjois decided to create eleven other flower lines such as Ashes of Heliotrope, lilac, Lily of the Valley, Jasmin and violets but Ashes of roses was always the most popular, so popular that Bourjois shops had even their walls and furniture (chairs) decorated in  Rose pattern.


1930's, Coty publicity
Coty Publicity Make up palette. Paris. Circa 1930. 16. 2 x 12.4 cm. Cardboard and blushers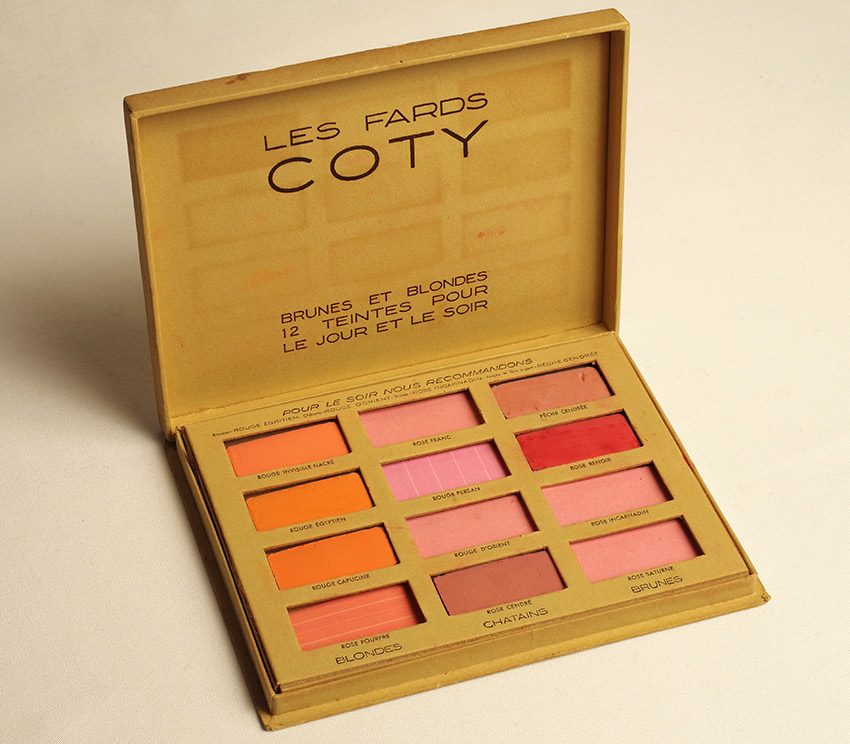 This Make up palette is a François Coty product. From 1904 to his death in 1934, François Coty, the father of Modern Perfumery, was the first to mix natural scents and synthetic products, and dominated the Perfume Industry. Coty's products were famous all over the world with wonderful perfumes like « La rose Jacqueminot » (1904), « Ambre Antique » (1908), « L'Origan » (1905) or modern and high quality cosmetics like powders, blushes and lipsticks.
    The top of  this flat, rectangular box displays the inscription « Les fards Coty » [Coty blushers]. It is made of plain cardboard. Inside, one can read : « Les Fards Coty Brunes et blondes 12 teintes pour le jour et le soir » [Coty blushers blondes and brunettes 12 shades for day and night]. 12 boxes cut into the cardboard display different blushers from orange to rose and recommendations for applying them for the evening. The practical presentation is very modern.

1930's, Two German Vanity cases
Vanity case "Burlington", L. S. Mayer company, Gebrüder Schmidt Manufacture, Idar-Oberstein, Allemagne (Ref. Lisa Larsson). Design 1937. 6.5 x 9.5 x 5.5 cm. Black lacquered metal, rhinestone. Anne de Thoisy-Dallem Collection.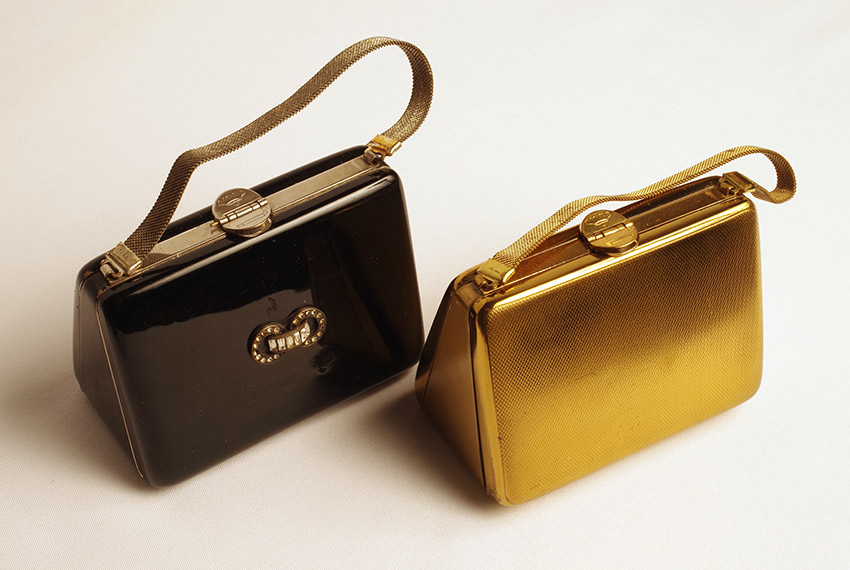 LEFT: This vanity case is shaped like a little handbag. It was designed, like the following, by the L.S. Mayer firm founded in 1822 in Francfort by a jewish family with affiliates in Pforzheim, Berlin, New York and Paris. In 1933, the headquarters moved to London. The Vanity case is made of bright, black enamel, its buckle is studded with brilliants, and it's carried using a braided metal strap. It opens on top with a round metallic release in two parts around the hinge. On the compact side, a tiny puff is engraved and on the cigarette side, a cigarette. In the cigarette side there are also two cases for stamps and a place to keep matches. On the edge is the patent number: PAT.ARL.1858/37. The middle is occupied by a compartment sheathed in thin, brown leather with a mirror. On the side Beauty, the compact has three powder and rouge wells with puffs and a sifter, a place for the lipstick and a little tortoiseshell comb.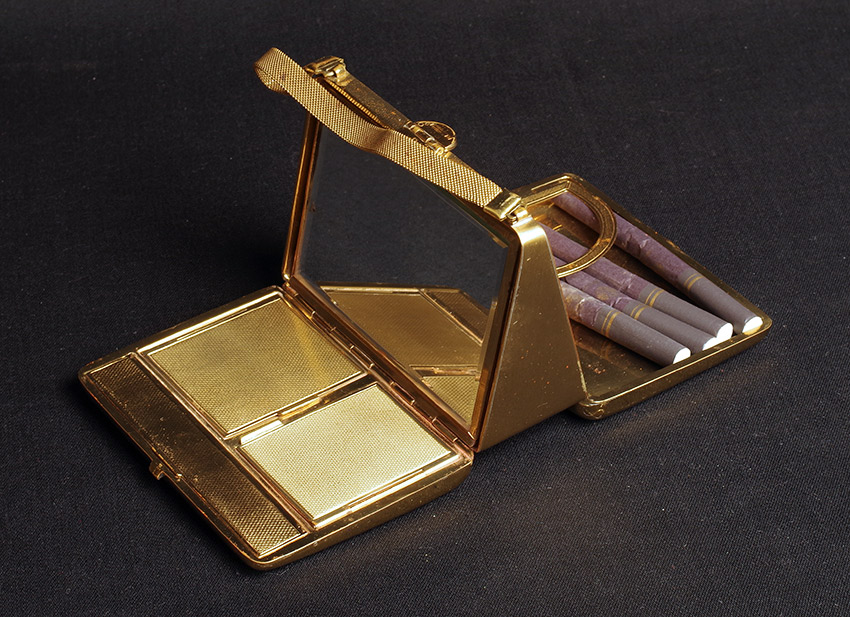 RIGHT: Vanity case "Burlington", L. S. Mayer company, Gebrüder Schmidt Manufacture, Idar-Oberstein, Allemagne (Ref. Lisa Larsson). Design 1937. 6.5 x 9.5 x 5.5 cm. Goldtone. Anne de Thoisy-Dallem Collection.
    Again, this vanity case is shaped like a small handbag. It is similar to the previous model except for the material and the gold color. The brass displays Guilloché-work in what is called Barley grain pattern.

1930's-1950's, Three compacts shaped in figurative forms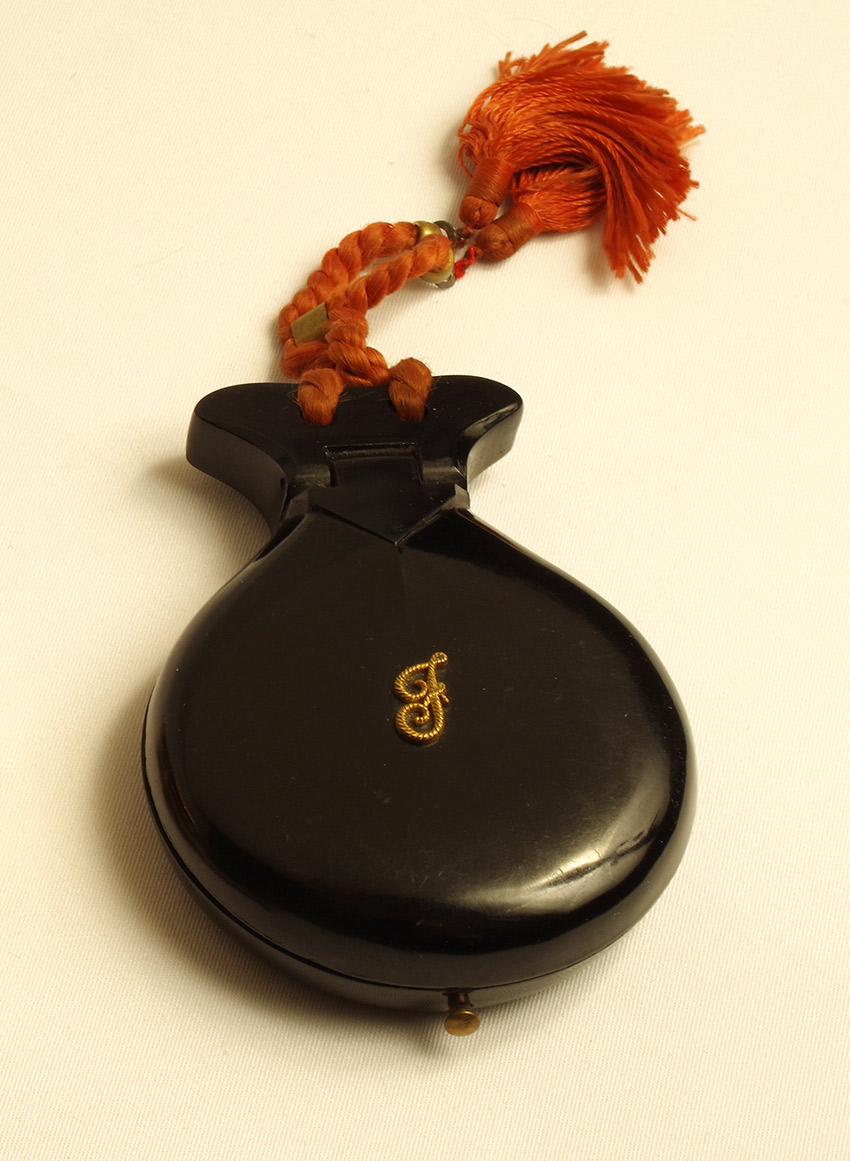 1930's   
Castanet compact.
    SGM (Société générale de Marque), Genève (Carouge), Suisse. Circa 1930. 10 x 7.5 cm. Black Bakelite and red cotton threads. Anne de Thoisy-Dallem Collection, Paris.
    This compact is a perfect imitation of Spanish castanet. A red ribbon with pompom trimming, attached by small copper pearls, is wrapped around the top.
    The initial F in twisted golden metal is stuck on the center of the lid. Inside the castanet there is still a sifter and a swan-down puff. The original, plain cardboard box bears inscription « SGM Marque déposée » (SGM Trademark). In the Thirties, Flamenco dance became popular all over the world thanks to great dancers like Carmen Amaya (1913-1963) who was considered as the greatest Gypsy Spanish dancer of her generation. This amusing compact is a lovely testimony of this fashion.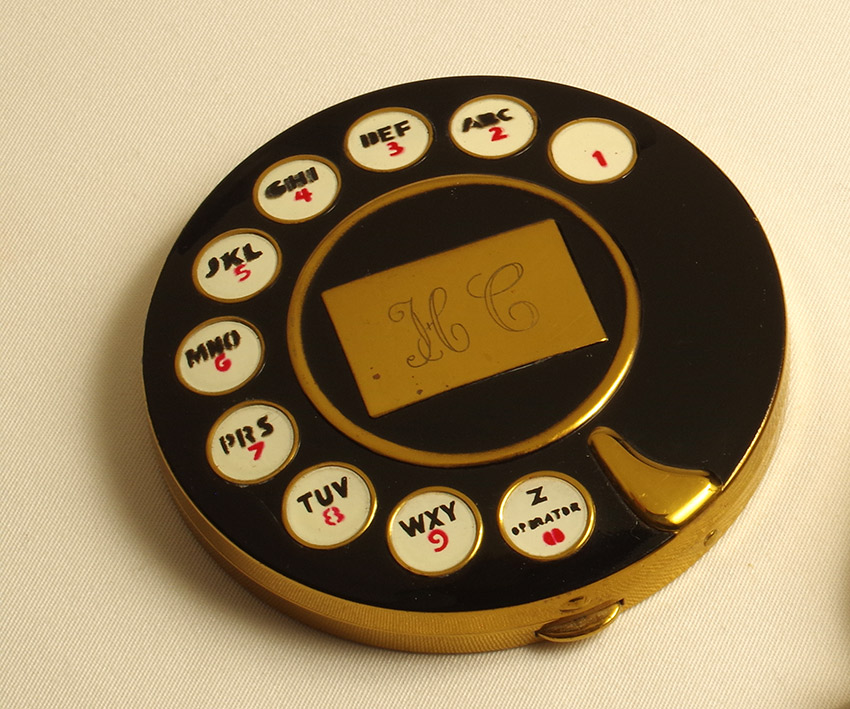 1935 
Telephone dial powder compact.
    Salvador Dali design for Schiaparelli. Paris – New York. Circa 1935 and edited by Stratton until the Sixties. Diameter 8.8 cm. Golden bronze, black, white and red enamel. Anne de Thoisy-Dallem Collection, Paris.
    This black compact with a figurative telephone dial was designed by Salvador Dali for Elsa Schiaparelli's Autumn – Winter fashion Show in 1935. It was their first, but not last, collaboration. Compacts were probably given to the customers during the Show.
    The compact could be personalized by engraving a name or initials on a golden plaque in the lid center, like here « HS ». There are several versions of this object: black lacquer, tortoiseshell, red, blue, silvered. In 1935, Elsa Schiaparelli set up at 21, Place Vendôme in Paris, a very chic address. Dali, always provocative, noted in his Memories that it was the most important event of the year.
    Our version is in very good condition and still contains the spongey pink puff and the white sifter. The golden base is engraved with circles. Articles such as this, as a limited edition, were offered to Rotary Club Members during the Fifties. Indeed, this model continued to be manufactured long after its patent deposit by Schiaparelli. It was sold in Europe and the States until the Sixties, edited under the English Brand Stratton and the American brand Evans.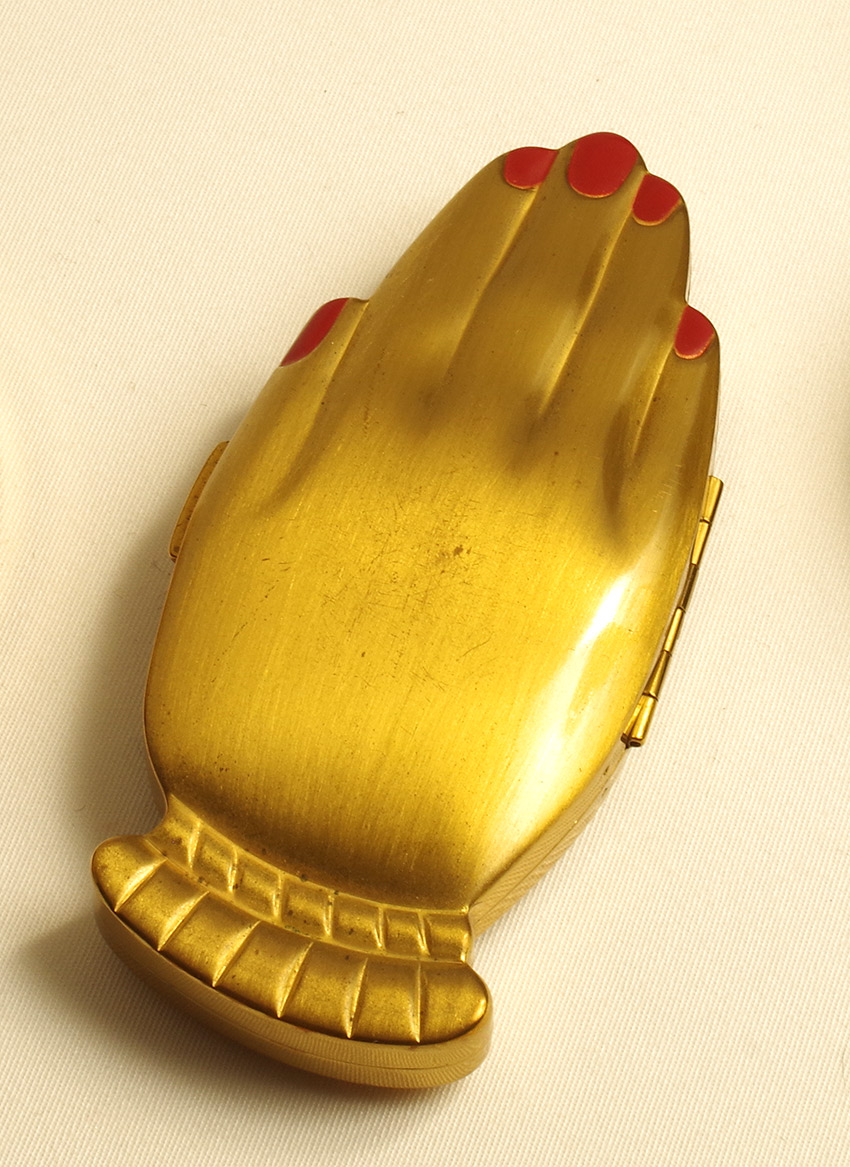 1946
Volupté « Golden Gesture » hand powder compact with red nail polish.
Volupté. New York (345 Fifth Avenue).1946. 11.5 x 5 cm. Brushed gold brass and red enamel. Anne de Thoisy-Dallem Collection, Paris.
    The New York Firm Volupté launched this Novelty compact in two shapes in 1946: this version and a goldtone hand without red nails but wearing a rhinestone bracelet. This pure fantasy object is inspired by the Art of the East (Indian or Cambodian dancers' elegant hands). More versions with lace gloves, playing cards, jewels and zodiac signs and so were sold during the Fifties.  The powder well is comprised within the two hands, palm to palm. The inside is made of bright gold metal with an oval mirror and a thin lid bearing the following inscription in capital letters : « VOLUPTE U.S.A. ». In the powder well there is a pink textile puff marked in gold with « Volupté ». On the base is engraved D. PAT. N°120.347 (Patent number).


1936, Powder box
Mascarade Powder box, L.T. Piver Paris. Sydney, New York. 1936. Diameter 7.2 cm. Cardboard and printed paper. Anne de Thoisy-Dallem Collection, Paris.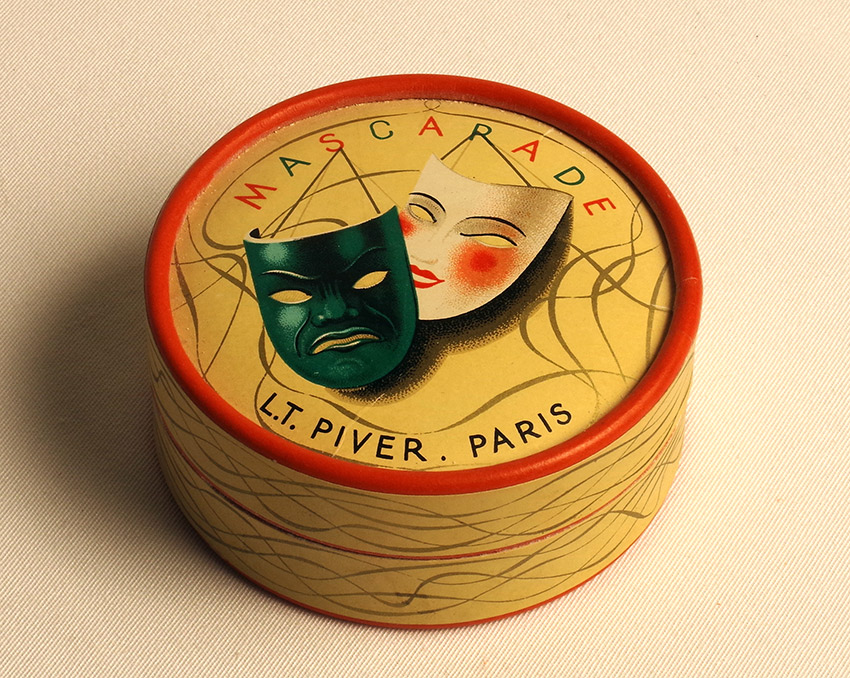 This round box with a pale yellow background is decorated on top with two Tragedy and Comedy masks. One is green, black shadowed and grinning while the other, which has a white face, and red cheeks and lips, is smiling. The aesthetic is characteristic of the Thirties in Paris. One can read in red, green and black capital letters « Mascarade L. T. Piver. Paris ».  Golden ribbons adorn the all surface meanwhile edges are red. On the base, is indicated, in red and in English: « Poudre mascarade. Rachel. Made in the following shades (…) Paris, Sydney, New York established 1774 (…) ». The powder is still inside.

1945, Vanity case
 « Flying colors » vanity case. Design attributed to Arthur R. Botham. Coty. New York. 1945. 5.5 x 11.5 cm. Golden brass. Blue, white and red enamel. Anne de Thoisy-Dallem Collection, Paris.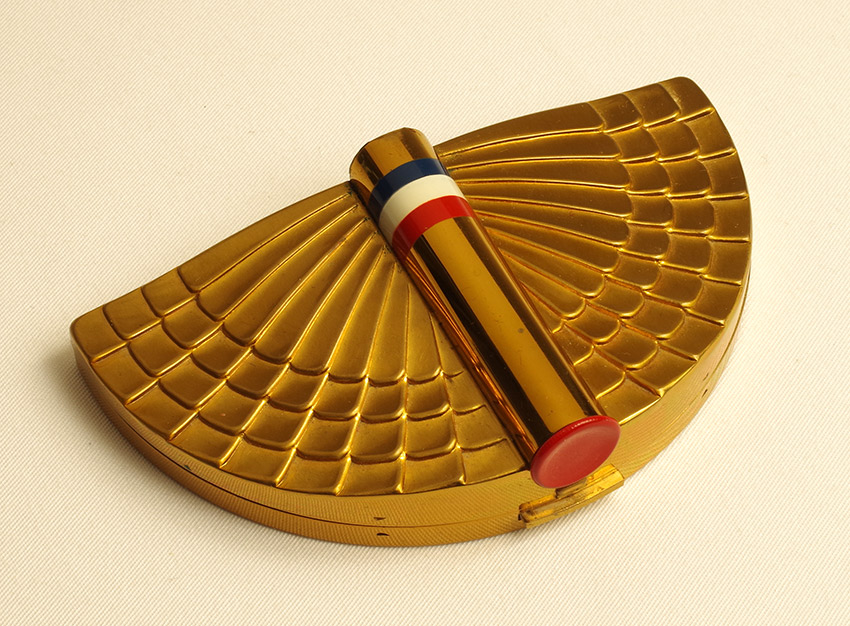 This rare, original, patriotic powder compact is called « Flying colors » and this title is followed by « Triple Vanity – Loose powder, Rouge and lipstick » on its cardboard packaging box. It was sold in The States by Coty in 1945 and commemorates the Allies'Victory at the end of World War II.
    It is made of gilded brass, in the shape of half moon, and its lid imitates a plane or American eagle wings with a lipstick in the central part reminding the body of a butterfly.  This lipstick has a blue, white and red striped painted ribbon like the Allies flags' colors (American, English and French national colors). In the lid, there is a semi-circular mirror. The base contains a triangular powder well on the right, a round rouge well on the left with small puffs in the same shapes. The base is manufactured out of glossy, finely ribbed gold metal, and on it a small cartouche is engraved with « Coty New York ». At the same time, Coty was selling its « Airspun » powders.
1950's, Compact
Tasseled imitation snakeskin and tortoiseshell Princess Compact. Japan. 1950's. 7 x 5.7 cm. Silvered and lacquered metal imitating snakeskin and turtle shell. Anne de Thoisy-Dallem Collection, Paris.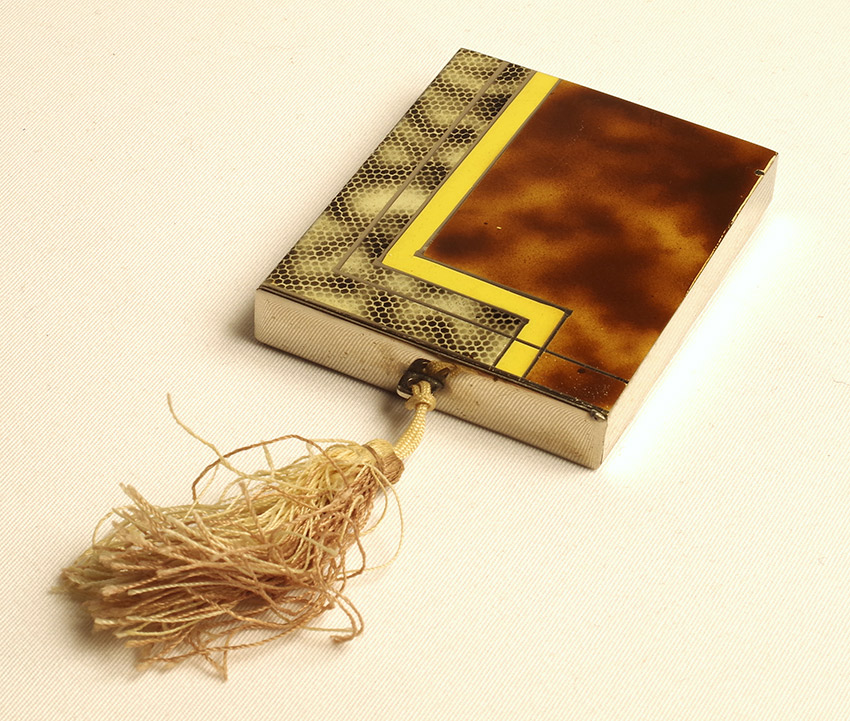 This beautiful compact uses an ingenious mechanism: when you pull the tassel, the powder well slides out like a drawer and the metallic inner lid, which contains a mirror, flips up. On the top, a geometrical design is divided into three parts: a band in imitation tortoiseshell, a wide yellow line and an imitation snakeskin pattern with silvered lines. The powder-shell is placed in the drawer with a square puff. Near the hinge is stamped « Princess. Made in Japan ». Japan started its exportation policy successfully in the Fifties. The base is lacquered in plain brown.
Compact interior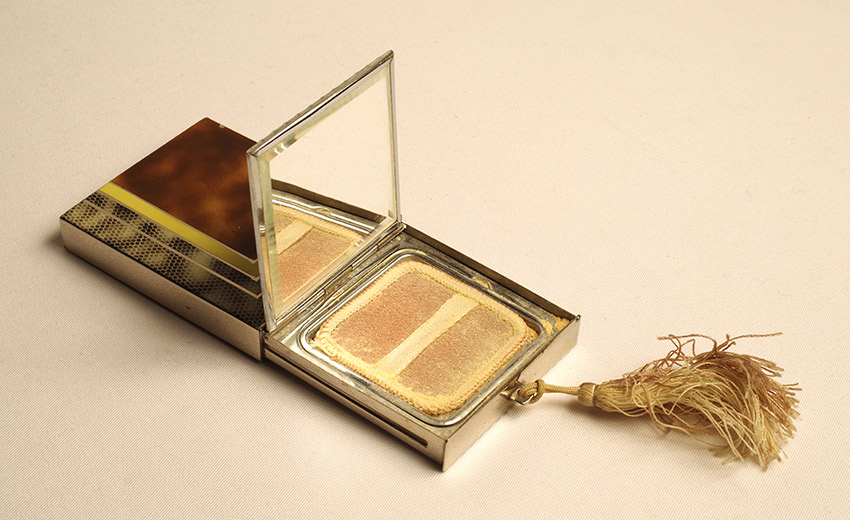 1950's
Two similar Werber Vanity cases or « Minaudières » from Paris
    These kind of beautiful boxes for ladies may have been inspired by Florence Jay Gould, wife of the billionaire Franck Jay Gould, a good customer of the Jewelry House Van Cleef and Arpels. She used to keep feminine essentials in a big Lucky Strike cigarette case: lighter, lipstick, powder box and cigarettes. Indeed, new models of luxurious boxes with clever storage cases began to spread in the Thirties.
    They competed with the traditional evening bags made of pearls, leather or silk until the end of the Fifties. The « Minaudières » (a pretty French name for this type of vanity box) are made out of gold, brass, black lacquer, silver and goldtone. The most expensives are set with precious stones. Geometric patterns were very fashionable but, after World War II and during the Fifties, many figurative patterns appear with birds and stylized vegetal patterns softened by curves.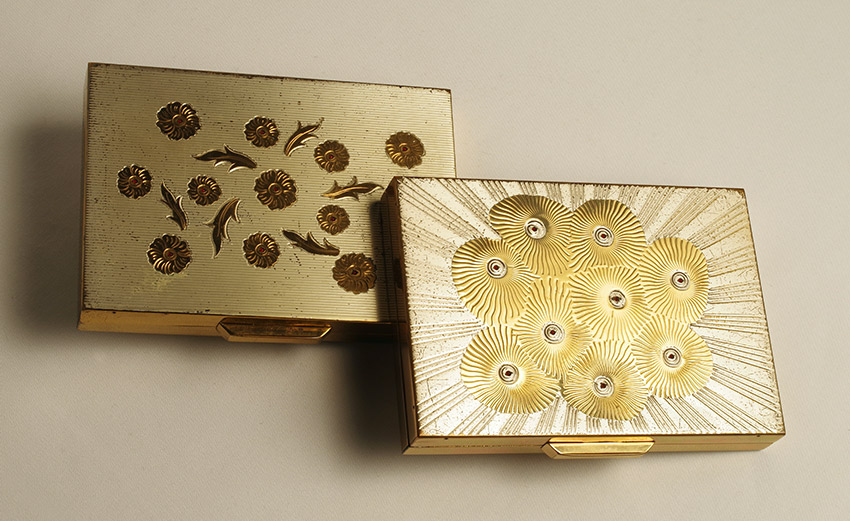 Golden and silvered rectangular Vanity case with twelve flowers. Werber. Paris, France. 1950 s'. 9 x 13.5 cm. Goldtone, chromed metal, red plastic pearls. Anne de Thoisy-Dallem Collection.
    This Fifties vanity case, which can be presented in a black velvet handbag, is topped with a typically Art Deco pattern : six leaves and twelve golden flowers whose center is made of a little circle and a tiny red pearl. The silvered background has horizontal stripes. Inside, the lipstick is missing. There is an empty case, probably for cigarettes. The powder well and his pink sifter has its own golden lid adorned with flowers. Near the mirror is written: « Made in France » and, under the tortoiseshell comb « Paris WW ».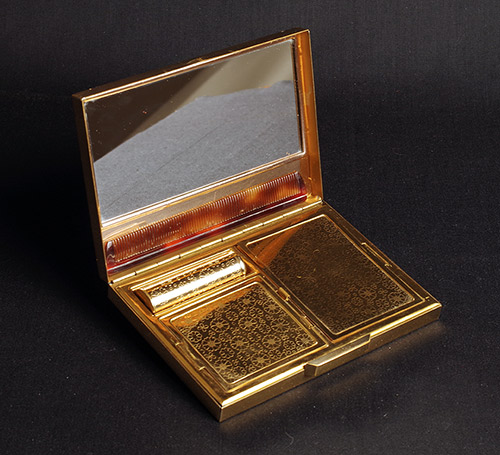 Golden and silvered rectangular Vanity case with nine sea anemones. Werber. Paris, France. 1950 s'. 9 x 13.5 cm. Goldtone, chromed metal, red plastic pearls. Anne de Thoisy-Dallem.

    Original wrapping box wearing the name and address of the shop where it was sold « Maison Royale. 2 boulevard de la Madeleine, Paris ».
    This vanity case is very similar in shape to previous model and is decorated differently. Nine golden sea anemones whose centers made of little circles and tiny, red pearls, seem to float on the silver radial decoration background. Inside is placed a fancy lipstick adorned with flowers.
    « Paris WW » is marked on its base and « Breveté France et étranger. Made in France » on the tube. The case for lipstick is placed next to the cigarettes. The powder well and the white sifter were obviously never used. PHOTO: interior of Golden and silvered rectangular Vanity case with nine sea anemones.
1950's  1960's  1930's
Three suitcase or briefcase shaped compacts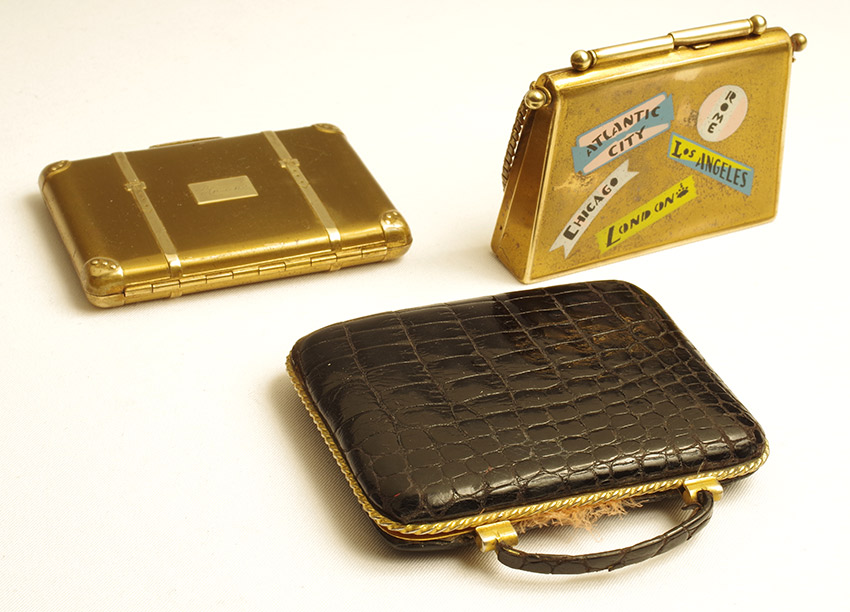 UPPER LEFT: Suitcase-shaped vanity compact. United States. 1950's. 5.5 x 7.8 cm. Goldtone. Anne de Thoisy-Dallem Collection.
    This Novelty compact is made entirely out of gilded metal and was produced in America in the Fifties. It is suitcase-shaped with buckled straps and handle. There is a blank cartouche in the middle with an engraved name « Andine » or « Undine ». The handle moves down to open the compact. Inside, the mirror is above the inscription « PAT. PEND » for « Patent Pending». There is a rouge pot and a powder well where we can also read « PAT. N° 1883793. Made in USA ». Similar compacts exist in different colors, such as green or black for example.
    UPPER RIGHT: Travelling bag-shaped compact. United States or England. 1950's or 1960's. 5.5 x 6.5 cm. Goldtone lacquered in pink, blue, yellow, white and red. Anne de Thoisy-Dallem Collection.
    With a golden chain as a shoulder strap, this delightful compact has adverts for glamorous locations on both sides: painted labels of all colors with names of tourist cities such as  Miami, Bermuda, Paris, New York, Washington  and, on the other side, Atlantic City,  Rome, Los Angeles, London and Chicago.
    BOTTOM CENTER: Briefcase-shaped compact. France. 1930's. 7 x 8,5 cm. Goldtone and crocodile leather. Anne de Thoisy-Dallem Collection.
    This compact is nearly entirely sheathed in black crocodile leather. Crocodile and lizard leathers were very much appreciated for luggage and hand-bags from the Thirties to the Sixties. All around the object runs a goldtone twisted yarn. The compact is opened by moving down the handle. Inside is still the pink swan powder puff. On the right edge is engraved: MODELE DEPOSE.

1950's
Two Stratton compacts from the Fifties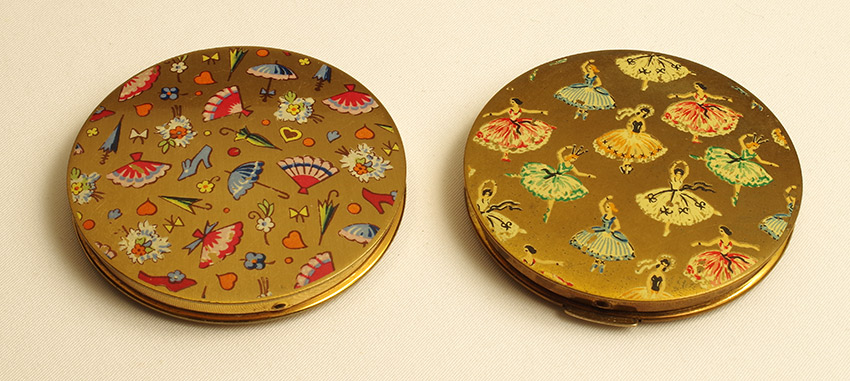 RIGHT: Stratton compact with ballerina dancers. Stratton, England. 1950's Diameter. 7.7 cm (3 imperial measure inches). Goldtone and transfer printing in lacquered colors. Anne de Thoisy-Dallem Collection.
    On the lid, more than a dozen ballerina dancers, brown-haired and blond girls in long green, white, orange, blue and pink tutus with small black details, in a range of ballets poses are rehearsing dance steps. The Stratton brand is on the inner lid. The famous logo « Compact-in-hand », an opened compact hold in hand with the brand STRATTON beneath, displays one of the specific elements of Stratton: this inner lid opens separately. This elaborate mechanism was patented in 1948 for to protect ladies' nails. With this logo, the compacts are dated after 1948 (Information Juliette Edwards). Above the mirror, we can read in capitals: MADE IN ENGLAND STRATTON. The base bears circles formed by engine-turning.
    LEFT: This pretty round compact is decorated all over the lid with small transfer-printed colored patterns on the golden metal ground: fans, umbrellas, shoes and flowers. Inside, above the mirror, is engraved « Made in England ». The ink puff is marked « Stratton » with the logo « Compact-in-hand ».  As with the previous model, the base is decorated with circles formed by engine-turning

1950's  1930's
Three goldtone compacts in the shape of objects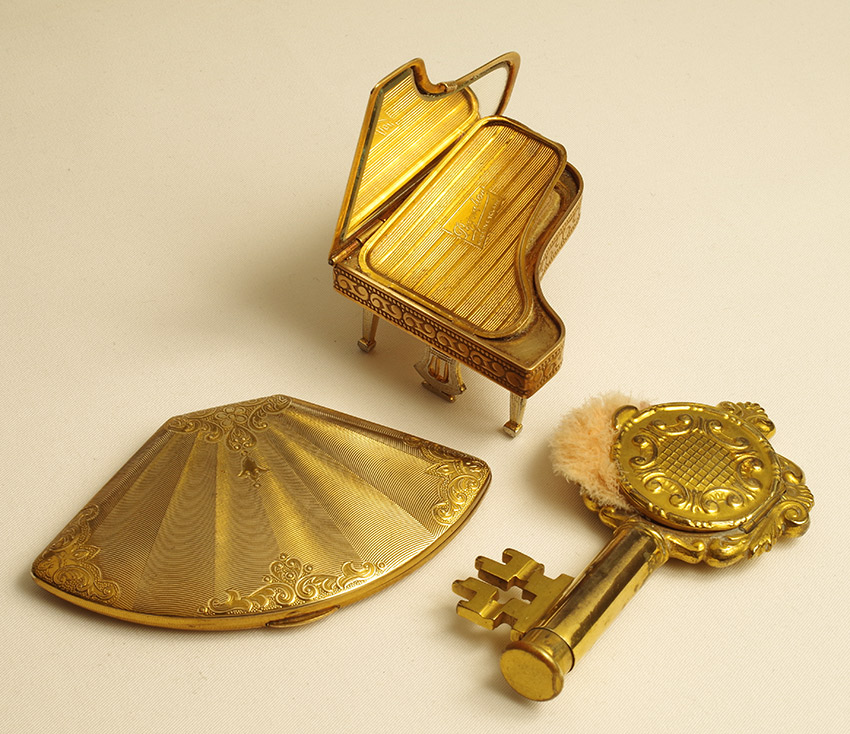 UPPER CENTER: Pygmalion Sonata Piano compact. Pygmalion. England. 1953 (Patent 1954). 7 x 6 cm. Goldtone. Anne de Thoisy-Dallem Collection, Paris.
    This is a Pygmalion, baby grand piano compact. Its name and number can be read on its carboard wrapping. The surface is decorated with small, engraved diamond shapes. The lid with a monogram cartouche opens like a piano top and contains a beveled mirror on the other side. Inside, one can read on the inner lid the name of the Brand « Pygmalion Made in England » and find a signed puff and a pink sifter. The piano sides are finely decorated with scrollwork frieze while the base has folding Sheraton legs (to protect them), and a lyre pedal rest. There are other models of this type, a musical one and another with mother-of-pearl. The Pygmalion name for cosmetic boxes was owned by the British London company S.D. (Salo David) Rand Limited. It was registered in 1942. S.D. Rand LTD was incorporated in 1949 and based in Regent Street in London. According to the advertising dates, Pygmalion production ceased in the mid-1950s but in a few short years it designed delightful, well-known compacts for the collectors : the Sonata piano and also the Globe, and suitcase-shaped  compacts.
    BELOW LEFT: Melissa fan-shaped compact. Searchlights products LTD. England (located in Acton London W3 and Uxbridge, Middlesex). 1950's. 11 x 6.5 cm. Goldtone. Anne de Thoisy-Dallem Collection, Paris.
    Apparently, the British Company « Searchlight Products » manufactured compacts from the Fifties to the mid-Sixties (information from the British Compact Collectors' Society). Interesting compacts bearing the name Melissa still testify to the quality of this Brand. This beautiful goldtone powder compact, divided into quarters, is adorned with delicate « Guilloché » curvilinear lines in the gold metal. On the lid, stylized vegetal patterns cover corners and edges. Inside, an oval mirror displays the brand « Melissa Made in England ». The powder well is protected with an inner lid engraved with stripes and two stylized fans.
    BELOW RIGHT: Compact-lipstick in a key shape. Spain? (Bought in Spain). Circa 1930. 20 x 5.7 cm. Goldtone. Anne de Thoisy-Dallem Collection, Paris.
    In this golden key, a compact and a lipstick are concealed. The head with sculpted foliage contains the powder well, a swan puff and a white sifter. The lipstick is in the shank.

1951
« Bird in Hand » compact Designer Ellison Ireland (Patent agreement in 1956). The Elgin American Company. Illinois, United States. 1951. 12 x 6.5 cm. Silver plated bronze with gold. Anne de Thoisy-Dallem Collection, Paris.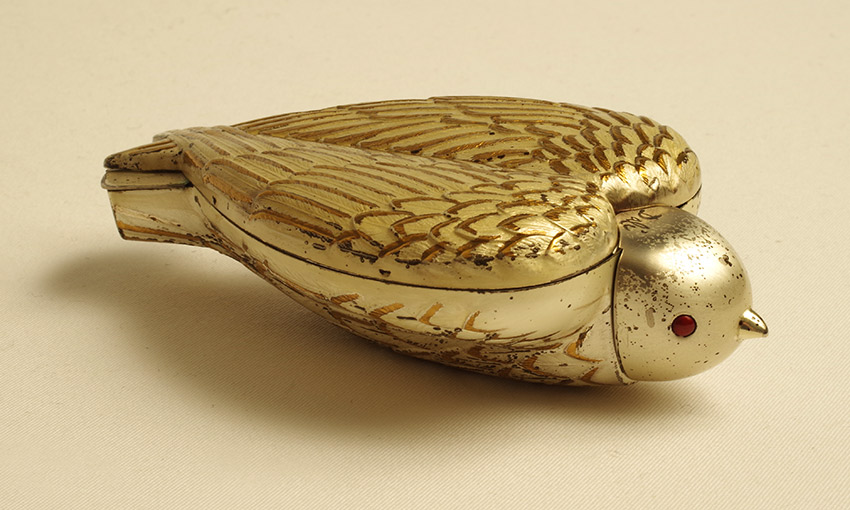 This Elgin American Compact is « The Holy Grail » for Compact collectors!
    The Elgin American brand is a well-known compact manufacturer that brands its own cases. It ranks alongside the most popular affordable American compacts like Evans and Volupté. Its origin is the Eppenstein factory established in Chicago in 1886 and which quickly moved to Elgin (Illinois).
    Two brothers from Alsace, Max and Solomon Eppenstein, who had Hungarian-Jewish jewelers' roots, founded The Illinois Watch-case Co. Throughout the XXth century, from the Twenties until the Sixties, Elgin American produced a huge amount of compacts. It started manufacturing these vanity cases because compacts became very fashionable after World War I.  As the factory was, at that time, involved in the manufacture of cigarette cases and watch cases, the same machines and know-how could be used for this new range of objects.
    This extraordinary and surreal compact in a bird shape was launched in 1951. The bronze metal is silver finished with gold tipped body and wings, and ruby-colored metallic eyes. It brings to mind the English saying « A bird in the hand is worth two in the bush ».
    The design was made in three versions, bronze, silver-plate and sterling with gold plated accents, like the one here. Dali's name is engraved and painted in black on the bird's neck. A release on the tip of the tail allows the wings to open and present the powder compartment. To reach the lipstick, the user pulls the bird's head. The compact opens to reveal a mirror and a silvered-guilloché lid adorned with geometrical wavelets. On a cartouche is engraved « Elgin American Made in USA Pat Pend ». The powder well contains a green and gold puff, in the colors of the velvet packaging box.
    The brochure accompanying the object says « Bird in hand compact styled and created from a design by Salvador Dali. Elgin American ». Advertising about this compact published in Vogue US the 1st may 1951, p. 19, insists on this suggested paternity: « Elgin America interprets a Dali flight of Fancy » but it's just marketing and Dali's drawing hasn't been found as yet.  The painter may have only sold his name and his photographed face for the advertising. This compact, a masterpiece by Elgin American, was designed inside the factory by the employees. Ellison Ireland, responsible for many compacts, is probably the main designer. On the patent documents submitted in 1953, he signed the design. The compact is listed in the 1952-53 Elgin American commercial catalogue.
    Amongst others, the actress Marlène Dietrich owned this beautiful metalwear, a combination of loveliness and strangeness which is reminiscent of surrealism.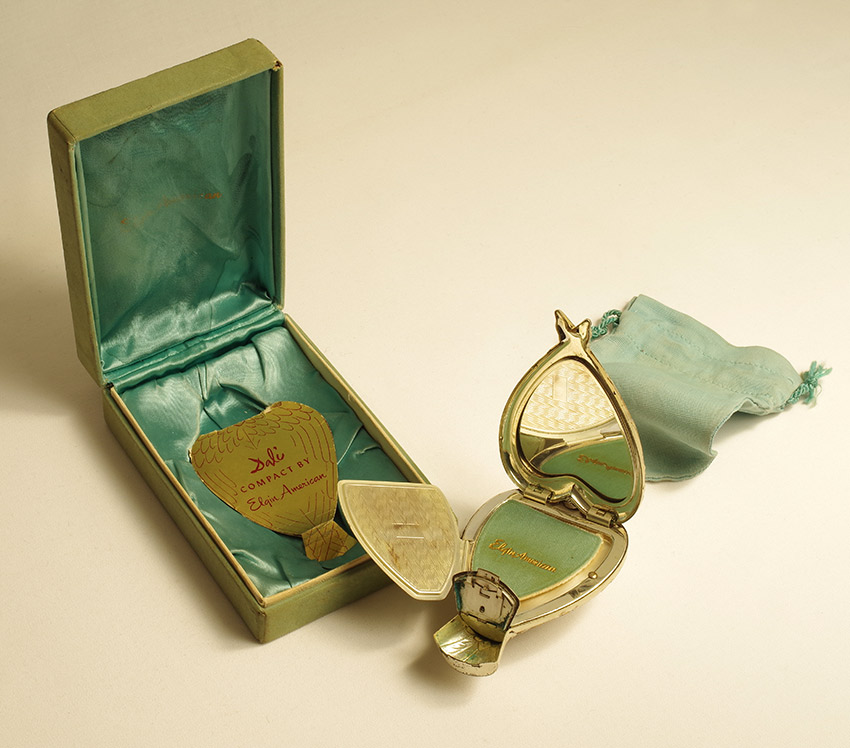 Four watch-style compacts
    Some compacts look like pocket watches. This is not surprising considering that watch cases were originally produced by companies that later made compacts, such as Elgin America, former Illinois Watch Co manufacture. All the models presented here are opening by pressing the knob, like a winder, surrounded by a hanging ring.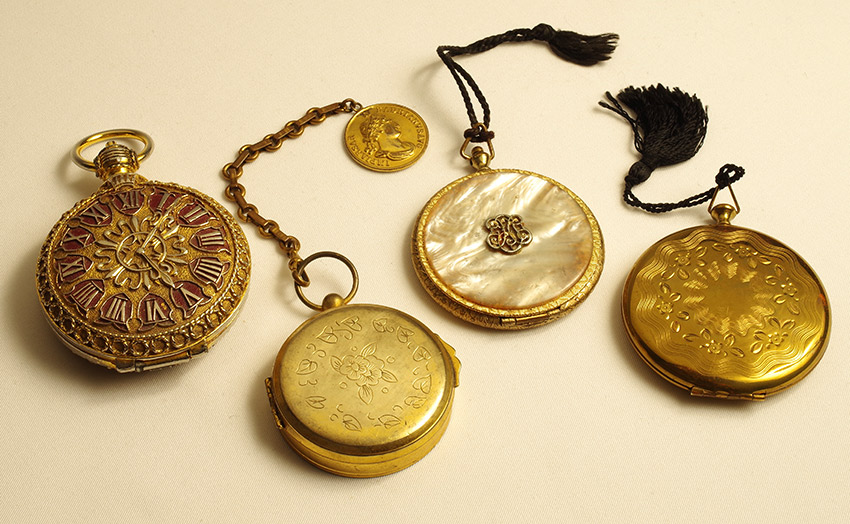 1. Watch Fob shaped compact with coat of arms of Madame de Pompadour. France (?). No mark. Circa 1960. Diameter. 6.1 cm. High with knob of 9.5 cm. Goldtone brass with silver, gold and red enamel. Anne de Thoisy-Dallem Collection.
    This golden brass compact is lavishly decorated. On the lid, a watch dial with roman figures on enameled red and golden ground shows the time : 5.07 am. On the base, a coat of arms with three towers behind a crown, Madame de Pompadour arms', flanked by two stylized silver dragons, is engraved in the middle.
   
    2. Golden pocket watch compact with chain and medal. France. Vers 1930-40. Diameter. 5.5 cm. Brass. Anne de Thoisy-Dallem Collection.
    This goldtone compact is decorated in the middle of the lid with two flowers surrounded by leaves. The base is plain with a small inscription in the center: « Made in France ». The inside is empty with a circular mirror. The object is linked to a medal signed M. Stitip with a small chain. This model of medal is from the XIXth century with Caesar's  head on one side and, on the other, Justicia.
    
    3. Mother-of-pearl watch-fob shaped compact. Estée Lauder. United States, New York. 1966. Diameter. 6 cm. Brass and plastic. Anne de Thoisy-Dallem Collection.
    The compact is linked to a black cotton cord. On the lid, there is a large plastic disc in imitation mother-of- pearl. In the center, a monogram displays the letters « E L » for Estée Lauder. The golden metallic base is decorated with diamonds containing Fleur-de-lis. Inside, the plastic puff is marked « Estée Lauder » and the white metal refill « Estée Lauder Inc USA transparent New York ».
    4. Sofia flat golden pocket watch compact. Zell, Fifth Avenue, New York. United States. Circa 1950. Diameter. 6.2 cm. Goldtone. Anne de Thoisy-Dallem Collection.
    This Zell loose powder compact, attached to a black silk cord, is topped off with a central star and flower design. In the middle, there is space for a monogram. The base has regular circles made using the engine-turning method. Inside, the pink sifter is still new. On the round puff is written « Zell Fifth Avenue ».
    Zell was a compact maker from the Thirties to the Sixties. It had direct 5th Avenue competitors (Dorset, Columbia, Rex and Dal) and owned a large store selling elegant compacts along the famous commercial Avenue. The company was probably founded by David H. Zell (who died in 1944) on Broadway, New York. Later, the « Zell Products Corporation » made compacts, cigarette cases, coin thrift banks, billfolds and leather and metal specialties in Connecticut. This model is called Sofia. Another version exists in red.
Eight mother-of-pearl and brass beauty accessories,
dating from the XIXth century to the Fifties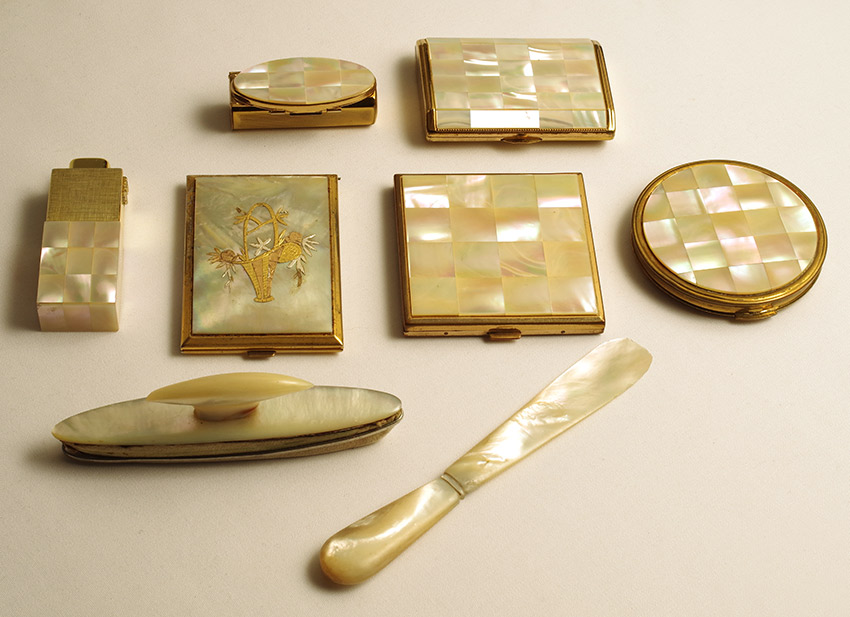 On this photograph, there are several accessories from different times. They have two common points: they are made from white mother-of-pearl and all concern female beauty.
    Mother-of-pearls or nacre is a strong, iridescent, beautiful and natural material made from shells. It has been used for a very long time in French marquetry for boxes and fans and in marquetry furniture. From top to bottom and left to right, one can see a lipstick with a small hidden mirror (1930), a compact with chequerboard decor (1930), a perfume atomizer (1950), a Noailles Brand compact adorned with a golden basket (1920), two square, round compacts with brass and mother-of-pearl checkerboard decoration (1930-1940), a nail-polishing  tool in leather and pearl (circa 1920) and a « blusher palette » ( palette à fards in French) probably from the beginning of the XIXth century.
    In the collection, many other compacts use this material which was very fashionable during the Art Deco period like all precious elements deriving from nature (shark skin, tortoiseshell, ivory, feathers etc).
HIGHLIGHTS of POSTERS, ADVERTISEMENTS and POSTCARDS
from Anne de Thoisy-Dallem Collection
The L.T.PIVER Posters: 1889-1930
Poster : A la Reine des fleurs, 1889. Design : Auguste-François-Marie Gorguet for L.T. Piver. Maquet Gr. Printing house. Colour lithograph on cardboard, 68 x 50 cm. Anne de Thoisy-Dallem Collection, Paris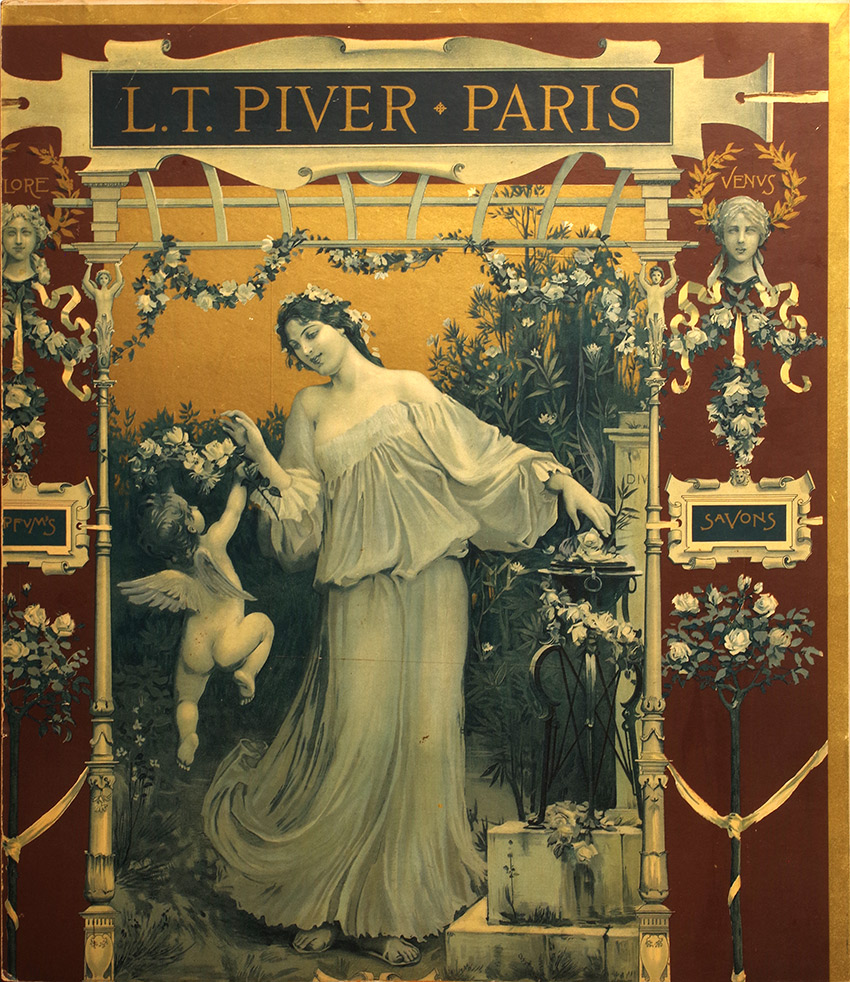 Reine des Fleurs, a fresh « eau de Cologne », is the first fragrance by the old Parisian perfume house Louis Toussaint Piver. It was designed by the first owner Michel Adam in 1774. This poster shows a beautiful, black-haired young woman, called the Queen of Flowers. She is wearing a long white dress and a flowered crown. A winged cherub is offering her a branch of roses. On each side, two insets represent Flora for nature and Venus for beauty.
    Under Flora,  « Parfums » is inscribed, and under Venus « Savons » (soaps). The image is not complete. It has been cut on the left-hand side and at the bottom, but the brand is still shown there in golden capital letters : « L.T. Piver. Paris ». On the complete image (in another private collection), there is the note bottom centre « Aug. François Gorguet invenit » referring to the artist. Gorguet was a student in the School of Fine Arts in Paris and studied with the famous painters Léon Gérôme and Léon Bonnat, amongst others. He exhibited in the Salon des Artistes français from 1885 and won the first price in Chicago in 1892. His pictorial and decorative works belong to the Symbolist movement and Art Nouveau trend.
DETAIL of Reine des Fleurs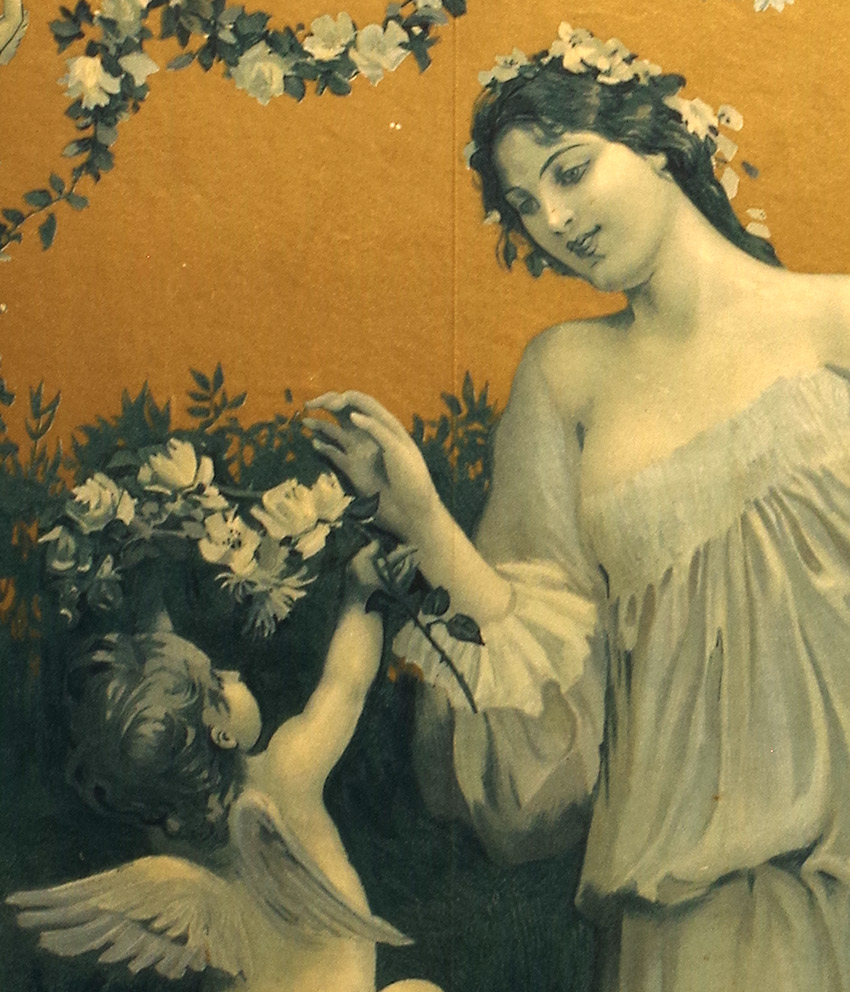 1920's, L.T.PIVER Poster
Poster : Parfums. Poudres. Lotions L.T. Piver Paris, circa 1920. Design : Raymond Ward (?) for L.T. Piver. Maquet Gr. Printing house. Colour lithograph, 68 x 53 cm. Anne de Thoisy-Dallem Collection, Paris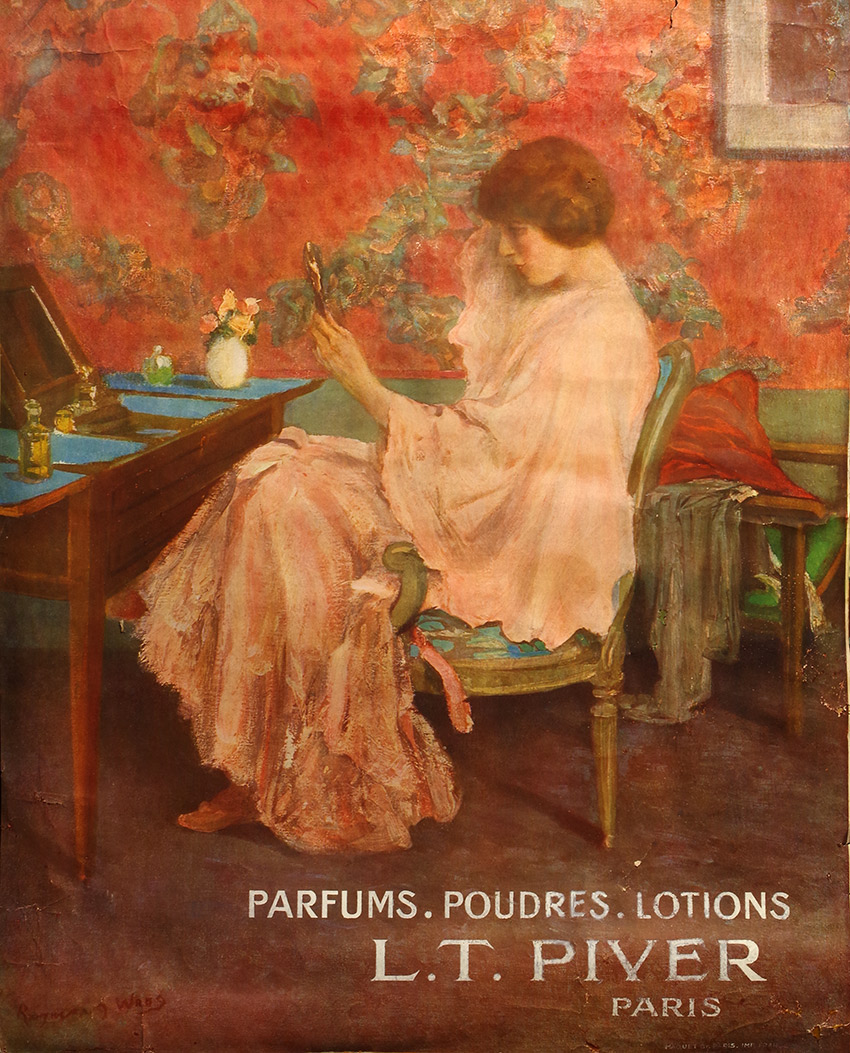 Poudres. Lotions L.T. Piver Paris. This poster for the L.T. Piver perfumery is signed on the bottom left but the signature is difficult to read. In this delicately painted image, one can see a brown-haired woman in a long, light pink gown. She seems to be in her bedroom, seated in an  armchair of classical style in front of her dressing table which is made of wood and supporting a mirror. She is obviously alone as she stares at herself in her hand mirror.
    On the table, perfume bottles and a little vase of roses are on display. This interior decoration, typical of the beginning of the 20th century, with its warm colors such as red and brown and bright colors such as blue and green, is soft and intimate.
DETAIL of Parfums. Poudres. Lotions L.T. Piver Paris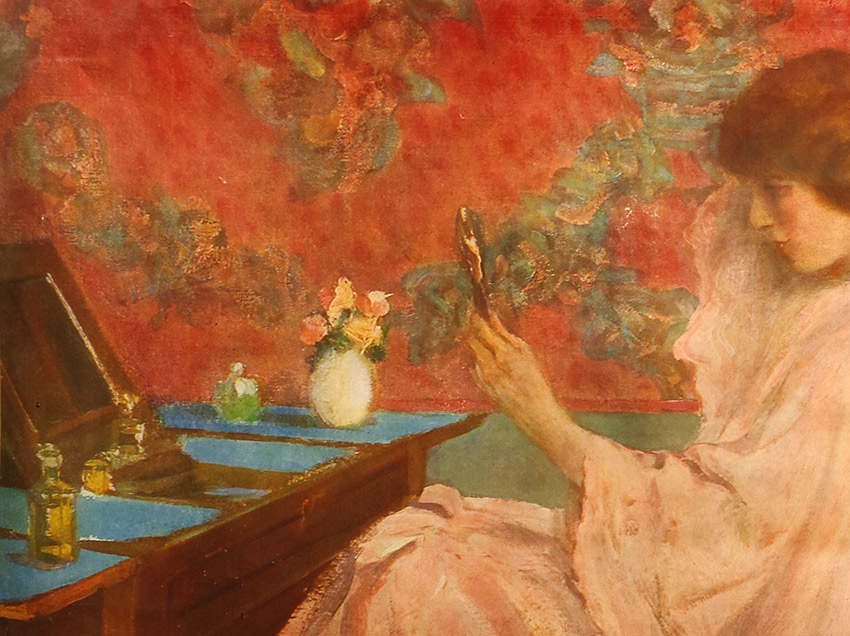 1930's, L.T.PIVER Poster
Poster : L.T. Piver Parfums, Poudres, Lotions, Savons, etc. verse 1930's. Design : Pierre de Belair for L.T. Piver. Maquet Gr. Printing house. Colour lithograph, 57 x 45 cm. Anne de Thoisy-Dallem Collection, Paris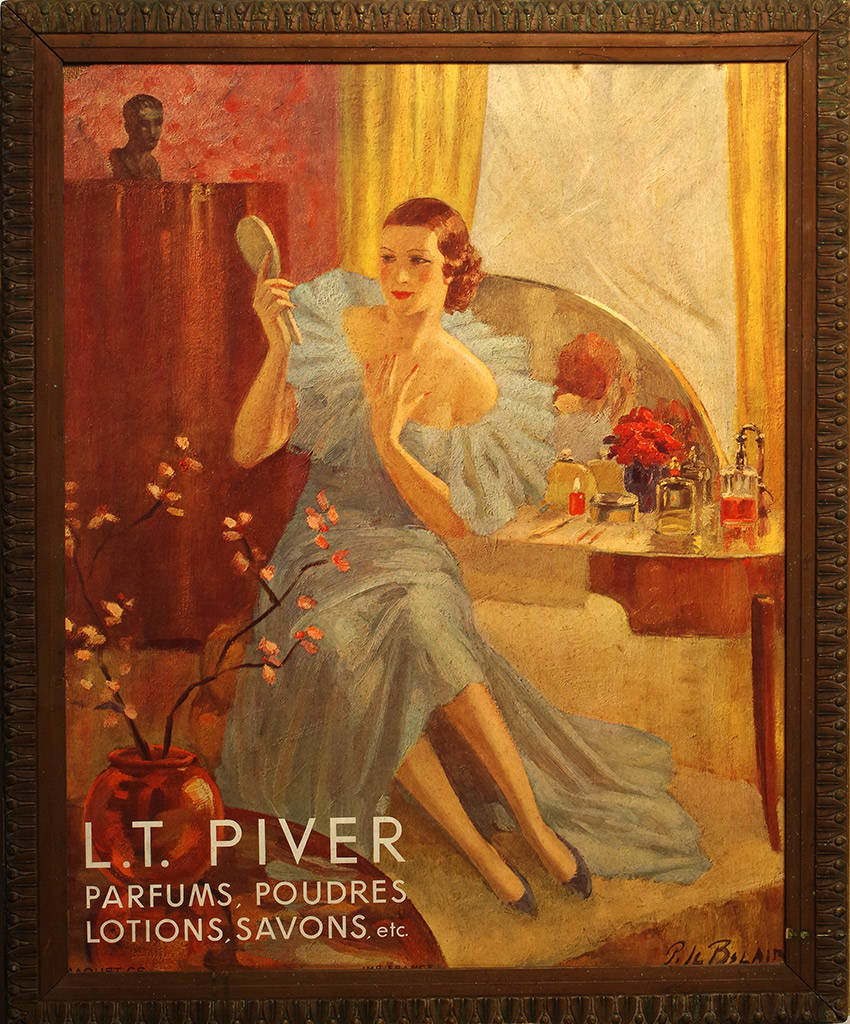 L.T. Piver Parfums, Poudres, Lotions, Savons, etc. This poster is signed on the bottom right « P. de Belair ». The portrait painter, decorator and poster artist Pierre Mitiffiot de Belair (Lyon, 1892-1956) was registered in the Salon des Artistes français in 1929.
    He was a pupil of the famous painter Jean-Paul Laurens. On this image, one can see a beautiful, red-haired with waved hair woman sitting in her bedroom at her dressing table. She is wearing a very low-cut grey gown and high heeled shoes and looking at her pretty, smiling face in a hand mirror. All the furniture is made of mahogany (wardrobe, round table and dressing table) and typically Art Deco.
    On the dressing table there are perfume bottles, vaporizers, creams and powder boxes. The yellow silk curtains, white wool carpet, red wall-paper and branches of flowers in a vase create a refined atmosphere. The poster still has its original frame made of wood and stained plaster but the small copper plate with the name « L.T. Piver » is missing.
DETAIL of Piver Parfums, Poudres, Lotions, Savons, etc.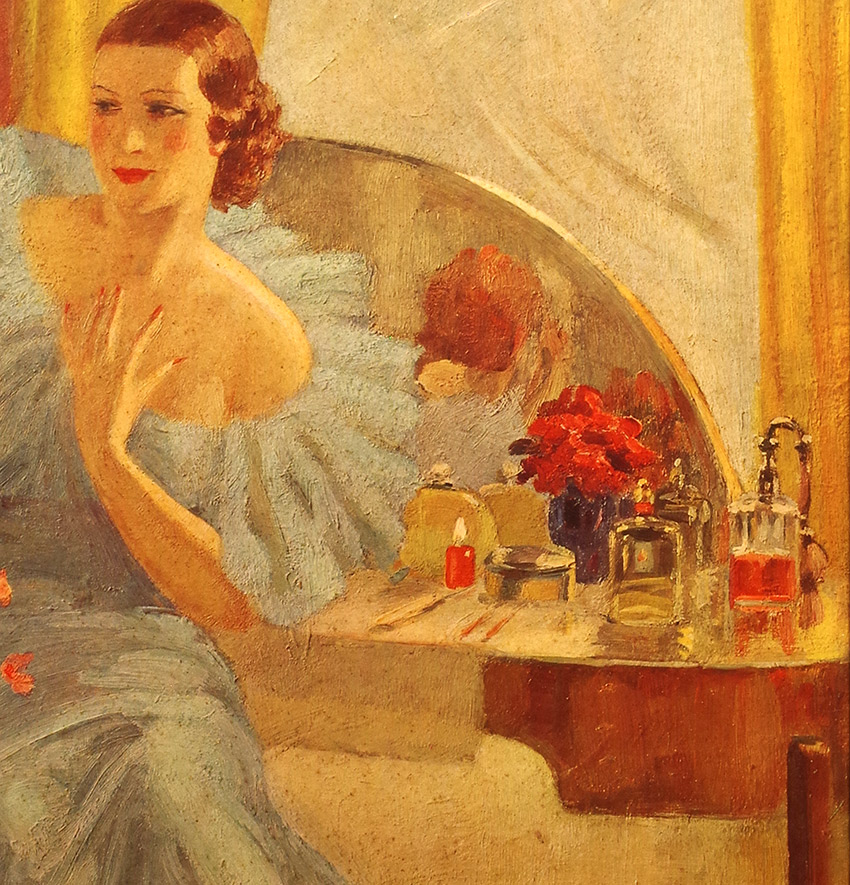 1916, Printed paper
La question étourdie, 1916. Design: Zyg Brunner in "La Vie Parisienne". Printed paper, 34.8 x 25.8 cm. Anne de Thoisy-Dallem Collection, Paris.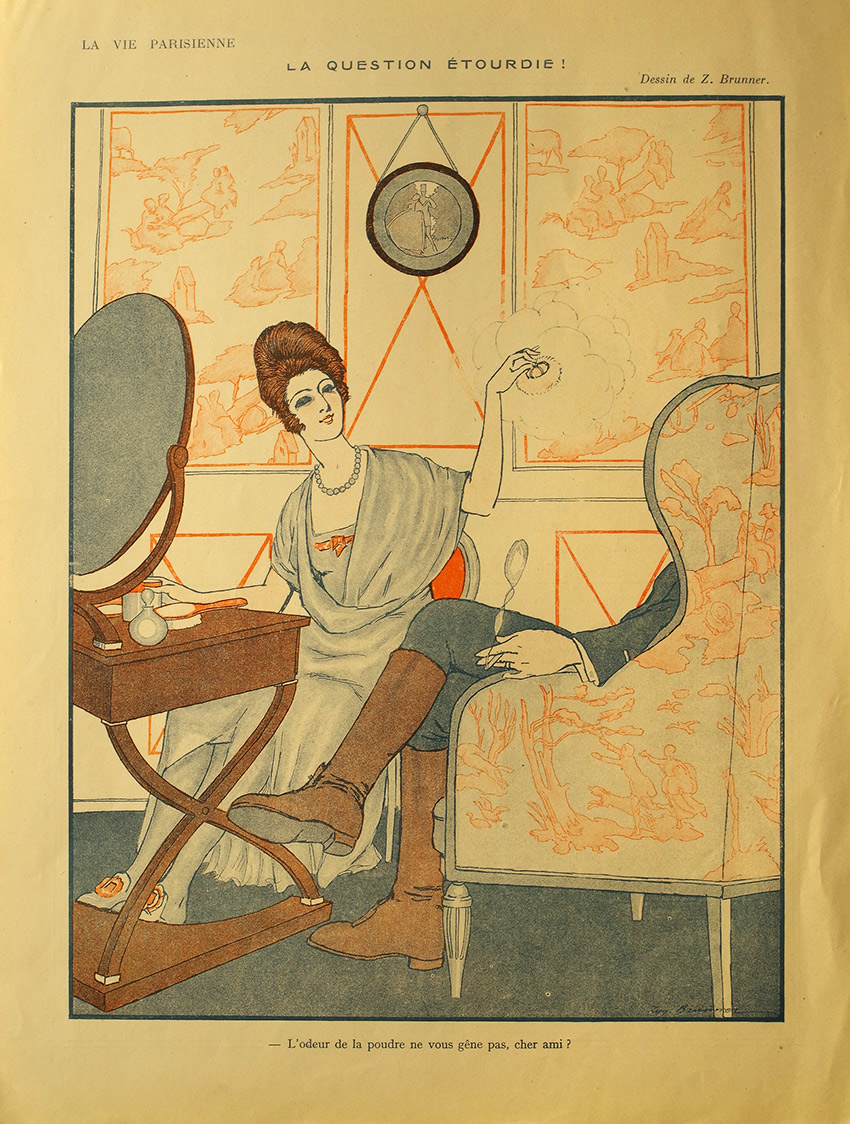 This illustration has been published in La Vie Parisienne (French cultural magazine born in 1863) on the 1st of July 1916. The author Zyg Brunner (1878-1961), also known as Zig Brunner, is a Polish caricaturist and illustrator. He arrived in Paris at the beginning of the 20th century, and worked for different fashionable magazines like the Gazette du Bon Ton, La Vie Parisienne, Le Rire, and many others.
    In this amusing drawing from the War period, he illustrates the contrast between the male and female aristocratic world through a play on the word « powder », used for cosmetics but also for weapons. Sitting in front of her mirror, in a very feminine upholstered « Toile de Jouy » boudoir, a smiling lady, wafting a swan-down puff, is asking an officer in uniform, who is smoking in a nearby armchair : « L'odeur de la poudre ne vous gêne pas, cher ami ? » (caption beneath) which means « Does the scent of powder bother you, my dear? ».
DETAIL of La question étourdie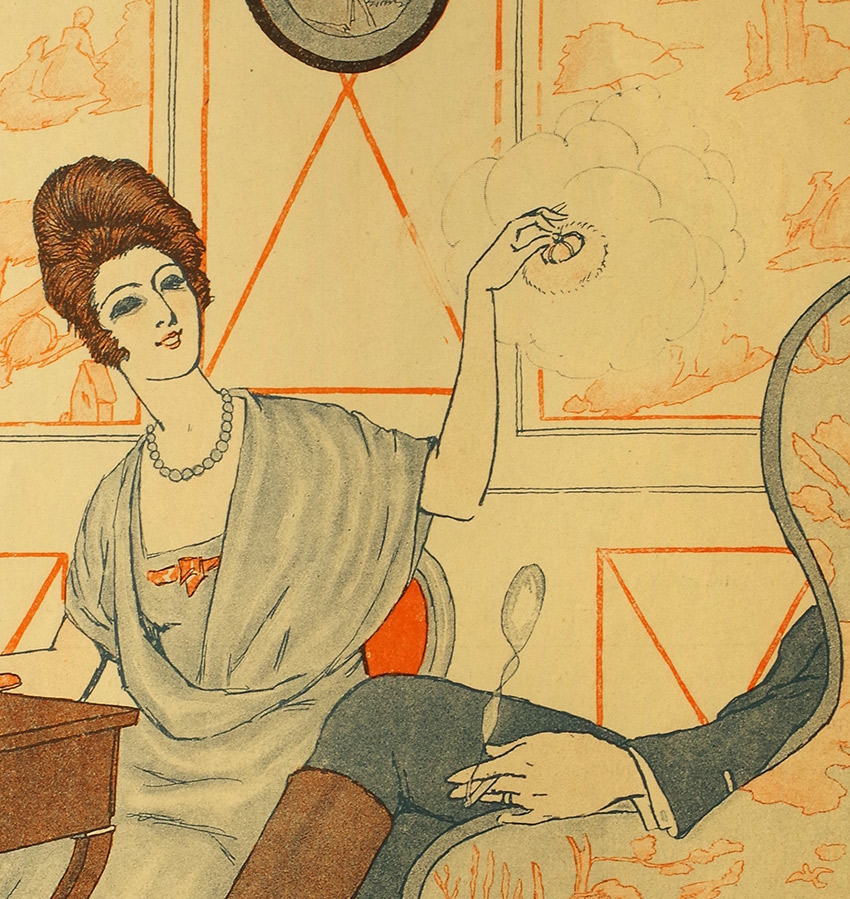 1919, Postcard
Mésange 921 Postcard : Young woman putting on powder, around 1919. Edition Mésange (probably made by L.L. Lévy fils et Cie, Paris). Photo on paper, 13.7 x 8.4 cm. Anne de Thoisy-Dallem Collection, Paris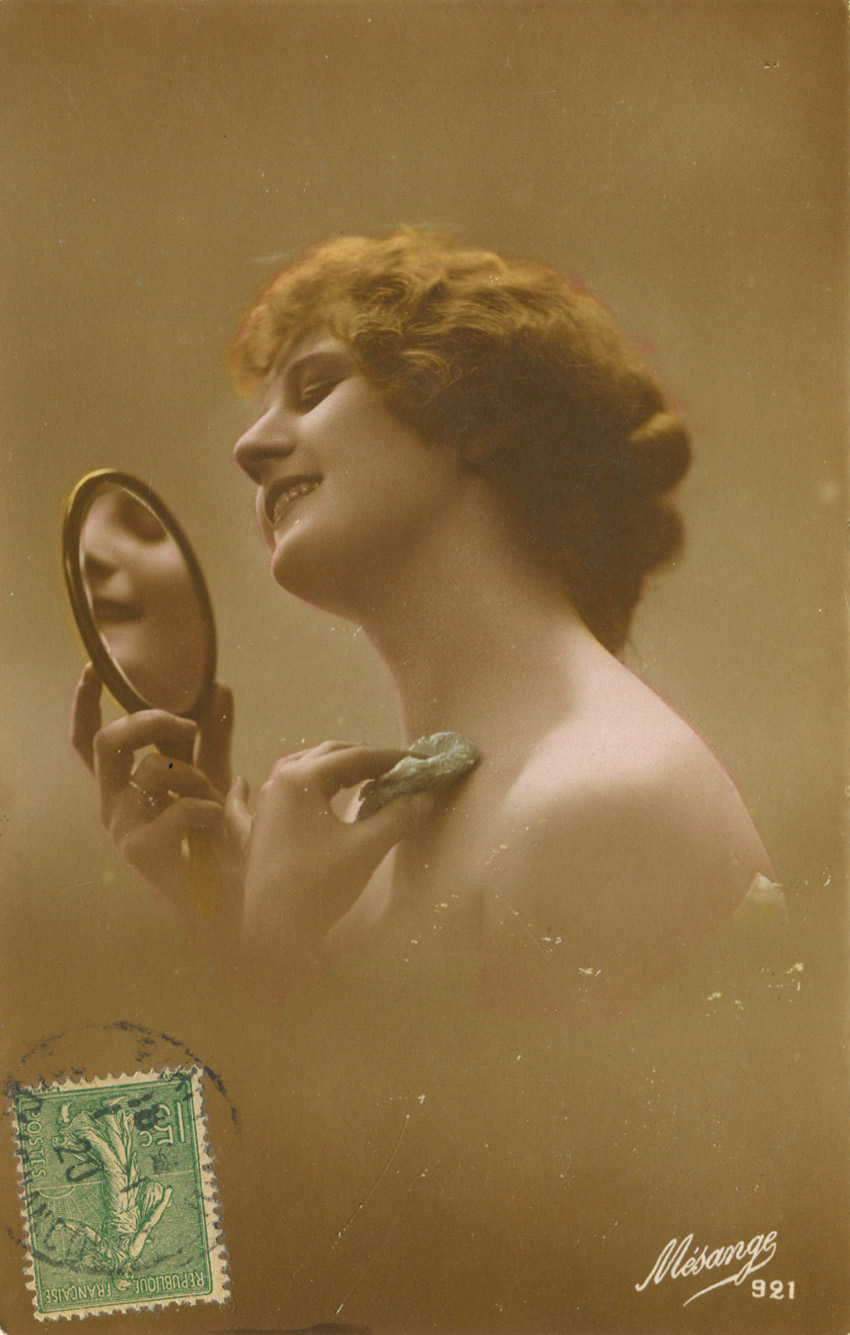 This sepia photograph has a nostalgic feeling of feminine sweetness with this smiling young woman powdering her neck with a blue-green colored puff in her left hand. Her shoulders are bare and she is holding a mirror in her right hand. She has fashionable, waved hair. On the bottom right, the name of the print can be seen in white as well as the card number : « Mésange 921 ».
    The typical French postage stamp from this period showing the French sower (the symbol of fertility) indicates the date of the card (1920). On the other side, we can read greetings for the New Year (1920) addressed to Mademoiselle Suzanne Pinault 80 Bis Boulevard Ornano Paris 18ème by Raymonde and Félix. Many French postcards printed around 1920 represented women in intimate surroundings.
1920, Printed paper
Advertisement: Poudre de riz Malacéine de Monpelas Paris, 1920. Design: Gerda Wegener in « L'Illustration » magazine. Printed paper, 40,4 x 29,4 cm. Anne de Thoisy-Dallem Collection, Paris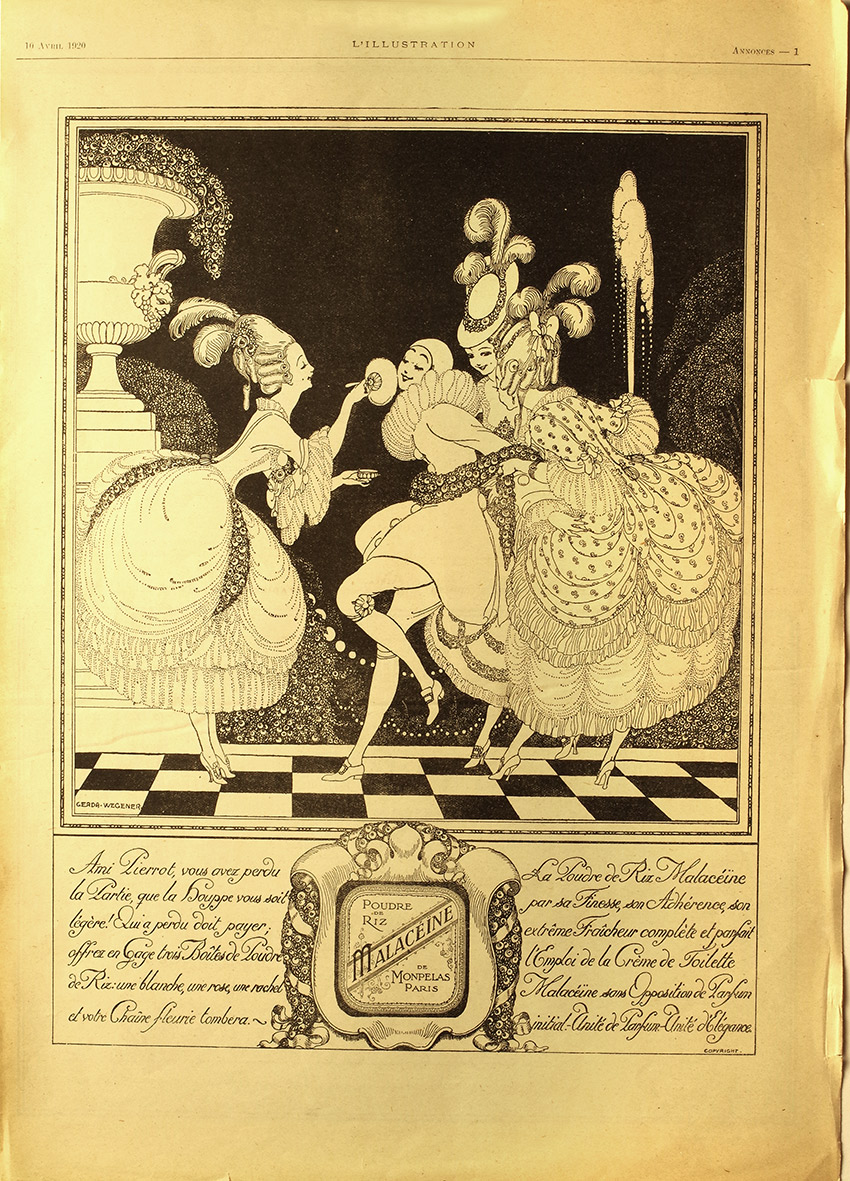 This black and white advertisement for the « Poudre de riz Malaceine de Monpelas Paris » was published in L'illustration (a famous weekly French newspaper of that time) on 10th April 1920. Monpelas was an old Perfumery house created in 1830 and located in Paris. Its main products were Malacéine powder, cream and soap.
    The illustrator who signed on the bottom left is Gerda Wegener. Her maiden names was Gottlieb and she became an artist after graduating from the Royal Danish Academy of Fine arts in Copenhagen. She was attracted by fashion and prestigious magazines, and worked for Vogue and La Vie Parisienne among others. She settled in Paris in 1912 and became well-known for her illustrations which she created for advertisements. Her story is unusual because her husband Einar Wegener became a woman under the name of Lili Elbe and one of her favourite models.
    This illustration shows a graceful « Pierrot » with his big white collar being held by two delightful marquises, while a third is shaking a swan-down powder puff over his face. They are wearing feathers in their hair and their outfits are reminiscent of the 18th century as they stand on a terrace which flanks a beautiful, luminous garden. Under the image, a long caption refers to the scene and enumerates the qualities of the rice powder.
DETAIL of Poudre de riz Malaceine de Monpelas Paris
1935, Printed paper
Advertisement: Les cent poudres Les cent fards de Caron, 1935. Design : attributed to Paul Ternat in « Plaisir de France » magazine, October 1935. Printed paper, 32 x 24 cm. Anne de Thoisy-Dallem Collection, Paris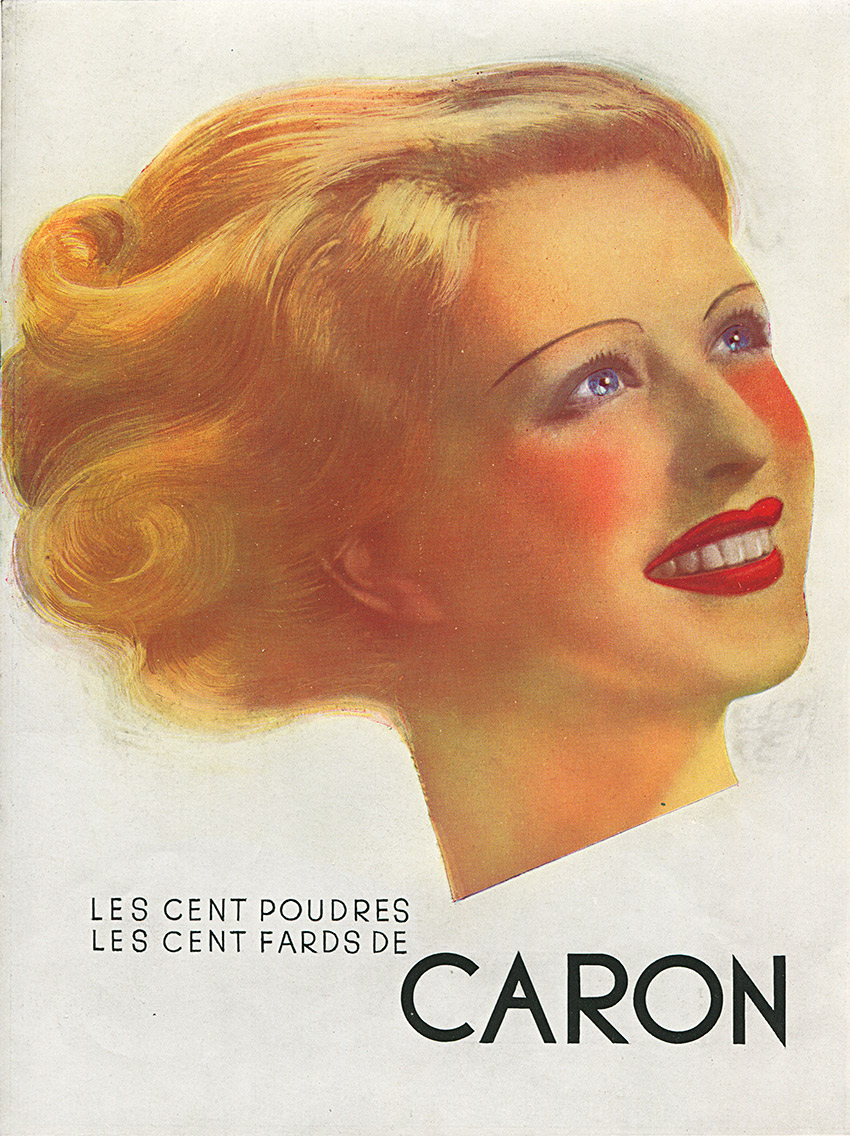 The famous Parisian house of Caron was created in 1904 and entered the American market in 1923. Although it is well known for its perfumes, its powders scented with Bulgarian Rose are also very much appreciated. By 1935, the date of this ad, Caron had already launched several powders : Pompon poudre in powder sachets (1908), co-ordinated perfumed powder boxes like the ones for Narcisse noir (1911), N'aimez que moi (1917), Le tabac blond (two versions of boxes, 1919 and 1933), Nuit de Noël (1922), Les pois de senteur de chez moi (1927), En avion (1932), Fleurs de Rocaille (1933). Mes jeunes années (1914-1915) and Kabyle, which were among the first Caron rice powders.
    These loose face powders in various shades with poetic names were recognised to be high quality by skin specialists. Cosmetics like « Sous-poudre » (base powder), co-ordinating blushes, beauty creams, were also produced. At Caron, the boxes were designed in cooperation with Ernest Daldroff, the perfumes' creator, Félicie Wanpouille, his associate, and the designer Paul Ternat. The latter created boxes, poster and wrapping paper and designed advertising campaigns for Caron between 1925 and 1951. On this ad, one can see the smiling face of a woman with blond, wavy hair and blue eyes looking towards the sky. She is wearing red lipstick and pink makeup on her cheeks. The background is pale gray. A very similar ad exists with a brown-haired girl.
1941, Printed paper
Advertisement : Pour se faire belle Lancôme maquillage [Make yourself beautiful make up] circa 1941. Design attributed to Georges Delhomme published in « L'Illustration » magazine. Printed paper (Imprimerie Draeger, Paris), 38.2 x 28 cm. Anne de Thoisy-Dallem Collection, Paris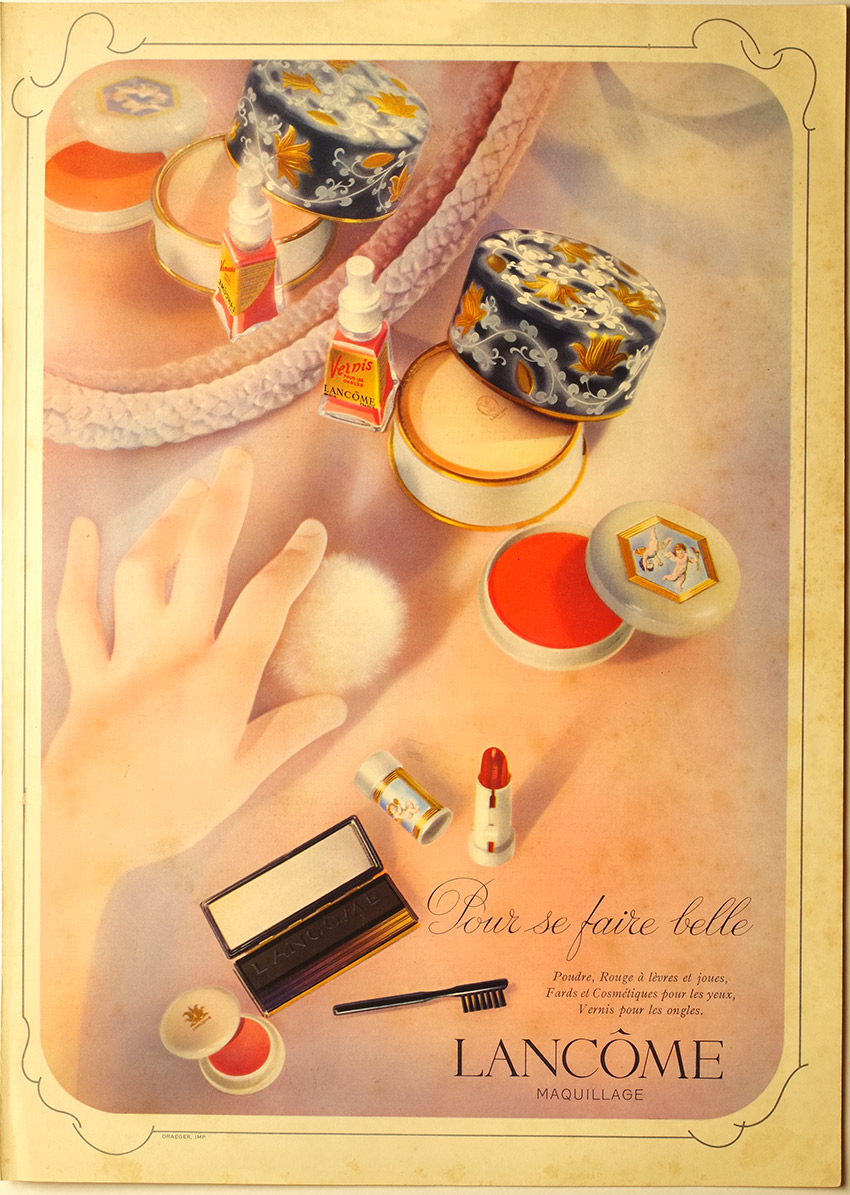 Lancôme, located at 29 Faubourg Saint Honoré in Paris, was founded in 1935 by Armand Petitjean, a former employee of Coty. It was a prestigious as well as a successful commercial company. George Delhomme designed perfume bottles, powder boxes and packaging for various cosmetics. Lancôme would become baroque, original, and luxurious. In the same way as of Petitjean, Delhomme reacted against the sober and geometric Art Deco aesthetic. He later said : « During the Thirties less than anything was the most Chic […]. We decided to do the contrary ».
    Petitjean refused nearly all forms of advertising except a few elitist publications in elegant magazines such as this. He probably wrote the long text accompanying this picture at the back himself : « Faites-vous belle en vous gardant belle » (Make yourself beautiful while remaining beautiful). On the advertisement, one can read  bottom right « Pour se faire belle Poudre, Rouge à lèvres et joues, Fards et cosmétiques pour les yeux, Vernis pour les ongles. Lancôme maquillage » ; several cosmetics are on display near a round white mirror : nail polish, powder box, pink-orange blush, black for eyes, pink cream and red lipstick. The « Poudre de Lancôme » powder box is decorated with gold flowers and white leaves on a blue background. The different products refer to the brand's 3 branches of business : a rose for perfume, cherubs for makeup and a lotus flower for beauty care. On the left, a small, pink hand is holding a white swan-down puff.
1945, Printed paper
Advertisement: La poudre Secret – Les parfums du Chevalier d'Orsay, 1945. Design : André Delfau in « Plaisir de France » magazine, n° 124, Mars 1947. Printed paper, 31,6 x 24 cm. Anne de Thoisy-Dallem Collection, Paris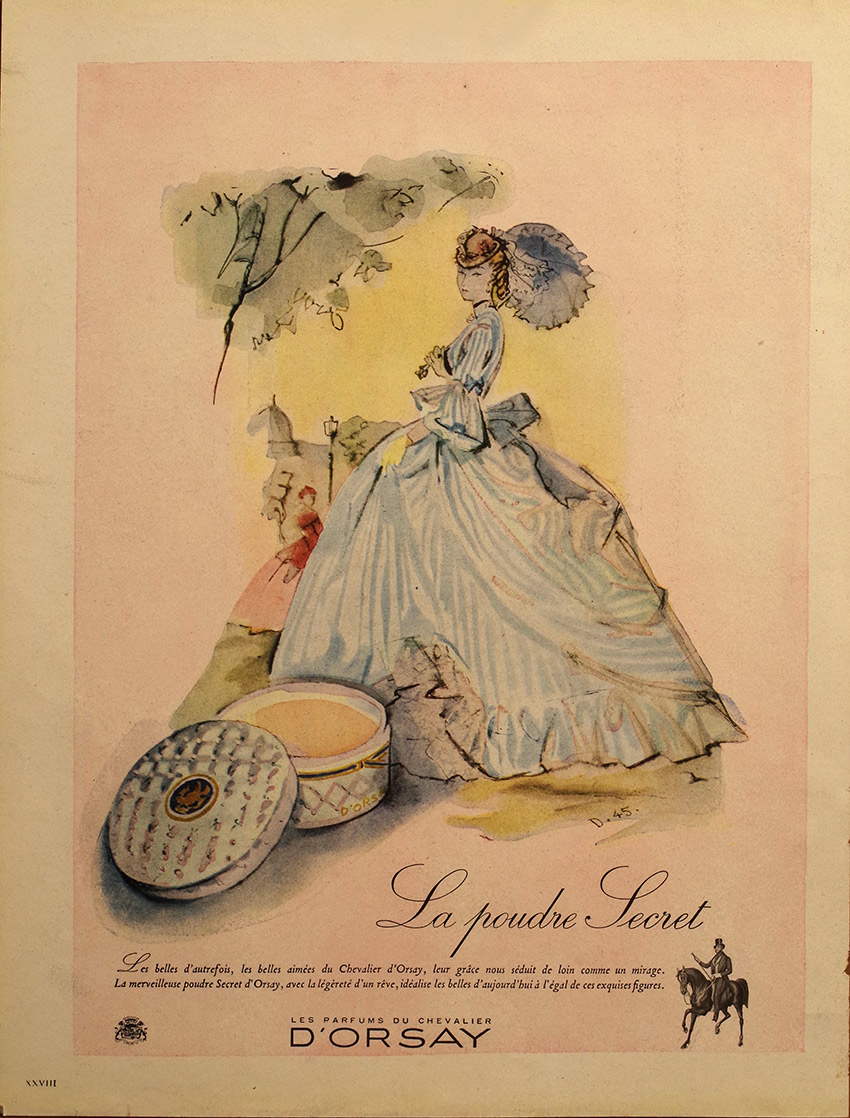 Alfred Grimod, Count d'Orsay (1801-1852) was a French amateur painter and a fashionable dandy. In London, he formed an acquaintance with Charles Gardiner, 1st Earl of Blessington and his wife, Lady Marguerite. He was deeply in love and he created different perfumes for her. After his death, in 1865, his descendants, inspired by his story, launched the perfume « L'eau du Bouquet » in Paris. The following century, the French-Dutch Van Dyck, the Germans Berg and the Russian Finck took over « Les Parfums d'Orsay » but, in 1915, due to the war, they had to leave the country.
    In 1916, the perfumery was bought by Madame Guérin and a shop decorated by Sue and Mare opened  in 1923 in the Rue de la Paix. From 1936, her son Jacques Guérin, the new director, employed very good artists such as Marie Laurencin or Jean Cocteau to design perfumes bottles and powder packaging, labels and advertisements. In this color advertising poster by fashion illustrator André Delfau which is dated 1945, one can see a lovely fair young woman wearing a striped blue and white  dress, a very small hat and an umbrella reminiscent the Impressionist period. She reminds us of Alfred d'Orsay's secret passion for the Countess of Blessington. The white, blue and gold powder box « La poudre Secret » is seen bottom left. Its embossed paper imitates leather. It was created around 1942. Under the image, one can read a poetic sentence about la poudre Secret and the brand's name « Les parfums du Chevalier d'Orsay » with the company logo, an elegant man on a horse, the Comte d'Orsay.
DETAIL of La poudre Secret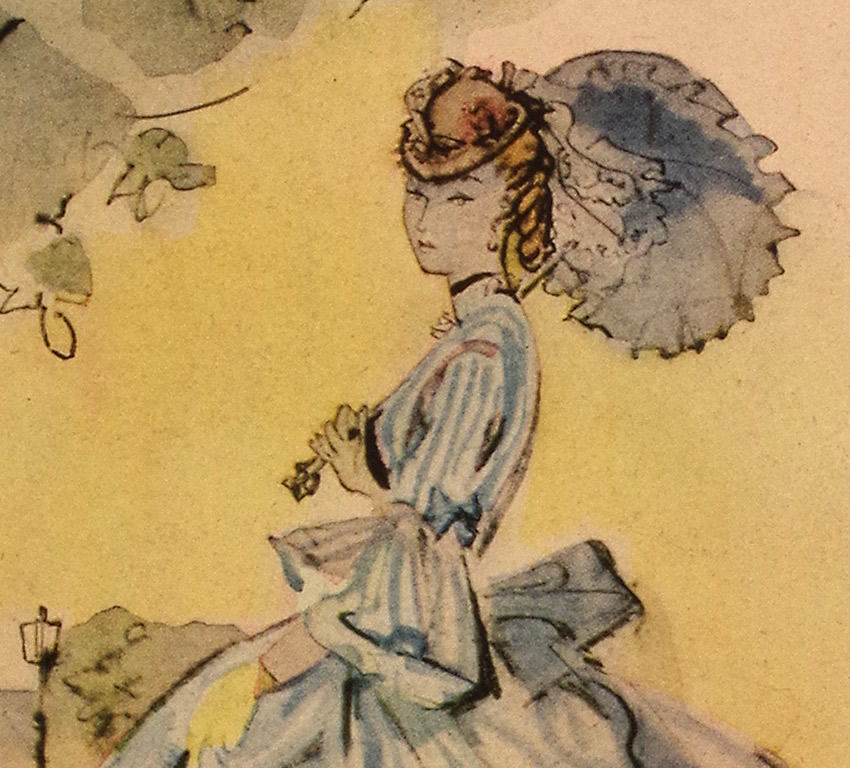 1952, Printed paper
Advertisement: Poudre Soir de Paris Bourjois, 1952. Design: Raymond Brenot in « Paris Match » magazine. Printed paper, 35,2 x 26,5 cm. Anne de Thoisy-Dallem Collection, Paris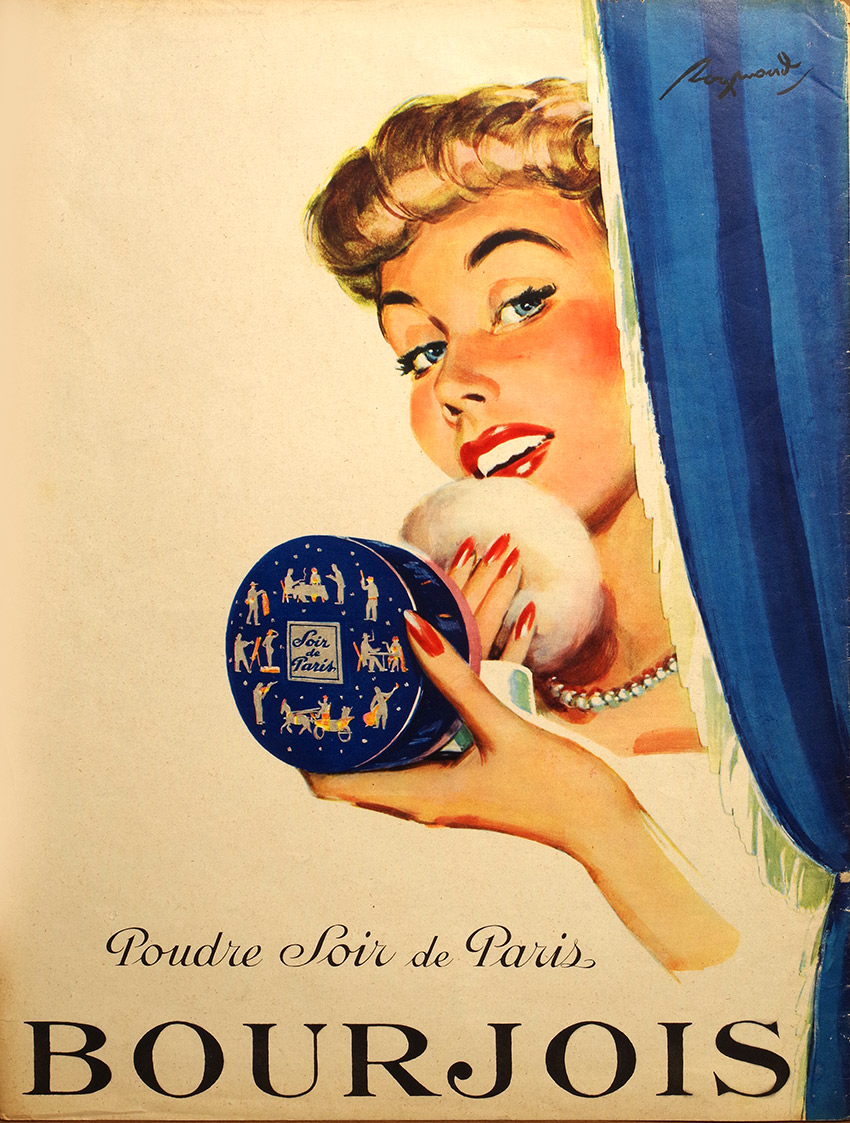 1955, Printed paper
Soir de Paris Bourjois, 1955. Design: Raymond Brenot in « Paris Match » magazine. Printed paper, 35 x 25,9 cm. Anne de Thoisy-Dallem Collection, Paris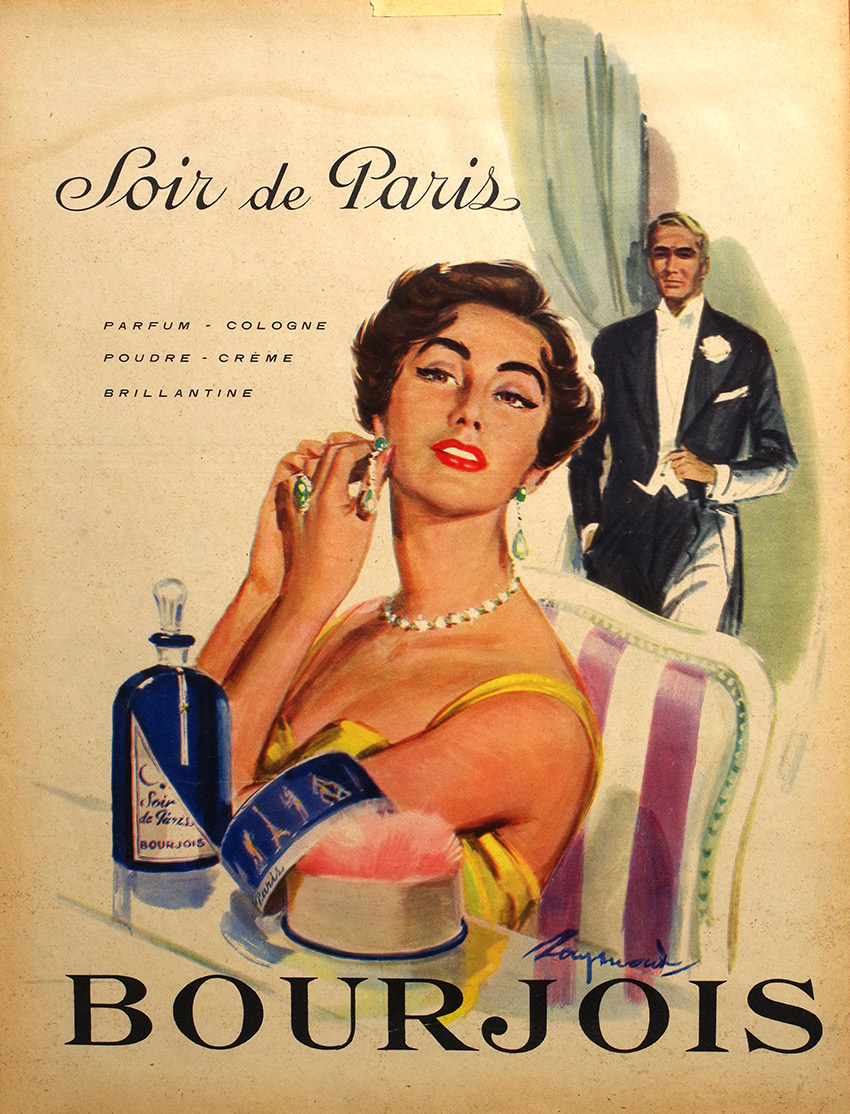 « Soir de Paris (Evening in Paris) » is the most iconic perfume by Bourjois, a famous cosmetics brand established in Paris in 1863. It was created by Ernest Beaux in 1928 and was originally sold in a cobalt blue bottle designed by the painter Jean Helleu. In both advertisements the powder box shown is in the same color with little silver Parisian scenes and details (the Eiffel tower, a painter and his model, a couple dining in a restaurant, a policeman, a horse drawn carriage…).
    This spicy, floral fragrance has always been the most popular Bourjois perfume. With this product, the luxury of the Bourgeoisie reached the middle classes.  Throughout the Thirties, hundreds of vanity cases containing the « Evening in Paris» perfume line, at all prices, were sold. During the Fifties, « Evening in Paris » was still very fashionable. Advertising was entrusted to Raymond Brenot (1913-1998).This French painter, stylist and designer signed himself « Brenot », « Pierre Laurent Brenot », « Raymond », « Laurent », « Raymond Berry », « Carols » or « Brissac ». From 1944 onwards, he had a substantial activity in fashion and advertising as a poster artist and illustrator. He was often inspired by Brigitte Bardot and was the father of the « French pin-up ». His colourful, joyful drawings for Bourjois, signed as Raymond, show sophisticated couples going out for the night and women making up.
    On the first advertisement, a beautiful young girl is peering out from behind a blue curtain wearing pearls, nails manicured, with blond hair and bright make up, and putting powder on her face. As she holds  a puff from the « Soir de Paris » box she is nearly ready for the ball. On the second advertisement from the collection, a glamourous woman with short, dark hair, a red mouth and perfectly shaped eyebrows, is putting on her diamond and emerald earrings. She is seated in an armchair in front of the mirror on her dressing table and wearing a yellow silk dress. Behind her, near a green curtain, a very elegant man, probably her husband, is wearing a dark tuxedo, a white shirt and a white flower on his lapel. Cigarette in hand, waiting, he is staring at her. They are getting ready to go out and enjoy a fine party or a fashionable show.
Encounter with the collector
Anne de Thoisy-Dallem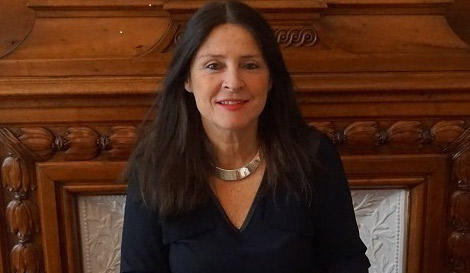 Following the PATRONS program of presenting important collections we have met with Anne de Thoisy-Dallem who has invested ten years creating a collection to fill a gap in the history of the Vanities. She responds to us with the collector's passion but also with the authority given by her solid preparation in the field of art.
Patrons: How did this interest in the Vanities come about?
Anne de Thoisy-Dallem: I have been since a long time interested in fashion accessories. I already collect, in a less systematical way little bags and bal cards, wallets, gloves, fans, umbrellas, perfume bottles, lipsticks and Vanity cases too. This feminine world, place of privacy and delicacy, search of elegance in the details attracts me.
P: Then, why have you chosen to dedicate yourself in depth to one of them among so many subjects?
ATD: Doing this compacts and powder boxes collection since 2009, I noticed there were few publications on the subject. I decided to learn more about them. I wish to contribute to the knowledge and understanding of this type of objects by collecting and studying them.
P: Do you have any favorite topics?
ATD: I am trying to illustrate mainly the French brands and wares but also other European and American productions. As an Art historian, I am mainly interested in the styles and shapes of the cases; I try to find dates and authors even if I sometimes highly appreciate the fragrances of the powders too.
P: So it looks like this type of collection is a perfect choice for a French woman…
ATD: Yes, because it has always been normal in France to go perfumed. Perfume is part of France's identity. In my family I have strong references. My old aunt, my grandfather's sister, who looked like a marquise from the old times in her beautiful flat near the Champs-de-Mars, was always covered with very nicely perfumed rice powder. In my family women were wearing perfumes, above all Guerlain or Dior (but today I wear Hermès' Jardin sur le Nil and I love Jean-Claude Ellena creations)
P: Is 2009 a special date for any reason to start the collection?
ATD: After 20 years serving the French museums as a curator, I decided seven years ago to work as an independant researcher. Loving Art history and willing to transmit, I actively worked on my compacts and powder boxes collection which I had modestly started 3 years before, in 2009. In the very beautiful and oldest Passage in Paris, « Passage des Panoramas » built in 1799, I found one day with my daughter two Art Deco compacts. It was the inconscious start of my future collection. Like Pandora, I have always been attracted by boxes but also, by perfume, hesitating when I was young to study Art history or to find my way as a perfumer.
P: Do you plan to exhibit these wonders so that the public can also enjoy them?
ATD: No exhibition has been held until now with my compacts and powder boxes collection because I was working on its constitution, inventory and study. Today, I want to share my interest and offer to the public this colleccion totally unknown until now.
The first exhibition will be held soon during all summer in the Musée International de la Parfumerie de Grasse (MIP) from 20-05-2020 to 27-09-2020 then the colleccion will be showed in the Bibliothèque Forney in Paris from 03-11-2020 to 30-01-2021.
The title is: « Le siècle des poudriers (1880-1980). La poudre de beauté et ses écrins. (Autour de la collection d'Anne de Thoisy-Dallem) » [The Century of powder compacts (1880-1980). Beauty powder and its caskets (around Anne de Thoisy-Dallem Collection)].
These two places (Grasse and Paris) have been chosen because they are for different reasons the most famous and important centers of French and international perfumery.
P: In this article you have presented some pieces chosen from your collection magnificently described with your texts… Can you tell us more about the contents of the collection?
ATD: Today the collection has about 2500 pieces around beauty powder: compacts and vanity cases (1200), powder boxes (900), documents like advertisings, paintings, drawings, archives, catalogues, postal cards, perfumed cards, paper fans (400).
These objets represent very numerous cosmetics, perfumery and Haute Couture brands. It's impossible to enumerate all these different names like Roger et Gallet, L.T. Piver, D'Orsay, Lubin, Volnay, Jean d'Albret, Tokalon, Hudnut, Caron, Guerlain, Lancôme, Versace, Rochas, Dior, Arden, Lauder, Rubinstein, etc.
Some of them are made by jewellers (for Hermès, Lancel, Boucheron). Others are industrial products in ordinary material like Bakelite or goldtone (Etablissements Bondy, SGM…).
For powder boxes presented on dressing tables or bedroom chests, the choice is vast  from cardboard to crystal : porcelain, glass, lacquer, paper mache, bakelite, wood, straw, so many manufatures (Baccarat, Saint-Louis, manufacture de Desvres, Boulogne…) and skilled craftmen.
Tremendous artistic creation appears in these, sometimes modest, sometimes somptuous, objets with master-glassmakers  like lalique or Viard, illustrators like Iribe or Lepape.
P: We say goodbye to Anne and we will meet again in Grasse, in what will be one of the emblematic exhibitions on Vanities, where it is planned to document it with the edition of a Catalogue with different specialised authors around the exhibition and the Anne de Thoisy-Dallem collection. It will be published with the MIP (Musée International de la Parfumerie de Grasse) and available from june 2020. Conferences will be organised next year too around Beauty powder and its accessories in Grasse and Paris.
*Anne would like to thank François Goalec and Barthélémy Despax (photographers), Patrice and Valentin Dallem and Louise Garavaglia for their collaboration during the preparatory work.