By Norberto León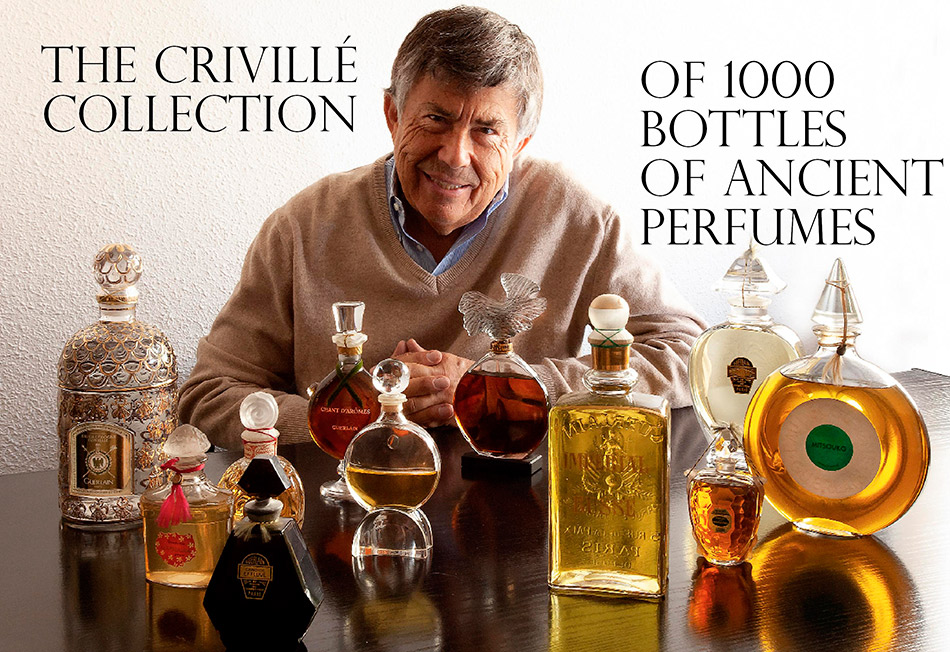 Photo by Jordi Massó
Among his treasures is a bottle unique in the world
created by Aimé Guerlain in 1879 for the Russian Imperial Family


40 years collecting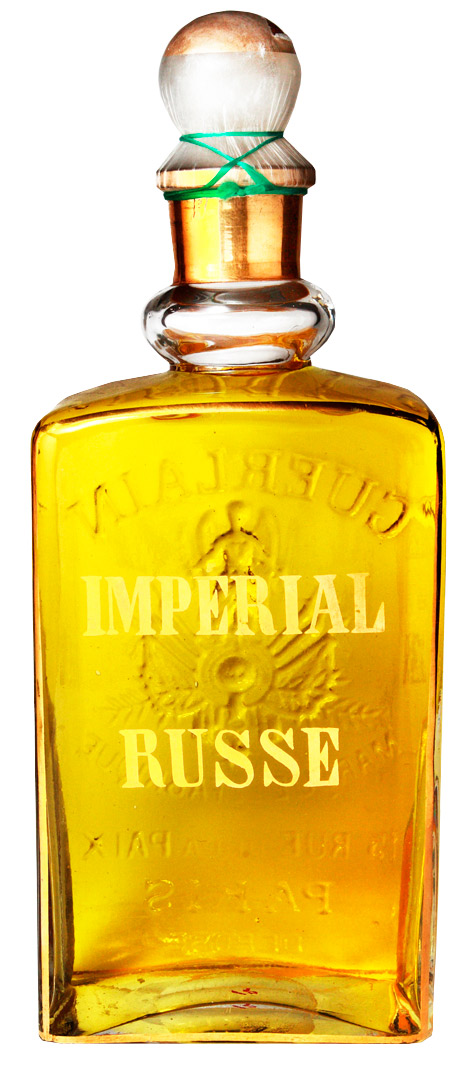 Since the day Juanjo Ruiz Crivillé decided to become a collector, he has spent thousands of hours researching, gathering documentation and pursuing the most valuable and unique pieces in order to integrate them into his collection. His oldest bottle from 1879, is unique in the world: "The Imperial Russe" which is certified by the Guerlain House as invaluable.
Characteristics of the Imperial Russe bottle

Design: bottle made in POCHET & DU COURVAL and carré bas. Its solid, aristocratic contours contrast with the cylindrical stopper remisniscent of the first champagne stoppers, the greatest exponent of "Les années folles".

Engraved in 24 carat gold the Embléme de la Victorie (La croix de la Légion d'Honneur)

Height: 9,05 in. Content: 16,90 fl. Oz of extract.

Fragrance: its exit is fresh, developing quickly a halo of very singular vanilla that evokes a playful and happy time. A perfume ahead of its time, sophisticated and avant-garde.
It was a tribute to the great splendours of the Russian Imperial Family.
Highlights from the Collection 
The Collection is a compendium of the designs made since the late nineteenth century and throughout the twentieth century, as the collection also includes the most recent perfumes. The Collection is a very special History of Art that represents the movements of all periods since 1879.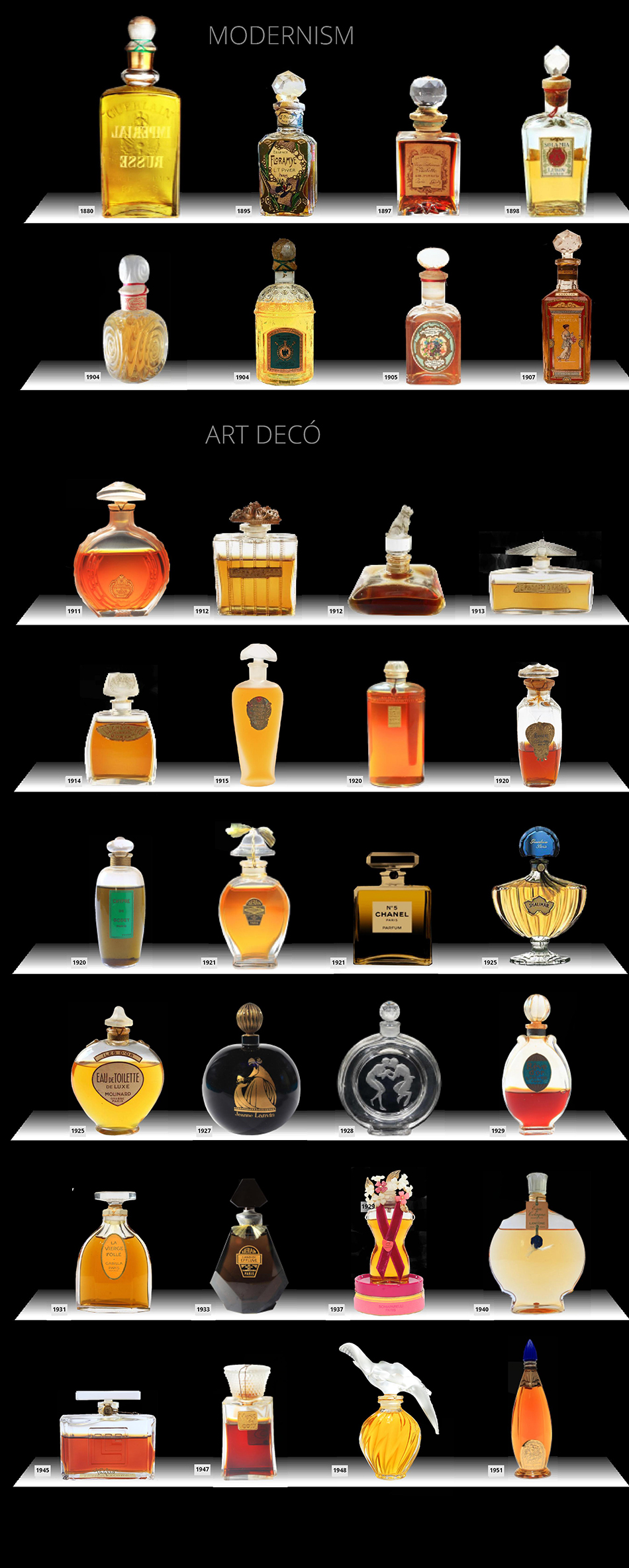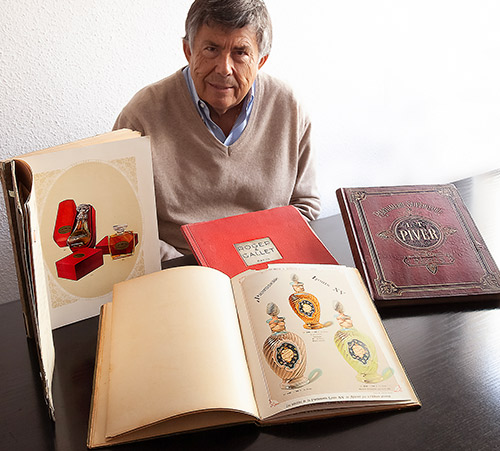 An expert collector
and his catalogues
Juanjo Ruiz Crivillé lives in Barcelona, Spain, where he also keeps his collection.
He is a member of the "International Perfume Bottle Association" and frequently helps other collectors categorize bottles as he owns 103 old perfume manufacturer catalogues. Possibly the world's most important library for technical information on period perfumes.
Juanjo Ruiz Crivillé also participates in exhibitions on perfume by providing bottles from his collection.
PHOTO: Juanjo Ruiz Crivillé with some of his rarest copies of perfume catalogues
1867:  L.T. PIVER, published in French with 146 illustrated pages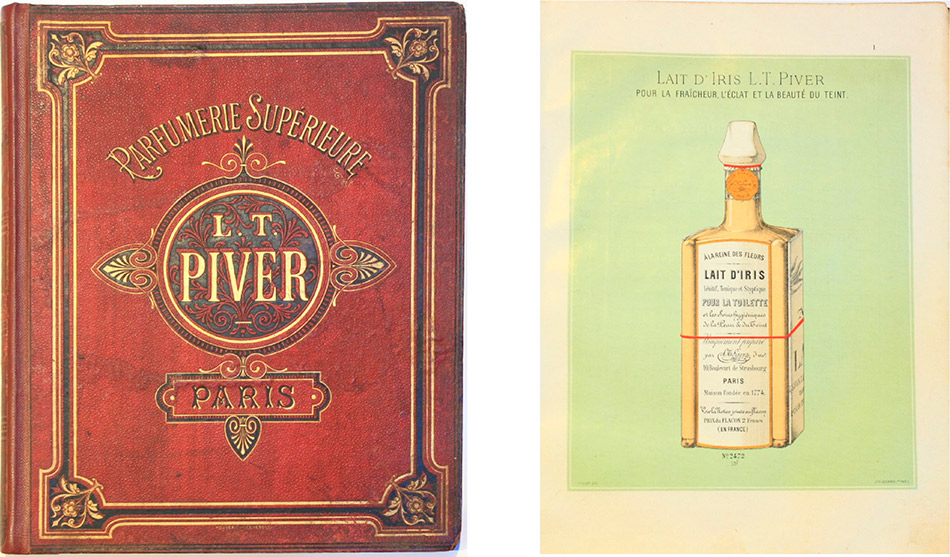 1880: A.BOURJOIS & Cie, published in French with 81 illustrated pages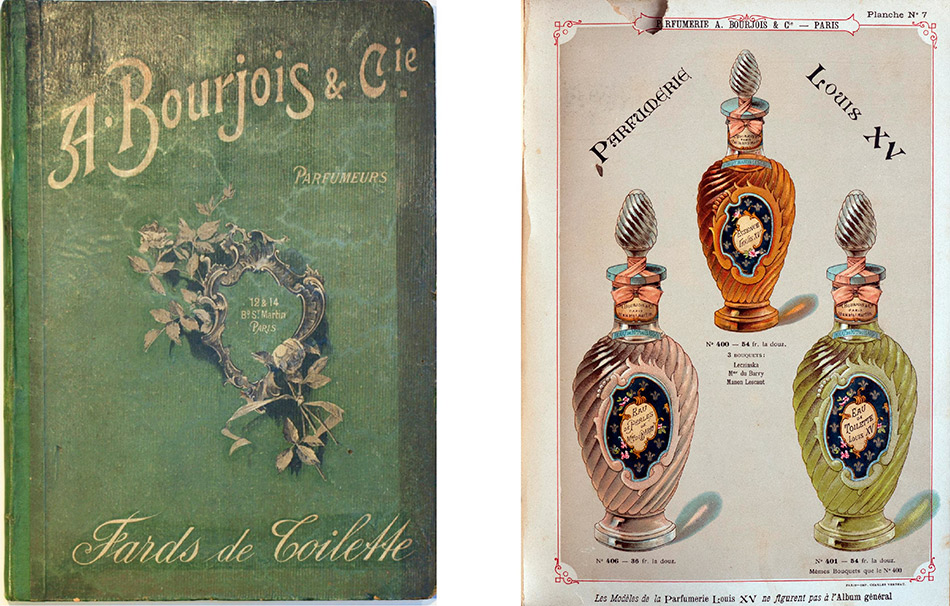 1912: PERFUMERÍA FONT, published in Spanish with 26 illustrated pages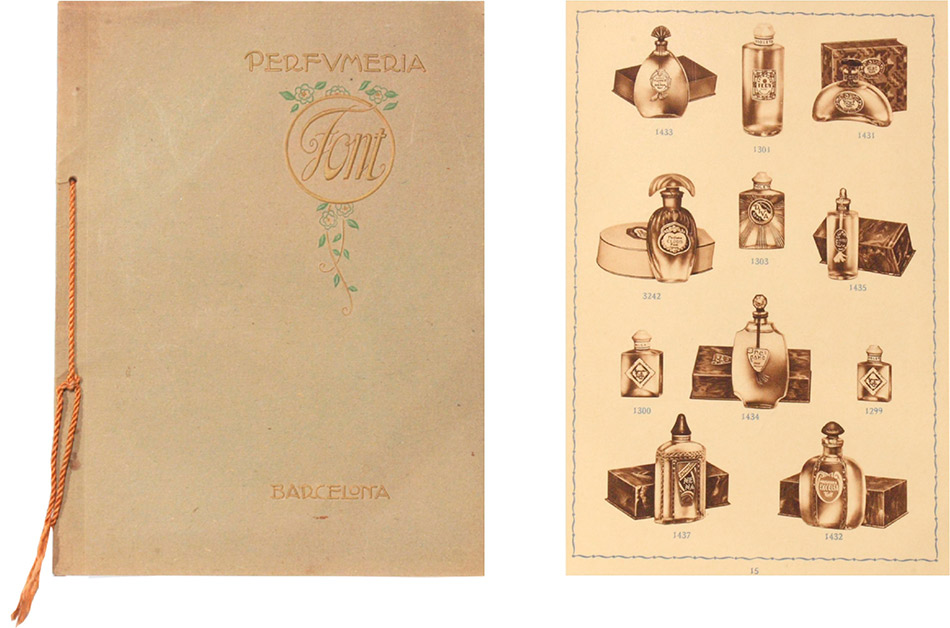 1915: GAL, published in Spanish with 68 illustrated pages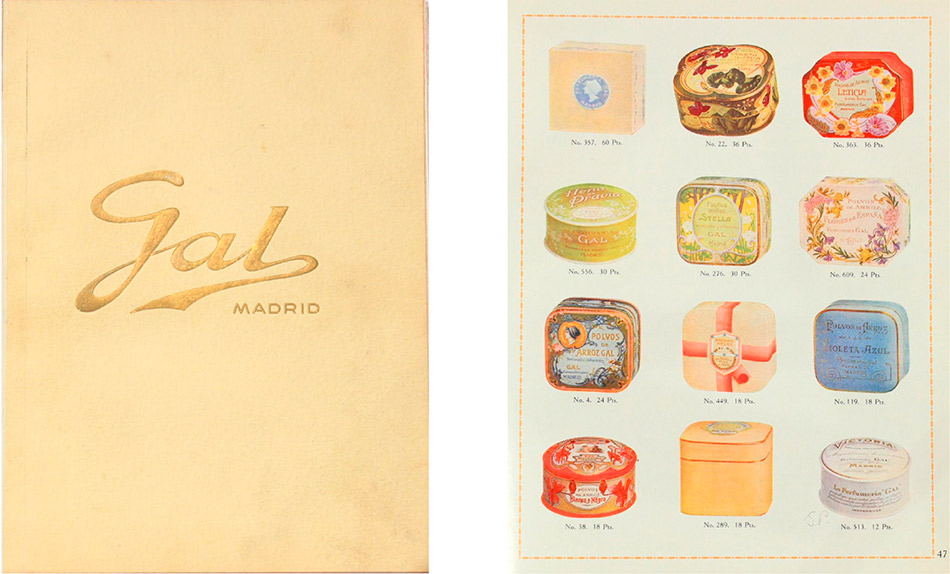 1925: GELLÉ FRÈRES, published in French with 114 illustrated pages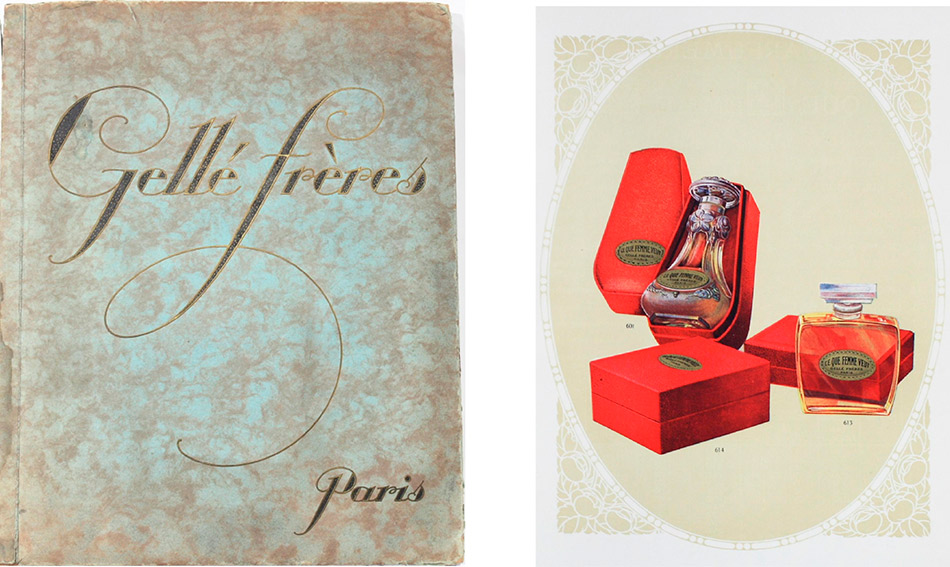 1926: COTY, published in French with 60 illustrated pages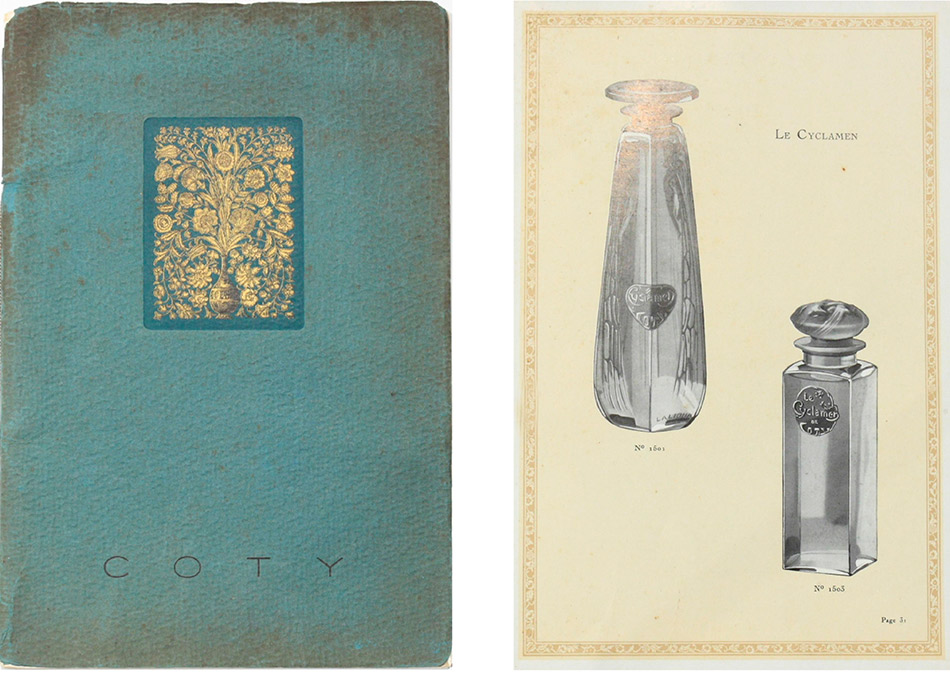 1926: CHERAMY, published in French with 32 illustrated pages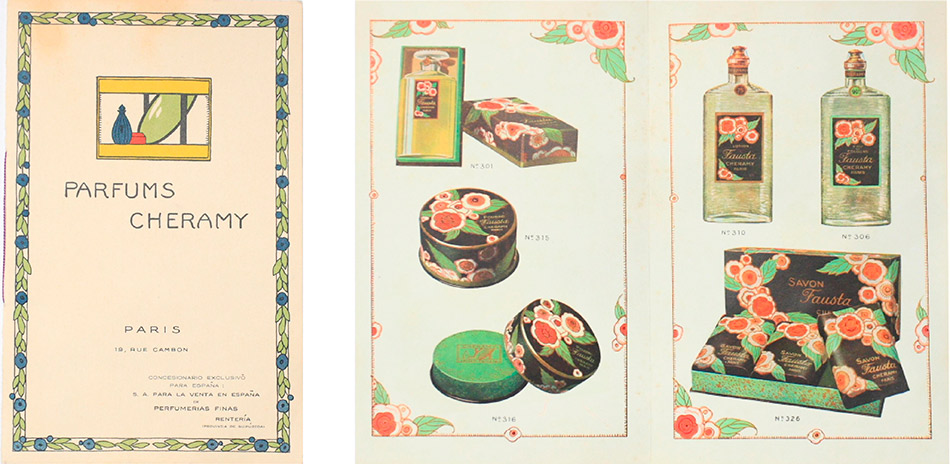 1928: ROGER & GALLET, published in French with 81 illustrated pages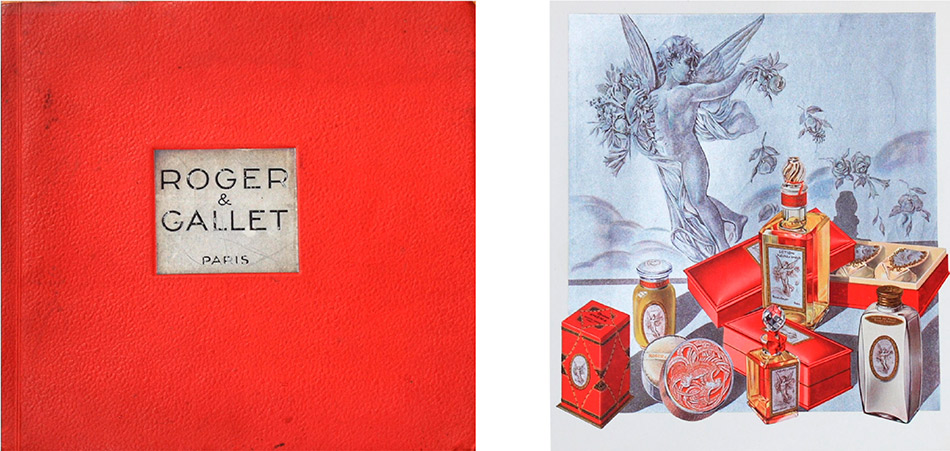 1929: PARERA, published in Spanish with 30 illustrated pages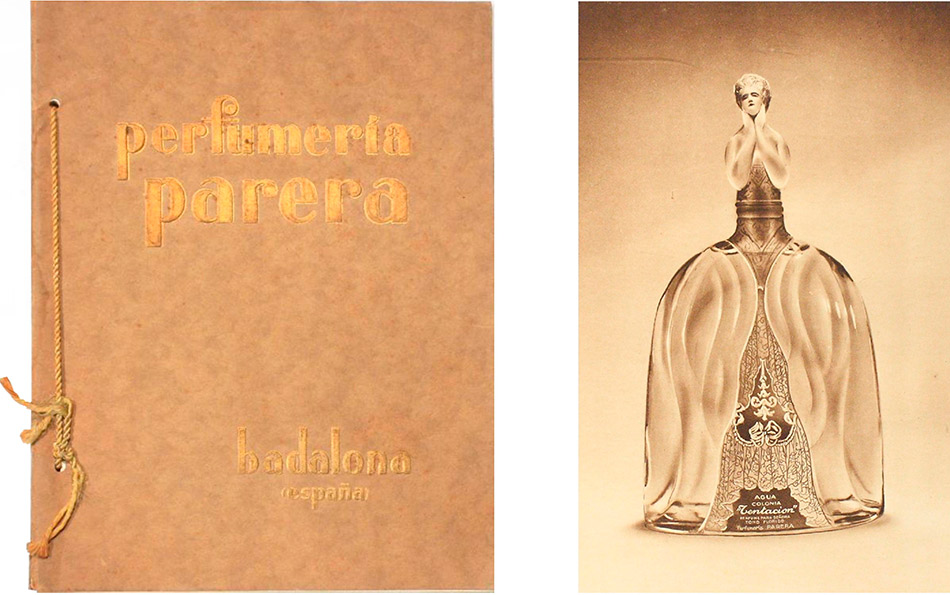 1929: LUBIN, published in French with 26 illustrated pages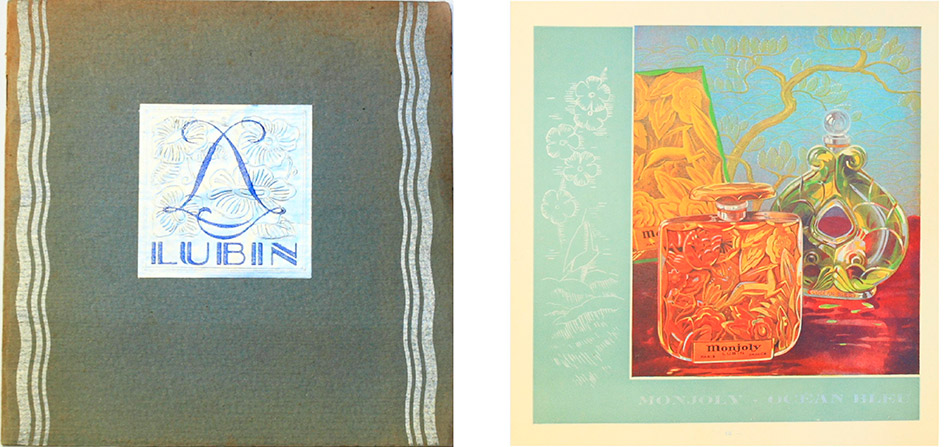 1933: HOUBIGANT, published in French with 30 illustrated pages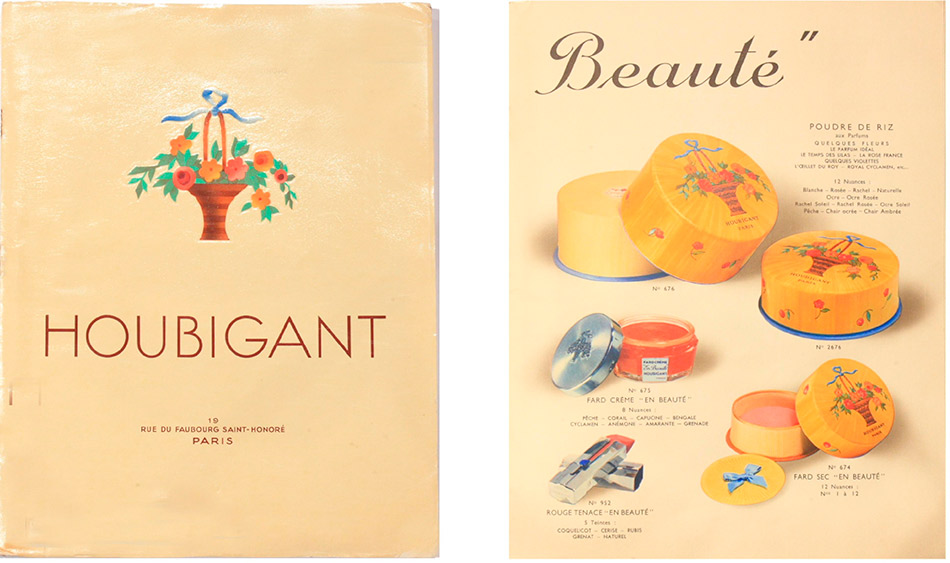 1949: MOLINARD, published in French with 37 illustrated pages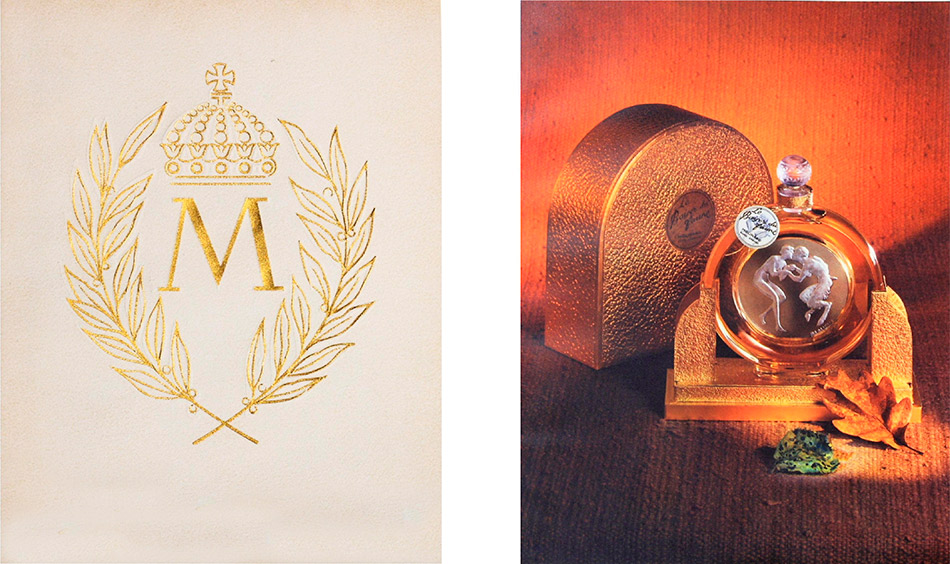 Juanjo Ruiz Crivillé collects
everything related to perfume and cosmetics
Cosmetic Powders  

Cosmetic Powders is another of Juanjo Ruiz Crivillé's extraordinary collections. Like perfume bottles, the packs are unopened. The Collection includes more than 1000 pieces from 1879 to 1950.

Compact Powder Case and Lipstick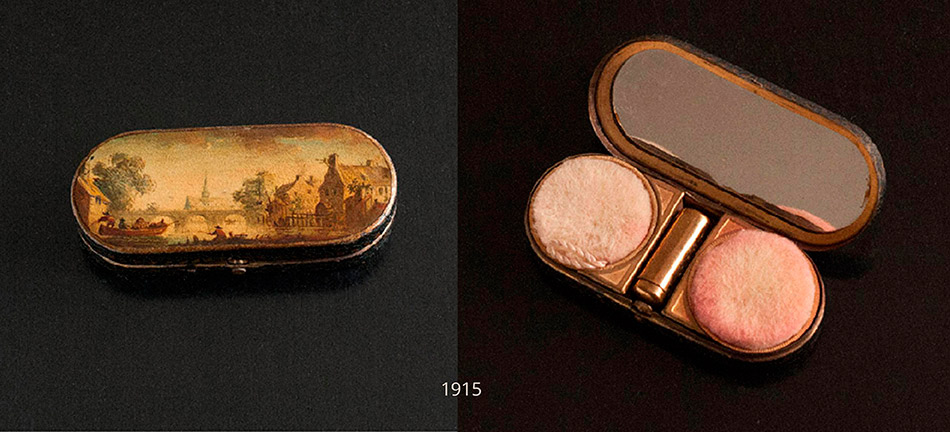 Talcum Powders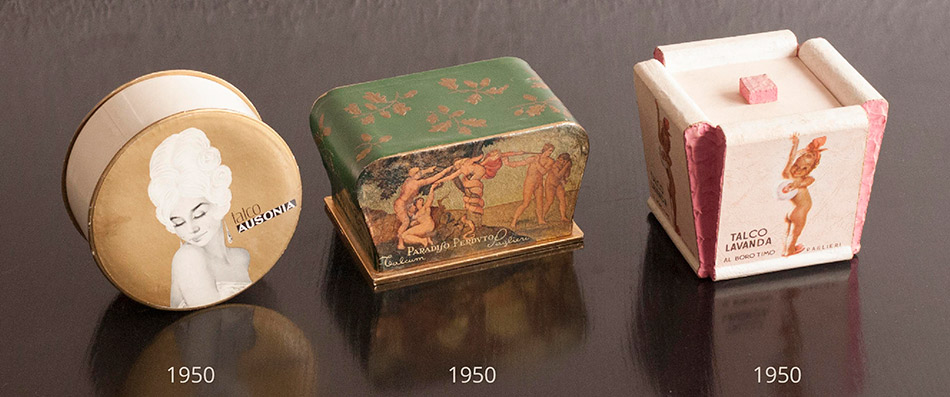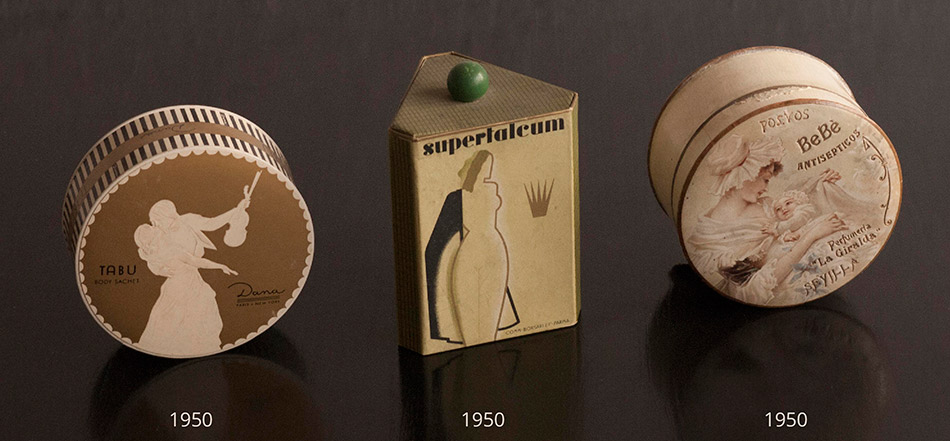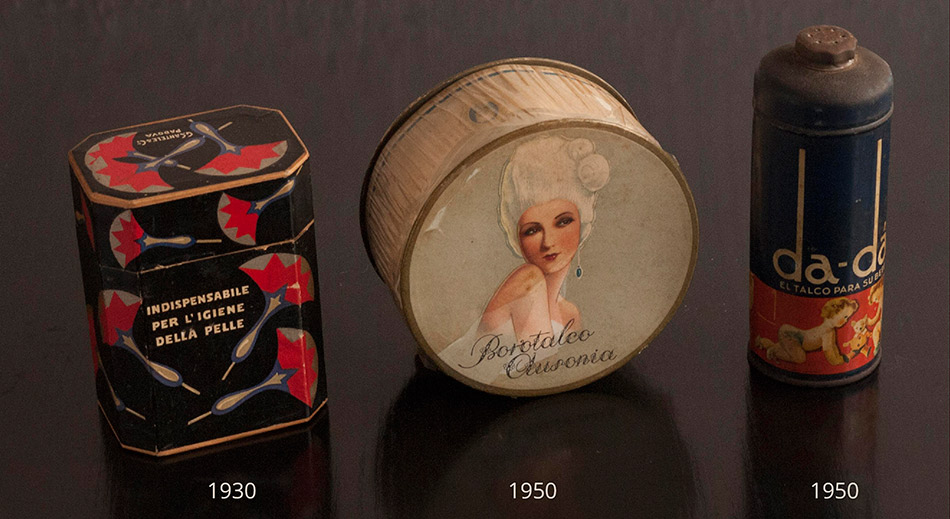 Soaps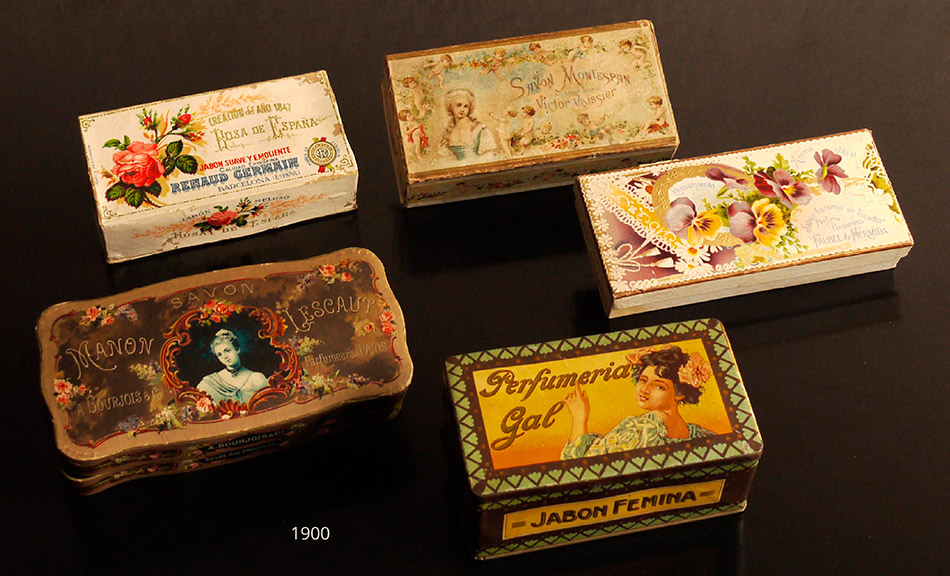 Posters, displays and ephemera
Posters, displays an ephemera are other important pieces related to the world of perfume that Juanjo Ruiz Crivillé treasures in his collection. The collection contains many pieces of exceptional artistic quality created by outstanding artists of the time.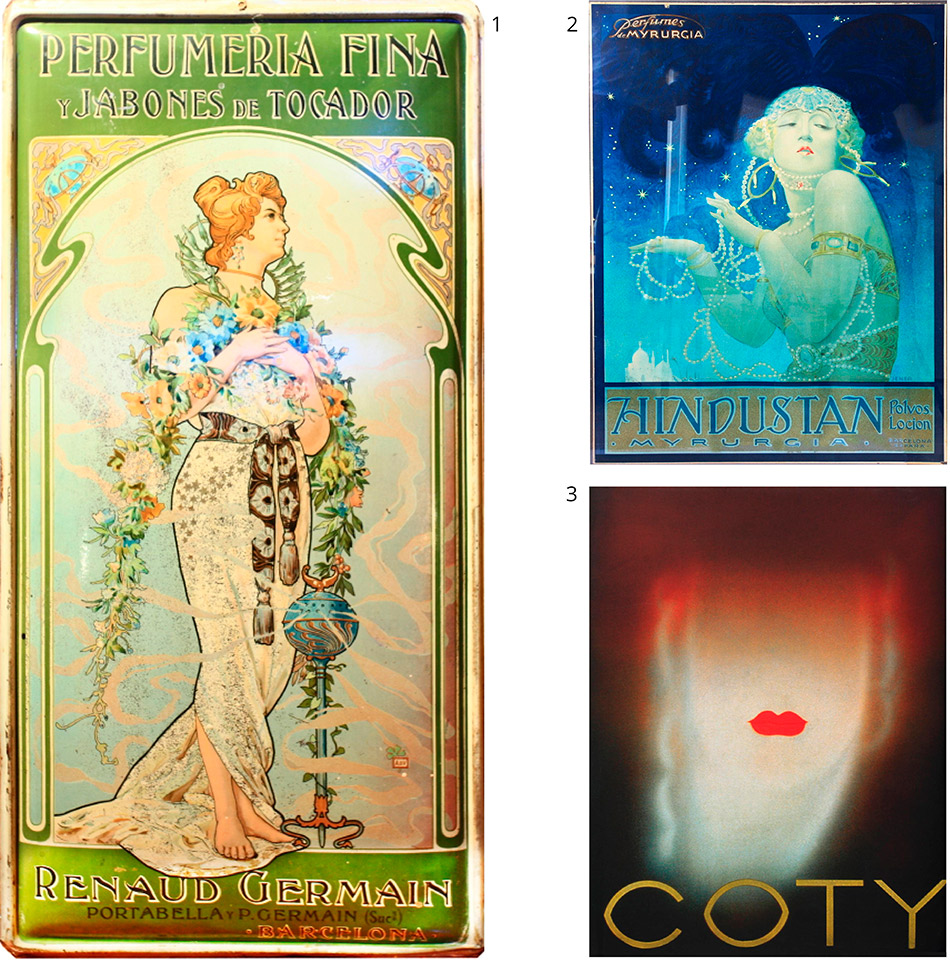 PHOTO NUMBER 1: 1897, RENAUD GERMAIN
In order to ensure their durability and to be able to be exposed in facades, some poster motifs were printed on a sheet metal support. This sample of 1897, printed in Genoa by the industry G. de Andreis, was made for the French soap and perfume manufacturer Emile Renaud Germain, which was established in Spain in 1847. The design of the poster is attributed to the outstanding modernist artist Alphonse Mucha. The firm Renaud Germain advertised itself as a supplier to the Royal Spanish House.
PHOTO NUMBER 2: 1922, HINDUSTAN
The Spanish perfume manufacturer Myrurgia was the most important at the time and achieved international renown. The company was run by an artist and created extraordinary posters and packaging in collaboration with the best artists of the time. Juanjo Ruiz Crivillé has an extensive and unique collection of works by this brand that represents the best graphic images of Spanish perfumery.

PHOTO NUMBER 3: 1930 COTY
The brand was always a reference of artistic quality in all its production from its beginnings. Juanjo Ruiz Crivillé's collection includes several examples of the brand's graphic history throughout the 20th century.
The Beginning of the Collection
Juanjo Ruiz Crivillé's passion for perfumes starts at a very young age. He saw how his mother accumulated without opening the perfumes that Juanjo's grandfather brought to her every time he returned from his business trips to Paris. These bottles were the beginning of what is now one of the most important collections in the world.

Mrs. Margarita Crivillé, Juanjo's mother, whose love of preserving unopened perfumes inspired the creation of the Crivillé collection. BOTTLES: The 30's bottles of Mrs. Crivillé with which Juanjo began his collection.