The GRASSET COLLECTION
 at the Museum of Fine Arts, St. Petersburg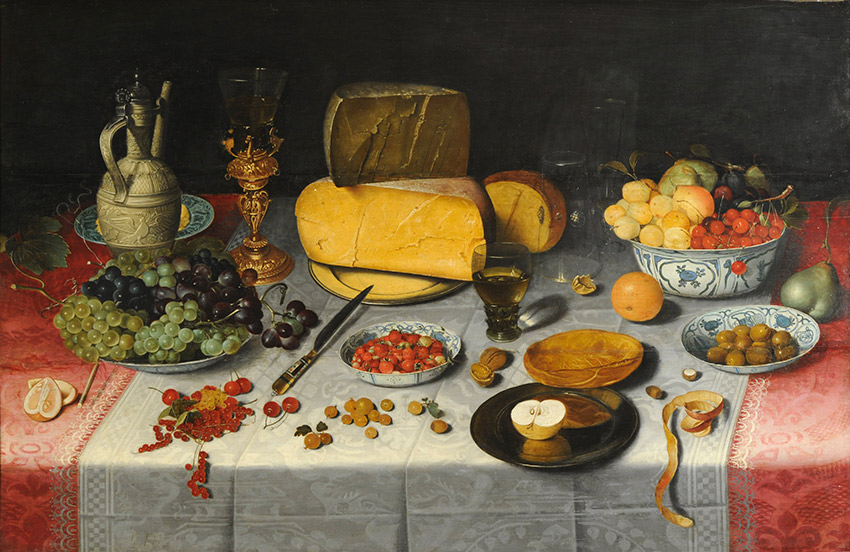 Floris Claesz. van Dyck, Dutch, 1575-1651, "A Still life of Fruit and Olives in Various Blue and White Chinese Export Porcelain Bowls, a Sieburg Stoneware Ewer, a Berkemeyer Conical Roemer in a Silver-gilt Mount, a Glass Roemer, an Façon-de-Venise Beaker with Lion-Mask Prunts, a Stemmed Glass Flute, New and Aged Cheese Upon a Silver Plate with a Knife, and Various Fruits and Nuts, all Arranged upon a White Damask Cloth Laid over a Rose Damask Cloth Covering a Table." Oil on oak panel, 74.5 x 114cm (29 ¼" x 44 ¾")
Dreamy landscapes and luscious still life paintings from one of
the world's greatest private collections. 40 of the finest Old Master paintings
by artists from the Netherlands, Italy, Spain, and Germany.
The works span from 1600 to 1750.
A Feast for the Eyes: European Masterpieces from the Grasset Collection"
was on view March 23 — September 2, 2019 at the Museum of Fine Arts, St. Petersburg.
The Grasset family has generously extended the loan of all 40 paintings to the museum through 2022

Opulence of the Golden Age is displayed
in the exhibition's splendid banquet pieces
Floris Gerritz. van Schooten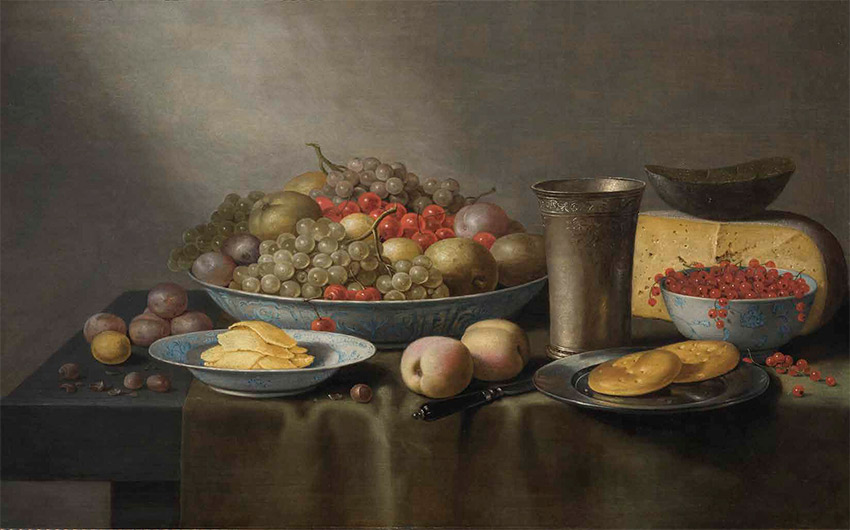 Floris Gerritz van Schooten, Dutch, circa 1585-1655, "A Still Life of Fruit in wanli kraak Porcelain Bowls, Cheese, a Silver Beaker and bread on a pewter plate on a draped table". Oil on oak panel 52 x 84cm (20 ½" x 33")

Balthasar van der Ast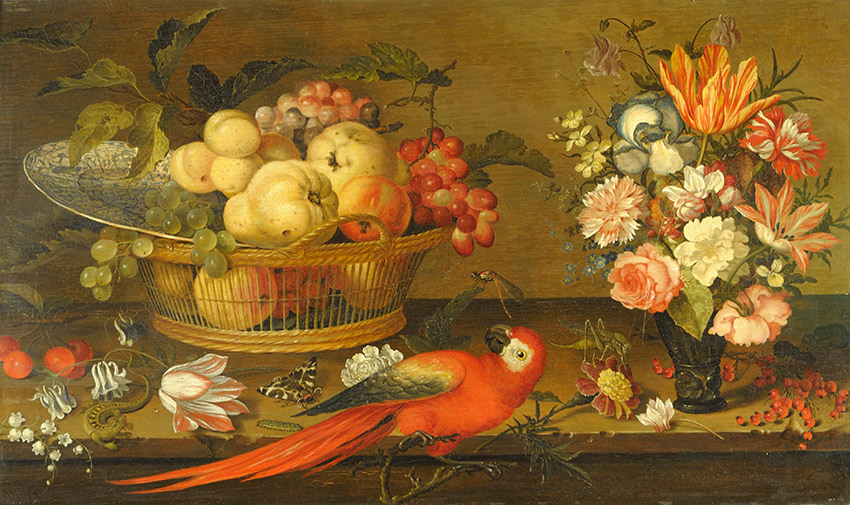 Balthasar van der Ast. Dutch, 159¾-1657, "A Basket of Fruit with a Wanlikraak Porcelain Dish, a Vase of Flowers, a Parrot, a Lizard and Insects on a Ledge". Oil on oak panel, 35.6 x 62.2cm (14″ x 24 ½")


Jacob van Hulsdonck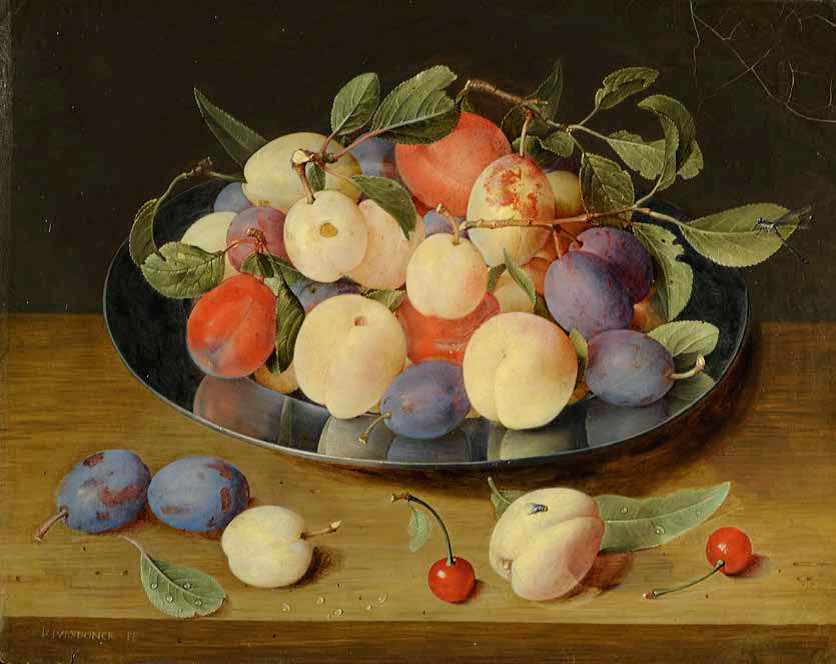 Jacob van Hulsdonck. Flemish, 1582-1647, "Plums and Peaches on a Pewter Plate with Plums, a Peach and Cherries on a Table". Oil on copper, 28.8 x 35cm (11 ¼" x 13 ¾")


Juan van der Hamen y León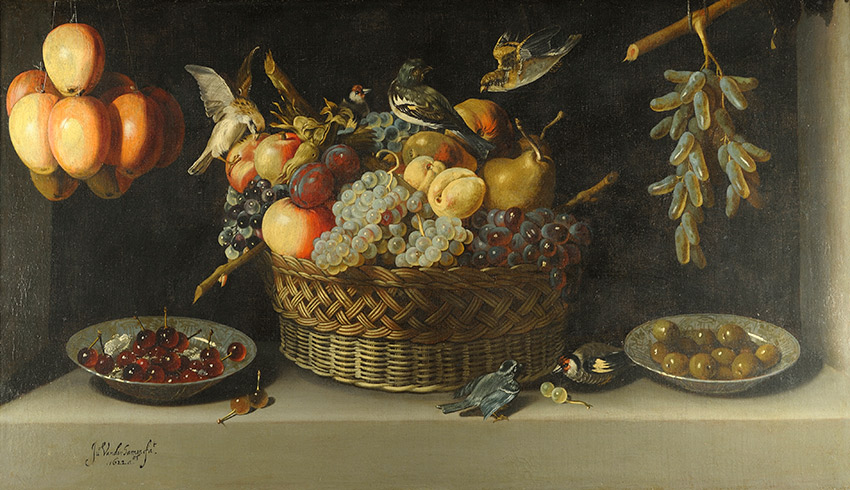 Juan van der Hamen y León. Spanish, 1596-1631, "Still Life with a Basket of Fruit with two Plates of Fruit and Two Birds, All on a Stone Ledge 1622". Oil on canvas, 57.2 x 100.3cm (22 ½" x 39 ½")


Juan van der Hamen y León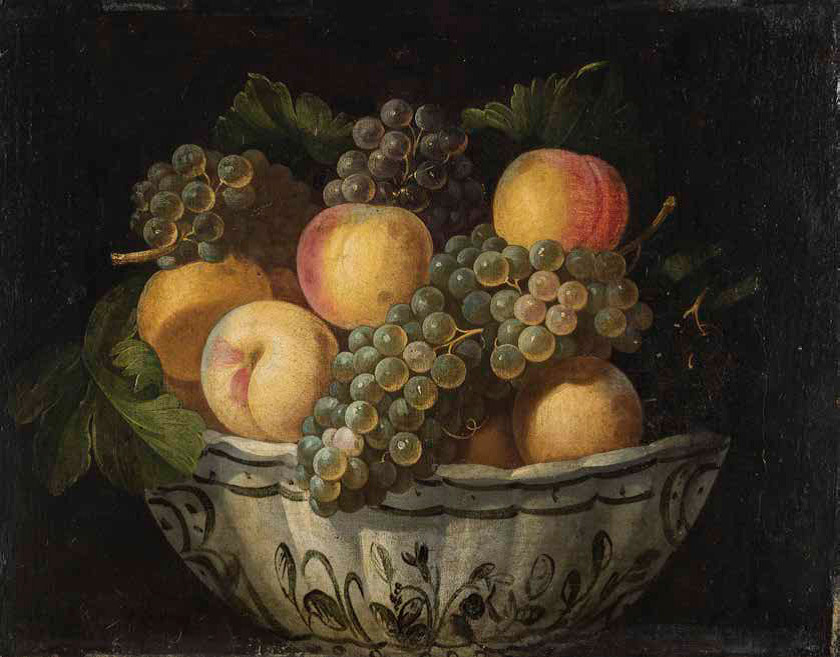 Juan van der Hamen y León. Spanish, 1596-1631, "Peaches and Grapes in a Faience Bowl" Signed lower left
Oil on canvas 38 x 45cm (14 15⁄16" x 17 11⁄16")


Johannes Bouman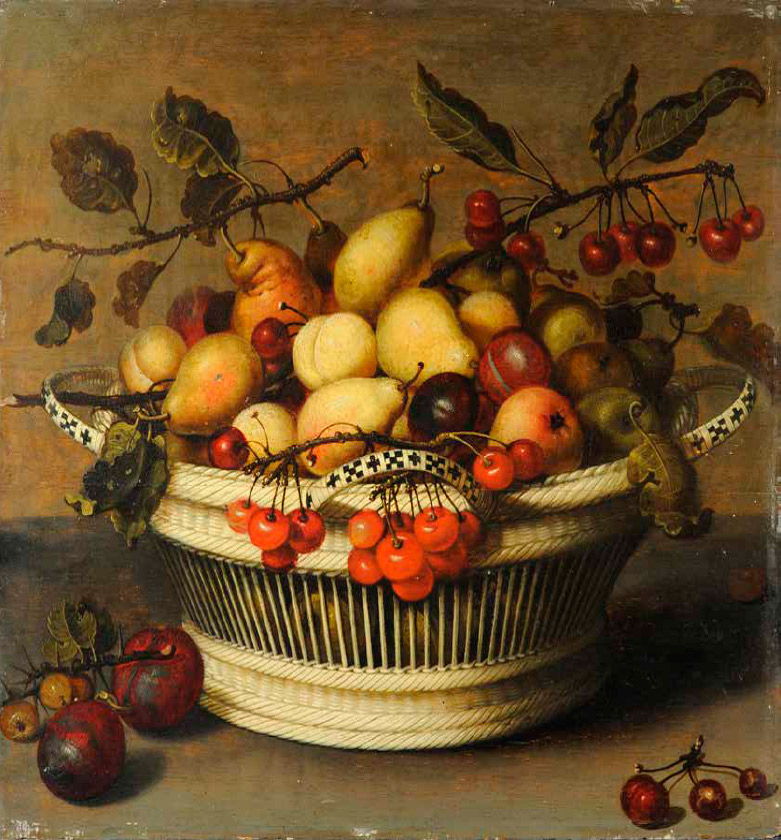 Johannes Bouman. German, 1601-1658. "Still Life of Pears, Plums, and Cherries in a Basket", 1642. Oil on oak panel, 41.2 x 44.6 cm (16 ¼" x 17 ½")


The Collection includes sumptuous flower still lifes filled with exotic blooms
that reflect the expanding trade and scientific curiosity that defined the era
Jan Davidsz. De Heem
Jan Davidsz. De Heem. Dutch, 1606-168¾. "A Still Life of Flowers in a Glass Vase in a Stone Niche". Oil on oak panel, 34.2 x 26.8cm (13 ½" x 10 ½")


Osias Beert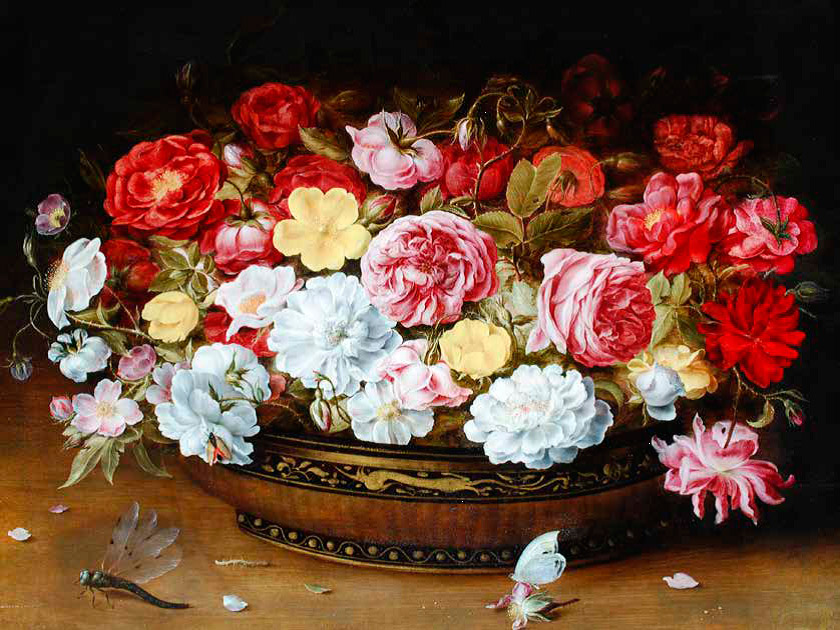 Osias Beert. Flemish, 1580-1624. "Still Life of Roses in a Lacquer and Cane Work Oriental Bowl, with a Butterfly and Dragonfly all upon a Ledge". Oil on cradled oak panel, 43 x 57.8cm (17″ x 22 ¾")

Osias Beert the Elder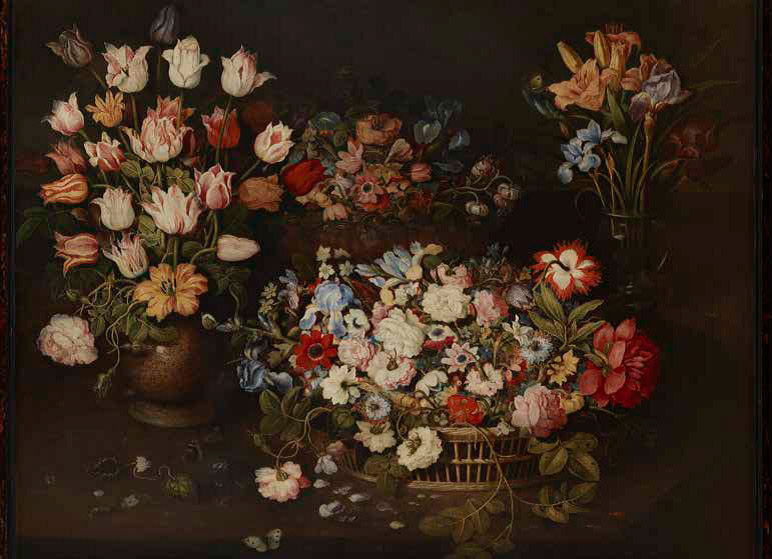 Osias Beert the Elder. Antwerp (?) Circa 1580 (?) – 1624. "Still Life of Tulips and an Apothecary's Rose in a Stoneware Vase, Irises and lilies in a Glass Vase, together with Roses, Lilies, Anemones, Pansies, Larkspur, Borage and Love-in-a-Mist in a Wicker Basket and a Chinese Lacquer Basket, all upon a Table-top with Cabbage White and Red Admiral Butterflies and a Dragonfly". Oil on oak panel, 95.5 x 120cm (37" x 47 ¼)
The Collection includes seascapes celebrating maritime life and trade.
Many of the scenes, like the one in "The Grand Canal," were painted
as mementos for wealthy tourists
Canaletto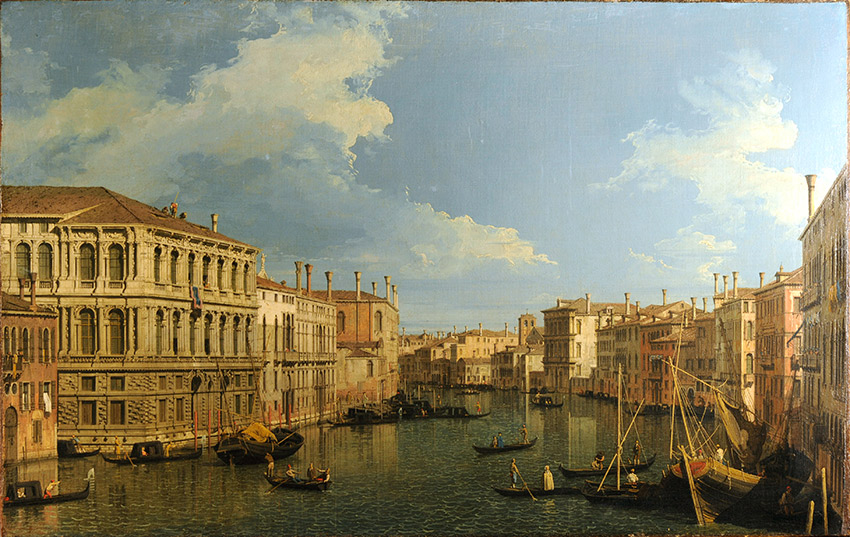 Canaletto (Giovanni Antonio Canal). IItalian, 1697-1768. "The Grand Canal, Venice, Looking north-west, with the Palazzo Pesaro, the Palazzo Foscarini and the Pinnacle of S. Stae on the left and the Palazzo Vendramin-Calergian, S. Maruola on the Right". Oil on canvas, 59.7 x 94cm (23 ½" x 37")


Isaac Willaerts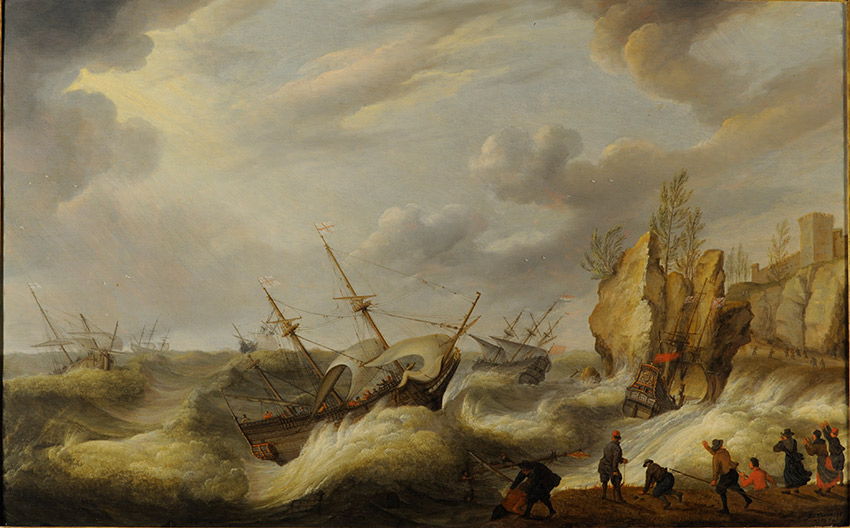 Isaac Willaerts. Dutch, 1620-1693. "Ships Foundering Off a Rocky Shore", 1646. Oil on oak panel, 55.4 x 86cm (21 ¾" x 33 ¾")
The Collection also features several fascinating genre scenes
that beautifully evoke day-to-day life centuries ago
Esaias van den Velde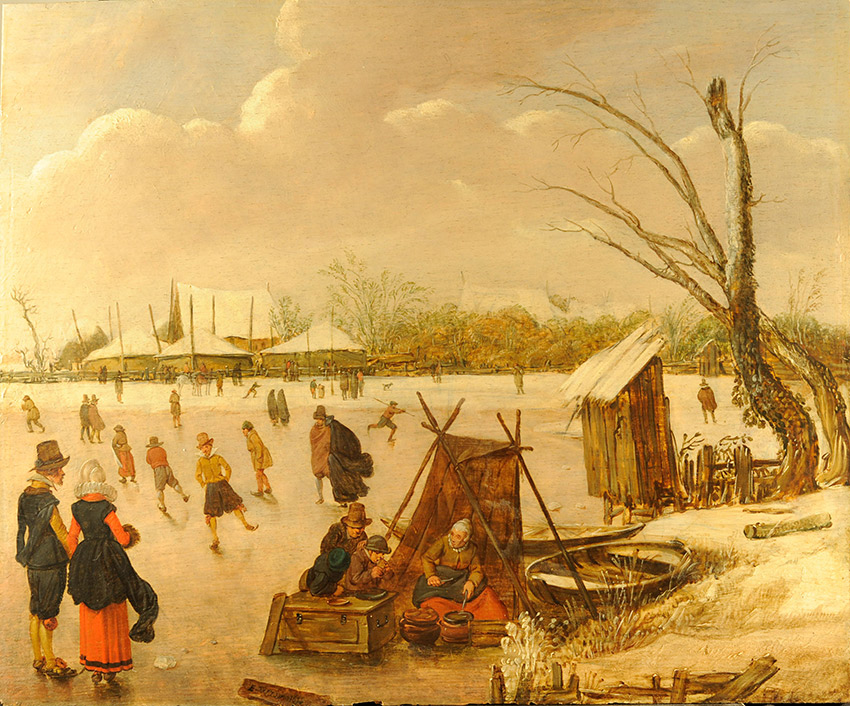 Esaias van den Velde. Dutch, 1587-1630. "A Winter Landscape with Elegant Skaters and a Woman Frying Pancakes on a Frozen Waterway, a Farm Beyond", 1616. Oil on oak panel, 38.5 x 46.5cm (15 ¼" x 18 ¼")


Barent Avercamp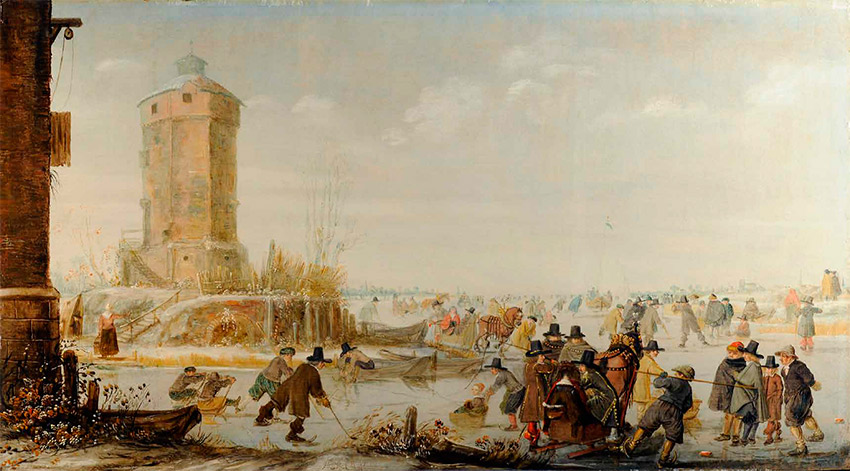 Barent Avercamp. Dutch, 1612⁄13-1679. "Skaters, Kolf Players, and Elegant Figures with Horse-drawn Sleighs on a Frozen River by a Tower". Oil on oak panel, 30.8 x 55cm (12" x 21 ¾")
The Landscape
Abraham Govaerts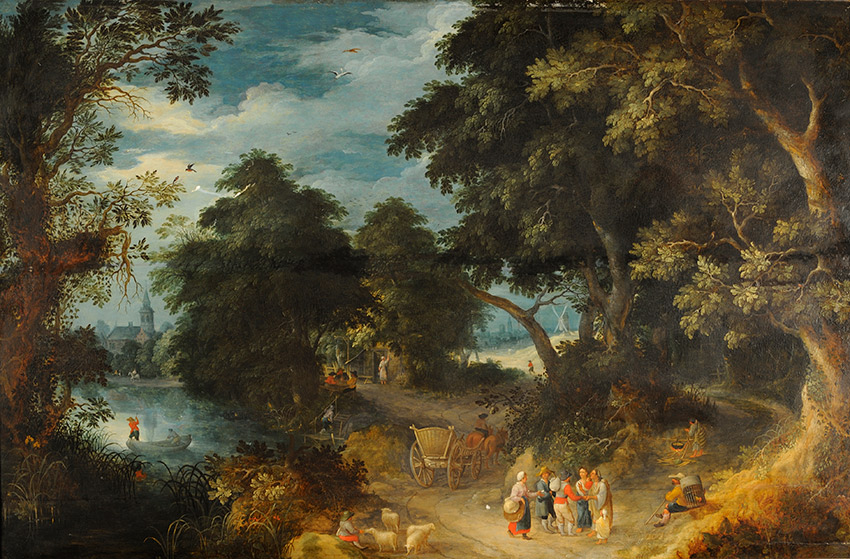 Abraham Govaerts. Flemish, 1589-1626. "Wooded Landscape with Peasants, a Pool Nearby, and a Town in the
Distance". Oil on oak panel, 53.8 x 76.5cm (21 ½" x 30 ¼')


Maerten Ryckaert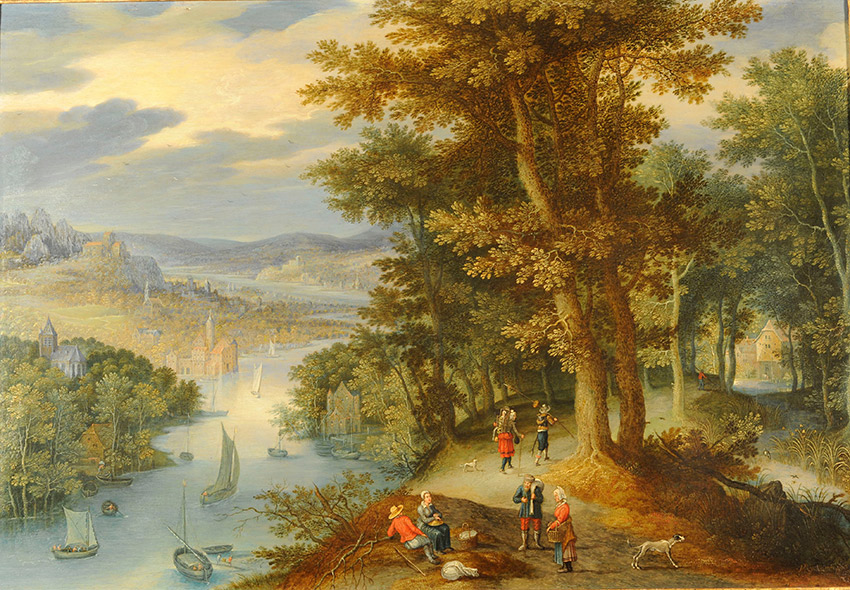 Maerten Ryckaert. Flemish, 1587-1633. "An extensive wooded river landscape with travelers on a path and shipping on a river below". Oil on copper, 34.2 x 50.8cm (13 ½" x 20")
This Collection uncovers symbolic messages hidden in some painting   
As for "hidden" symbolic meanings, discerning visitors will spot such touches as a mouse and dead songbirds in Still Life of grapes, and peaches on a porcelain bowl by Peter Binoit (1590-1632), symbolizing how wealth and success can be fleeting.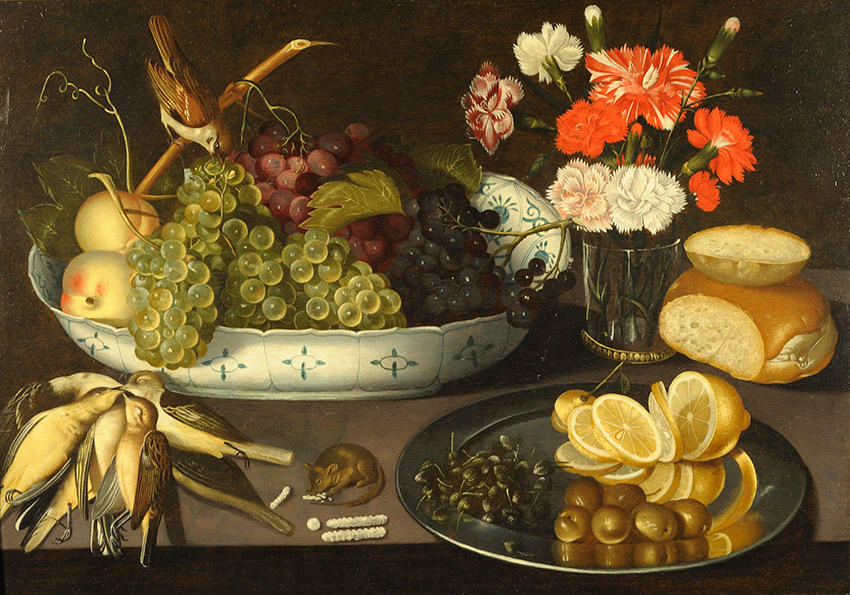 And in a work by Jan Brueghel the Elder (1568-1625), A wooded river landscape, with a fish market and fishing Boats (1610), a windmill in the distance has several meanings, symbolizing power and prosperity but also as a reference to religion and the crucifixion.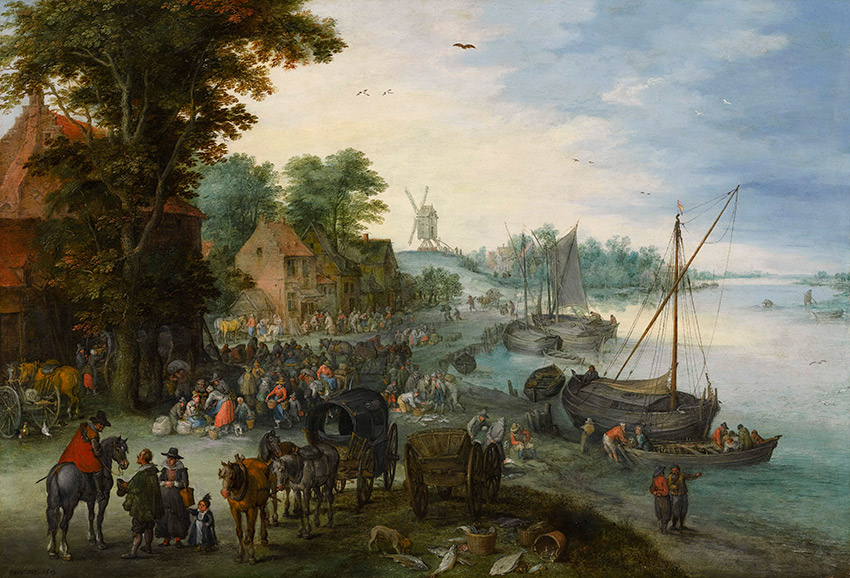 Juan Manuel Grasset 
The idealistic collector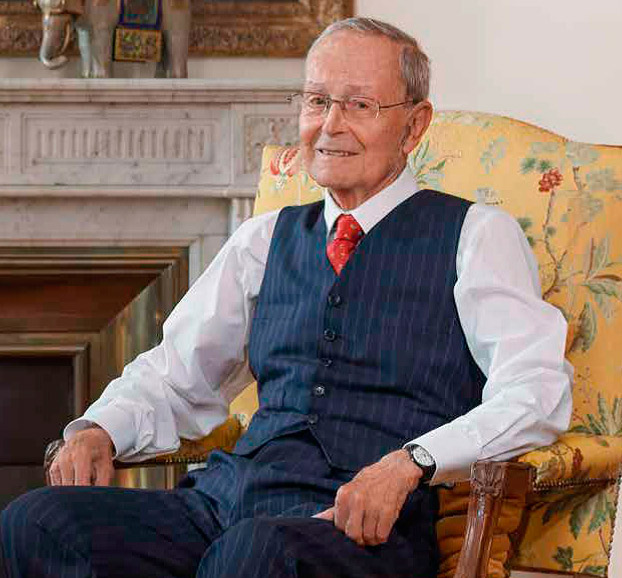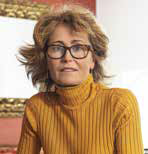 Statement by Cristina Grasset
Collection Manager
"Juan Manuel Grasset (Manolo) fits the description of the most idealistic of collectors. He fell in love with Dutch and Flemish paintings 50 years ago, at a time when artwork in Spain focused mainly on religious themes and portraits of royals and nobles. And he has continued to pursue his passion to this day. When asked why he started acquiring these works, at age 40, he always explains how he attended an art auction in London and was fascinated by their delicate balance and beauty".
    "The elder son of an artistic woman of refined taste and a descendant of a long line of French civil engineers, "Manolo" was raised to love art and music. His father would often take him and his sisters on tours of the Prado Museum to explain the most relevant works by Spanish Masters. And his mother was of a family who in the 19th century acquired works such as the Crucifixion of Christ by El Greco, which is believed to have been later acquired for the Johnson Collection in Philadelphia. To this day, his mother's Holy Mary paintings hang on the walls of the local church in Húmera".
    "Manolo has never sought social recognition and, as many a true art collector, has always been quiet and discreet in his collecting. He would suddenly arrive home with a big smile on his face, carrying a packaged painting. Early on, he began studying Dutch and Flemish Masters, researching and conferring with professional experts. That is how he came to be respected as one of the most-knowledgeable art collectors in the European market. In 1980 he was invited to become a Founding Patron of the Friends of the Prado Museum, where he held positions as recently as 2011".
    "Whether amassed through nurture or nature, the works now hanging on these walls truly reflect the personality of this civil engineer with a passion for beauty, balance, detail and learning. This exhibition is likely to be the last of the works collected by Manolo Grasset. At age 91, rather than resting on his laurels, though, he played an active role in preparing the show. For one, he participated in every single meeting to compose this catalogue, which is a manifestation, albeit small, of a 50-year-long labor of love".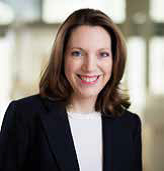 Statement by Kristen A. Shepherd 
Executive Director of the Museum of Fine Arts, St. Petersburg
"We are enormously grateful to the Grasset family for their generosity in sharing their private collection".
"This exhibition is truly a gift – in particular, a gift to young people in our community whose first impression of so-called 'Old Masters' will be these delightfully fresh and lively masterpieces. The Grasset Collection also gives our visitors the opportunity to study and appreciate masterworks rarely seen."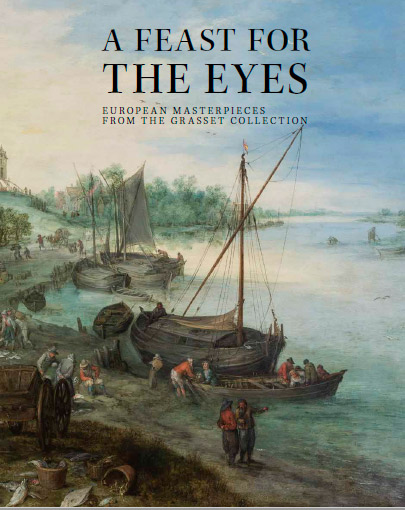 THE CATALOGUE 

In an extraordinary 100-page edition, the catalogue presents a detailed description of each of the works accompanied by extensive commentary by curator Stanton Thomas.

Measurements: 12 in x 10 in
Hardcover
ISBN: 978-84-09-08688-7
Price: $40

THE MUSEUM OF FINE ARTS ST. PETERSBURG, FLORIDA
255 Beach Drive NE,    727-896-2667    mfastpete.org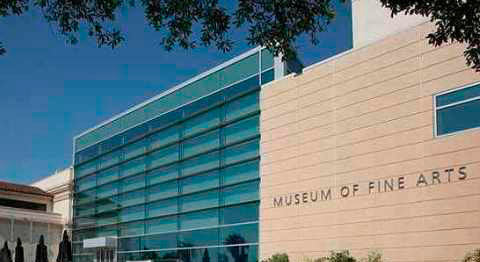 The MFA has a world-class collection, with works by Monet, Morisot, Rodin, O'Keeffe, Willem de Kooning, and many other great artists. Also displayed are ancient Greek and Roman, Egyptian, Asian, African, pre-Columbian, and Native American art. Selections from the photography collection, one of the largest and finest in the Southeast, are on view in a gallery dedicated solely to the medium.