ANDREA MANTEGNA
12th December 2019 – 4th May 2020
PALAZZO MADAMA. TURIN, ITALY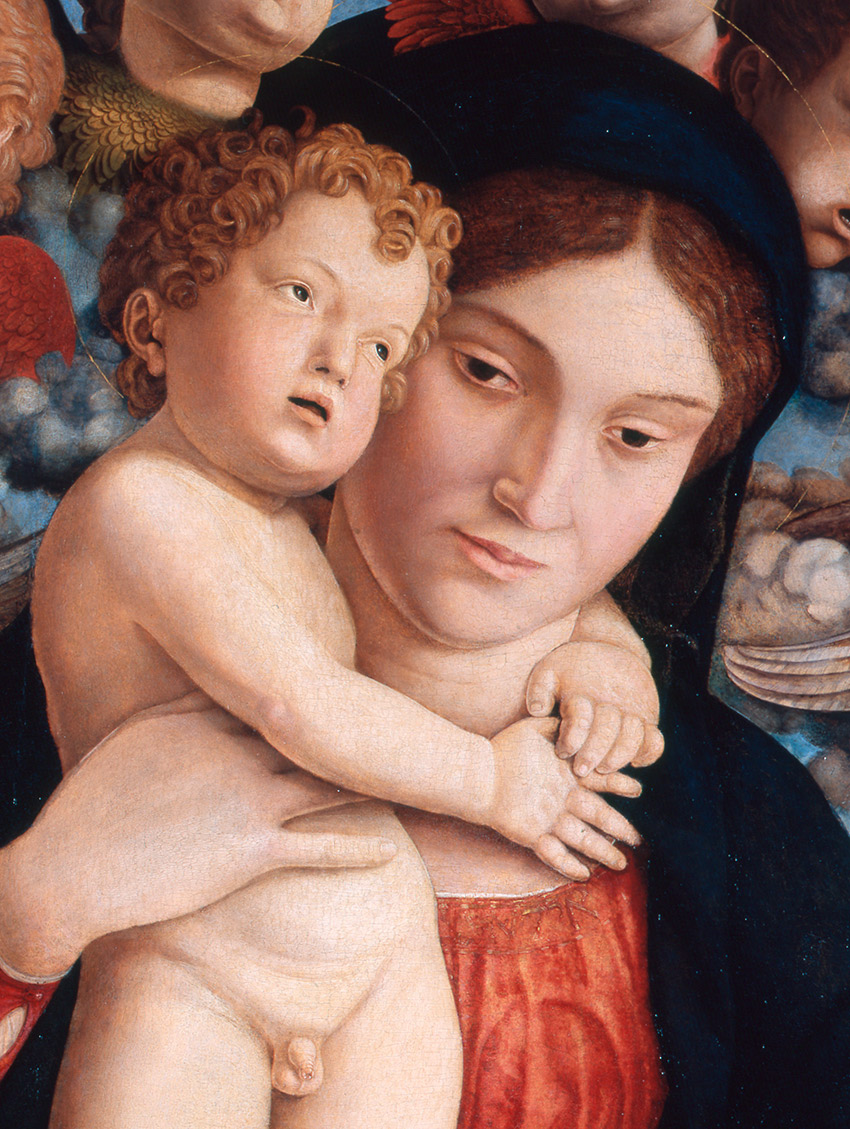 Andrea Mantegna. Detail of "Madonna and Child with a Choir of Cherubim" (Madonna of Cherubim), ca.1485. Tempera on panel, cm 88 x 70. Pinacoteca di Brera, Milano.
Andrea Mantegna (b. Isola di Carturo 1431– d. Mantua 1506)
Was one of the most important artists of the Italian Renaissance.
He successfully matched his passion for classical antiquity with bold perspective
experiments and outstanding realism in his portrayal of the human figure.
HIGHLIGHTS
The exhibition covers his artistic career, from his prodigious early years
to his well-established role as a court artist with the Gonzagas.
1452, Andrea Mantegna
Saint Anthony of Padua and St. Bernardine of Siena Presenting The Monogram of Christ.
Detached fresco, 163 x 321 cm. Museo Antoniano, Padua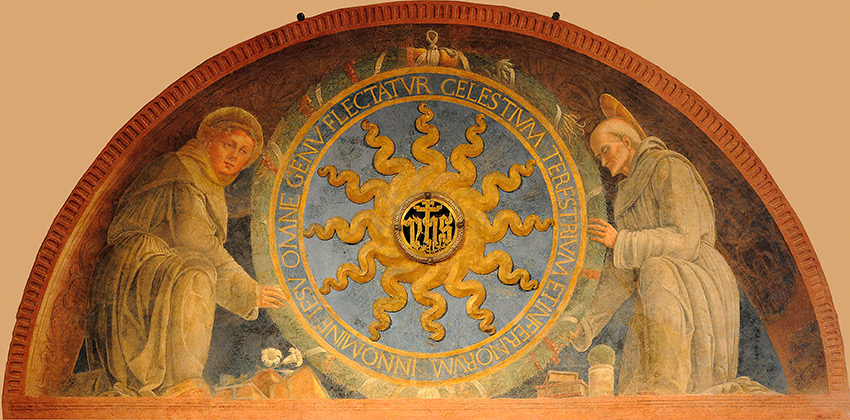 DETAIL of Saint Anthony of Padua and St. Bernardine of Siena Presenting The Monogram of Christ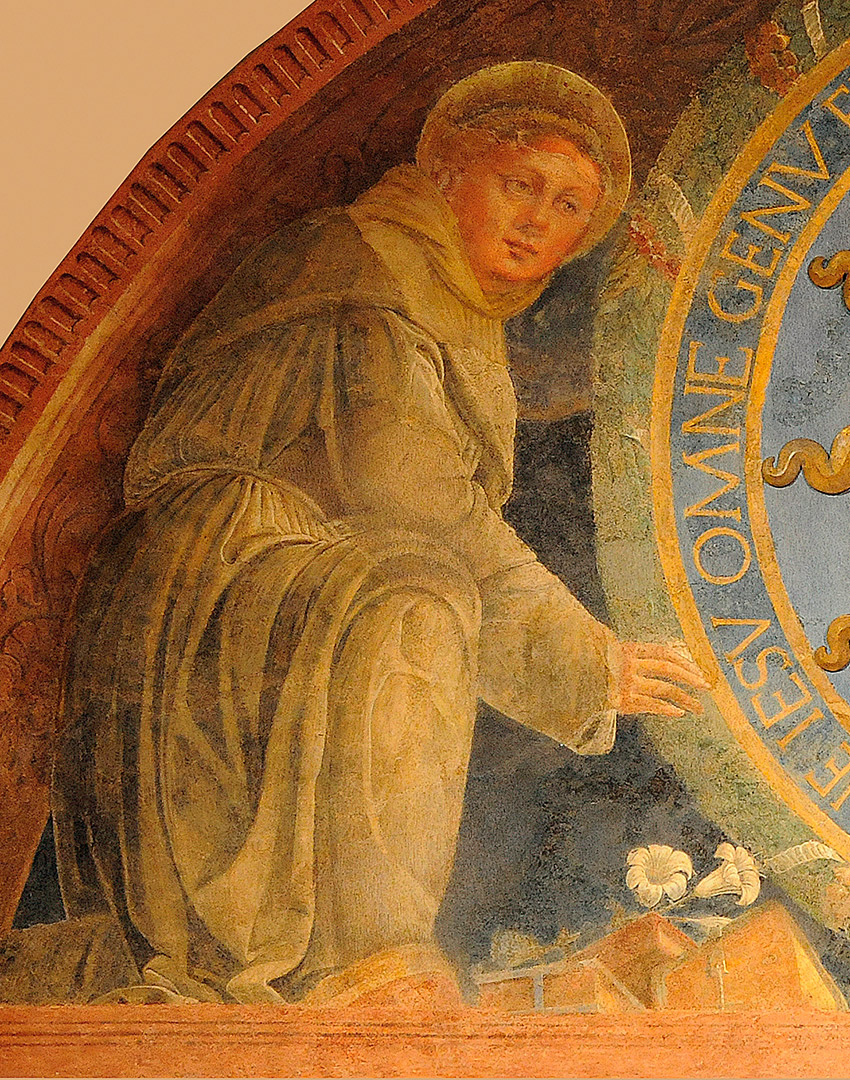 1453-1454, Andrea Mantegna
Virgin and Child with Saint Jerome and Louis of Toulouse
Table, 69,44 x 44,4 cm. Musée Jacquemart-André, Paris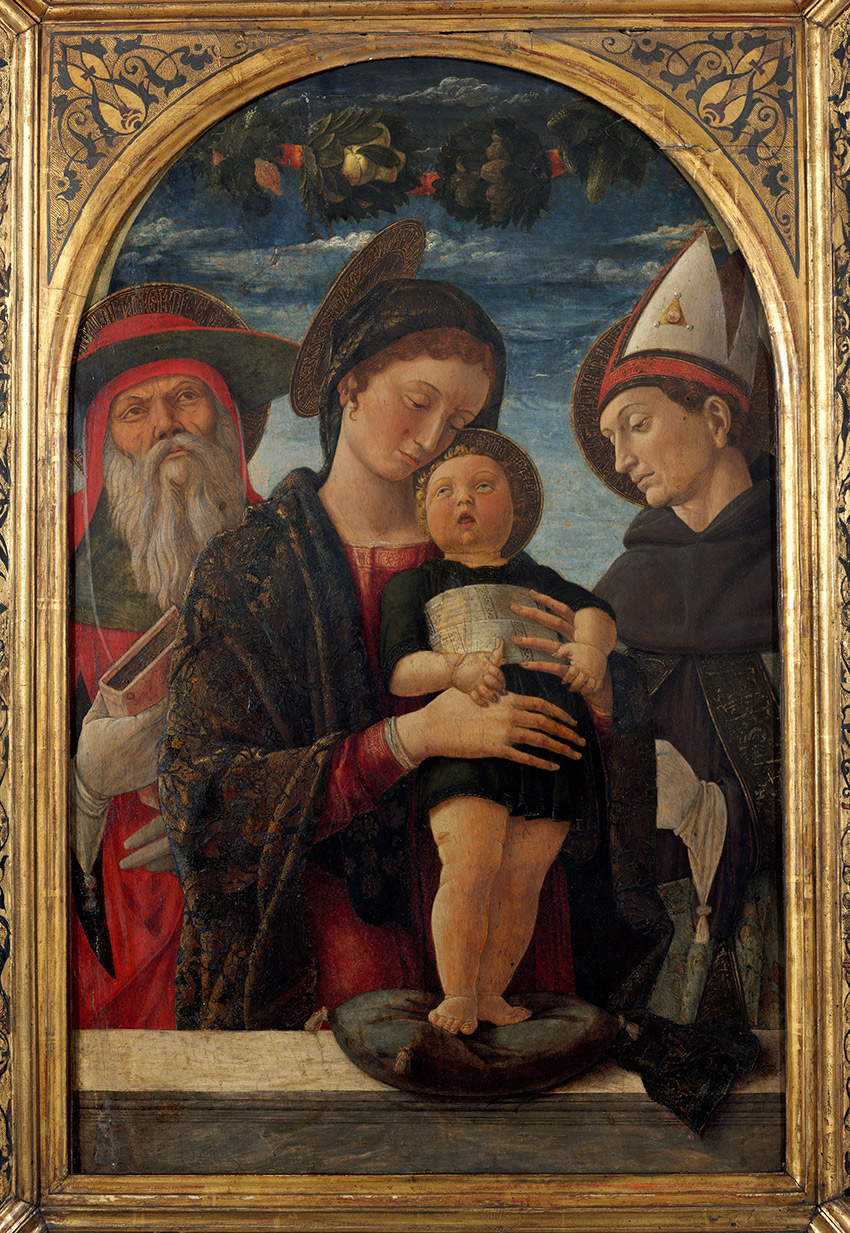 Mantegna had quite uniquely trained himself by thoroughly and directly studying Donatello's works in Padua, becoming familiar with the works by Jacopo Bellini and his sons – in particular brilliant Giovanni – as well as with innovative Florentine and Flemish painting, and finally by studying ancient sculpture.
1470, Andrea Mantegna
Bachanal with Silenus
Drypoint print on paper, 305 x 438 mm. Metropolitan Museum of Art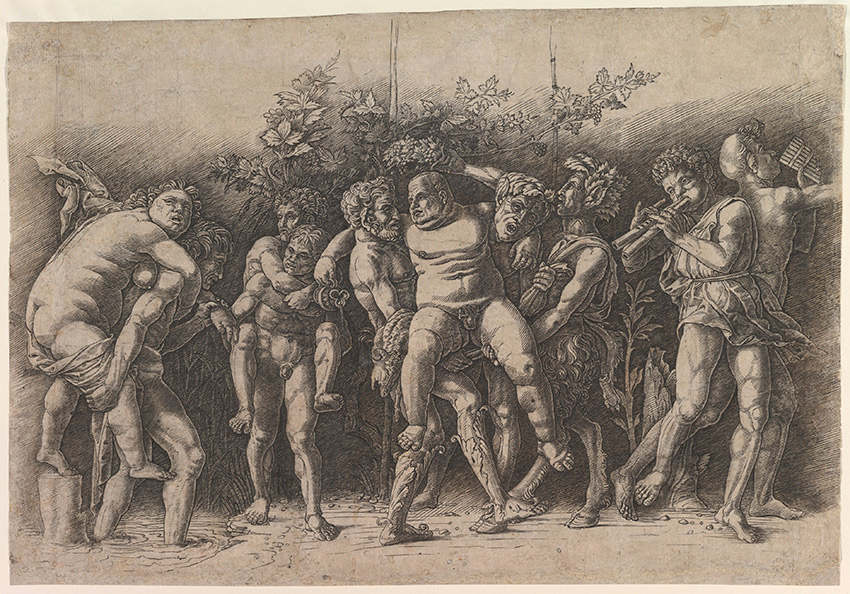 ca.1485, Andrea Mantegna
Madonna and Child with a Choir of Cherubim (Madonna of Cherubim)
Tempera on panel, cm 88 x 70. Pinacoteca di Brera, Milano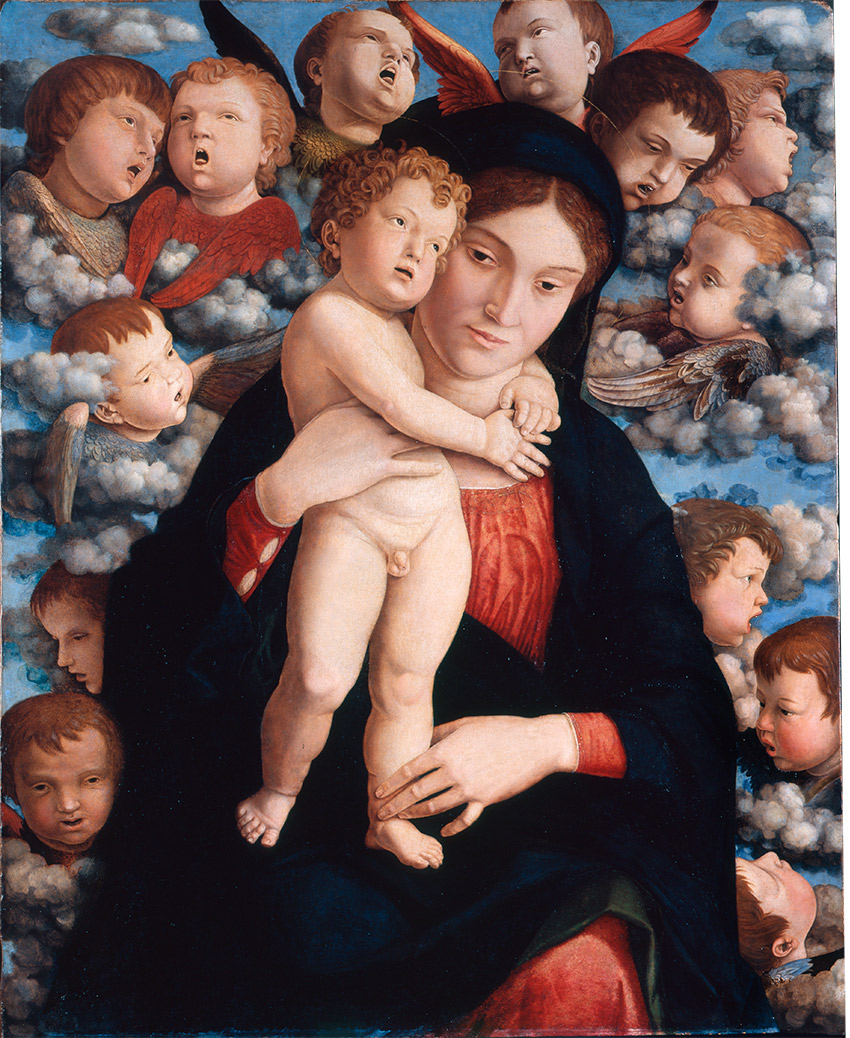 ca.1495, Andrea Mantegna
Sibyl and Prophet
Grisaille distemper, 56.2 x 48.6 cm. Cincinnati Art Museum, Ohio, USA
Bequest of Mary M. Emery/Bridgeman Images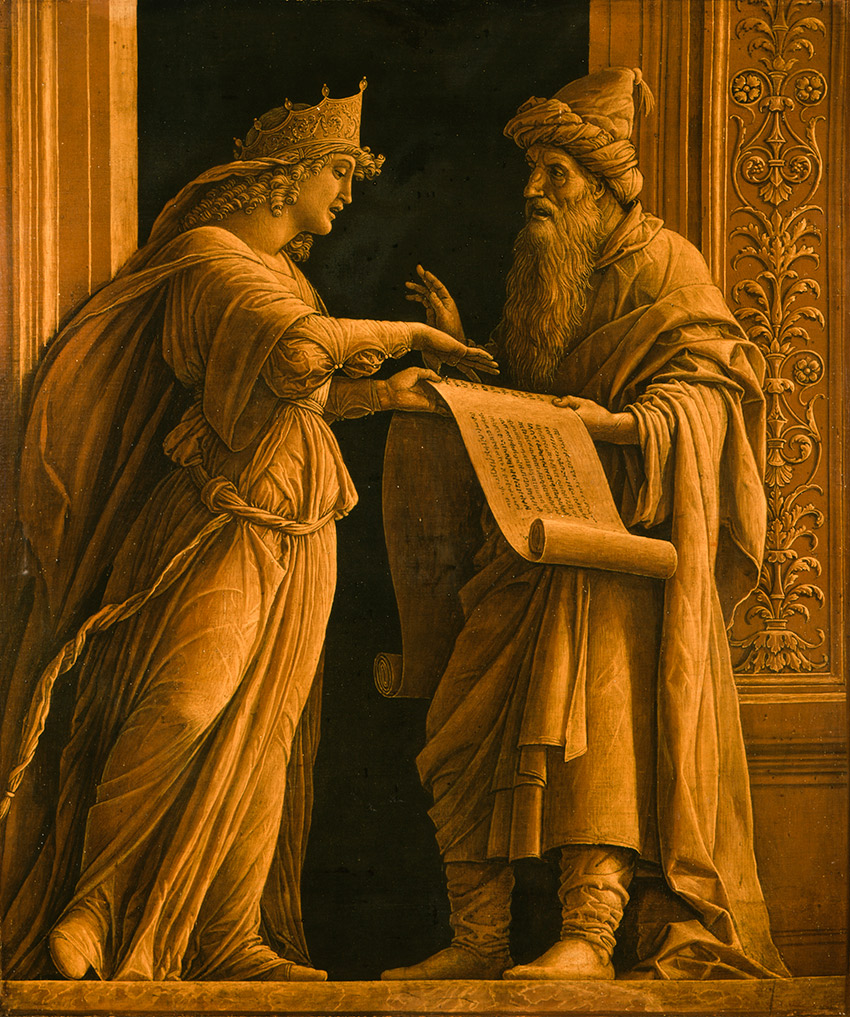 1497, Andrea Mantegna
Trivulzio Madonna
Tempera on canvas, 287 x 214 cm. Pinacoteca del Castello Sforzesco, Milan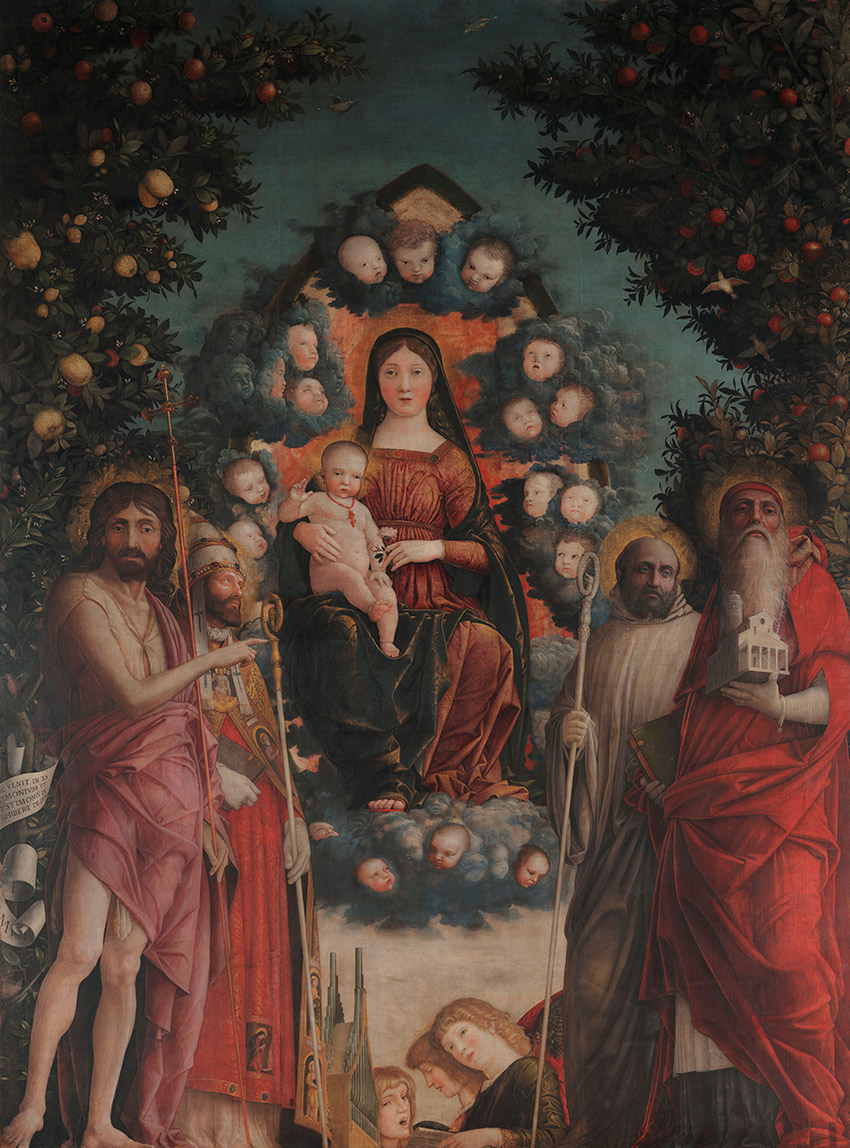 1500, Andrea Mantegna
Holy Family with St. John
Canvas, 71.1 x 50 x 8 cm. The National Gallery, London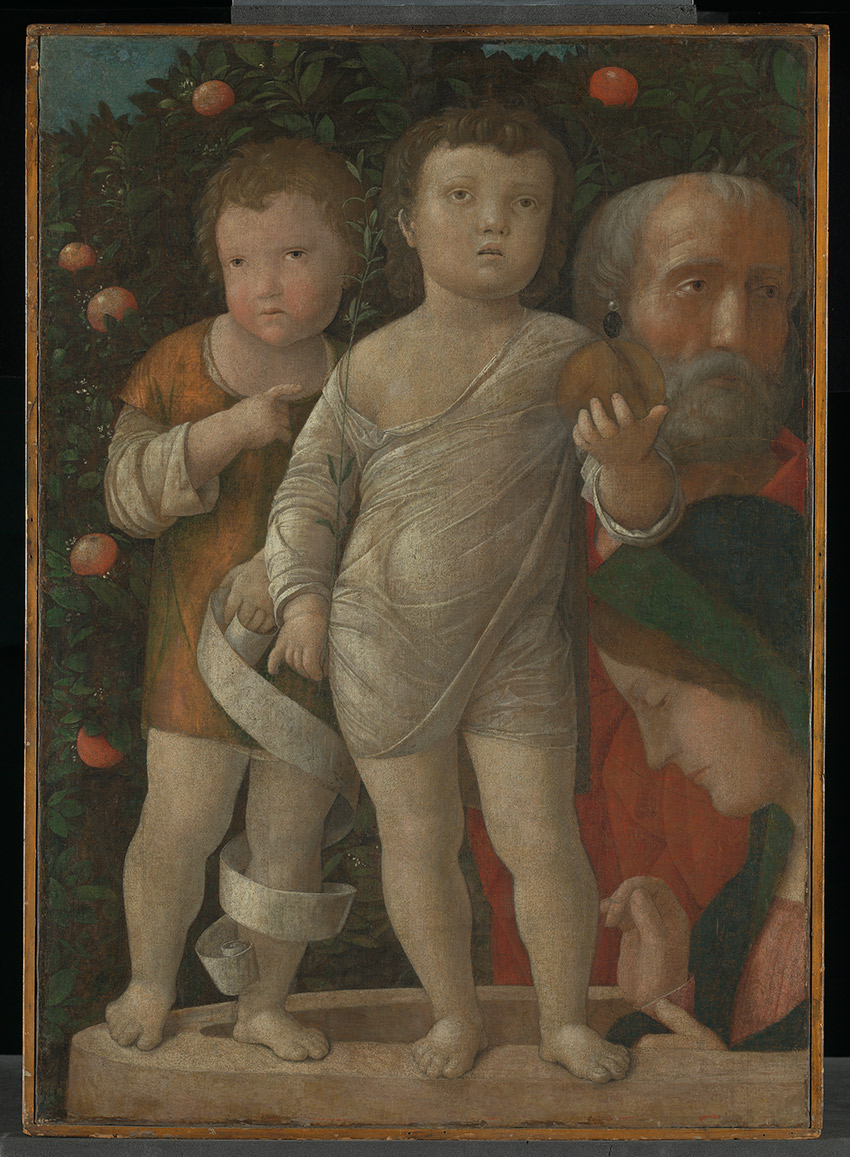 DETAIL of Holy Family with St. John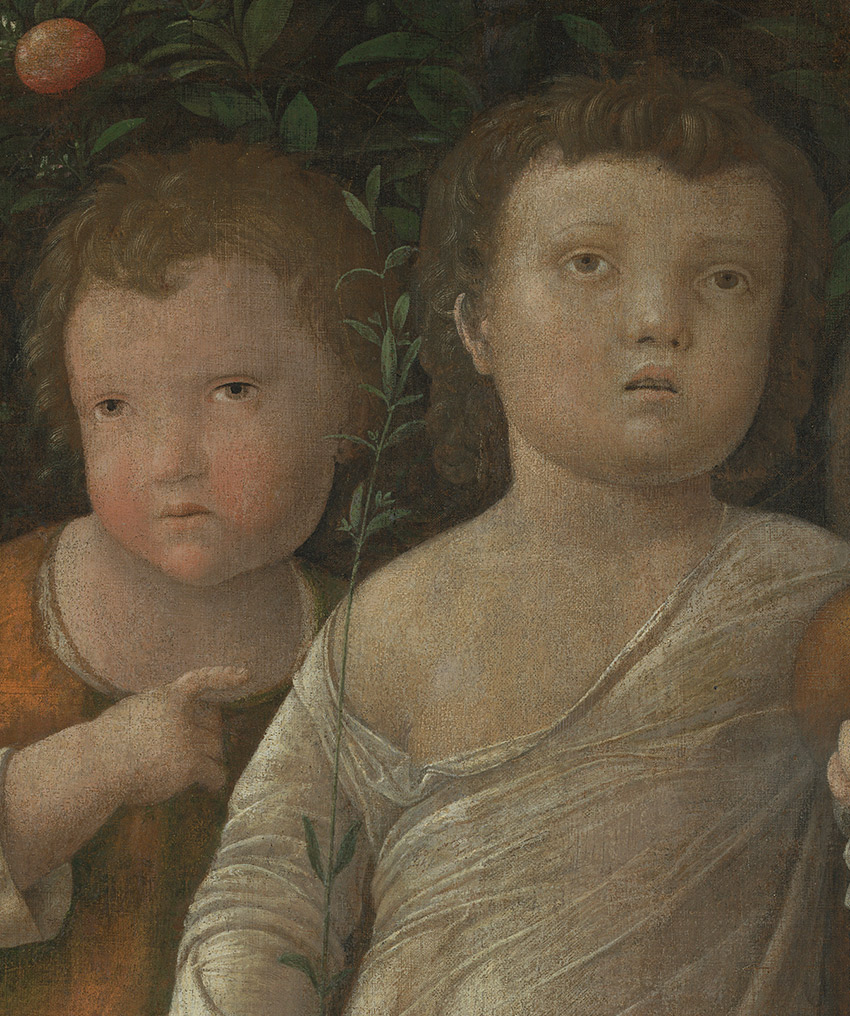 ca.1500, Andrea Mantegna
Marsyas/St. Sebastian
Also Attributed to Andrea Mantegna or to Northern Italy Sculptor
Gilt bronze statue, 34.6 x 16 x 10 cm. The Princely Collections, Liechtenstein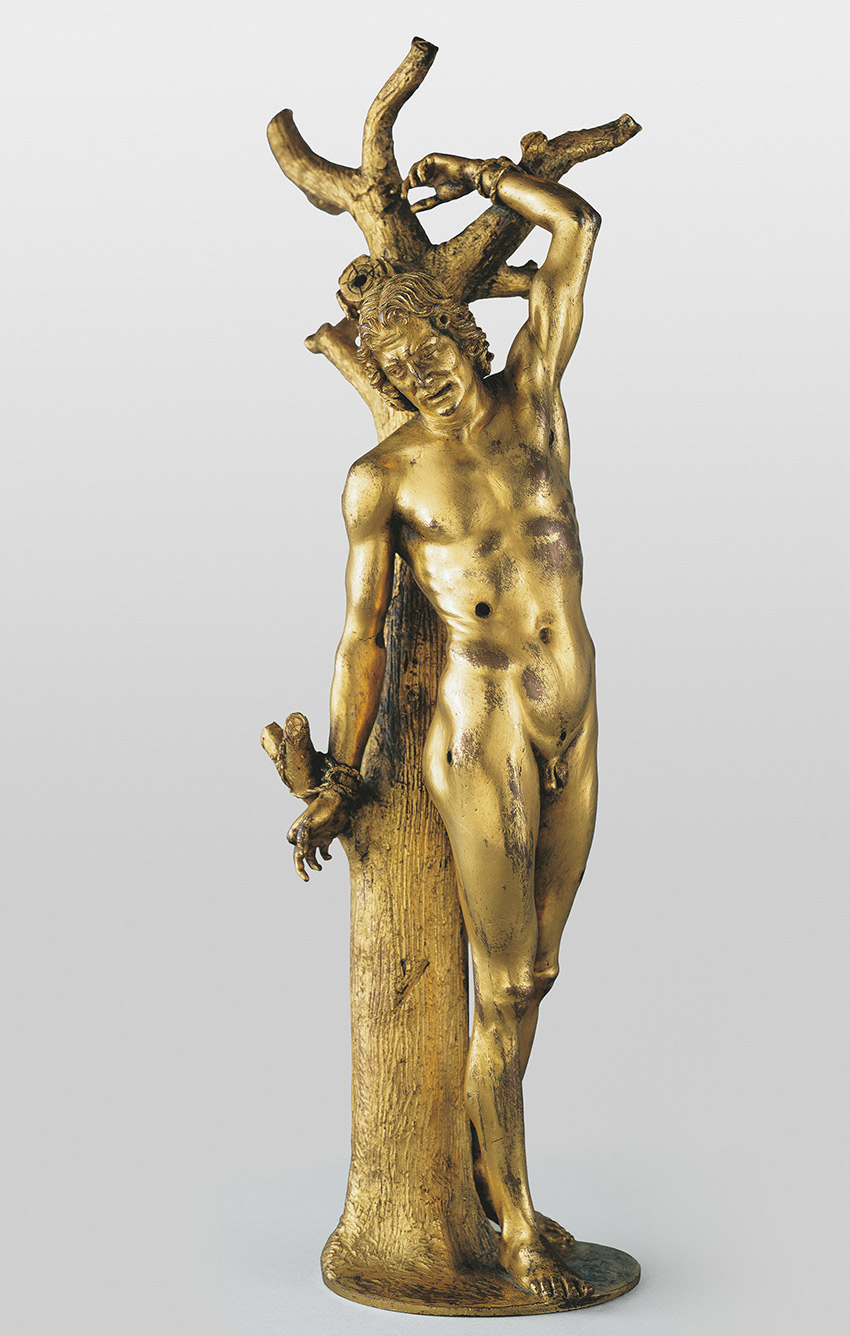 1500_1502, Andrea Mantegna
Ecce Homo
Tempera on linen cloth, 54 x 42 cm. Musée Jacquemart-André – Institut de France
© Studio Sébert Photographes, Paris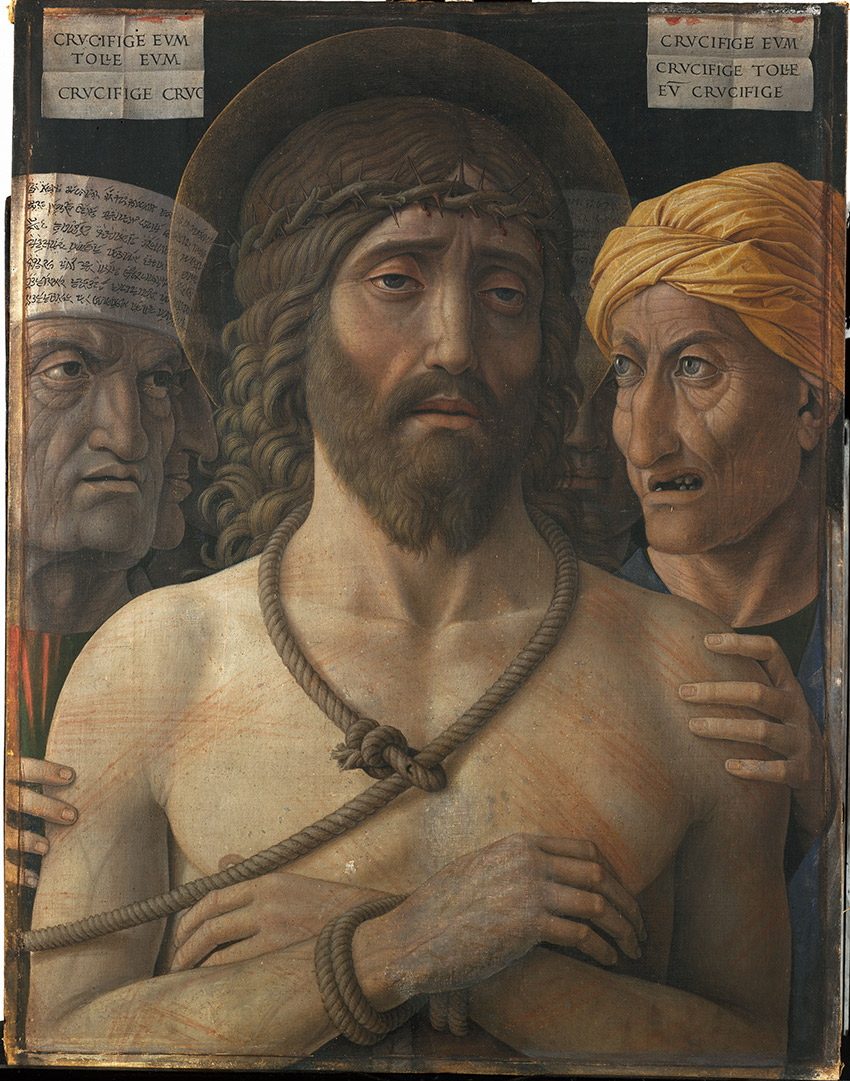 DETAIL of Ecce Homo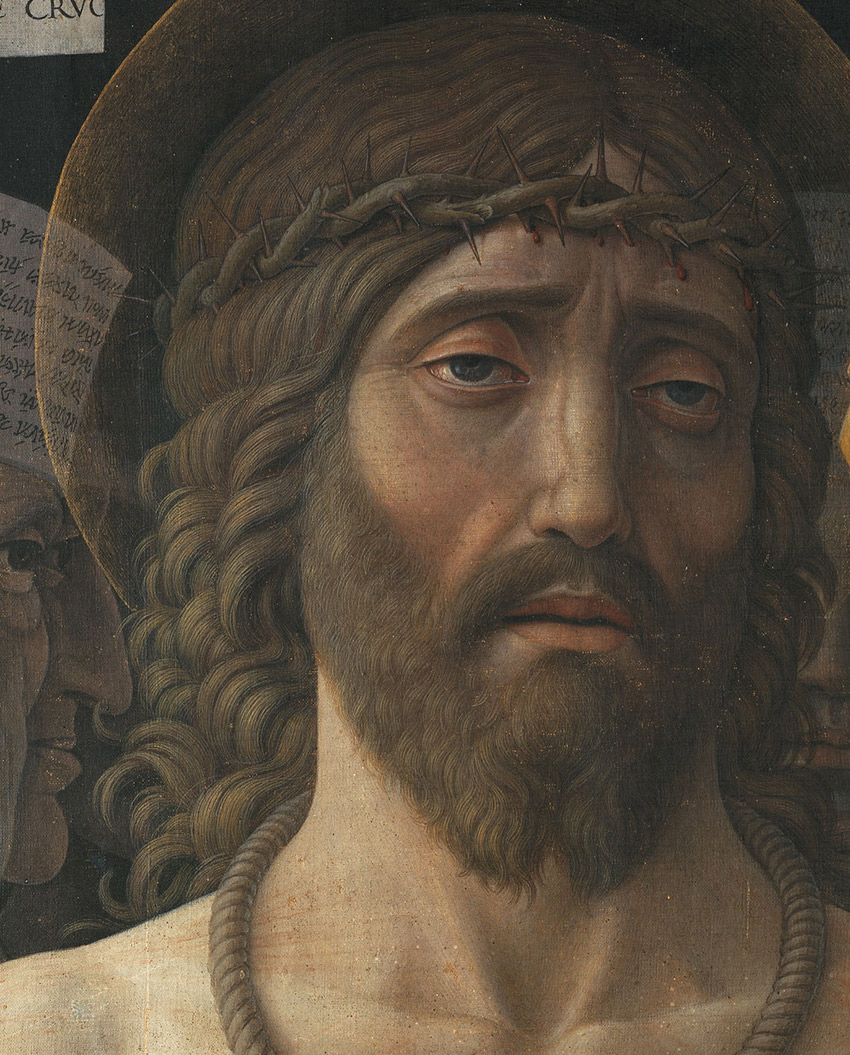 The exhibition includes about twenty paintings and as many drawings
and graphic works by Mantegna, as well as some autograph letters.
This is not only a monographic exhibition; it also includes masterpieces by leading Renaissance artists in northern Italy, who were in contact with Mantegna, such as Donatello, Antonello da Messina, Pisanello, Paolo Uccello, Giovanni Bellini, Cosmè Tura, Ercole de 'Roberti, Pier Jacopo Alari Bonacolsi known as l'Antico, and last but not least, Correggio.
Giovanni Bellini. 1455
Madonna and Child
Tempera on wooden panel, 50 x 32 cm. Civic Museums, Pavia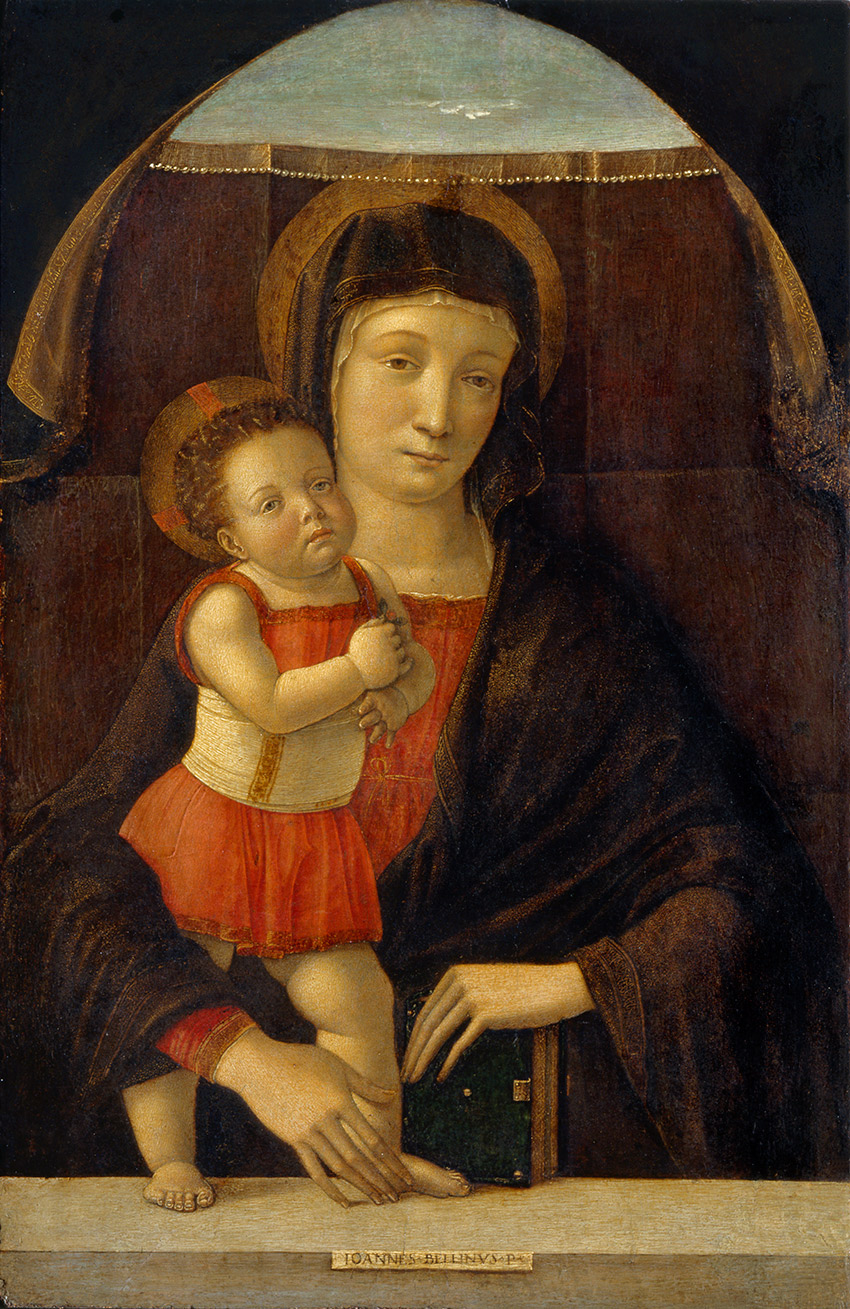 Cosmè Tura, 1460-1465
Saint George
Oil on table, 21.6 x 13 cm. Fondazione Giorgio Cini, Galleria di Palazzo Cini, Venice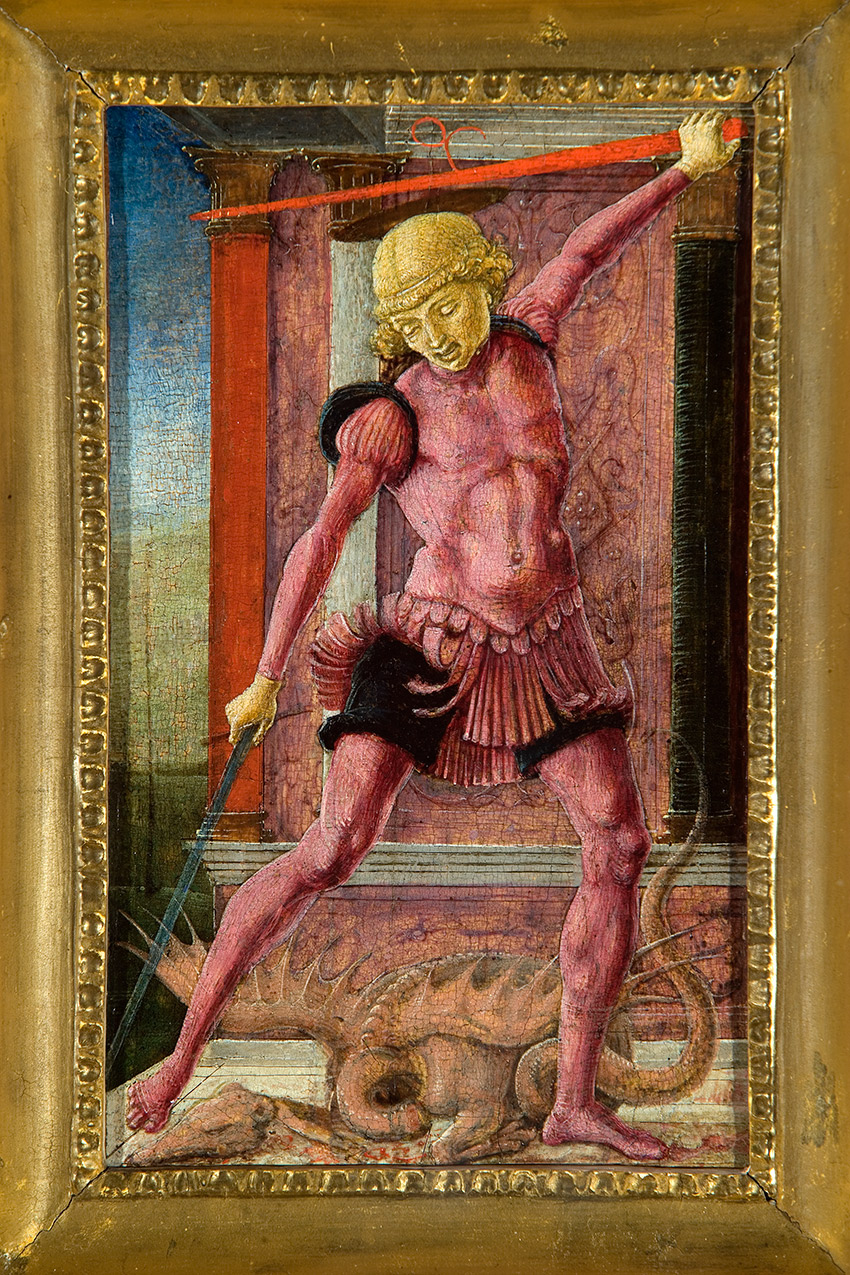 Antonello da Messina, 1476
Portrait of a Man
Oil on table, 37.4 x 29.05 x 0.6 cm. Museo Civico d'Arte Antica, Palazzo Madama, Turin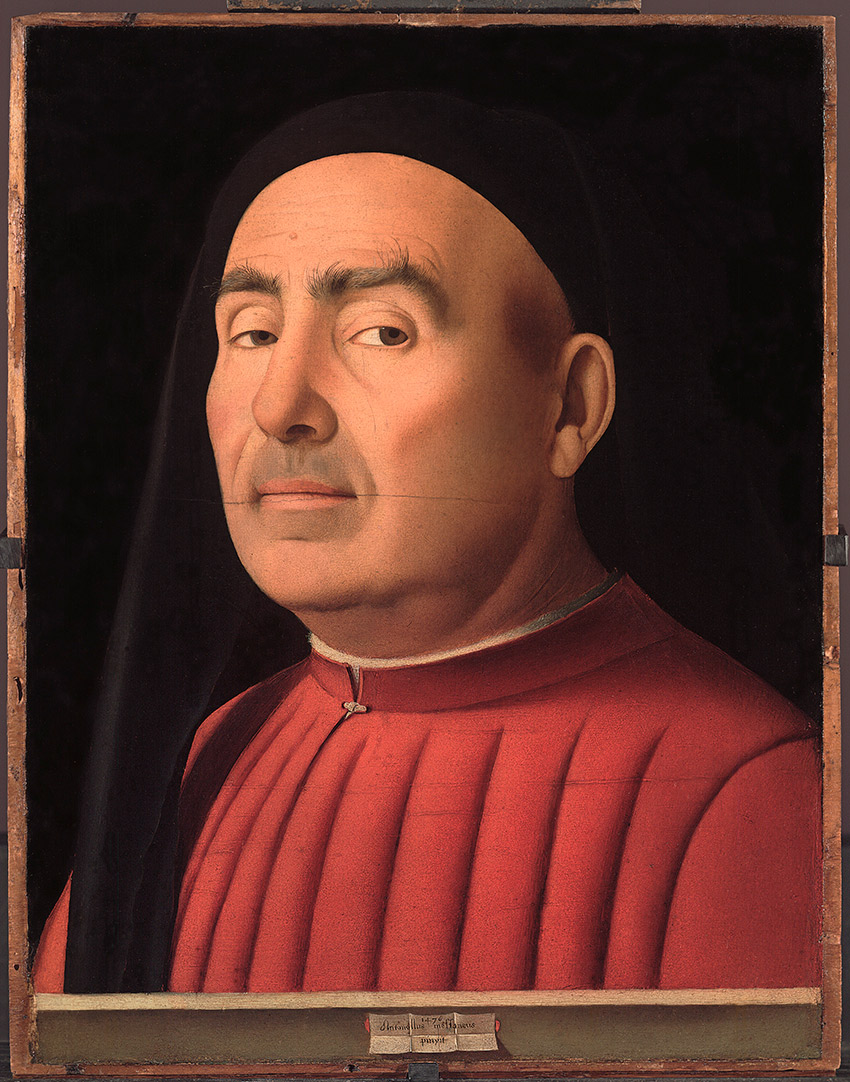 Giovanni Bellini, ca. 1485
Portrait of a young senator
Oil on table, 52,3 x 44,5 x 10,5 cm (including frame) Museo d'arte medievale e moderna, Padua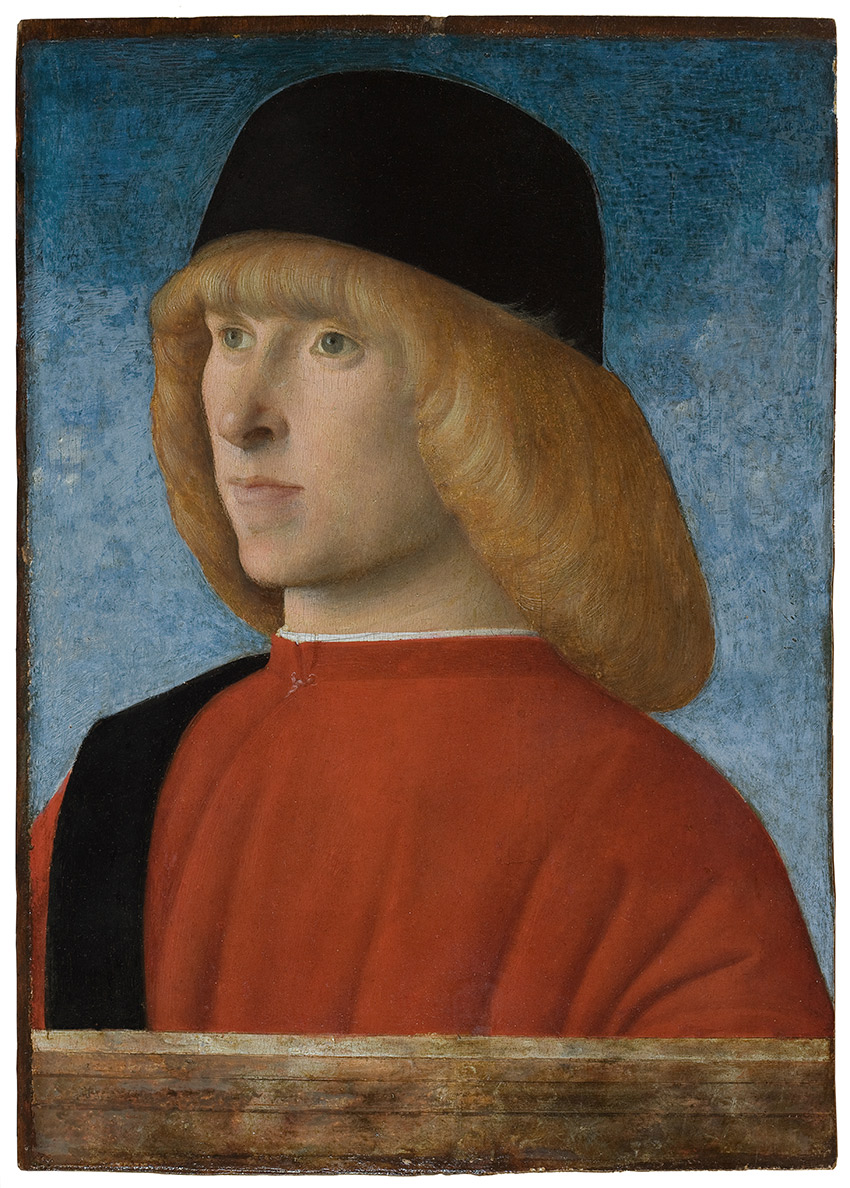 Pier Jacopo Alari Bonacolsi a.k.a. as L'Antico, ca. 1500
Bust of Marcus Aurelius
Gilt bronze, 90 x 59 x 33 cm (including base) The Princely Collections, Liechtenstein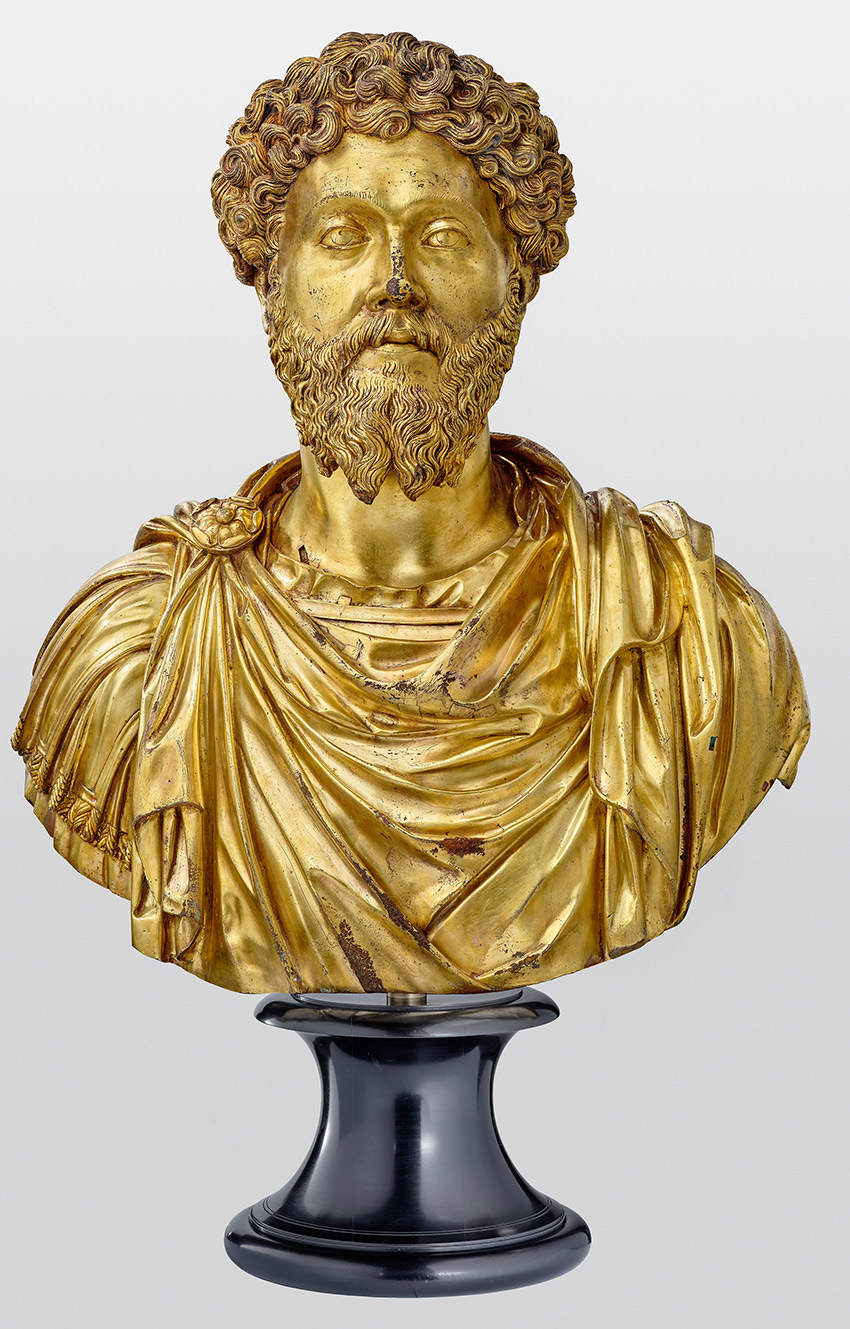 Antonio Allegri, a.k.a Correggio, 1510-1515
Mystical Marriage of Saint Catherine
Oil on table, 40,16 x 33,8 x 4,92 cm. National Gallery of art, Washington, USA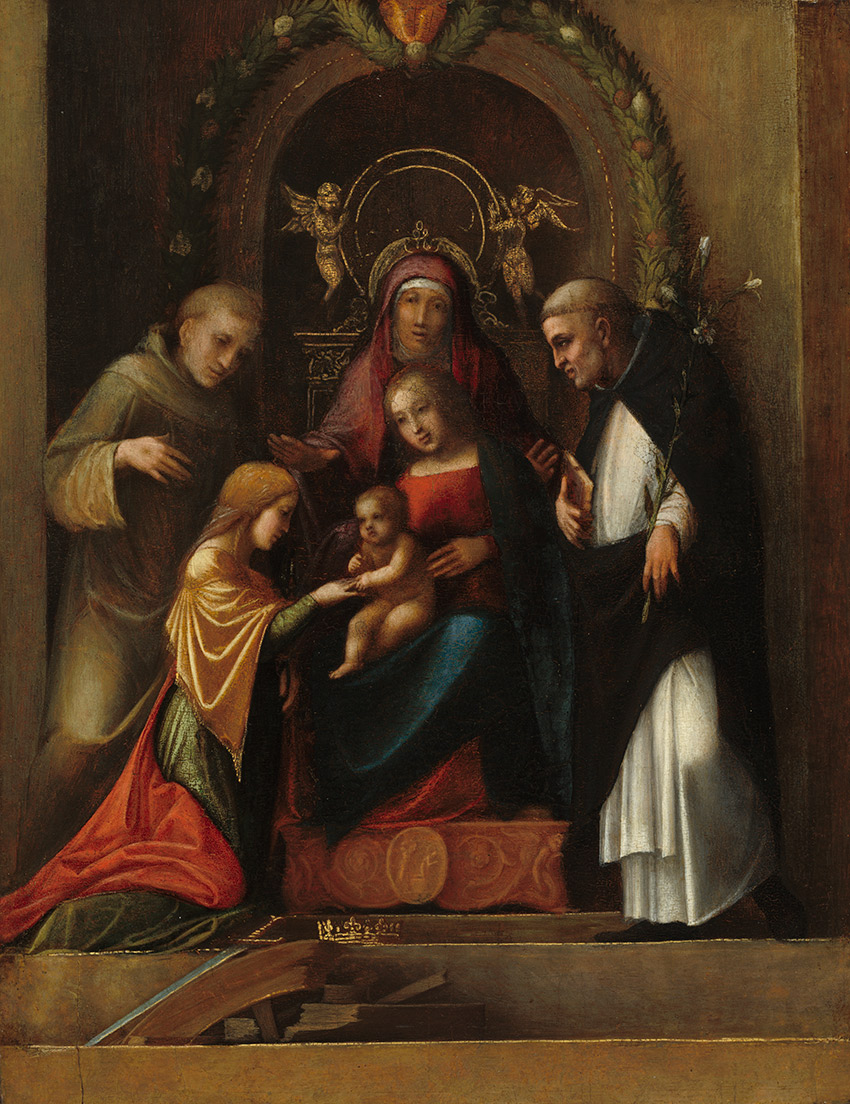 CURATORS   
Sandrina Bandera and Howard Burns, with Vincenzo Farinella as consultant curator for antique art, together with Laura Aldovini, Lina Bolzoni, Molly Bourne, Caroline Campbell, Marco Collareta, Andrea Di Lorenzo, Caroline Elam, David Ekserdjian, Marzia Faietti, Claudia Kryza – Gersch, Mauro Mussolin, Alessandro Nova, Neville Rowley and Filippo Trevisani are all members of the exhibition scientific committee.
In order to present this complex subject in a clear and linear way, the international scientific committee has selected over 130 works, brought together thanks to international loans from some of the world's largest and most acclaimed collections.
ORGANIZERS
The exhibition is promoted by the Fondazione Torino Musei and Intesa Sanpaolo and is organised by Civita Mostre e Musei.
CATALOGUE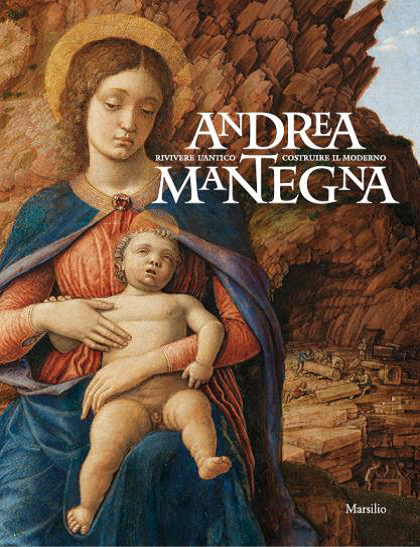 Andrea Mantegna
Relive the ancient, build the modern
edited by: Sandrina Bandera, Howard Burns,
Vincenzo Farinella
Langauge: Italian
Pages: 320
Colour illustrations: 250
44 €
Based on the results of the most recent research on Mantegna, the catalogue offers a broad reading of the figure of an artist who defined his powerful and original art on the basis of his deep and direct knowledge of Donatello's works in Padua, his familiarity with the works of Jacopo Bellini and his sons, the Florentine and Flemish novelties, as well as his study of ancient sculpture and careful observation of the surrounding world.
Particular attention is paid to his role as court artist in Mantua and to the way he defined the dense network of relationships and friendships with writers and scholars that made him a recognized and important interlocutor in the cultural panorama, capable of giving visual form to what humanists could only express in words.
 MULTIMEDIA PROJECTIONS
Multimedia projections precede and complement the exhibition in the Medieval Court of Palazzo Madama. In this way, visitors are offered an immersive experience in Mantegna's life, places, and works. Even some of Mantegna's masterpieces may be enjoyed, which, due to their nature or delicate preservation conditions, could not be displayed: from the Ovetari Chapel in Padua to the very famous Camera Picta, as well as other works in his house in Mantua, and the great ancient-style cycle on the Triumphs of Caesar.