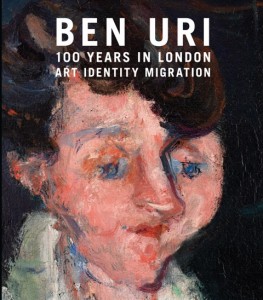 BEN URI: 100 Years in London 
Publisher Ben Uri (2015)
172pp Paperback
Rachel Dickson and Sarah MacDougall
ISBN 978-0-900157-55-4
£ 25,00
Ben Uri: 100 Years in London represents a distinct visual survey of artistic and social life in Britain and the cultural heritage of British Jewry. Drawing on highlights from Ben Uri's usually hidden collection of artworks and recently accessed archive material, it offers a unique view of 'Art, Identity and Migration' during the last 100 years via a remarkable range of artists, many of whom contributed to the shaping of modern British, European and American art history. 
Beautifully illustrated texts by international contributors provide a breadth of fascinating contexts ranging from an introduction to Jewish museums and collections; Jewish migration to Britain at the end of the nineteenth century; twentieth-century Yiddish culture in London; the rise of the Anglo-Jewish modernist 'Whitechapel Boys'; their French counterparts, Les Peintres Juifs de L'Ecole de Paris; the incalculable contribution to arts in Britain by mid-century émigrés escaping National Socialism; and Ben Uri's identity during this era; the influential group of later artists who include Michael Andrews, Frank Auerbach, Lucian Freud, R. B. Kitaj and Leon Kossoff .
The publication culminates with a review of Ben Uri's unique position and future trajectory.
Link:
OUT OF CHAOS Exhibition. Ben Uri Gallery and Museum: 100 Years in London