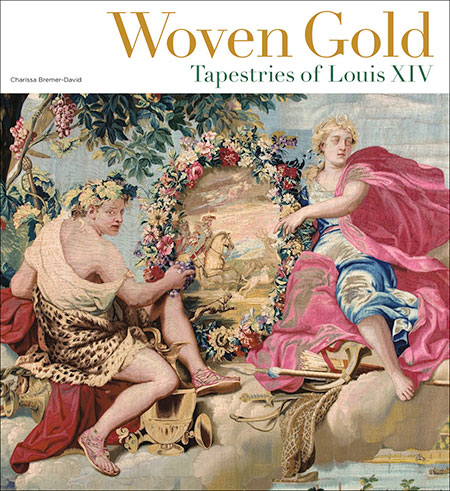 Woven Gold Tapestries of Louis XIV 
Charissa Bremer-David
J. Paul Getty Museum

168 pages, 12 x 11 inches
97 color and 10 b/w illustrations
ISBN 978-1-60606-461-0,
Publication Date: December 15, 2015

US $49.95, £35.00 
Hardcover 

Published on the occasion of the first exhibition of these tapestries in the United States, Woven Gold: Tapestries of Louis XIV offers its readers an up-close look at these luxurious textiles. With lush reproductions and a series of essays by experts in the field, this gorgeous volume offers both novices and scholars a rich and rewarding foray into European tapestry production and reception.
The eponymous exhibition which presents fourteen marvelous examples of the former royal collection, will be on display exclusively at the J. Paul Getty Museum at the Getty Center from December 15, 2015, to May 1, 2016.
Louis XIV. Dubbed the Sun King and likened to Apollo, the ancient god of light and protector of the Muses, Louis XIV was known throughout his lifetime as a shining patron of the arts and an arbiter of good taste. Nowhere can the monarch's exquisite eye and considerable financial resources be better observed than in his remarkable collection of tapestries.

Skillfully woven in a myriad of materials such as wool, silk, and gilt metal- wrapped thread, these tapestries represent the highest achievement of the form. The designs of these pieces, which come alive in deep blues, vivid reds, and pale gold, hail from some of the greatest Renaissance and Baroque artists, such as Peter Paul Rubens, Raphael, and Charles Le Brun. The Sun King's collection is perhaps the most awe-inspiring testament to the medium of weaving ever assembled.
About the Author. Charissa Bremer-David is curator in the Department of Sculpture and Decorative Arts at the J. Paul Getty Museum. She is author of Conundrum: Puzzles in the Grotesques Tapestry Series, and French Tapestries and Textiles in the J. Paul Getty Museum (Getty Publications, 1997.
* Available at bookstores or through Getty Publications (800-223-3431). Distributed to the trade in the U.S. and Canada by the University of Chicago Press.
---
Link
Getty Center