JAN VAN KESSEL
National Gallery of Art Acquires
Jan van Kessel's "Insects and a Sprig of Rosemary"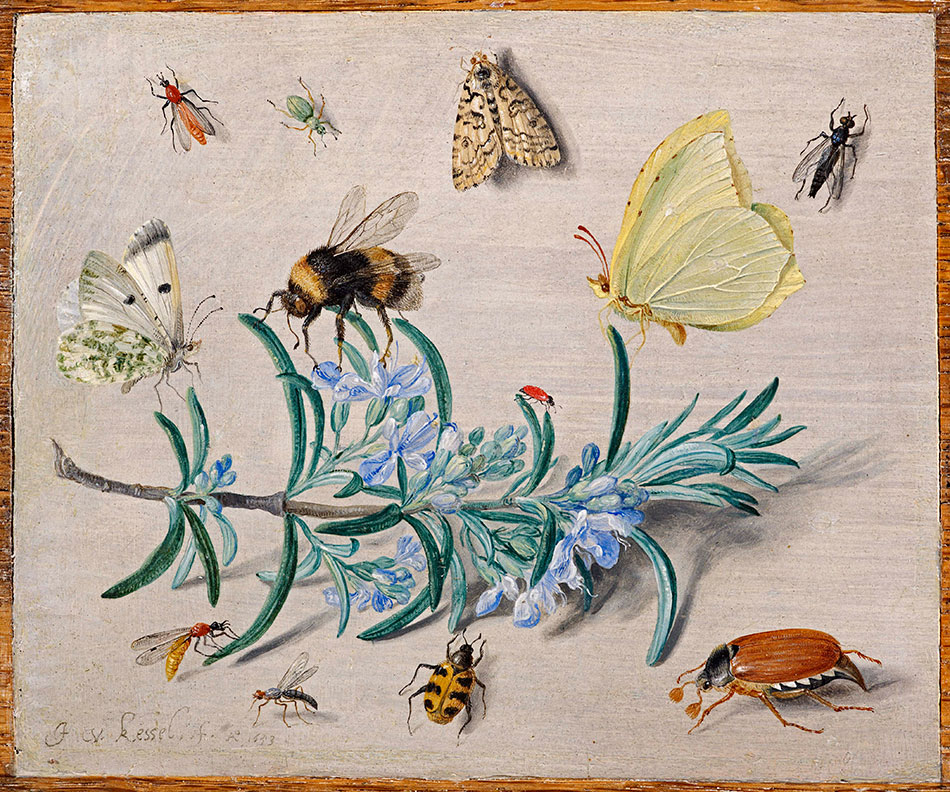 Jan van Kessel, Insects and a Sprig of Rosemary, 1653, oil on panel, 11.5 x 14 cm (4 1/2 x 5 1/2 in.), National Gallery of Art, Washington, The Richard C. Von Hess Foundation, Nell and Robert Weidenhammer Fund, Barry D. Friedman and Friends of Dutch Art
Formerly in the collection of Mr. and Mrs. Paul Mellon,
the painting is an especially fine example of the artist's work
Comments from CODART: Dutch and Flemish art in museums worldwide.
The painting depicts a sprig of flowering rosemary surrounded by two butterflies, a bumblebee, a moth, beetles, a cockchafer bug, and several other insects. Although his rendering of the insects is so accurate that individual species can be identified, Van Kessel composed his scene to suggest an animated world.
Detail 1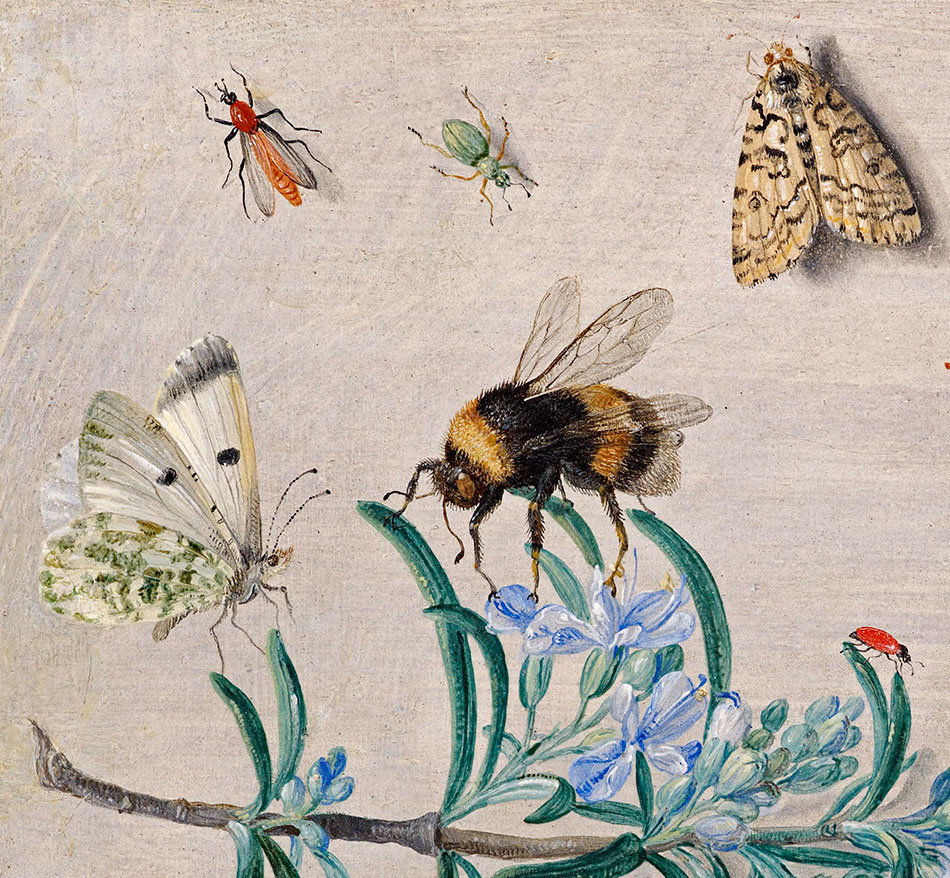 The little creatures climb all over the sprig of rosemary, seemingly drawn to its sweet fragrance; the delicate shadows they cast on the off-white ground enhance the three-dimensional, lifelike character of the scene.
Detail 2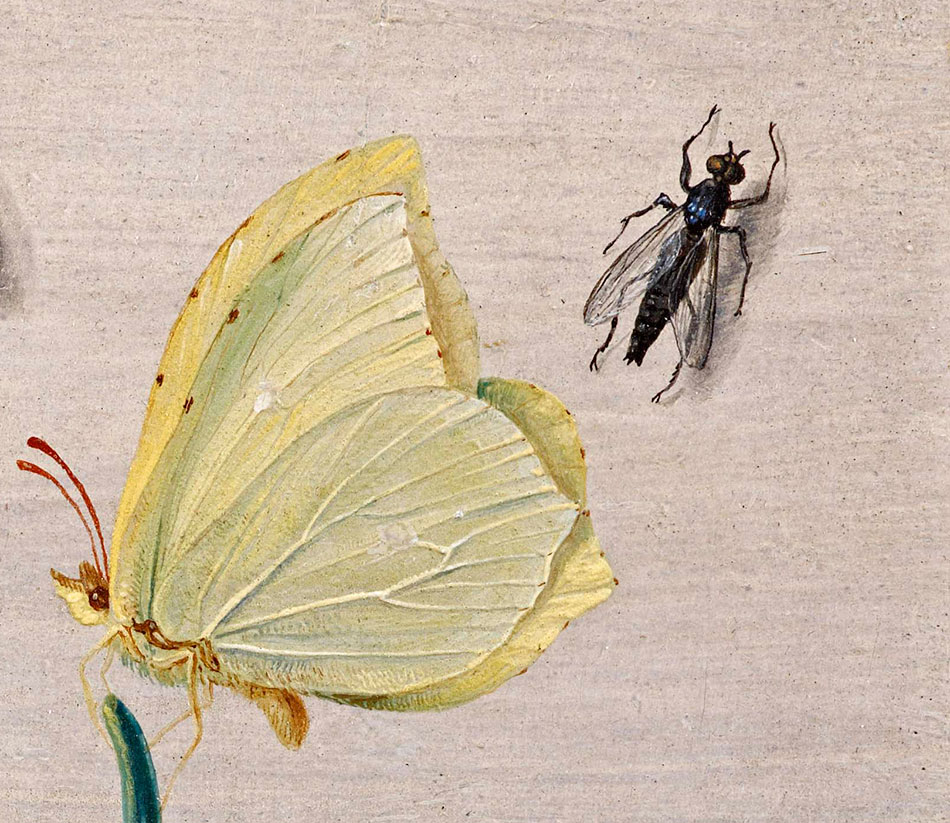 Insects and a Sprig of Rosemary relates to the way collections of naturalia were displayed in Antwerp during the 17th century. Van Kessel likely referred to drawings of plants and animals made from life when he painted this small panel, although he also consulted printed sources for some of his images.
Detail 3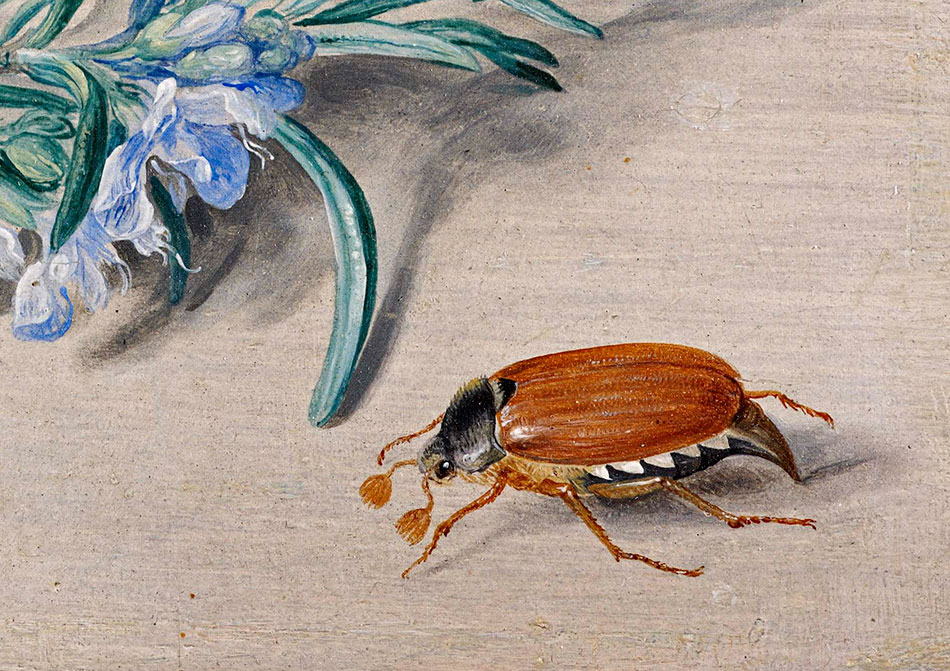 This work—remarkable in both quality and condition—joins five paintings by Van Kessel and his workshop that are already part of the Gallery's collection.
Detail 4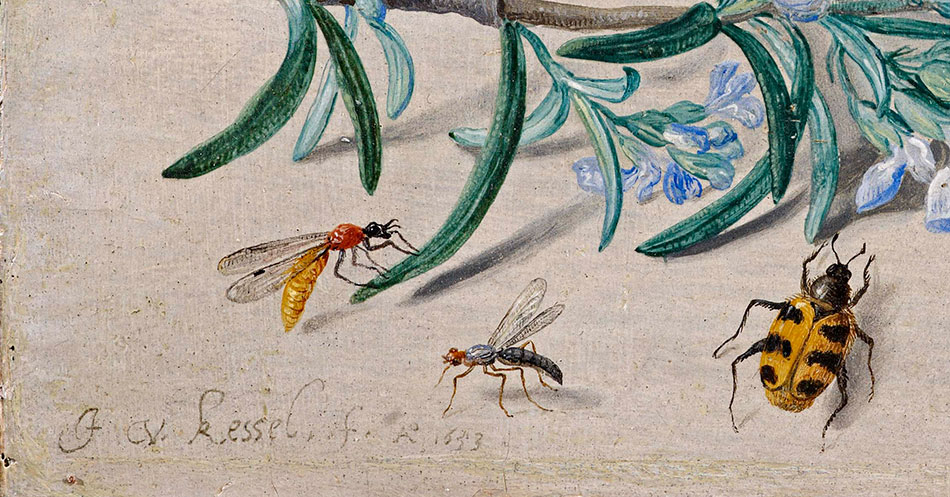 The purchase was made possible thanks to the generosity of The Richard C. Von Hess Foundation, the Nell and Robert Weidenhammer Fund, Barry D. Friedman, and the Friends of Dutch Art.
Other work by Jan van Kessel at the National Gallery of Art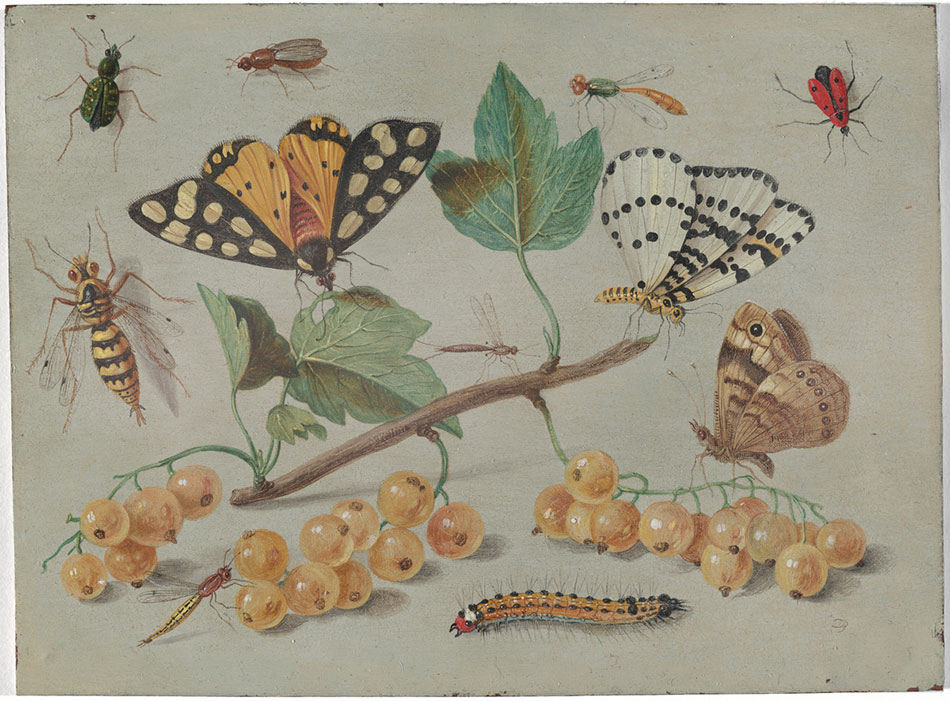 Jan van Kessel.  Study of Butterfly and Insects, c. 1655. oil on copper overall: 11 x 14.8 cm (4 5/16 x 5 13/16 in.)  
Gift of John Dimick


Jan van Kessel
Artist's biography published in the NGA Systematic Catalogue.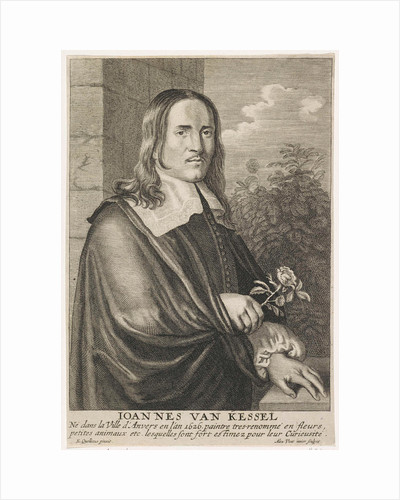 Born in 1626 in Antwerp, was the son of Hieronymus van Kessel the Younger (1578-after 1636), a successful portrait and figure painter, and Paschasia Brueghel, daughter of Jan Brueghel the Elder. In 1634/1635 he registered in the Antwerp Saint Luke's Guild as a pupil of the history painter Simon de Vos (1603-1676), becoming a master in his own right in 1644. He was apparently also instructed by his uncle Jan Brueghel the Younger (1601-1678), who, in 1646, had Van Kessel make copies of his paintings.
Throughout his career Van Kessel painted within the artistic tradition of his grandfather Jan Brueghel the Elder, although he was also inspired by the scientific naturalism of Joris Hoefnagel (1542-1600). His small-scale, brightly colored, and minutely detailed paintings on panel or copper were highly regarded by connoisseurs and princely collectors. Van Kessel is most renowned for his depictions of flowers, insects, and animals, both living and dead, but he also painted shells, armor, and still lifes of fruit, bouquets, and garlands. He frequently collaborated with figure painters, among them Erasmus Quellinus (1607-1678) and David Teniers the Younger. Van Kessel also painted a number of allegorical subjects, including representations of the Five Senses, the Four Elements, and the Four Continents.

NATIONAL GALLERY OF ART
6th and Constitution Avenue NW, Washington, DC 20565 
Telephone: (202) 737-4215 Accessibility Information: (202) 842-6905
http://www.nga.gov/