Masterpieces of Lunéville Embroidery by Johan-Luc Katt

JEWELS, CLUTCHES AND VESTS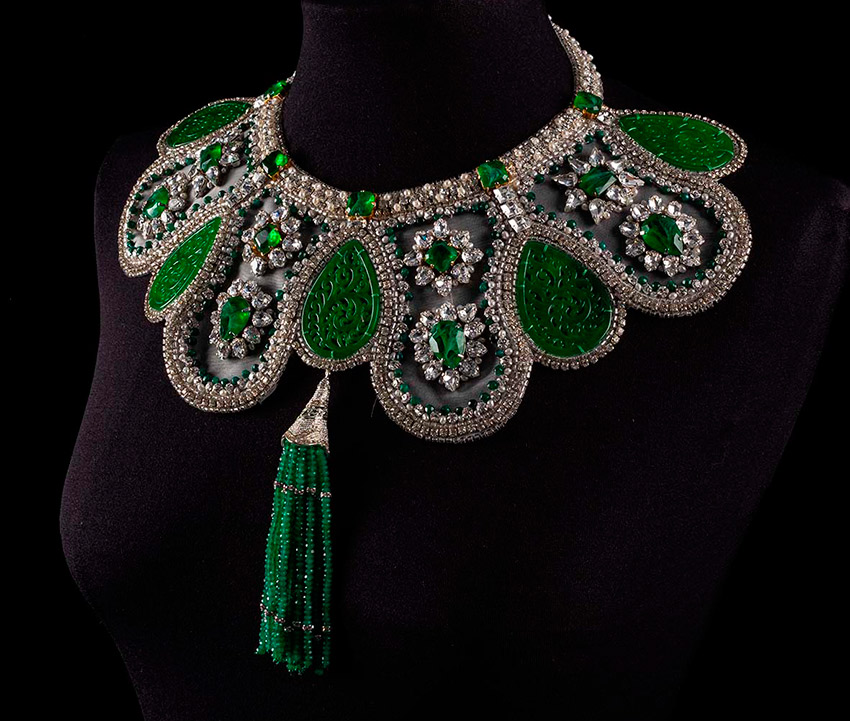 NECKLACE. Unique piece. Hand embroidered on silk organza with Jade, Swarovski crystals,
aventurine, natural pearls and Dior stones, 28 x 31 cm (11 x 12,20 in.) Code: NEC196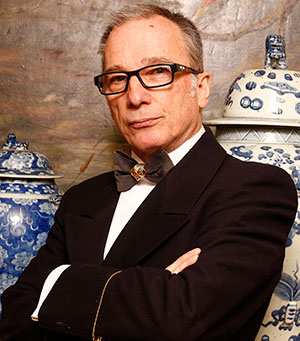 Frenchman Johan Luc Katt has inherited the spirit, quality and exclusivity of Haute Couture learned in the 1960s when he was integrated in the Parisian atelier of the famous embroiderer François Lesage. His hands have made exquisite creations for Chanel, Dior, Balenciaga and Yves Saint Laurent, among other famous couturiers.
    Resident in Spain for 30 years, he has achieved the highest prestige for his creations.  Queen Leticia wears Johan's creations in her most important official engagements such as her wedding with Prince Felipe de Borbón of Spain, and in her coronation as King Felipe VI, as well as in the audience with Pope Francis, among other major diplomatic events.
    Johan is an exception in the world of creation because his technique consists of embroidering with precious stones on exquisite fabrics and with noble metals such as gold or silver. He never repeats a design and his specialty is the unique piece. Johan embroiders with the same preciousness jewelry and different garments and accessories that are found in important private collections.
NECKLACES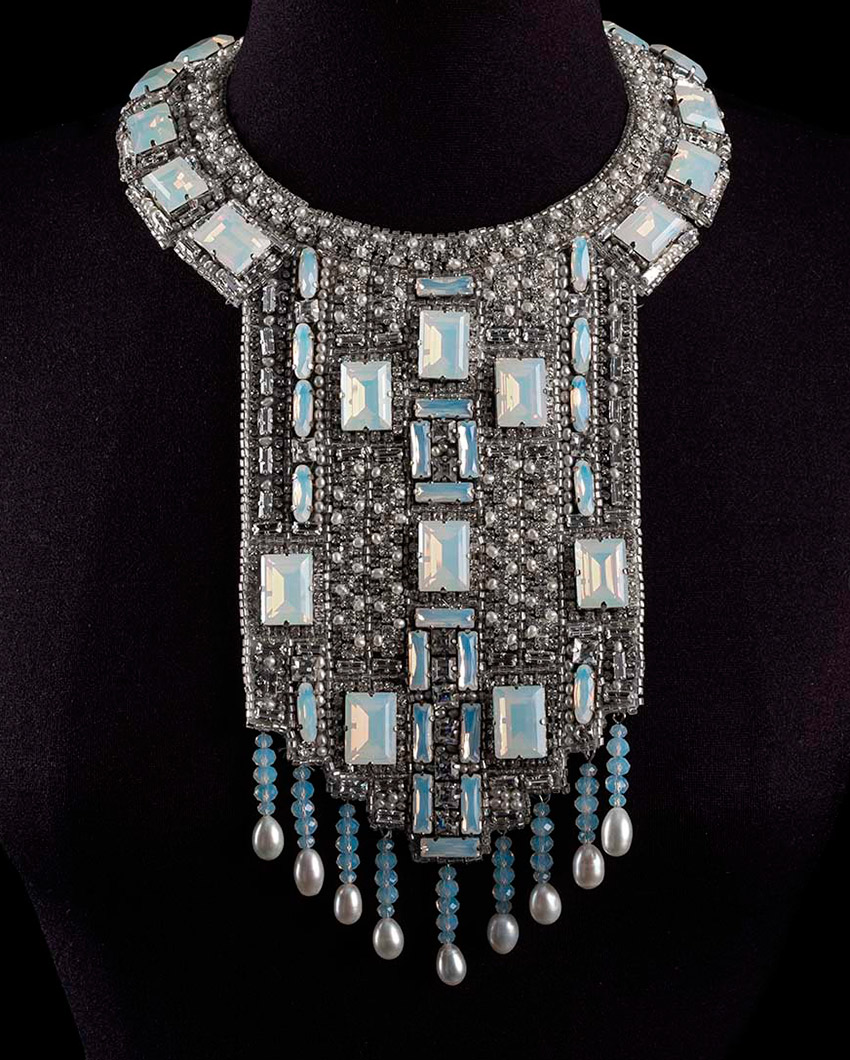 NECKLACE.   Unique piece. Hand embroidered on silk organza, with Swarovski crystals, vintage crystals and natural pearls, 18 x 32 cm ( 7,08 x 12,60 in.) Code: NEC204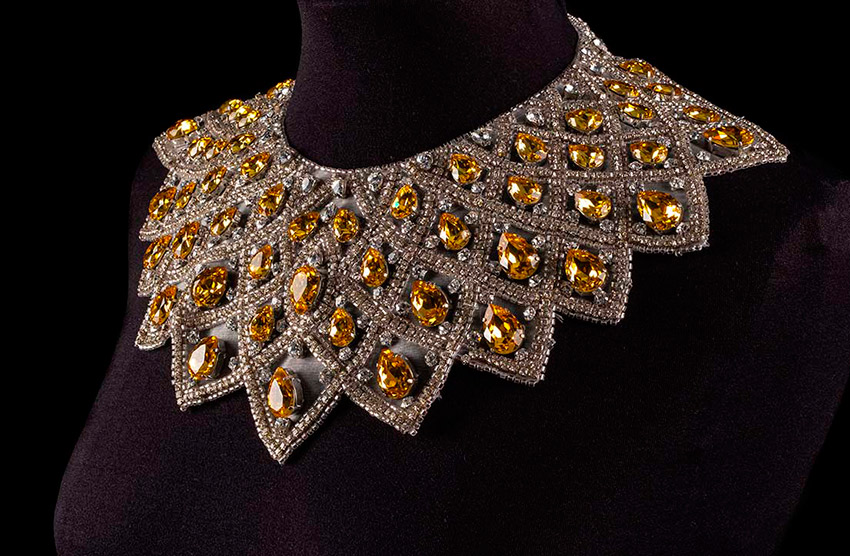 NECKLACE. Unique piece. Hand embroidered on silk organza, with Swarovski crystals
and vintage crystals, 24 x 29 cm (9,45 x 11,41 in.) Code: 203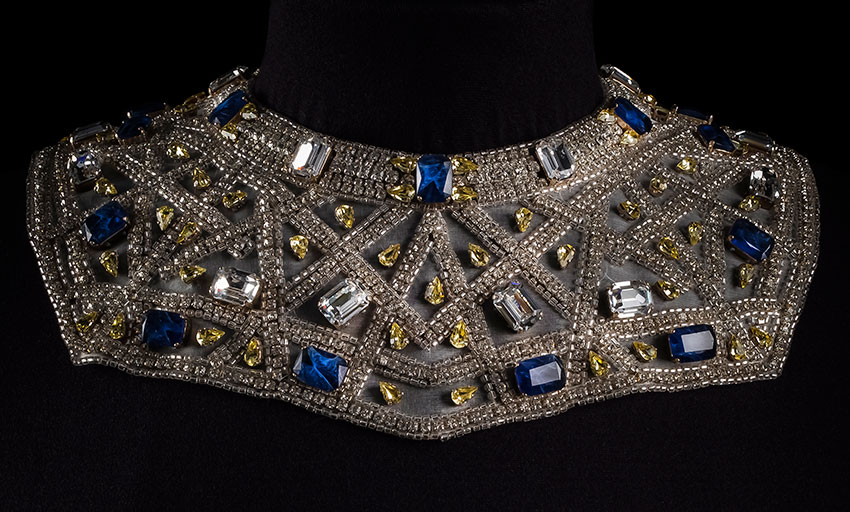 NECKLACE, Unique piece. Hand embroidered on silk organza, with vintage crystals, Swarovski crystals and Dior stones, 25 x 26 cm (9,84 x 10,24 in.) Code: NEC200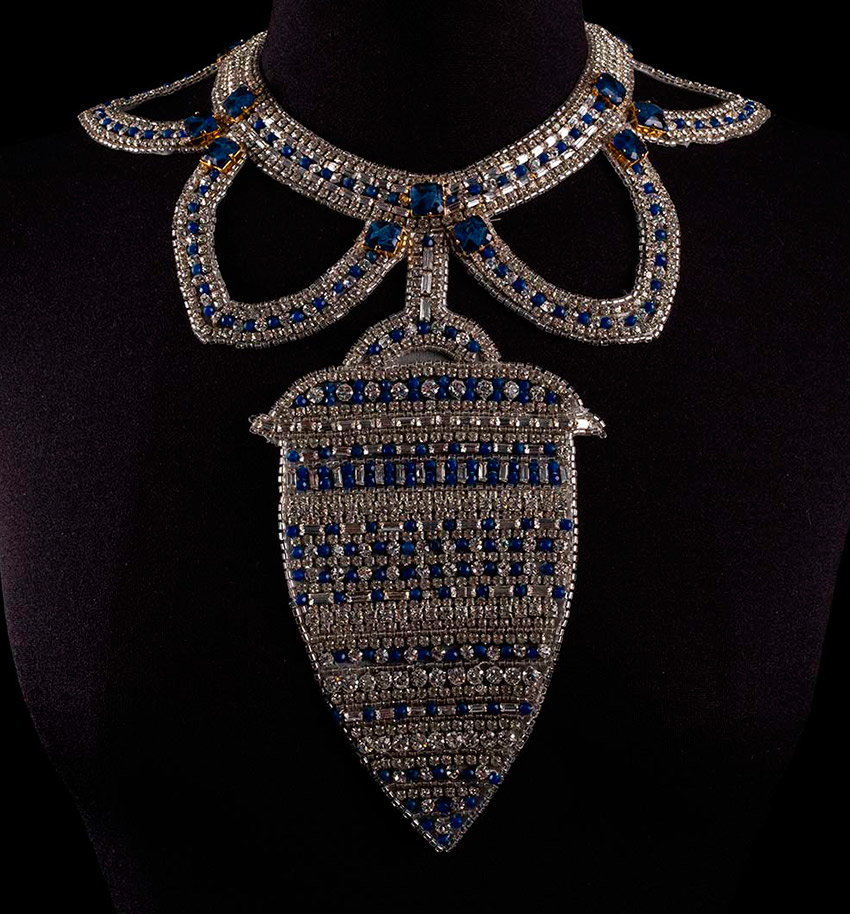 NECKLACE. Unique piece. Hand embroidered on silk organza, with Swarovski crystals, vintage crystals, aventurine and Dior stones, 33 x 23 cm (12,99 x 9,05 in.) Code: NEC207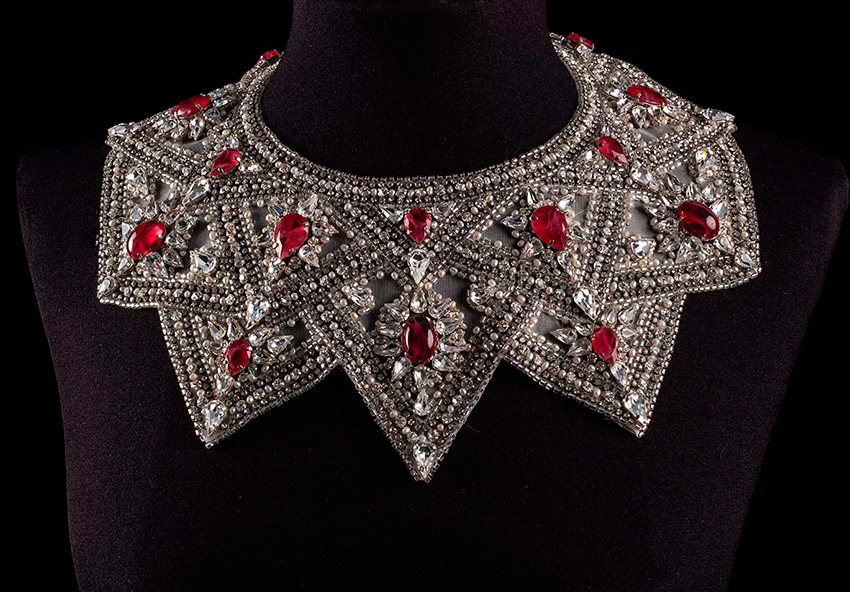 NECKLACE. one piece. Hand embroidered on silk organza, with Swarovski crystals and Dior stones, 9 x 35 x 5 cm (3,55 x 13,78 x 2 in) Code: 202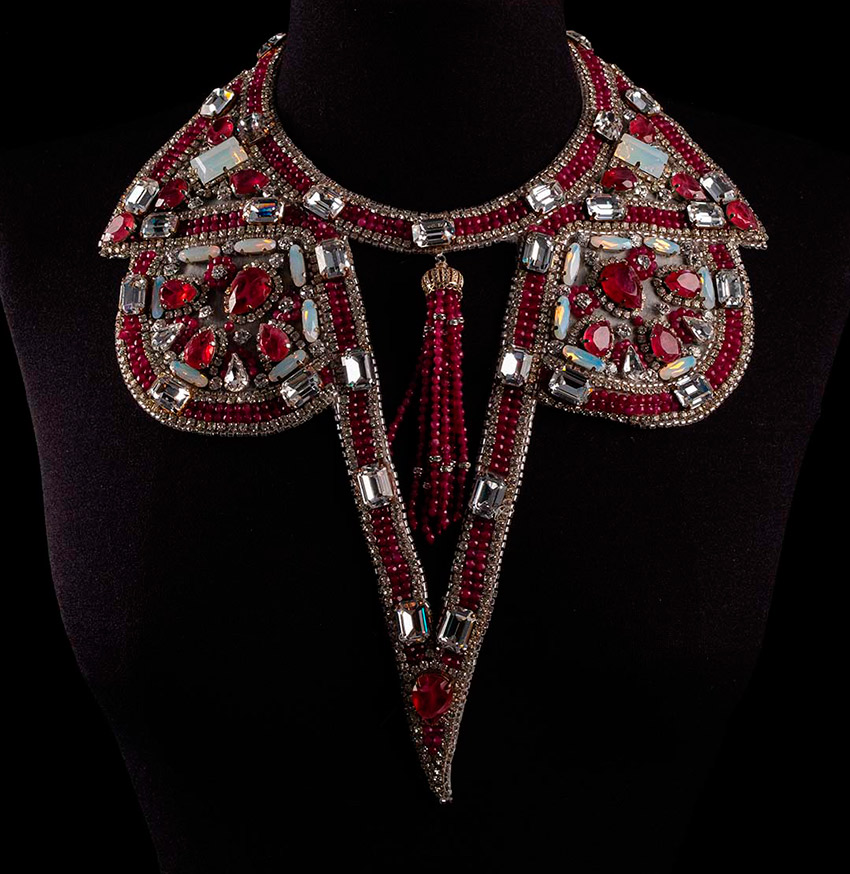 NECKLACE. Unique piece. Hand embroidered on silk organza, with Swarovski crystals, vintage crystals, agate, and Dior stones, 24 x 33 cm (9,45 x 13 in.) Code:199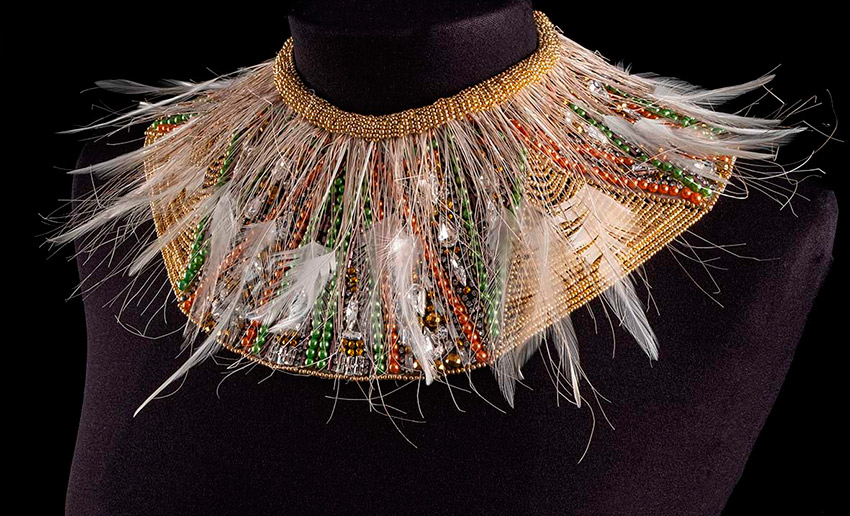 NECKLACE. Unique piece. Hand embroidered with vintage crystals, colored pearls, Swarovski crystals and duck feathers, 23 x 37 cm (9,05 x 14,57 in.) Code: NEC210
CHOKERS & BRACELETS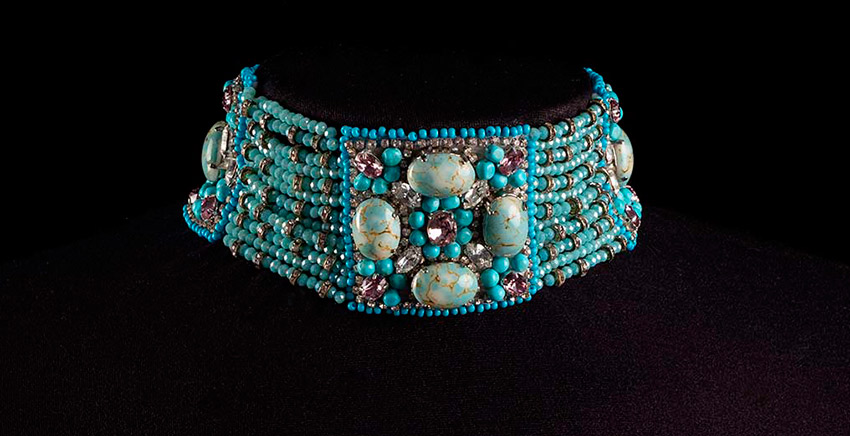 CHOKER. Unique piece. Hand embroidered on silk organza, with vintage crystals and Swarovski crystals, 5 x 34 cm ( 1,96 x 13,40 in.) Code: CHO160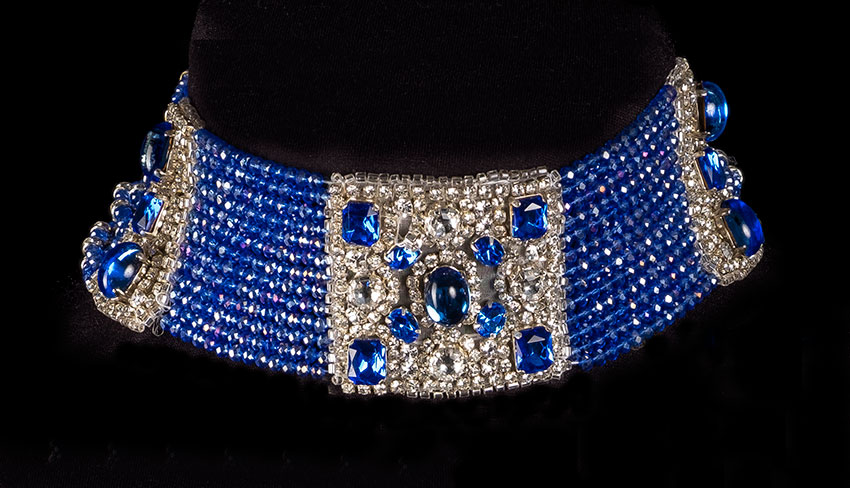 CHOKER. Unique piece. Hand embroidered on silk organza, with Swarovski crystals and vintage crystals. Closure: natural silk ribbon, 29 x 5 cm (11,42 x 2 in.) Code: CHO164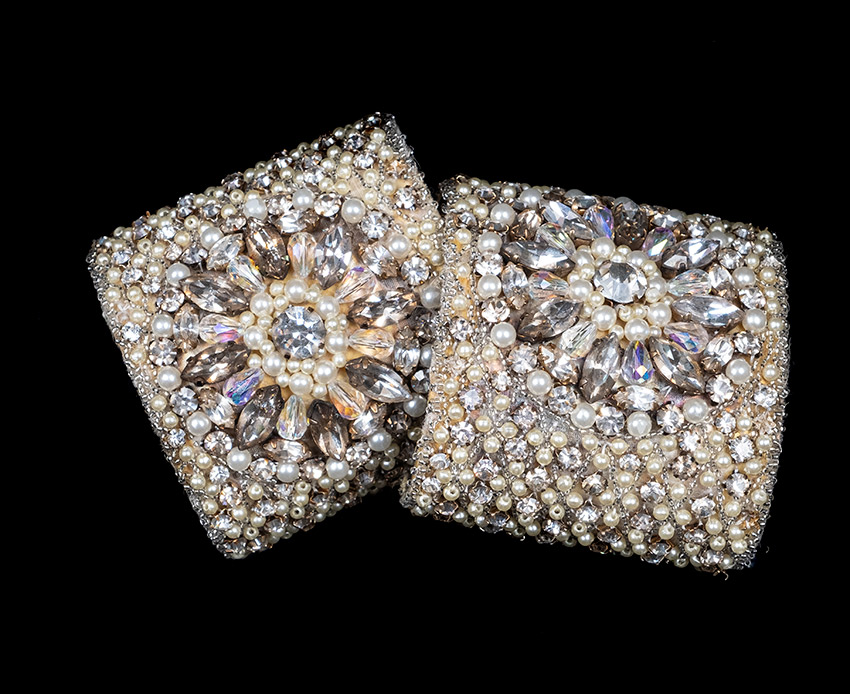 BRACELETS. Unique pieces. Hand embroidered on silk organza inlaid on a silver metallic base, with crystals and vintage pearls, width 7 cm ( 2,76 in.)  Code: B151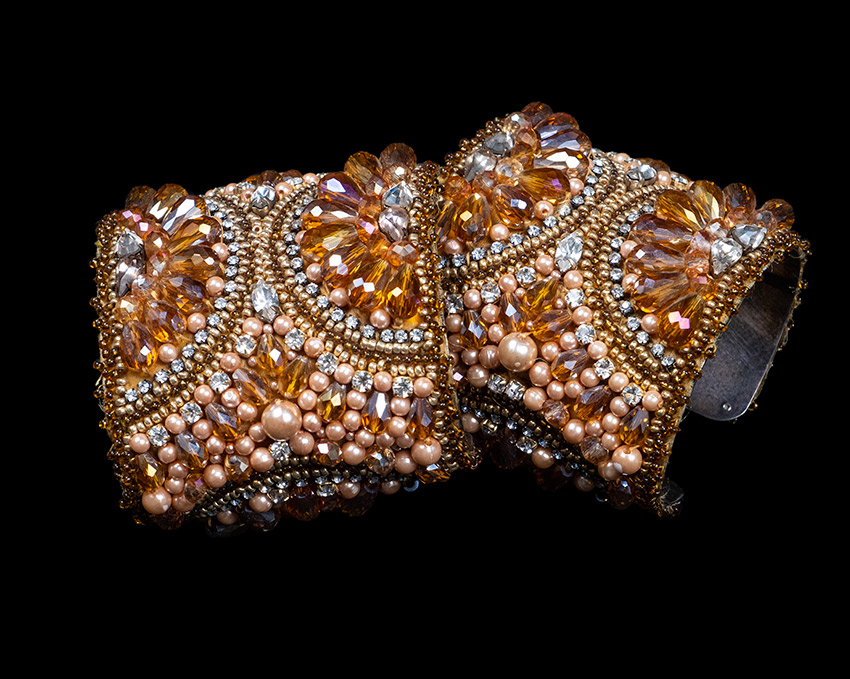 BRACELETS. Unique pieces. Hand embroidered on silk organza inlaid on a silver metallic base, with vintage crystals and Swarovski crystals, 7cm wide ( 2,76 in.)  Code: B153
PECTORALS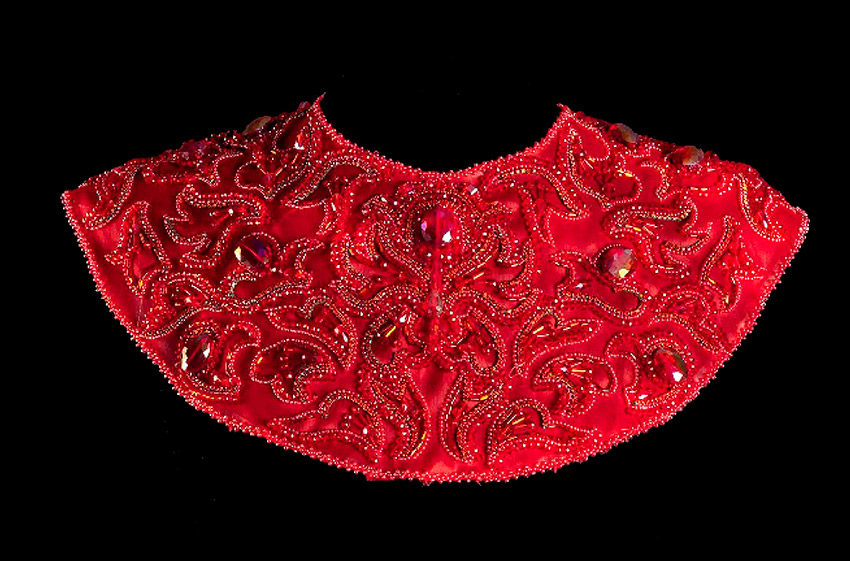 PECTORAL. Unique piece. Hand embroidered on silk organza with Swarovski crystals
and vintage crystals, 44 x 46 cm ( 17,32 x 18,11 in.) Code: 198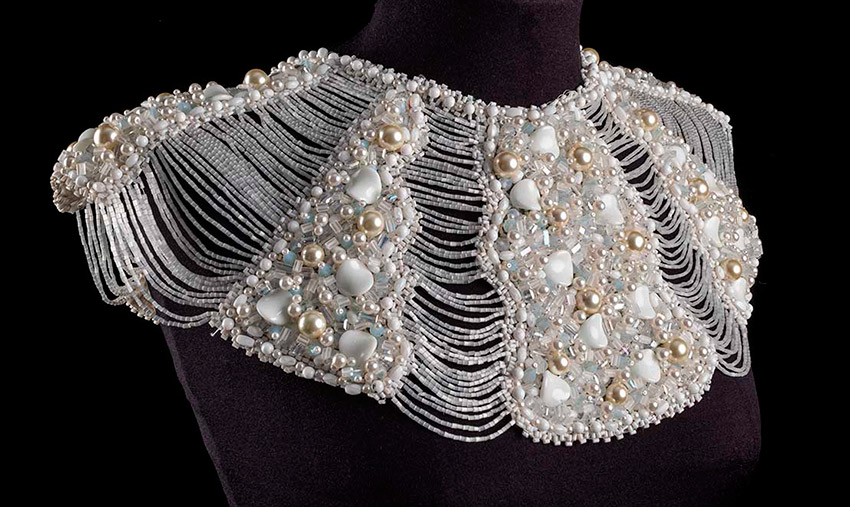 PECTORAL. Unique piece. Hand embroidered on silk organza, with crystals, porcelain pieces,
majorica pearls, vintage crystals and Swarovski crystals, 45 x 45 cm (17,72 x 17,72 in.) Code: PEC189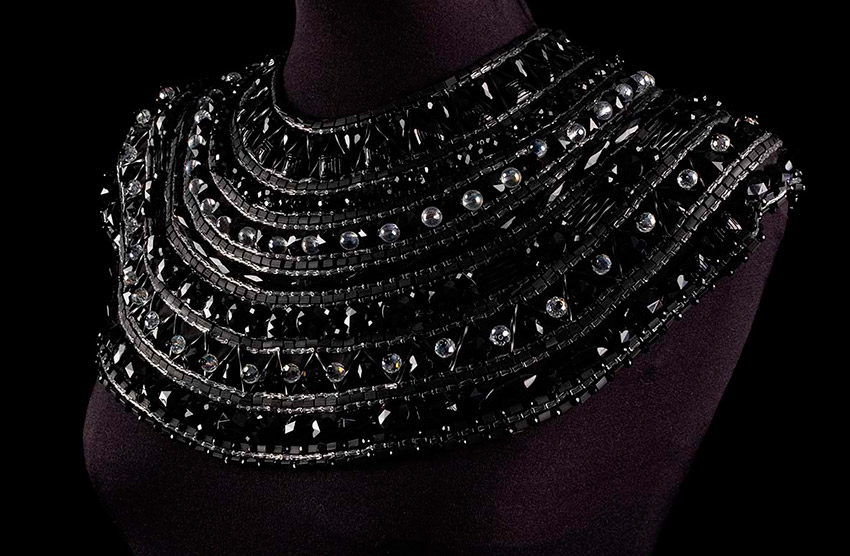 PECTORAL. Unique piece. Hand embroidered on silk organza, with Swarovski crystals, crystals and vintage jet, 45 x 45 cm (17,72 x 17,72 in.) Code: PEC194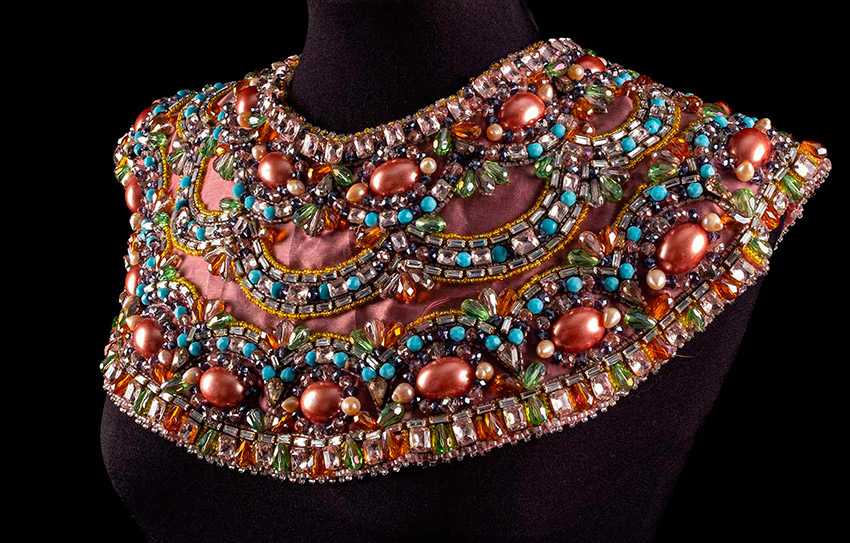 PECTORAL. Unique piece. Hand embroidered on silk organza, with Swarovski crystals, cabochon crystals and pearls, 45 x 45 cm (17,72 x 17,72 in.) Code: PEC195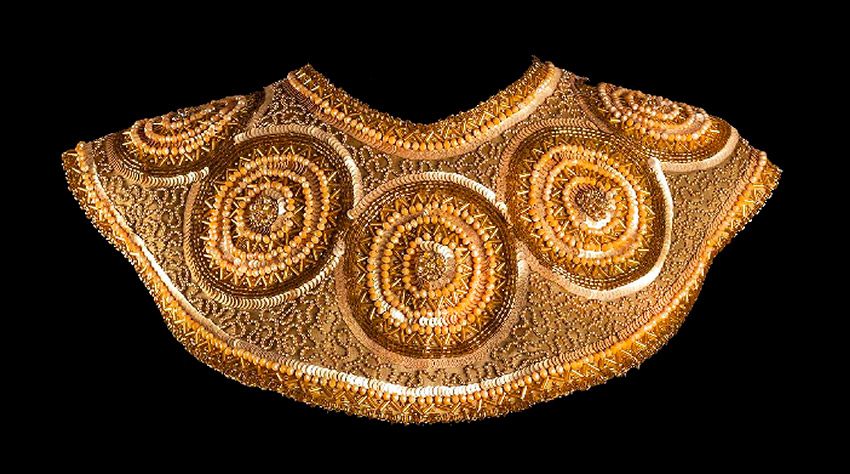 PECTORAL. Unique piece. Hand embroidered on silk organza with crystals and sequins,
44 x 46 cm ( 17,32 x 18,11 in.) Code: PEC197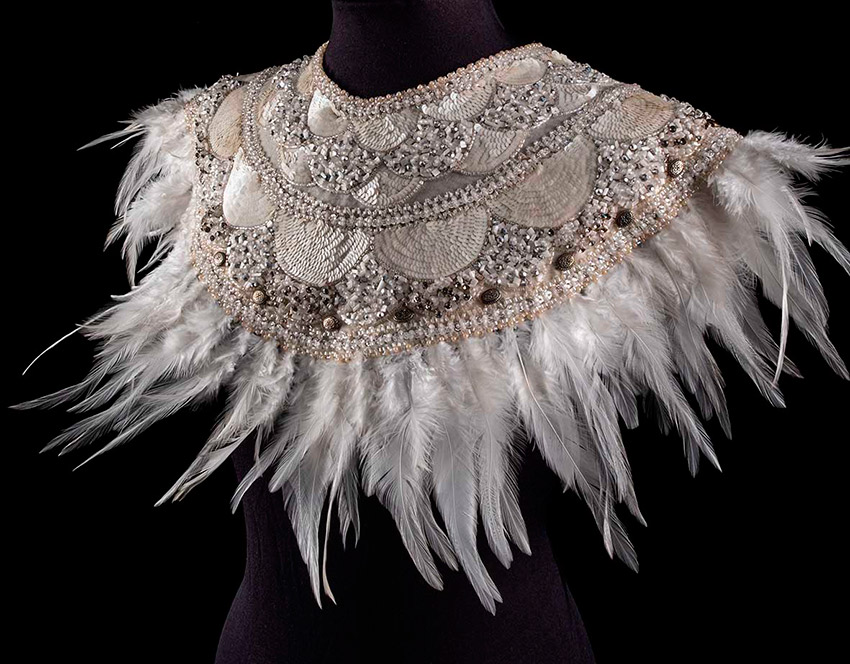 PECTORAL. Unique piece. Hand embroidered on silk organza, with vintage crystals, Swarovski crystals, sequins, pearls and metal pieces, 45 x 45 cm (17,72 x 17,72 in.) Code: PEC191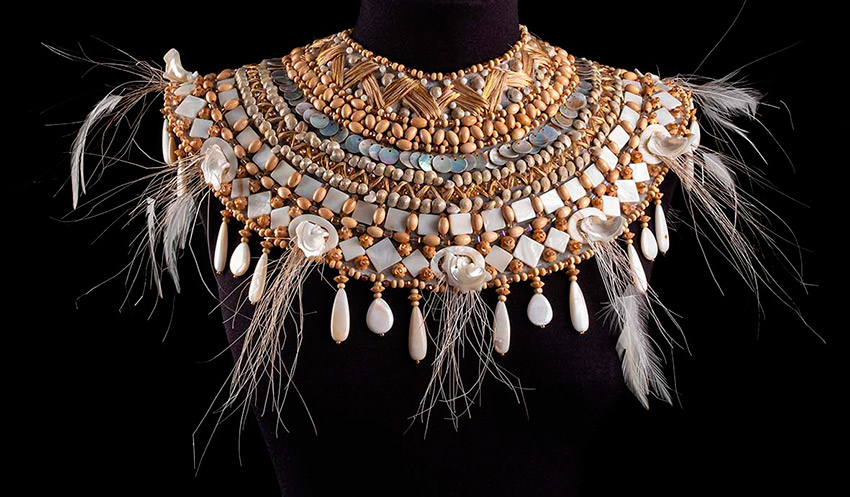 PECTORAL.  Unique piece. Embroidered on silk organza, with pieces of wood, mother-of-pearl, gold thread, cotton thread and duck feathers, 45 x 45 cm (17,72 x 17,72 in.) Code: PEC190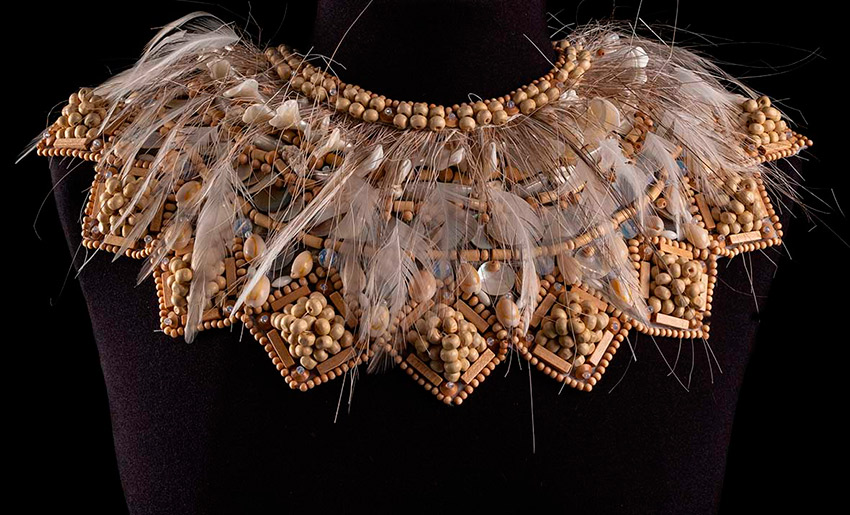 PECTORAL. Unique piece. Hand embroidered on silk organza, with pieces of wood, mother-of-pearl and duck feathers, 31 x 42 cm (12,20 x 16,53 in.) Code: PEC193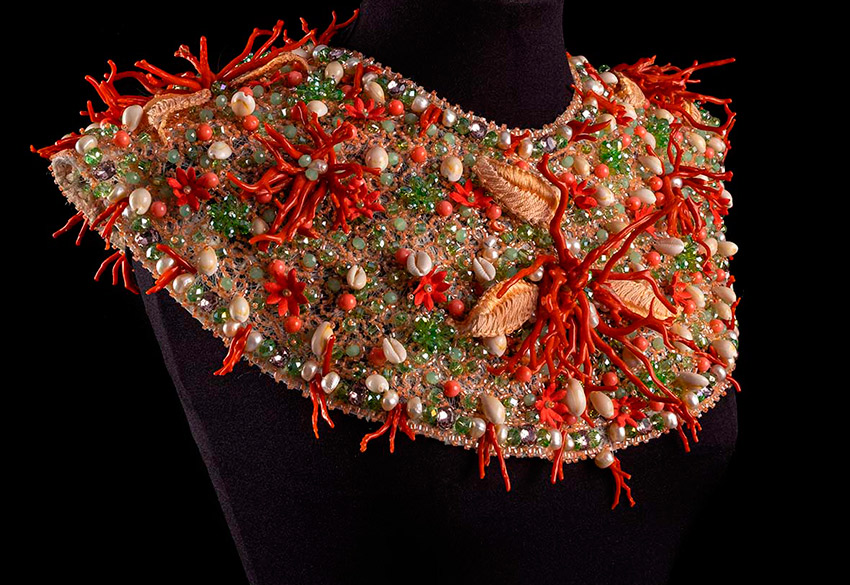 PECTORAL. Unique piece. Hand embroidered on vegetable fibre, with Swarovski crystals, natural pearls, shells, coral balls, natural branch coral, leaves embroidered with silk thread and natural silk flowers,
45 x 45 cm (17,72 x 17,72 in.) Code: PEC192
CLUTCHES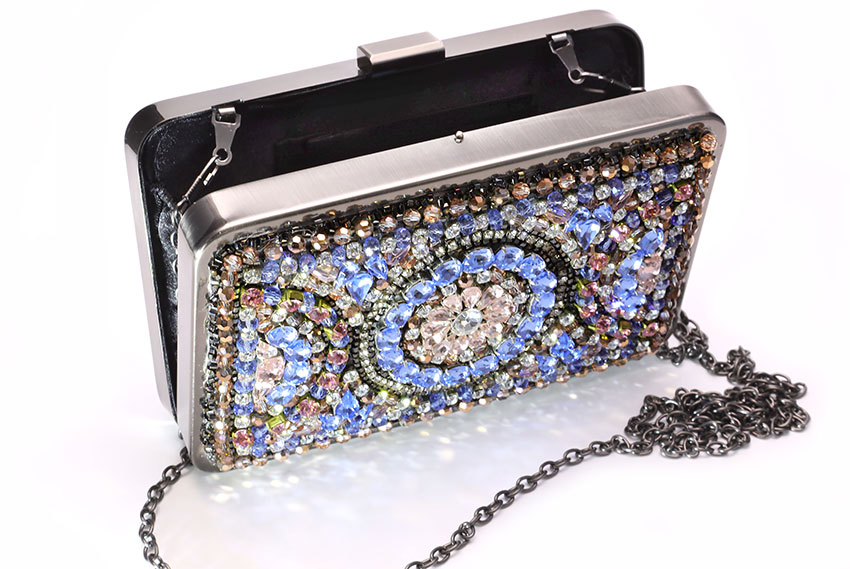 CLUTCH, Unique piece. Hand embroidered, on silk organza, with vintage crystals
and Swarovski crystals, 11 x 17 x 3,5 cm (4,33 x 6,7 x 1,38 in.) Code: C189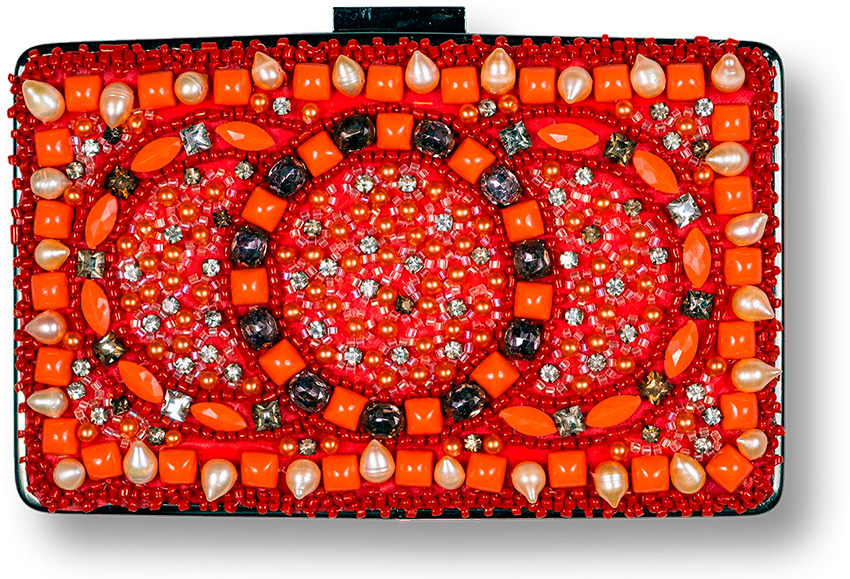 CLUTCH, Unique piece. Hand embroidered on silk organza, with vintage crystals ,
natural pearls and vintage pieces, 11 x 18 x 4 cm (4,33 x 7 x 1,57 in.) Code: C194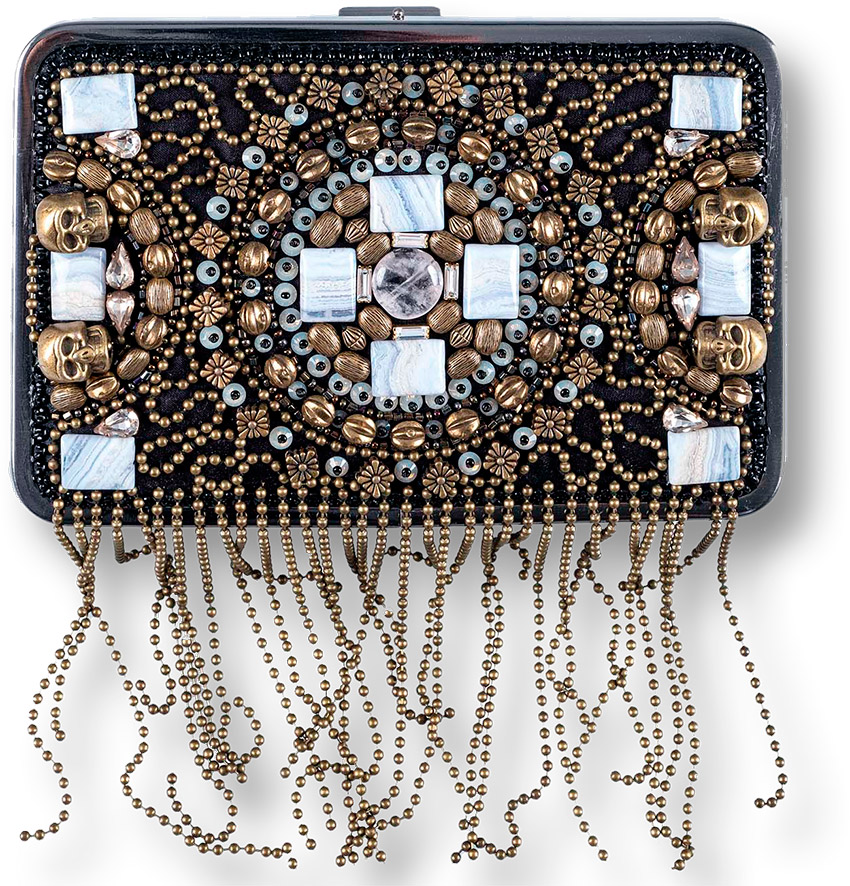 CLUTCH, Unique piece. Hand embroidered on silk organza, with natural agate and zamac pieces, 11 x 17 x 4,5 cm; fringes 16 cm (4,33 x 6,7 x 1,77 in., fringes 6,3 in.) Code: C185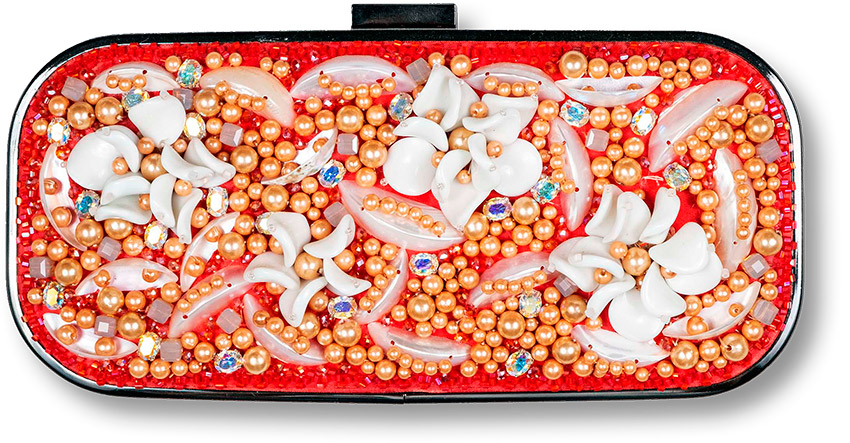 CLUTCH. unique piece. Hand embroidered on silk organza, with pieces of porcelain, crystals, mother-of-pearl and vintage crystal beads, 11 x 22 x 4 cm (4,33 x 8,66 x 1,58 in.) Code: C187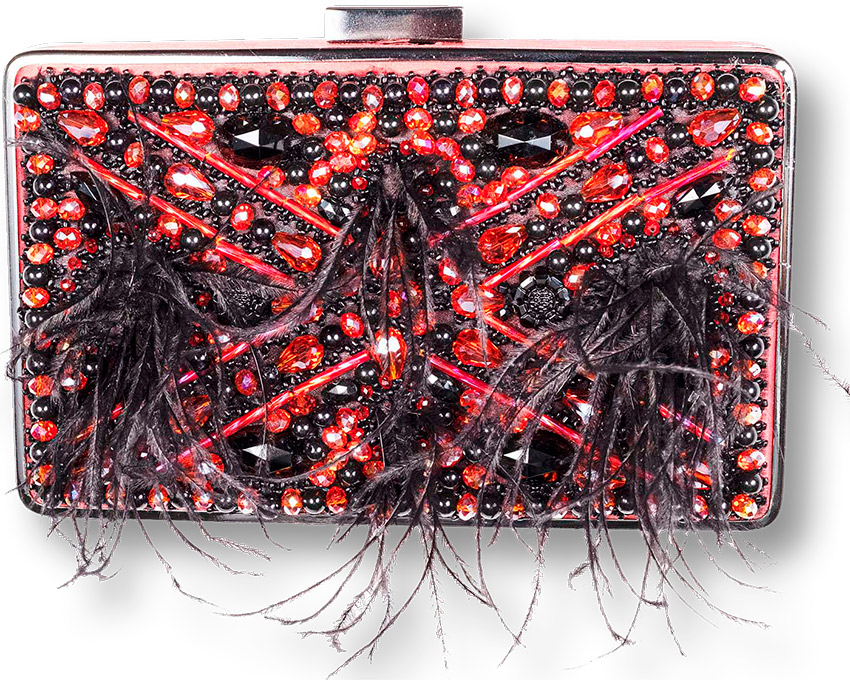 CLUTCH. Unique piece. Embroidered on silk organza, with crystals, ostrich feathers and vintage pieces, 11 x 18 x 7 cm (4,33 x 7 x 1,57 in.) Code: C195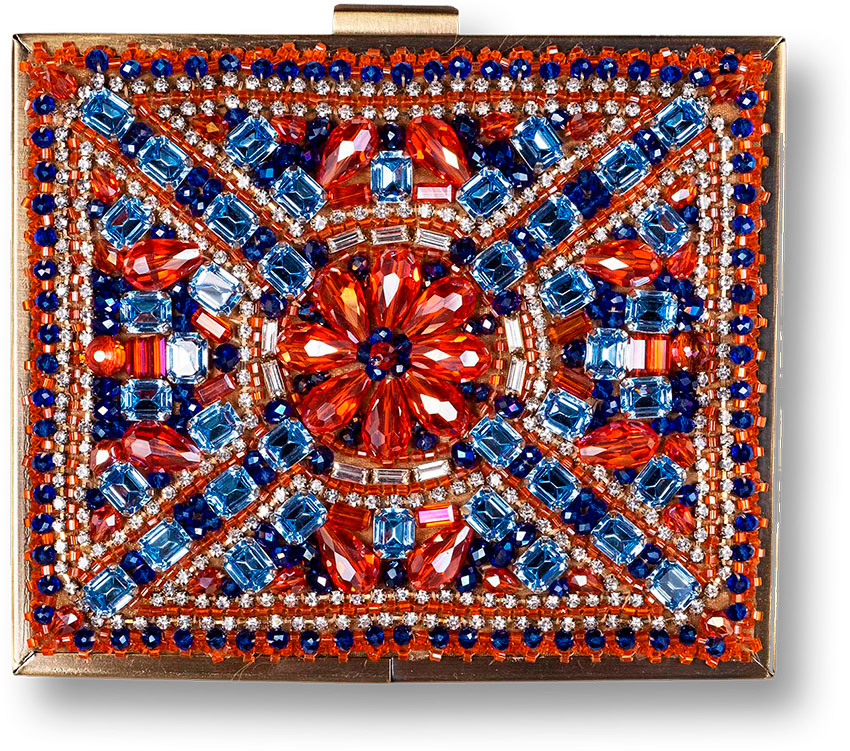 CLUTCH. Unique piece. Hand embroidered on silk organza, with vintage crystals and Swarovski crystals, 13 x 15 x 4,5 cm (5,12 x 5,9 x 1,77 in.)  Code: C197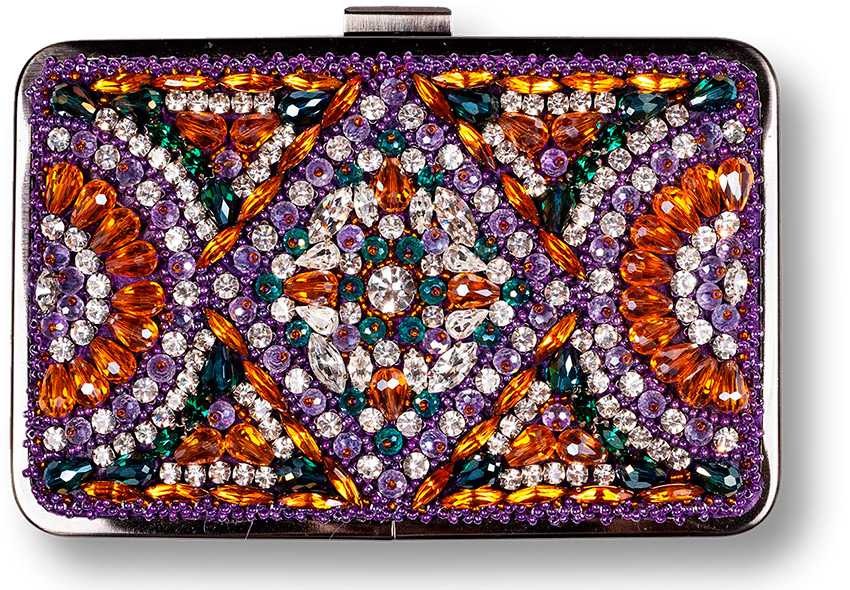 CLUTCH. Unique piece. Hand embroidered on silk organza, with vintage crystals and
Swarovski crystals, 11 x 17 x 3,5 cm (4,33 x 6,7 x 1,38 in.) Code: C190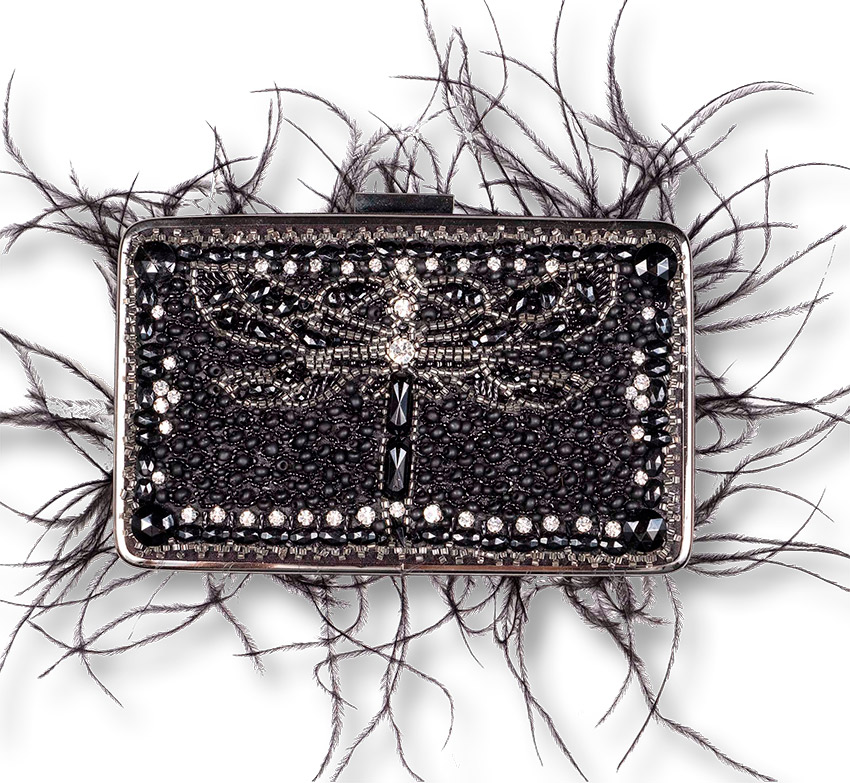 CLUTCH. Unique piece. Hand embroidered on silk organza, with crystals and ostrich feathers, 11 x 18 x 3.5 cm (4,33 x 7 x 1,38 in.) C196


VESTS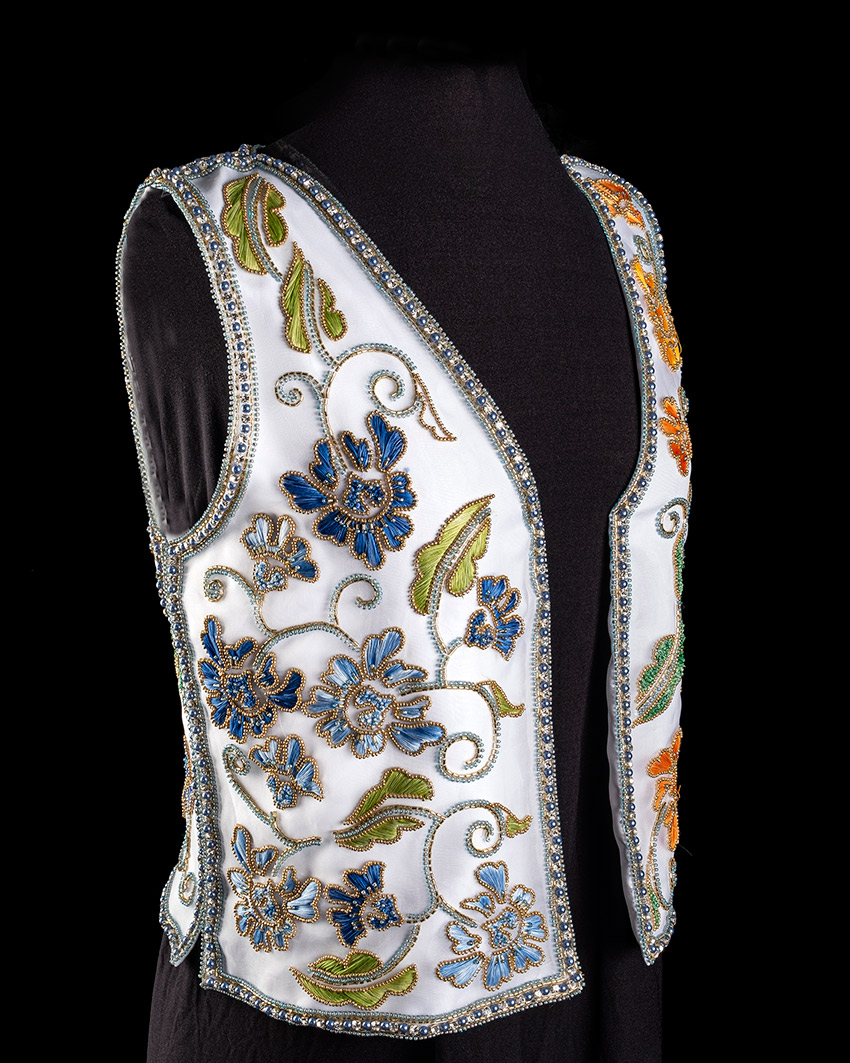 Azahara vest, size 38 (Spain) without clips, unique piece. Hand embroidered on silk organza, with crystals and cotton threads. Lined with silk satin and embroidered logo, height: 19,30 in, back: 17,32 in Code: CH255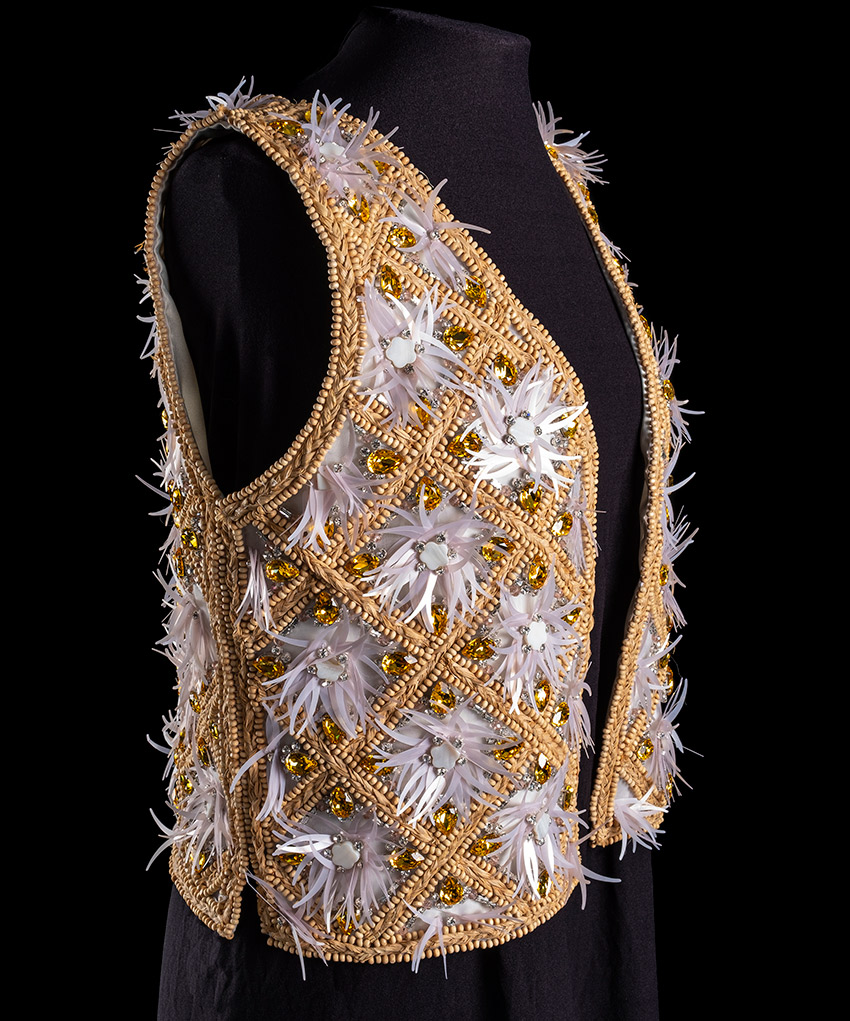 Jazmina vest, size 38 (Spain) without clips, unique piece. Hand embroidered on silk organza, with Swarovski crystals, mother-of-pearl, wooden balls, raffia and sequins. Lined with silk satin and embroidered logo, height: 19,30 in, back: 17,32 in. Code: CH252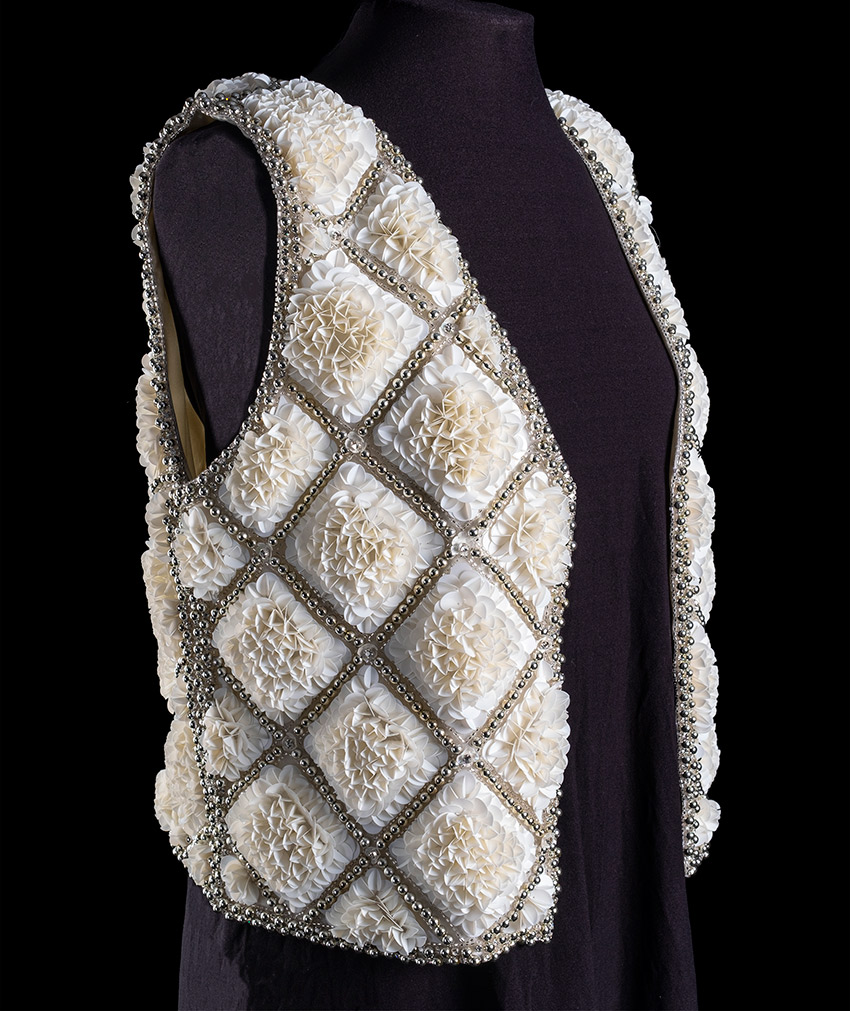 Azima vest, size 38 (Spain) without clips, unique piece. Hand-embroidered on silk organza, with silver beaded crystals and sequins. Lined with silk satin and embroidered logo, height: 19,30 in, back: 17,32 in. Code: CH253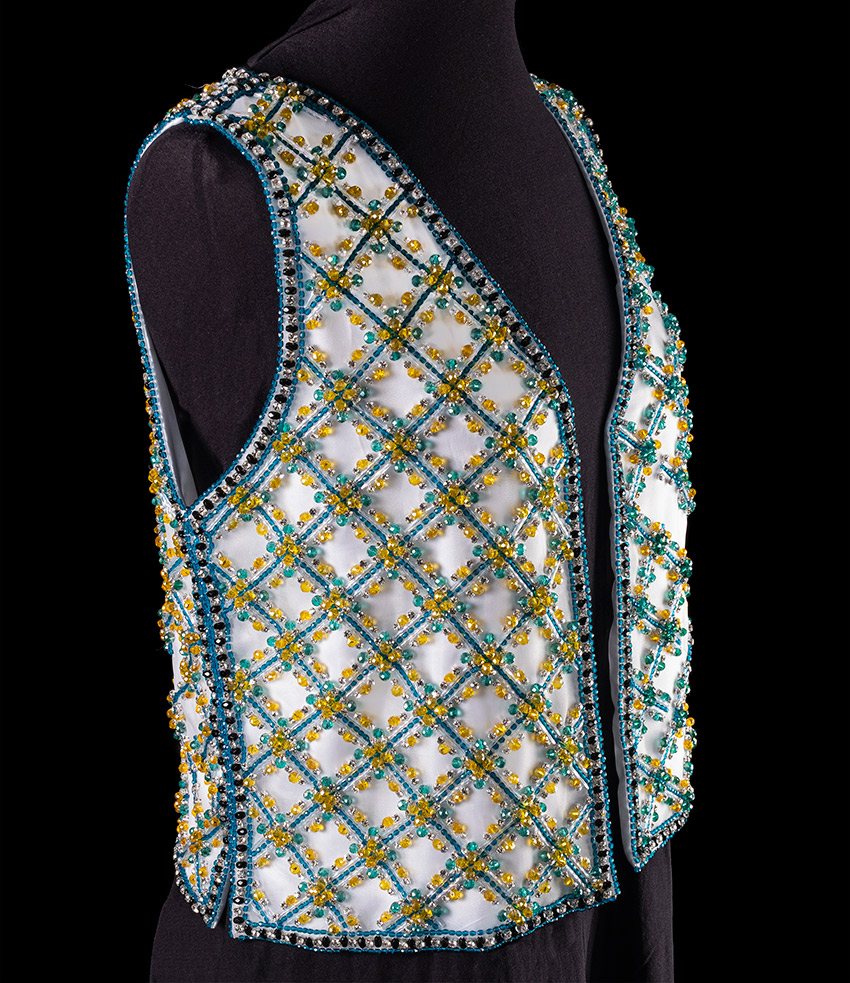 Myriam vest, size 38 (Spain) without clips, unique piece. Hand embroidered on silk organza, with Swarovski crystals and vintage crystals. Lined with silk satin and embroidered logo, height: 19,30 in, back: 17,32 in. ode: CH254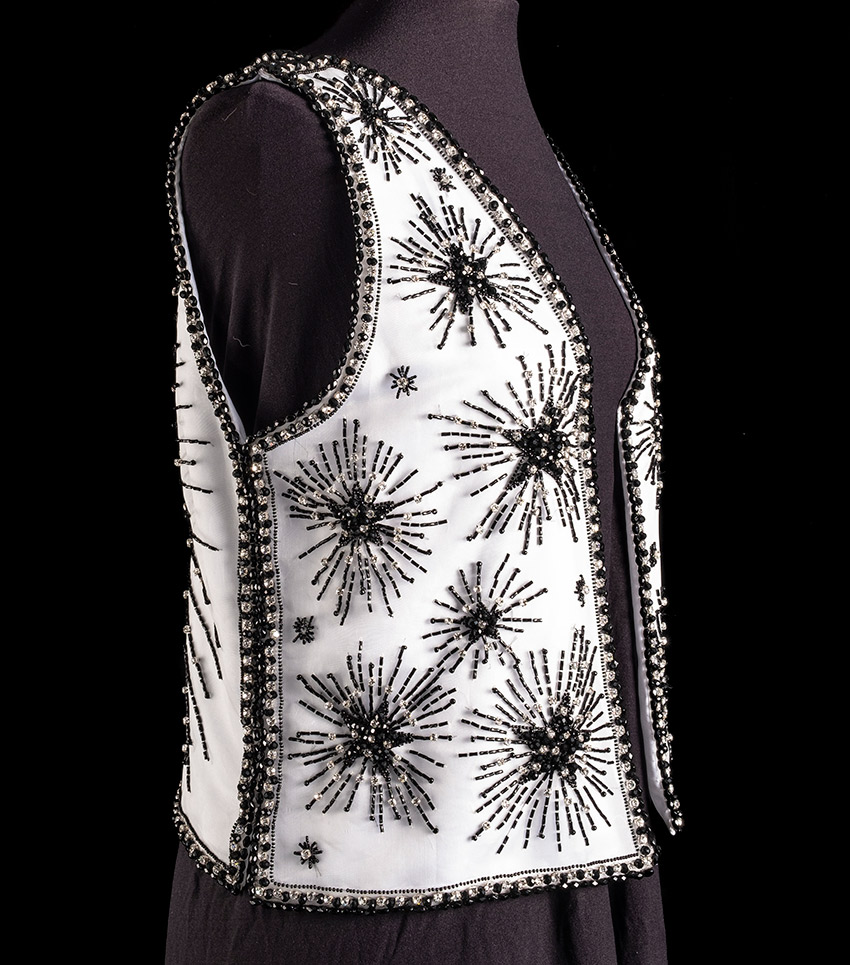 Stars Vest, size 38 (Spain) without clips, unique piece. Hand embroidered on silk organza, with Swarovski crystals and vintage jet crystals. Lined with silk satin and embroidered logo, height: 19,30 in, back: 17,32 in. Code: CH251

Tel + 262 06.93.84.68.01
[email protected]