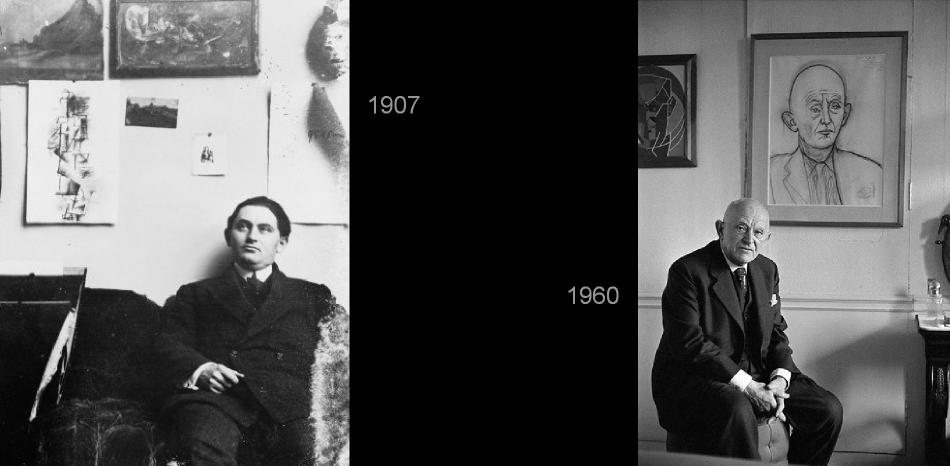 1907. Picasso's studio in Paris.   1960. With one of his portraits painted by Picasso
"To be an intermediary between the artists and the public, to clear their way, and to spare them financial anxieties. If the profession of art dealer has any moral justification it can only be that", D.H.Kahnweiler
Daniel-Henry Kahnweiler was born on June 25 1884, in Mannheim, Germany, and died at the age of 94 years, on June 11 1979, in Paris. Son of a well-of Jewish family, he grew up in Stuttgart where his great-uncle, Joseph Goldscheider, initiated him to art and music.
Kahnweiler was trained to study finance and philosophy, but he never followed the career his family wanted for him. They had a good status in bank management and stock brokerage, and he could have been a stock broker, as his father, or inherit his uncle's Sigmund Neumann business on gold and diamond mines. However, he decided to become an art dealer in Paris.
At the age of 23, and with the initial financial support of his family and with no contacts or knowledge on art trade at that time, he launched his first art gallery in Paris, at 28 rue Vignon. His gallery was only 16 square meters.
His first purchases were done at the Salon des Indépendants from unknown painters such as Derain and Vlaminck. The rumor that a young German established in Paris was buying paintings from artists who were beginning rapidly went around.
Wilhelm Uhde, Kahnweiler's friend and also a German historian and art critic, told him about an artist who was painting a very strange painting. Kahnweiler became interested and found the painter in a wooden building known as the Bateau-Lavoir where a group of artists had their studio. These artists lived in austerity, verging on poverty.

Left picture: Façade of Bateau-Lavoir in Montmartre, the residence and meeting place for writers and painters of the time. Named this way by Picasso and his colleagues because the building's façade reminded people the washing-boats moored along the Seine. Right picture: Modigliani, Picasso and the writer and poet André Salmon, in front of Bateau-Lavoir in the 1910s.
Here, in Bateau-Lavoir, Kahnweiler found Picasso painting what would become one of his master works "Les Demoiselles d'Avignon" ("The Young Ladies of Avignon") considered a seminal work of Cubism.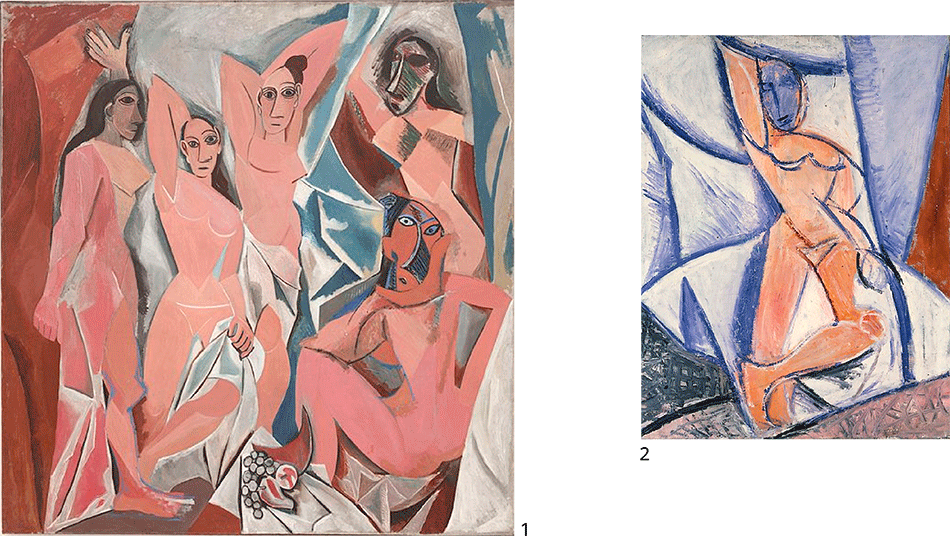 Picasso, Pablo. Spanish, 1881-1973. 1. Les Demoiselles d'Avignon, 1907. Oil on canvas, 243,9 x 233,7 cm, Museum of Modern Art, New York.  2. Previous study. Metropolitan Museum of Art, Leonard A. Lauder Collection
In Bateau-Lavoir he also met three other artists who had their studios there, Georges Braque, Fernand Léger and Juan Gris. Together with Picasso, these artists gave Kahnweiler his success and a worldwide reputation as an art dealer.

Pablo Picasso, Georges Braque, Fernand Léger, Juan Gris
He began purchasing pictures and with the money, he supported the great artists of the time who were still unknown. At the same time, he accompanied them in their bohemian rhythm, just as another one of them.
In 1908, he exhibited Braque's landscapes which he had painted during the summer (L'Estaque), currently included in the Leonard A. Lauder Collection at the Metropolitan Museum of Art, New York.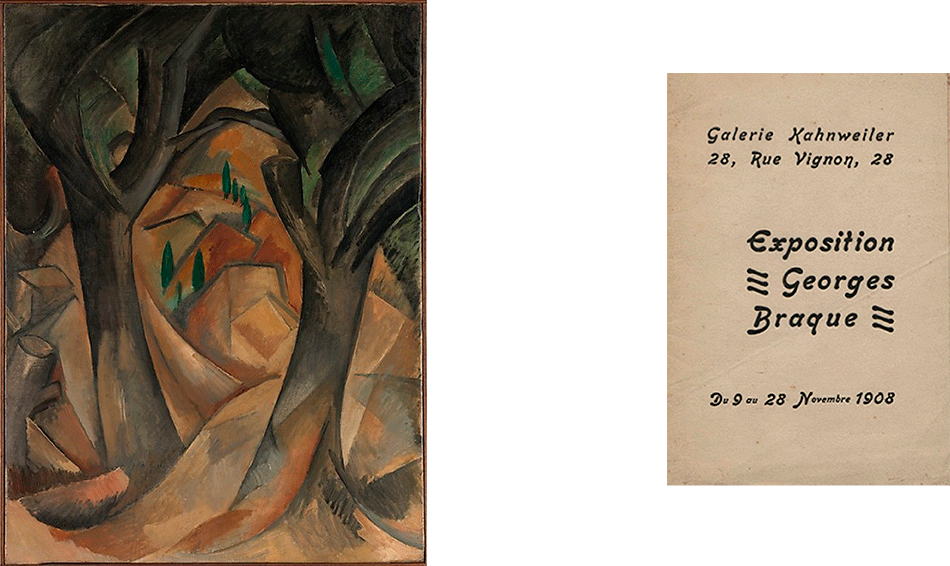 L'Estaque painting and the exhibition catalogue
This was the beginning of a career that made him the great champion of Cubism in the 1910s and 1920s. He enhanced the Cubist art movement with the help of the poet critics Apollinaire and Max Jacob.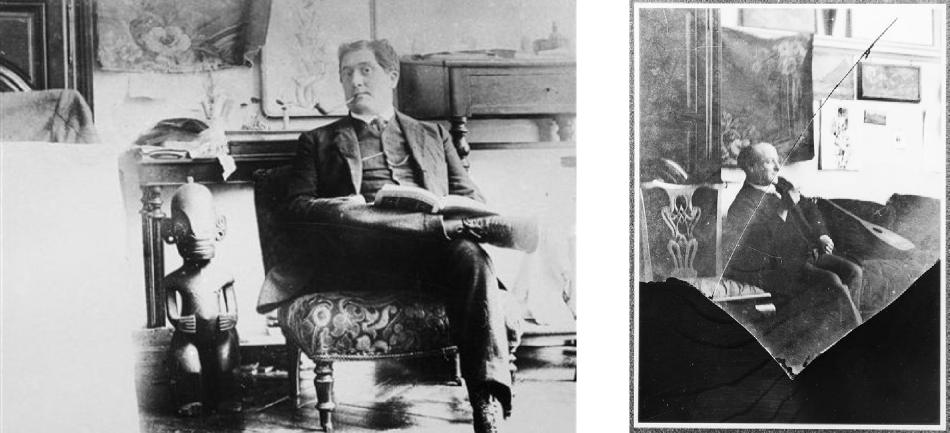 Guillaume Apollinaire and Max Jacob at Picasso's studio in Clichy Boulevard, 1910-1911
The outbreak of the war in 1914 forced him to live exiled in Switzerland due to his German origin. His collection was confiscated and sold by the government in a series of auctions at Hotel Druot. During his exile, he wrote one of his most important books on Cubism "Der Weg zum Kubismus" . In 1920, he returned to Paris to restore his gallery, but by then, many of his artists had already been captivated by other art dealers such as Rosenberg.
He innovated the art dealing profession, he made exclusive deeds with the artists to purchase all their works, he used to see them daily to discuss their work, and he took pictures of all the works to keep a registry. He brought together writers and poets to edit works illustrated by artists. As an editor, he was the first to publish works from Guillaume Apollinaire, Max Jacob, André Masson, and Gertrude Stein, among others, launching many literary careers.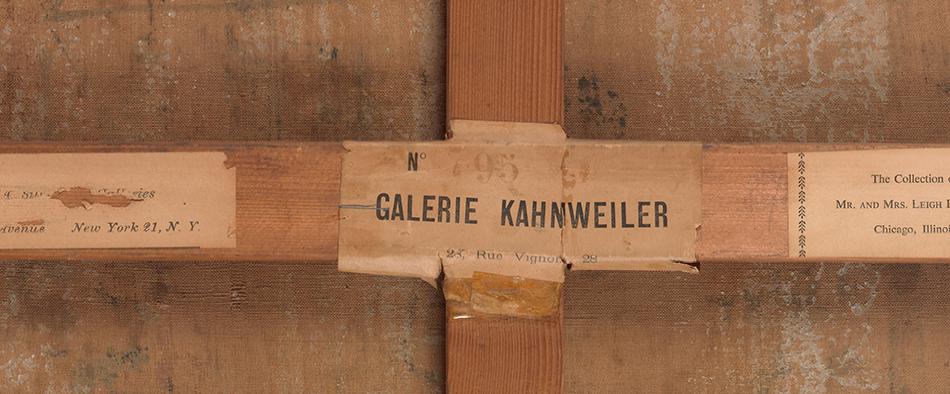 Label with the registration number he used to stick at the back of the paintings, and with which La Galerie Kahnweiler made an inventory of all the works. Image of the back of Picasso's painting "La Concha de Vieira", from the Leonard A. Lauder Collection, Metropolitan Museum of Art., New York.
The II World War cut short his career once again, and despite becoming French naturalized in 1937 his Jewish origin forced him to flee Paris after its invasion by the Nazis. However, he remained in France in hiding, and Louise Leiris, his sister-in-law was left in charge of the gallery. Kahnweiler took up again the management of the gallery in 1945, but he kept the name of Galerie Louise Leiris. Until his death in 1979, Kahnweiler maintained a close relationship with both the gallery and its artists.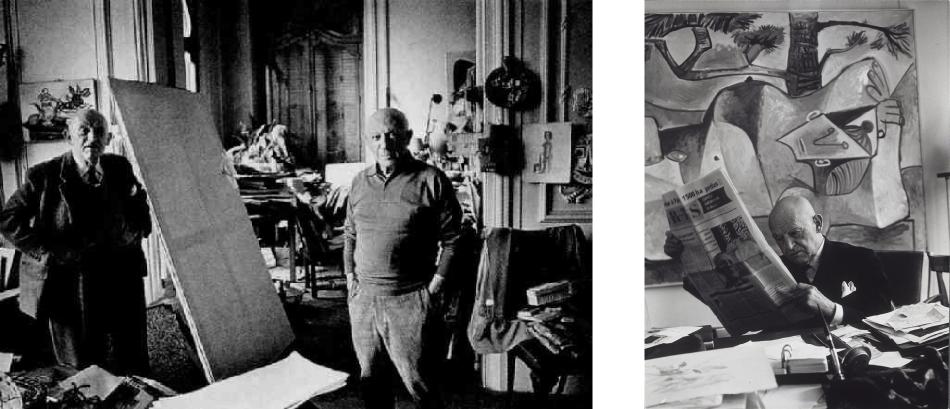 Kahnweiler with Picasso at Villa La Calefornie, 1957. In his office and a picture by Picasso at the rear.
Kahnweiler's ability in art business allowed him to become such a relevant referent that his gallery was among the top 100 of France exporting companies in the 1950s: a landmark for an art dealer.
 "What would have become of us if Kahnweiler hadn't had a business sense?", said Picasso about Kahnweiler
In 1961, Kahnweiler confessed to Francis Crémieux: «When I decided to become an art dealer, I never thought of buying works by Cézanne. I believed that the opportunity to buy them had passed, at least for me, and that I had to defend the artists of my generation.»
Together with other great merchants such as Alfred Flechtheim, Paul Cassirer, Daniel Wildenstein, Léonce Rosenberg, Paul Rosenberg, Aimé Maeght and Leo Castelli, Kahnweiler became one of the most influential art dealers during the 20th century.
His relevance in the history of Cubism has been so great that the Leonard A. Lauder Collection, considered as one of the most valuable collections, has 43 works by the artists represented by Kahnweiler. See works.