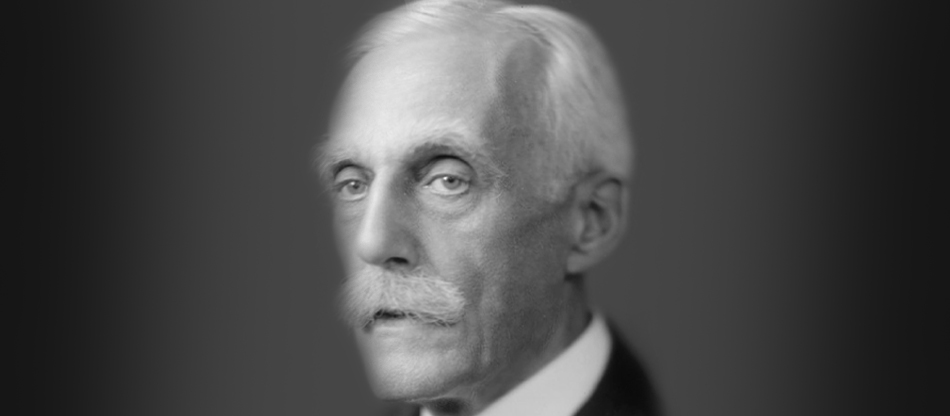 BiographyI
Collecting
Education
Philanthropy
Foundation
Birth and Family
Andrew William Mellon was born on March 24, 1855, in Pittsburgh, and died on August 26, 1937, in his residence in Southampton, Long Island, New York. Mellon was an American banker who was considered by the people of his time as a financial prodigy, business visionary, philanthropist and art collector, United States Ambassador to the United Kingdom and United States Secretary of the Treasury from March 4, 1921 to February 12, 1932.
He was born in the wealthy Mellon family from Pennsylvania. His father was Thomas Mellon, a banker and judge, and his mother was Sarah Jane Negley Mellon. Andrew had three older brothers, Thomas A. Mellon, James R. Mellon and Samuel Mellon, and a younger brother named Richard B. Mellon.
Financial and Business Talent
When he was just 17 years-old, Andrew's father set him up in the coal industry where he demonstrated his financial abilities turning it into a profitable business. In 1880, he joined T. Mellon & Sons, his father's banking firm. Andrew William Mellon helped to organize the Union Trust Company and the Union Savings Bank of Pittsburgh. In addition, he branched his industry activities into oil, steel, construction and shipbuilding.
Many giant enterprises were created thanks to Andrew William Mellon's support: in the field of industrial abrasives ("carborundum"), and in aluminum, he financed the Charles Martin Hall, whose refinery grew and became the Aluminum Company of America (Alcoa). He formed a partnership with Edward Goodrich Acheson to manufacture the revolutionary silicon carbide. He created a whole industry helping Heinrich Koopers to develop coke ovens which transformed industrial waste into usable products such as el coal-gas, coal-tar and sulfur. He helped to establish the Gulf Oil Corporation and was also one of the first investors of the New York Shipbuilding Corporation. He also joined Henry Clay Frick to create the Union Steel Company and the Union Trust Company. In the early 1920s, he became one of the wealthiest men in the United States and the third-highest income-tax payer, behind John D. Rockefeller and Henry Ford.
Personal Life
In 1900, at the age of 45, Andrew William Mellon married Nora Maria McMullen, an Englishwoman aged 20 who was the daughter of Alexander P. McMullen, an important shareholder of the Guinness Brewing Co. They had two children: Ailsa (1901-1969) and Paul (1907-1999). They inherited their father's passion for art and his philanthropy spirit. Mellon divorced in 1912 and never got married again.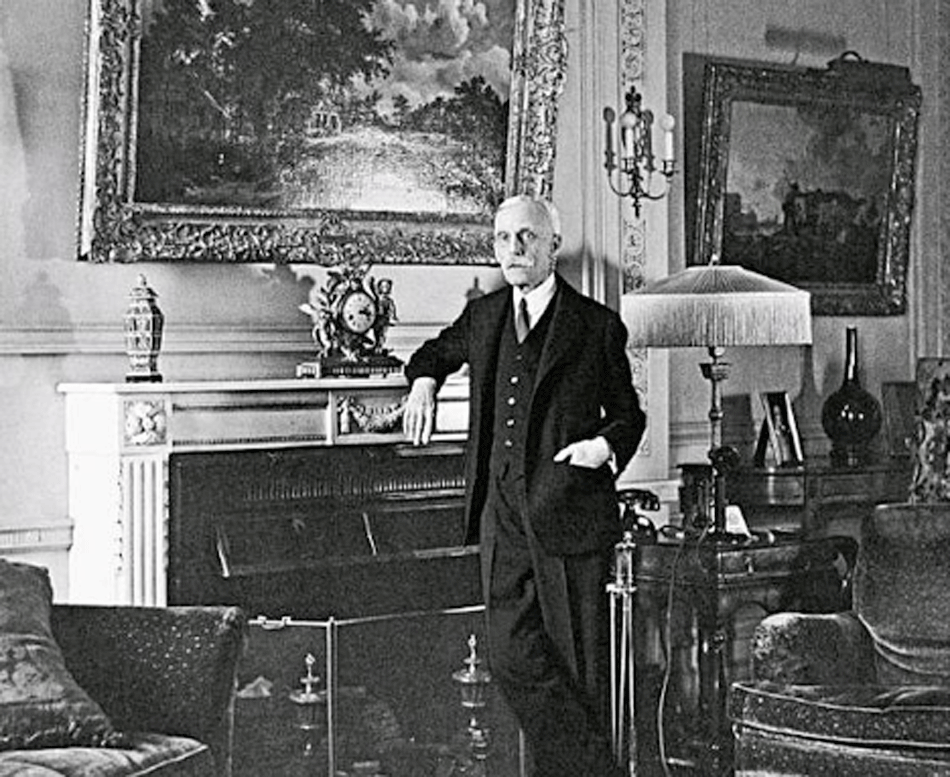 Andrew William Mellon at his flat in New York
Founder of the National Gallery of Art in Washington
Andrew William Mellon believed that the United States had to have a national art museum as any other big nation. In 1936, Mellon wrote to President Franklin D. Roosevelt to offer him his magnificent art collection as well as his own funds to the construction of a museum. With the support of the President, the Congress accepted Mellon's gift which included a substantial endowment and established the National Gallery of Art in March 1937. The building of the new museum began that same year on the National Mall, very close to the Capitol.
Andrew William Mellon chose the North American architect John Russell Pope (1874-1937) to design the building of the new museum. Andrew Mellon and John Russell Pope died within 24-hours difference in August 1937, shortly after beginning the excavation works for the foundations of the building. Nevertheless, the museum was built in accordance to their concepts. The construction was completed in December 1940, and the art works were set up in the new galleries in the following months. The National Gallery of Art was completed on March 17, 1941, and his son Paul Mellon offered the museum on behalf of his father to the country in the presence of President Franklin D. Roosevelt who accepted the gift to the nation.
Mellon insisted that the museum should not be named after him. He believed the museum had to be a real national institution and was aware that the museum growth depended on future art donations to complete its galleries. Thanks to this foresight, many important people bestowed their collections.
Major donors:
The Andrew William Mellon Collection in the National Gallery of Art
Andrew William Mellon gathered an important art collection of Old Master paintings and sculptures. In the beginning of the 1930s, when he began to think about creating a national museum, his collecting efforts went towards the future museum. The most relevant acquisition was a set of paintings from the Hermitage Museum in St Petersburg.
Highlights of the Andrew William Mellon Collection
at the National Gallery of Art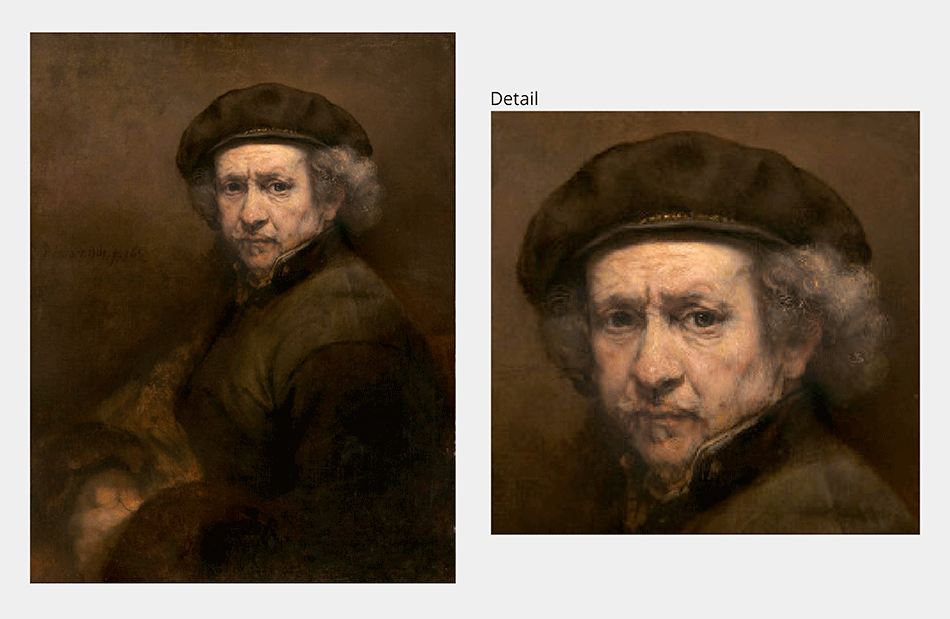 Rembrandt van Rijn, Duch 1606-1669, Self-Portrait, 1659, oil on canvas: 84.5 x 66 cm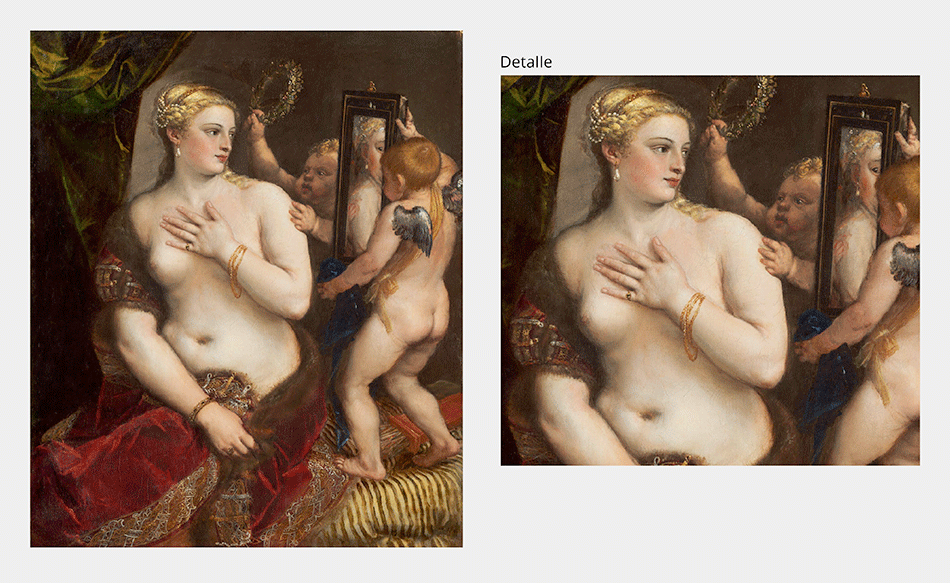 Titian, Venetian, 1488/1490 – 1576,   Venus with a Mirror  c. 1555, oil on canvas  overall: 124.5 x 105.5 cm (49 x 41 9/16 in.)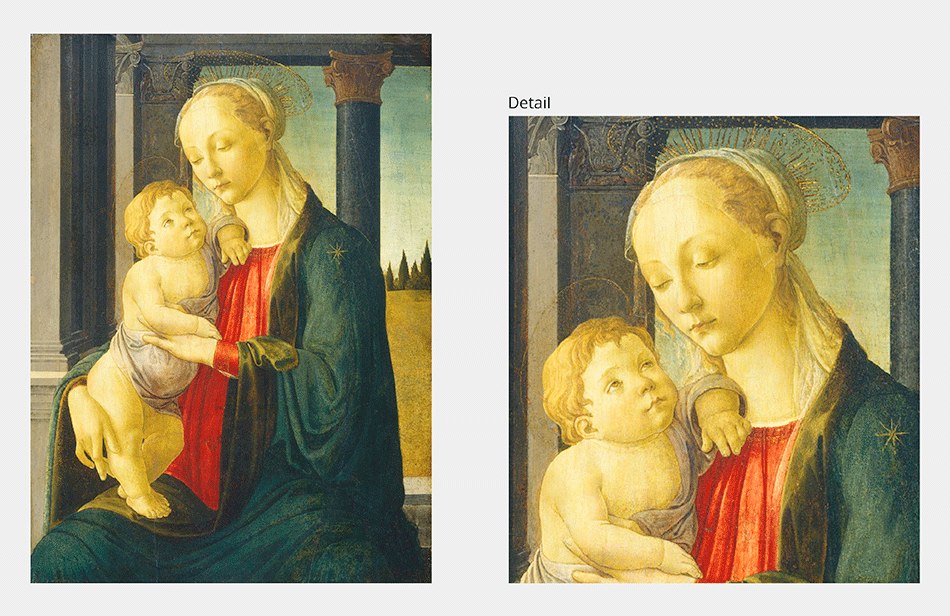 Botticelli, Sandro, Florentine, 1446–1510, Madonna and Child  c.1470, Tempera on panel, overall: 74.5 x 54.5 cm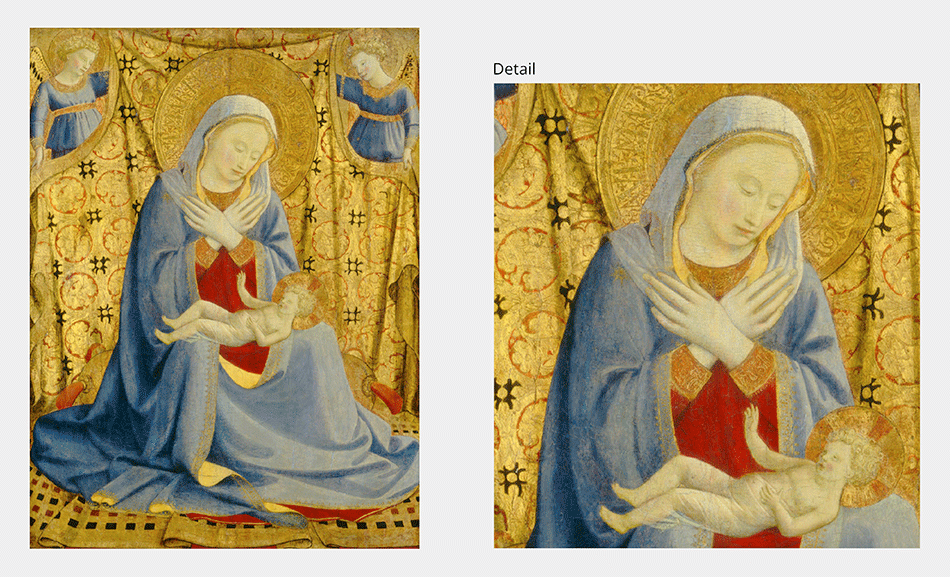 Angelico, Fra Florentine, c. 1395 – 1455, The Madonna of Humility  c.1430, Tempera on panel, painted surface: 60.7 x 45.2 cm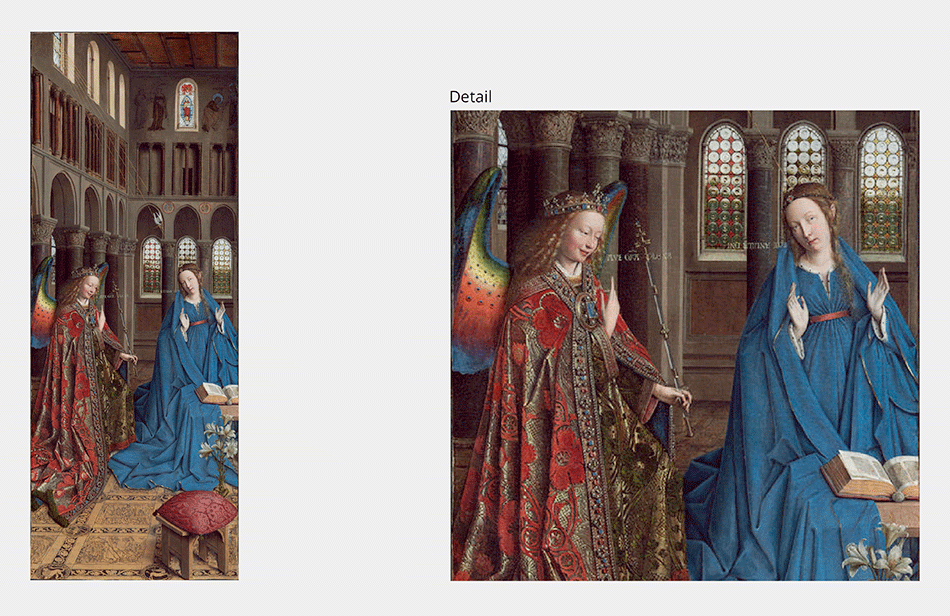 Eyck, Jan van, Netherlandish, c. 1390 – 1441, The Annunciation c. 1434/1436, oil on canvas transferred from panel painted surface: 90.2 x 34.1 cm (35 1/2 x 13 7/16 in.) support: 92.7 x 36.7 cm (36 1/2 x 14 7/16 in.) framed: 102.2 x 55.9 x 8.9 cm (40 1/4 x 22 x 3 1/2 in.)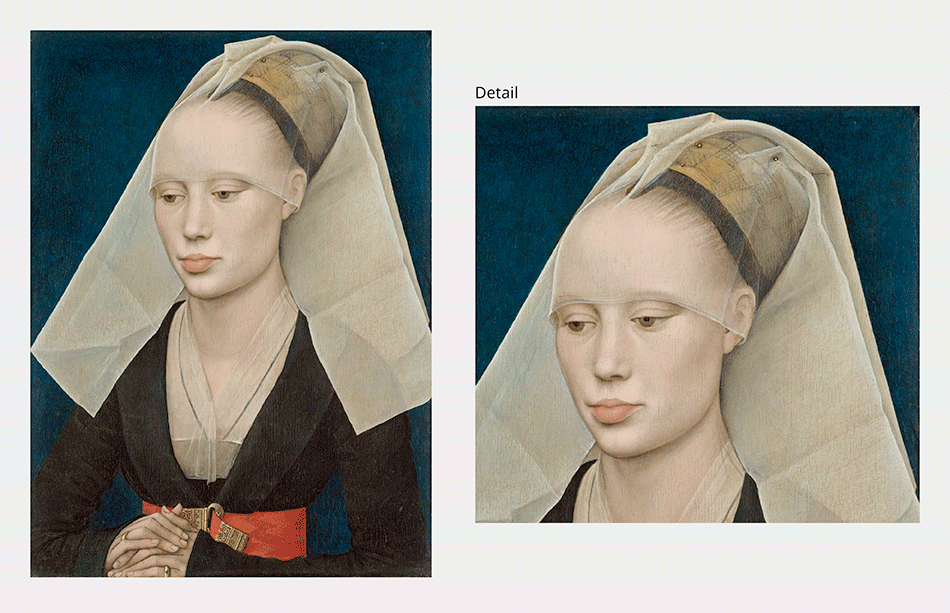 Weyden, Rogier van der   Netherlandish, 1399/1400 – 1464,  Portrait of a Lady  c. 1460, oil on panel   painted surface: 34 x 25.5 cm (13 3/8 x 10 1/16 in.) overall (panel): 37 x 27 cm (14 9/16 x 10 5/8 in.)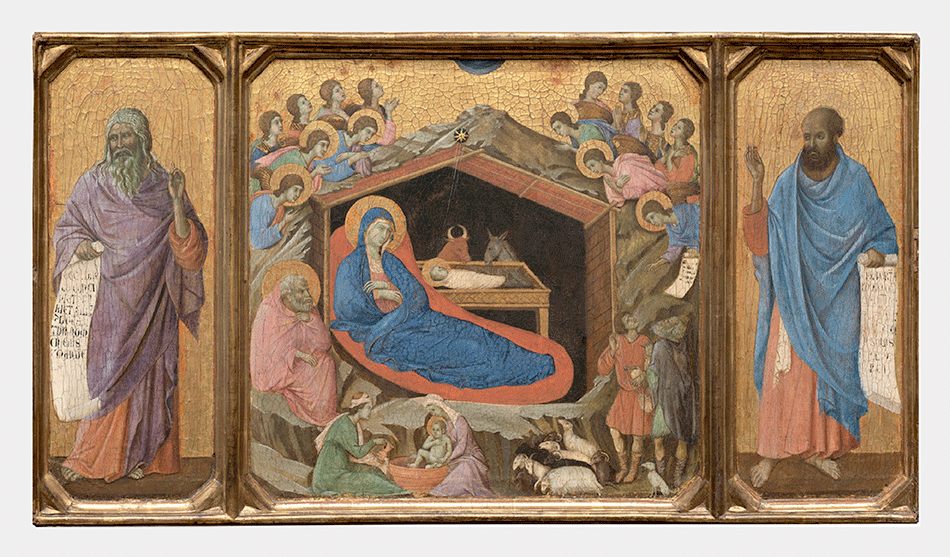 Duccio di Buoninsegna, Sienese, c. 1250/1255 – 1318/1319, The Nativity with the Prophets Isaiah and Ezekiel 1308-1311, tempera on single poplar panel,  painted surface (left side image): 43 × 16 cm (16 15/16 × 6 5/16 in.) painted surface (center image): 43 × 43.9 cm (16 15/16 × 17 5/16 in.) painted surface (right side image): 43 × 16 cm (16 15/16 × 6 5/16 in.) overall (including original frame): 48 × 86.8 × 7.9 cm (18 7/8 × 34 3/16 × 3 1/8 in.)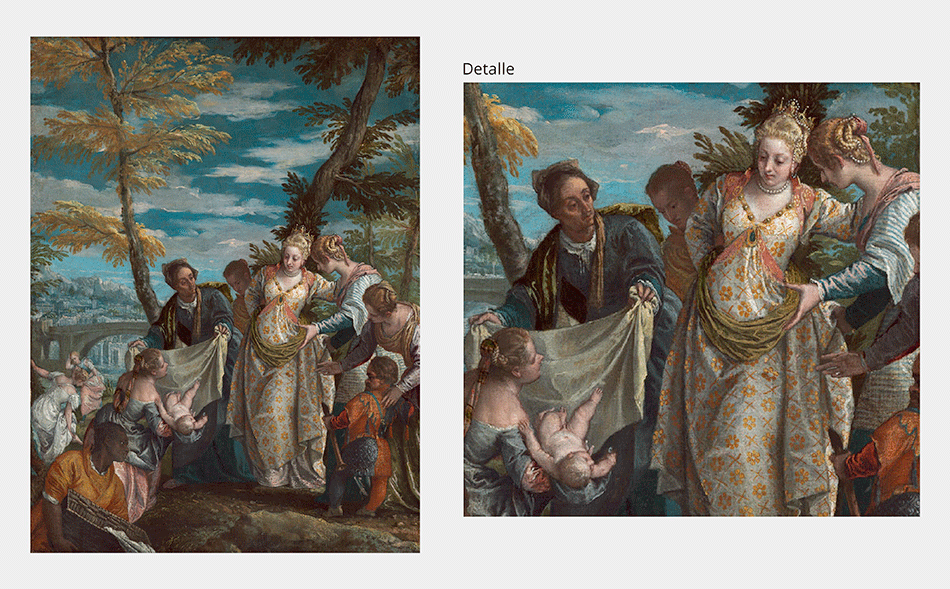 Veronese, Paolo, Venetian, 1528–1588, The Finding of Moses  probably 1570/1575, oil on canvas overall: 58 x 44.5 cm (22 13/16 x 17 1/2 in.)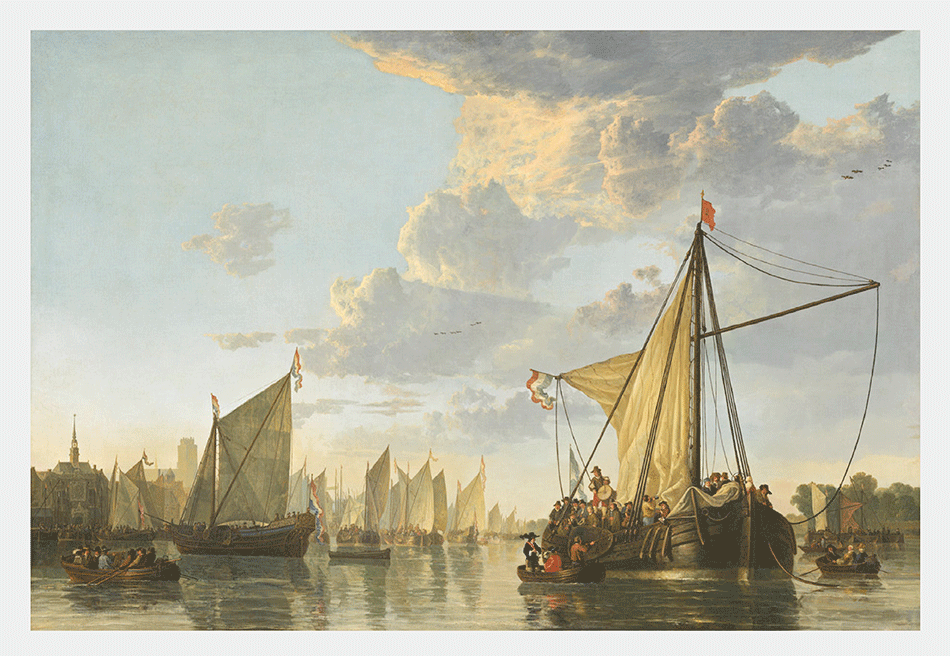 Cuyp, Aelbert, Dutch, 1620 – 1691, The Maas at Dordrecht c. 1650, oil on canvas overall: 114.9 x 170.2 cm (45 1/4 x 67 in.)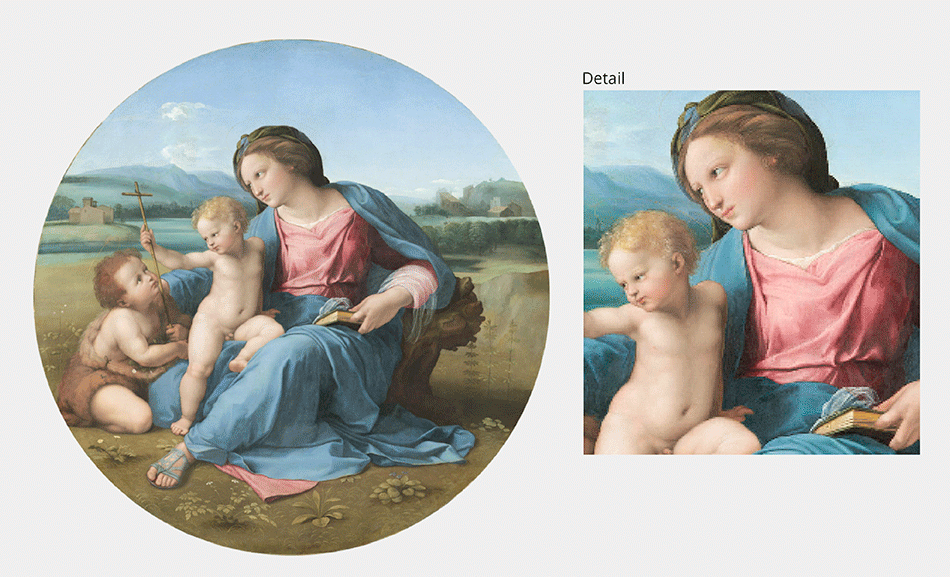 Raphael,  Marchigian, Italy, 1483 – 1520, The Alba Madonna  c. 1510, oil on panel transferred to canvas overall (diameter): 94.5 cm (37 3/16 in.)  
See the whole Andrew W. Mellon Collection
in the National Gallery of Art (152 works) 
Mellon's Contribution to Education
In 1913, together with his brother Richard B. Mellon, he created, in memory of his father, the Mellon Institute of Industrial Research as a department of the University of Pittsburgh. Today the Institute is a part of the Carnegie-Mellon University. 
He was also an alumni president and trustee of the University of Pittsburgh, and did many donations to the school including the lands on which the "Cathedral of Learning" and the Heinz Chapel were built. It is estimated that Mellon donated more than $43 million to the University of Pittsburgh.
Contributions to Philanthropy
During World War I, he took part in many fundraising activities: the American Red Cross, the National War Council of the YMCA, the Executive Committee of the Pennsylvania State Council of National Defense, and the National Research Council of Washington. During his retirement years, Mellon became an active philanthropist and donated large sums from his personal wealth to support art and research causes.
The Andrew William Mellon Foundation
In 1969, Andrew W. Mellon's children Ailsa Mellon Bruce and Paul Mellon established, in memory of their father, the Andrew W. Mellon Foundation through the consolidation of their own foundations established more than two decades before. The Foundation is very active in promoting culture, art, education and environment conservation. Every year the Foundation donates over $235 million. The Andrew William Mellon Foundation. 2013 Annual Report  


Ailsa Mellon Bruce with her father during the 1930s / Paul Mellon beside his father's portrait. Courtesy of the National Gallery of Art. Gallery Archives
_____________________________________________________________________________________________________________________________
Pages of the founders and benefactors of the National Gallery of Art. Washington
Chester Dale
Samuel Henry Kress
Paul Mellon
Ailsa Mellon Bruce
Lessing Julius Rosenwald
Joseph Early Widener