By Norberto León
SHALIMAR
A Love Story Inspired the Creation of Shalimar Perfume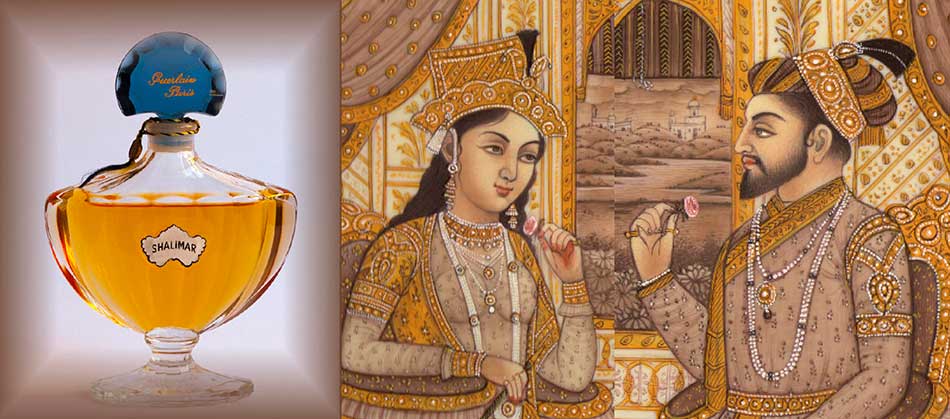 Emperor Shah Jahan (1592-1666) constructor of the Taj Mahal and empress Mumtaz Mahal. Detail of a miniature of mughal art.  FLASK: original perfume flask from 1924, Colección Crivillé Perfume Library & Museum
Four centuries ago began a love story that will last forever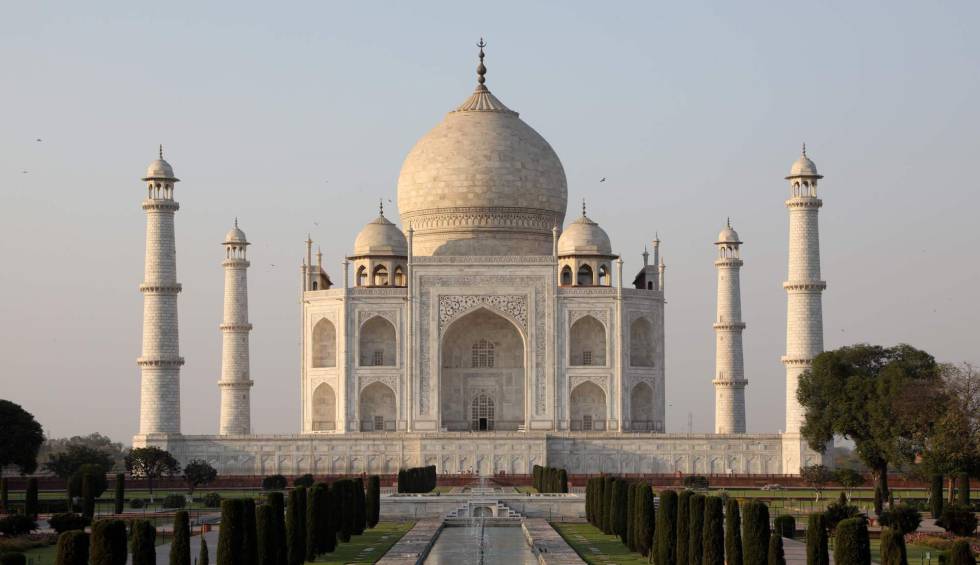 In 1607, a fifteen-year-old prince, who would later become Emperor Shah Jahan, fell madly in love with the extraordinarily beautiful Princess Mumtaz Mahal. But he could not marry her until five years later on the recommendation of the court astrologers.
Once enthroned as Emperor Mughal in 1628, he had the splendid Gardens of Shalimar built for her.
And when he was devastated by the death of Mumtaz Mahal during the birth of his fourteenth child with her, he decided to fulfill his wife's last wish, to build a tomb in her memory.
But in such esteem he had to build in his memory the mausoleum of the Taj Mahal, declared by UNESCO as one of the new seven wonders of the world. This incredible love story inspired the imagination of Jacques Guerlain who in 1924 created Shalimar, the first oriental perfume. Image: Taj Mahal, Agra, India.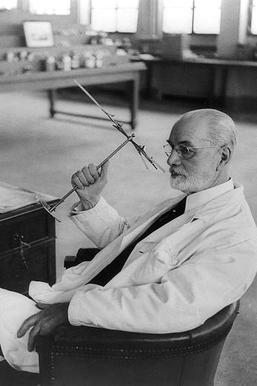 The success of a perfume whose history
also promises to be very long
Shalimar Perfume created in 1924, very soon will be 100 years old. During all this time, Shalimar has been one of the world's favorite and best-selling perfumes and continues to be so.

The creator: Jacques Edouard Guerlain (October 7, 1874 – May 2, 1963) French perfumer, was the third and most famous of the Guerlain family. One of the most influential and creative perfumers of the 20th century.

The Guerlain Saga. Guerlain is, without a doubt, one of the most important, influential and prestigious firms in the world of perfumery.
It was founded by Pierre-Francois-Pascal Guerlain, who began in the art of perfumery while studying medicine and chemistry in England.
In 1828, he opened his first boutique in Paris at Rue de Rivoli, and in 1853 he created Eau de Cologne Imperial for Empress Eugenia de Montijo, wife of Napoleon III, and this granted him the title of Official Perfumer of His Imperial Majesty.
At that time, he would also personalize fragrances for Queen Victoria of England, Queen Elizabeth II of Spain, the Empress of Austria, the Imperial Russian family, and other ruling houses in Europe, granting them official supplier titles.
The Flask. A decidedly Art Deco style
The design of Shalimar's first flask was a creation by Raymond Guerlain to be presented at the
International Exhibition of Decorative Arts in Paris in 1925. The same design has been maintained for decades, confirming the enormous success of the original Art Deco design.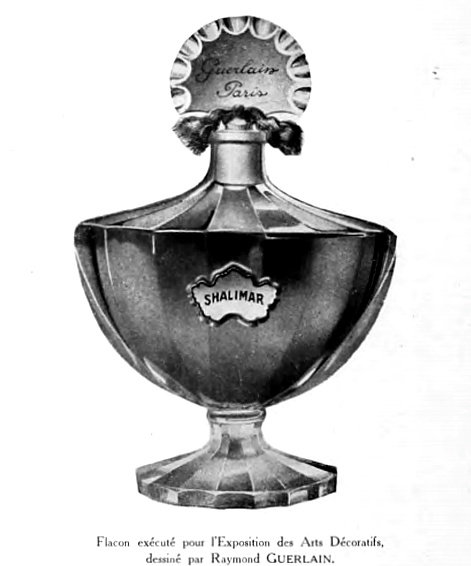 Shalimar's page in the Guerlain 1950 Catalogue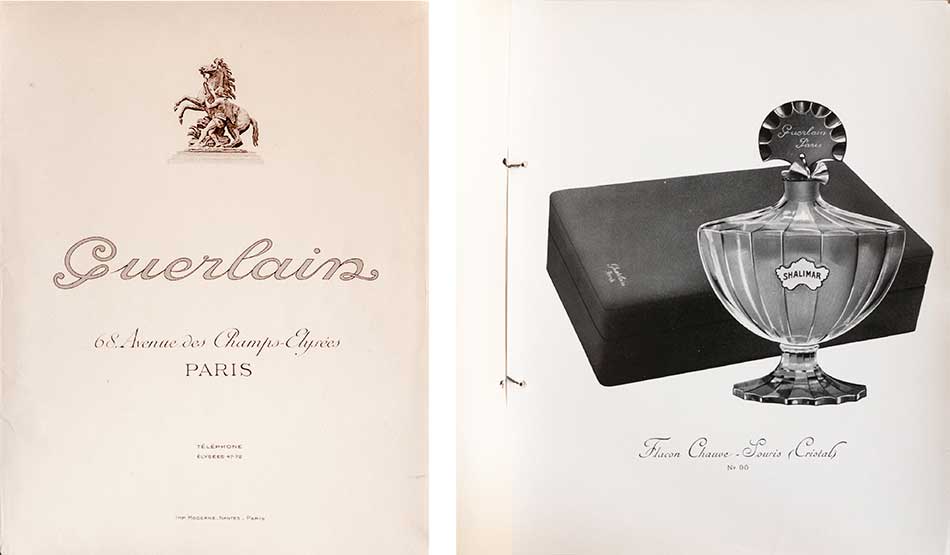 Superb examples of Art Deco style Advertising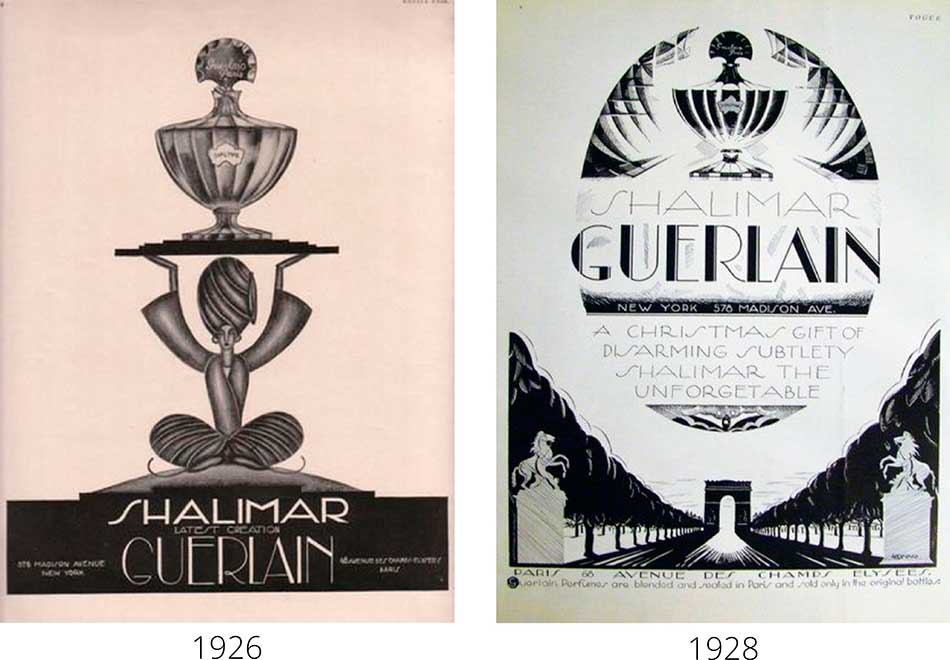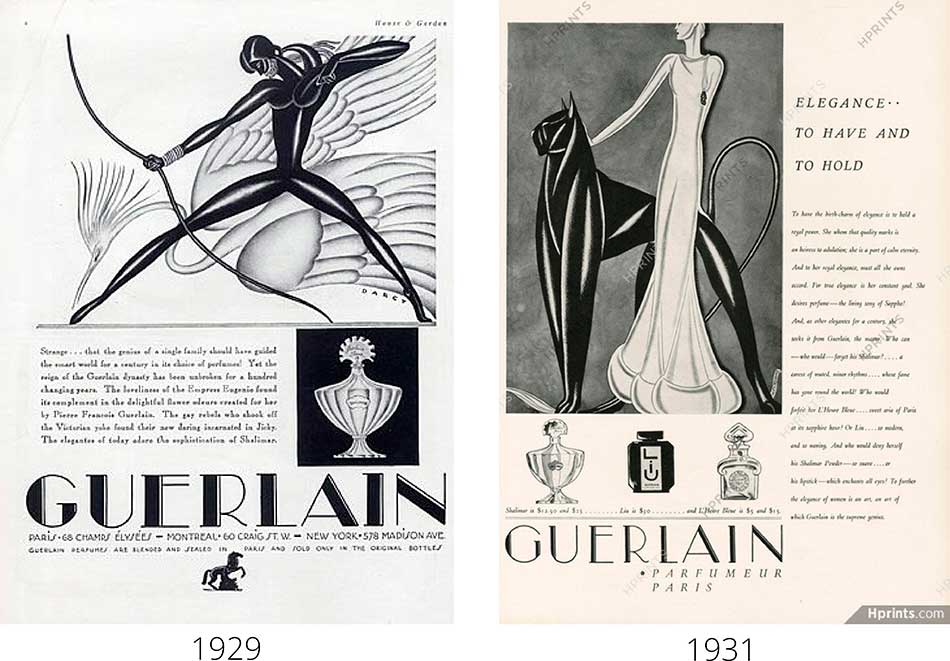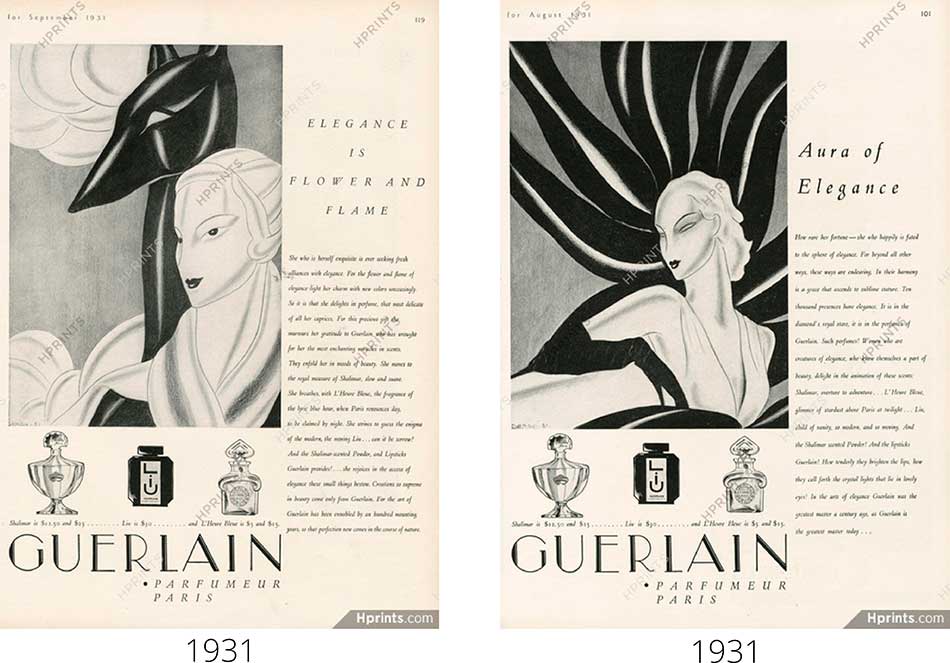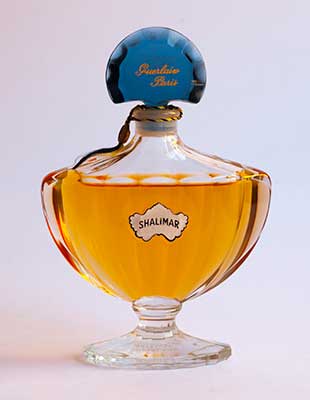 The manufacture of the first Shalimar flask was carried out by another great specialized company which today continues to operate as a large international company.
Shalimar Flask Technical Information
Type: Flacon Chauve-Souris
Designer: Raymond Guerlain
Material: Crystal
Manufacturer: Pochet & du Courbal
Origin: France
Date: 1924
Dimensions: Height 15 cm,  Width 10 cm,  Depth 3,5 cm

Other posts you may be interested in
Click on the image to go to the post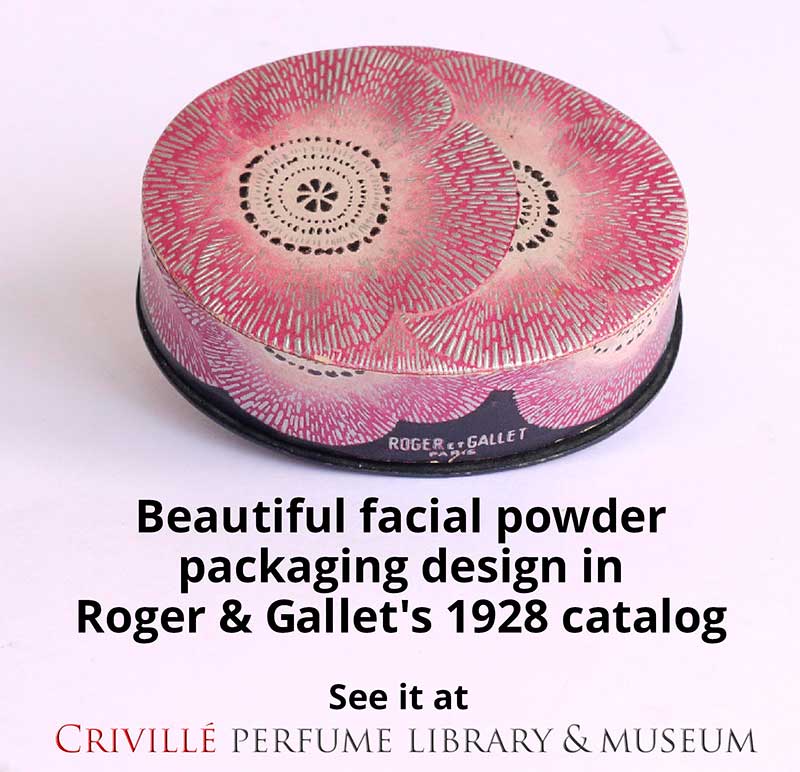 PATRONS edited this article in collaboration with




The Crivillé Collection is a compendium of the designs made since the late nineteenth century and throughout the twentieth century, as the collection also includes the most recent perfumes. The Collection is a very special History of Art that represents the design movements of all periods since 1879.
https://patrons.org.es/juanjo-ruiz-criville/