In Pursuit of Fashion: The Sandy Schreier Collection
The METROPOLITAN MUSEUM OF ART
November 27, 2019, through May 17, 2020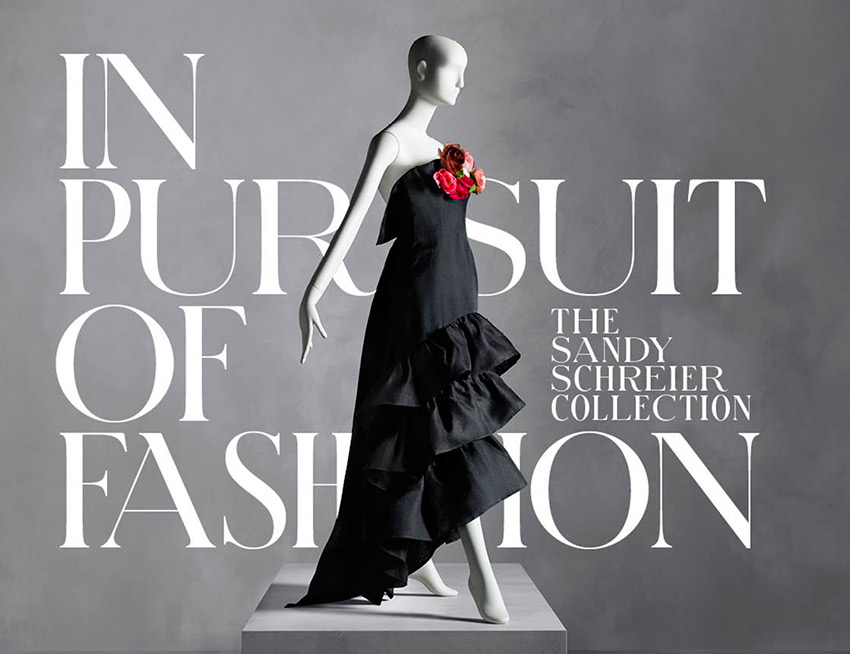 The Costume Institute's fall 2019 exhibition, In Pursuit of Fashion: The Sandy Schreier Collection, features 80 promised gifts from Sandy Schreier, a pioneering collector who over the course of more than half a century assembled one of the finest private fashion collections in the United States.

The show explores how Schreier amassed a trove of 20th-century French and American couture and ready-to-wear, not as a wardrobe, but as an appreciation of a form of creative expression.
Walking among works of art
A manifestation of Art is what the exposed dresses really are. Showing fashion design as another form of artistic creation is the leitmotiv of the exhibition, definitely achieved.
Fashion artists don't paint on canvas, but they use fabrics to imagine designs, they don't use brushes but needles, and color comes in the fabrics to combine them with style.
What we see in the exhibition is art to wear.
GALLERY VIEWS

In Pursuit of Beauty: Origins of a Collection



In Pursuit of Beauty: Origins of a Collection


The Past Recaptured:_Fortuny and Gallenga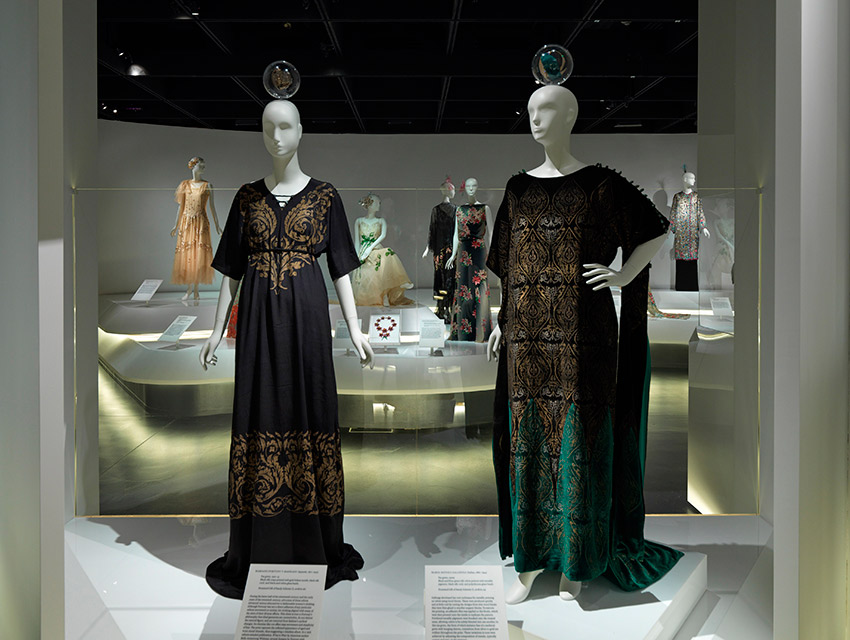 The Past Recaptured:_Fortuny and Gallenga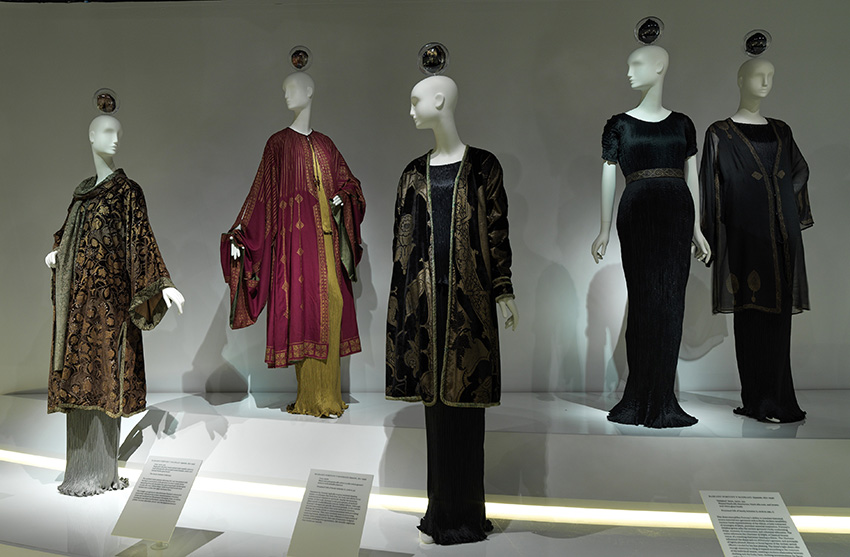 The Past Recaptured:_Fortuny and Gallenga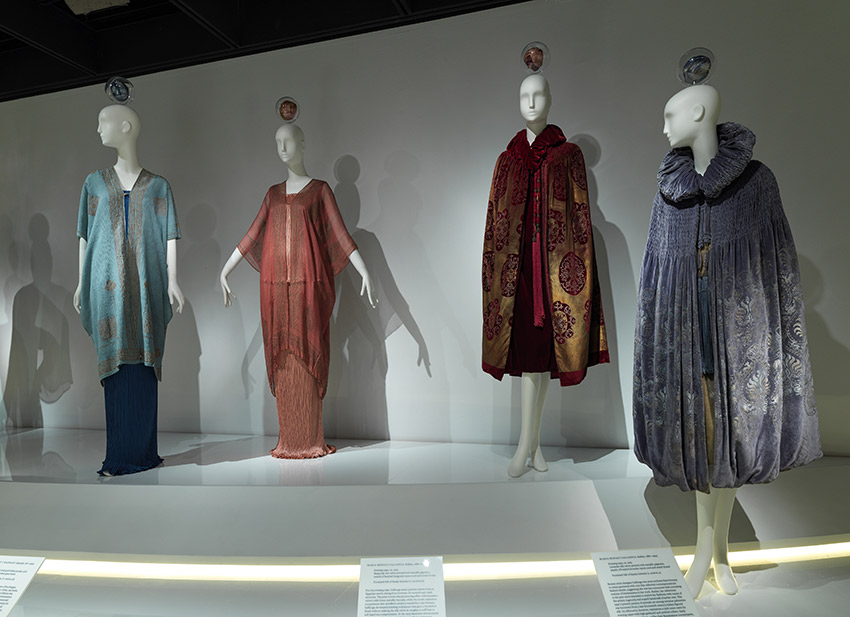 L'Esprit Nouveau: The Interwar Era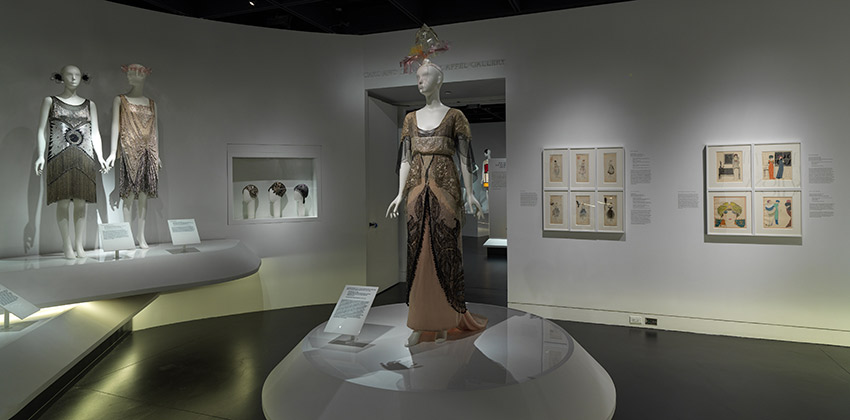 L'Esprit Nouveau: The Interwar Era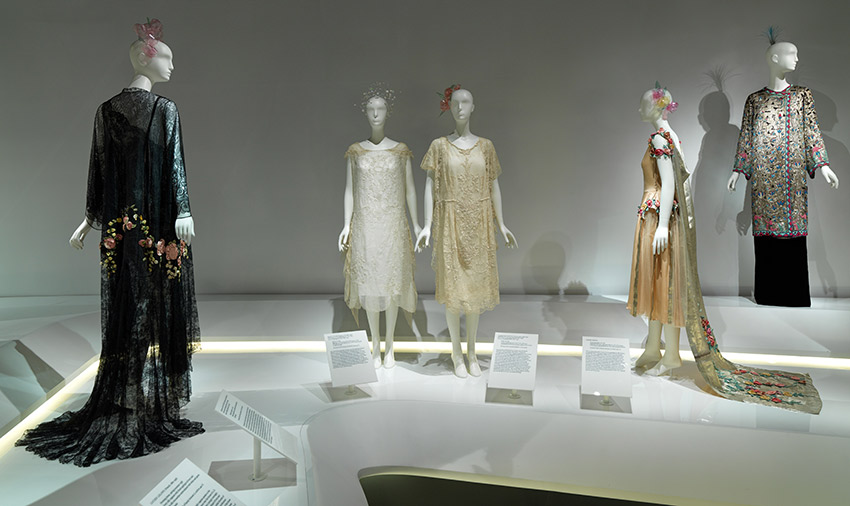 L'Esprit Nouveau: The Interwar Era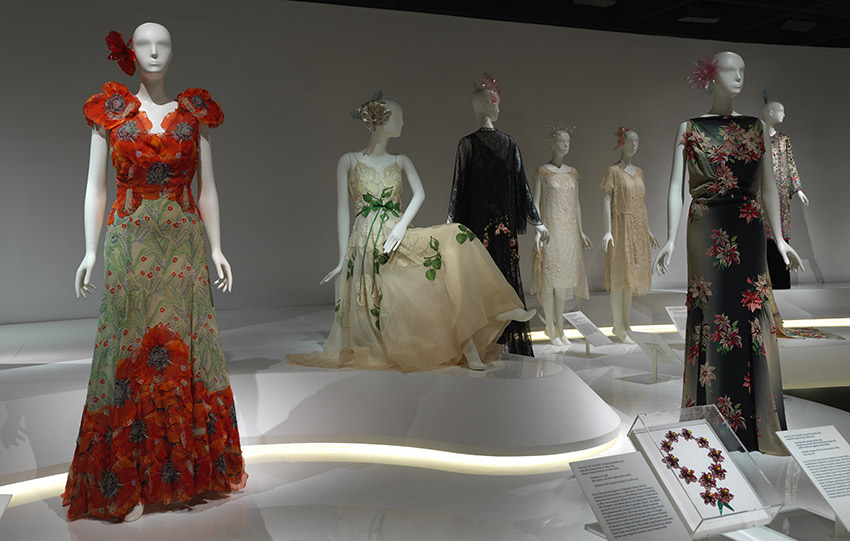 The Message is the Medium: Fashion That Speaks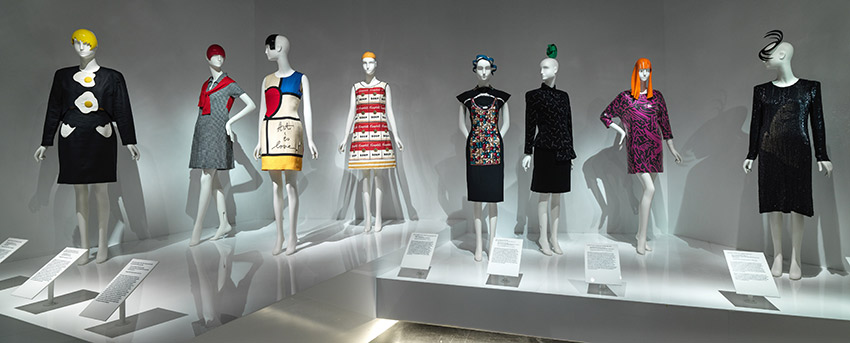 The Message is the Medium: Fashion That Speaks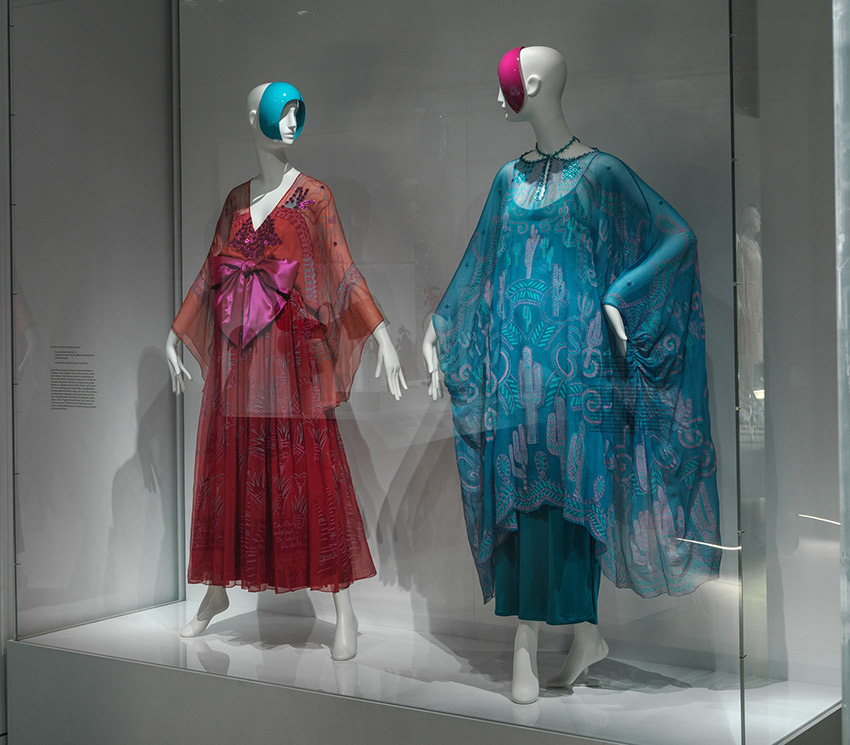 The Message is the Medium: Fashion That Speaks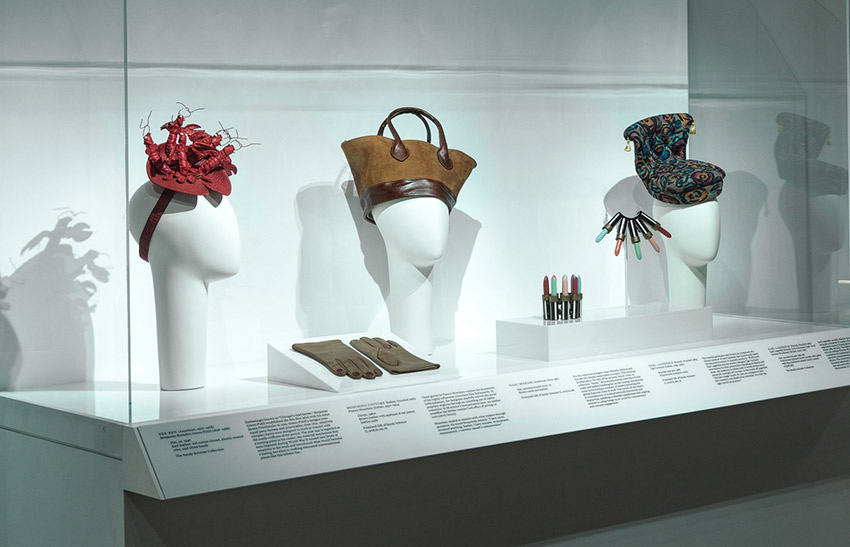 Each dress is documented through excellent texts
with essential information about the creator and
the composition of the piece, as shown below

MARIANO FORTUNY Y MADRAZO 
Jacket, 1920s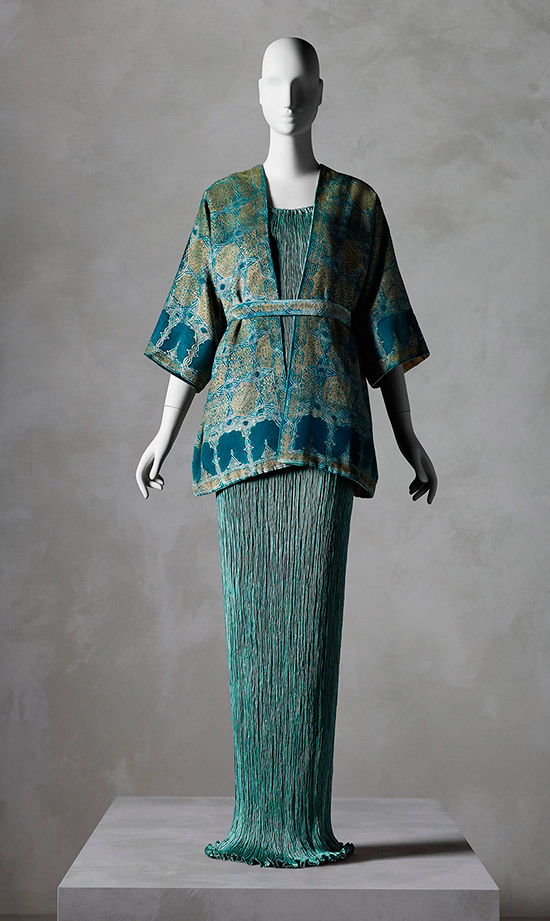 Mariano Fortuny y Madrazo
(Spanish, 1871–1949)

Black silk gauze printed with
gold foliate motifs

Promised Gift of Sandy Schreier (L.2018.61.30). Image courtesy of The Metropolitan Museum of Art. Photo © Nicholas Alan Cope

Fortuny's clothing has a fluid relationship to the body; his designs are responsive to its form but also reveal its shape in the manner of intimate garments. When introduced in the first decade of the twentieth century, the loose fit of Fortuny's garments, like this sheer jacket, was regarded by most women as suitable only for informal at-home entertaining.
Actresses and dancers, including Isadora Duncan, Ruth St. Denis, and Eleanora Duse, were among the first to wear his designs in public. These were women who felt free to deviate from the strict conventions of dress, such as the wearing of rigid undergarments that both reshaped and concealed the figure. By the late 1920s, as social codes evolved and more relaxed silhouettes prevailed, a similar ease often extended to evening fashions worn in public settings.


MADELEINE & MADELEINE
Evening dress, ca. 1923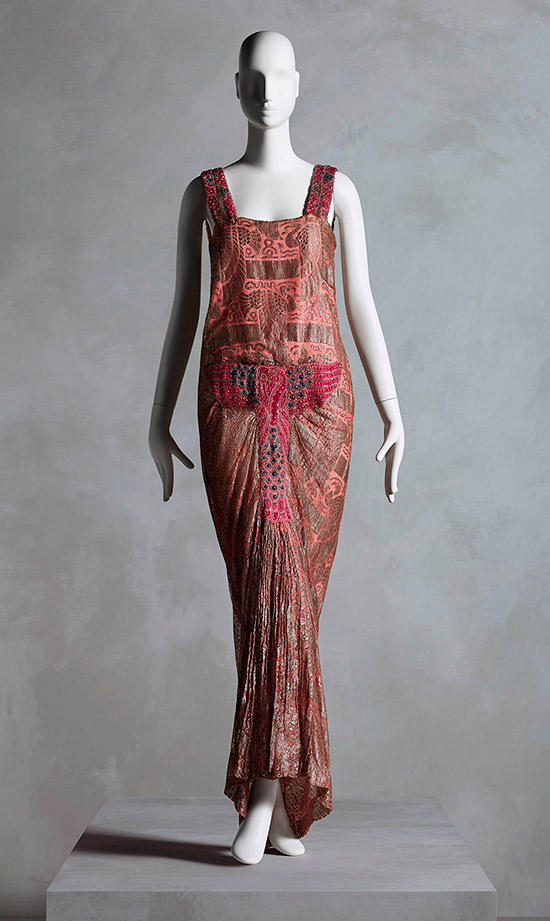 Madeleine & Madeleine
(French, 1919–26)
Evening dress, ca. 1923
Pink silk crepe de chine, red cotton and gold silk and metal lace, embroidered with pink,
silver, and aqua bugle beads, and pink and aqua synthetic stones.
Promised Gift of Sandy Schreier (L.2018.61.45)
Designs by the French house Madeleine & Madeleine are distinguished by sumptuous fabrics and rich embroidery, as seen in this evening dress. The gown's primary motif of ibises, along with its center pleating and girdle of imitation stones, reflects the heightened influence of ancient Egypt on fashion following the discovery of Pharaoh Tutankhamun's tomb in 1922.
Although Madeleine & Madeleine enjoyed success among both European and American clients in the early 1920s, its existence was short lived, making extant designs exceedingly rare. This example, an early acquisition made by Schreier in the 1960s, will be the first in the Met collection.
MARIA MONACI GALLENGA
Evening cape, ca. 1925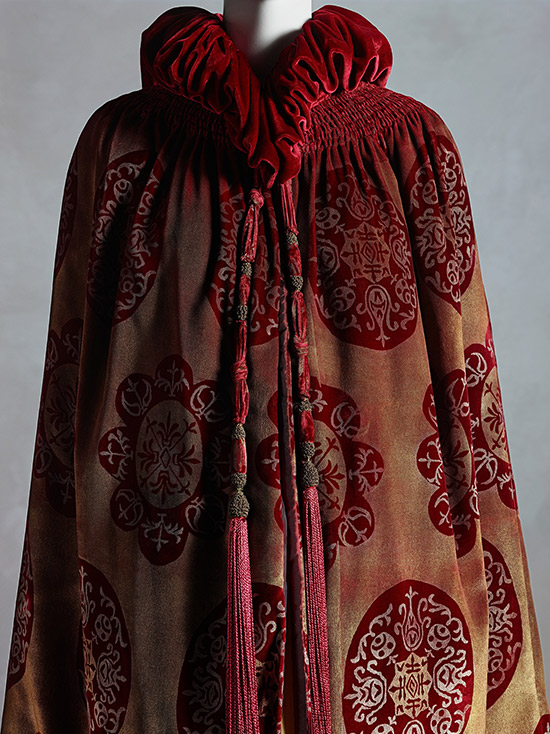 Maria Monaci Gallenga
(Italian, 1880–1944)

Burgundy silk velvet printed with metallic pigment, tassels of braided burgundy rayon cord and metal thread.

Promised Gift of Sandy Schreier (L.2018.61.62) Image courtesy of The Metropolitan Museum of Art. Photo © Nicholas Alan Cope

For this evening cape, Gallenga used a pattern drawn from an Egyptian textile dating between the seventh and ninth centuries. The print mimics the glimmering effect of Renaissance velvets with dense metallic brocade, while the textile maintains a suppleness that satisfied a modern sensibility.
Like Fortuny, Gallenga developed printing techniques that gave a burnished finish without making the silk velvet so weighty or stiff that its soft hand was compromised. At the 1925 Exposition Internationale des Arts Décoratifs et Industriels Modernes in Paris, Gallenga's designs were praised for precisely this quality, which helped her creations preserve a modern character even while directly appropriating historical motifs. As one contemporaneous critic wrote of Gallenga's fashions, their "antique motifs . . . without denying their glorious origin, speak loud and clear in their language, twentieth-century and Italian."
EVENING DRESS
ca. 1925–28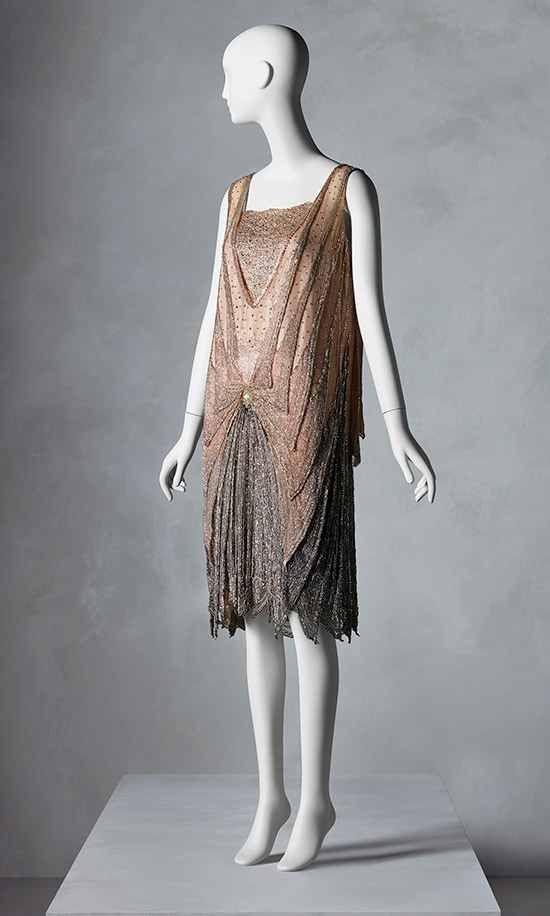 Probably French
Pink, ivory, and black silk chiffon embroidered with silver sequins, silver metal beads, clear crystals, and bugle beads; silver lame and silver silk-metal lace

Promised Gift of Sandy Schreier (L.2018.61.71a, b). Image courtesy of The Metropolitan Museum of Art. Photo © Nicholas Alan Cope
Eveningwear from the 1920s is particularly notable for its opulent beadwork, fringe, and embellishment produced by the nimble hands of the haute couture specialists, or métiers. This splendidly beaded dress synthesizes the contemporaneous design interests in decadence and motion. Each of the lightweight chiffon tiers has been weighted with a glittering constellation of beads. The embroidery extends beyond the overlap of every layer to convey the impression of continuous embellishment.


MADELEINE VIONNET
Evening dress, spring 1931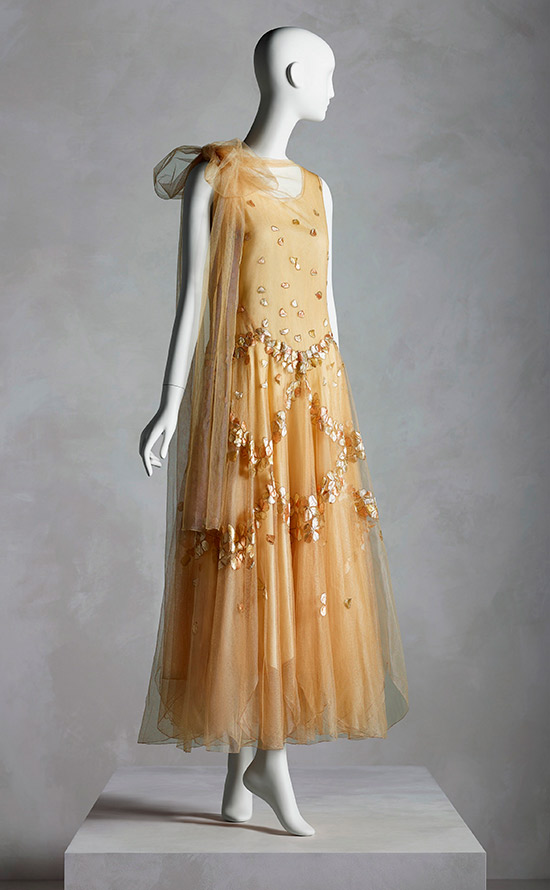 Madeleine Vionnet
(French, 1876–1975)

Pale brown silk tulle embroidered with polychrome rayon floss.
Promised Gift of Sandy Schreier (L.2018.61.73a, b). Image courtesy of The Metropolitan Museum of Art. Photo © Nicholas Alan Cope

Madeleine Vionnet is indisputably one of the most influential designers of the twentieth century. She did not sketch but instead draped her garments on a reduced-scale dress form that she could manipulate in the round, often working with textiles cut diagonally across the grain, or on the bias. Her mastery of this technique has inspired many to incorrectly attribute its discovery to her. Vionnet did, however, pioneer many of the innovations that the bias-cut permitted, facilitating advancements in modern women's clothing. This dress from her spring 1931 collection attests to her timeless synthesis of comfort and elegance. A flowing scarf, cut in one piece with the bodice, provides an asymmetrical bow closure at top. The skirt is composed of layers of translucent tulle, their sinuous curves echoed in the swags of flowers embroidered in a lustrous kaleidoscope of beige, rose, ivory, copper, and gold rayon floss.


GILBERT ADRIAN 
Evening dress, autumn 1945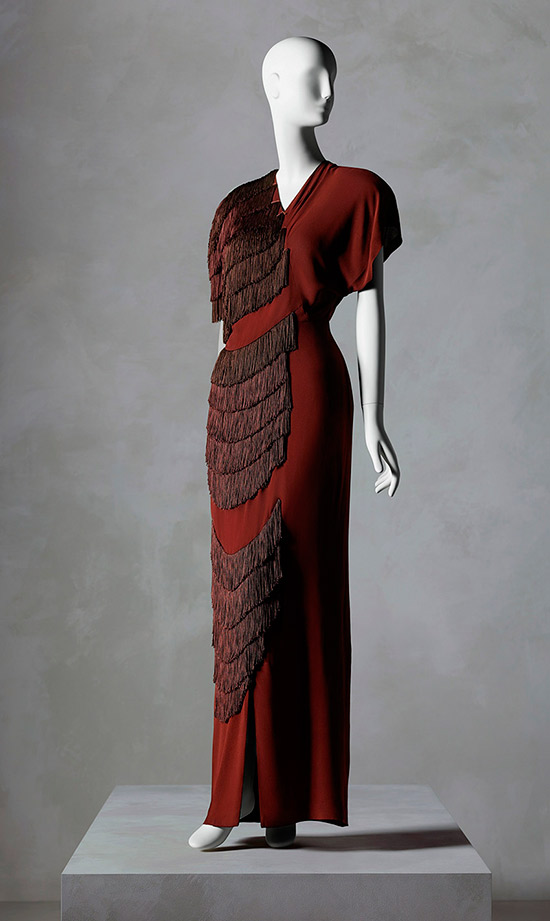 Gilbert Adrian
(American, 1903–1959)

Rust rayon crepe with brown rayon chainette fringe.
Promised Gift of Sandy Schreier (L.2018.61.42a, c, d). Image courtesy of The Metropolitan Museum of Art. Photo © Nicholas Alan Cope
In 1942 the United States government issued General Limitation Order L-85, which regulated commercial design and the production of women's apparel in an effort to limit the usage of clothing materials during wartime.
Adrian responded creatively to the restrictions, producing slim silhouettes punctuated with striking details.
Fringe was a favored trimming, as it was unrestricted by L-85 and appealed to Adrian's interest in fashions that were responsive to the body in motion.
This attentiveness to movement was cultivated by his work for theater and film and may have also been influenced by Futurist art, with its emphasis on representing the energy of modern life.
With this dress, he achieved a dynamic effect using tiered layers of fringe that generate constant, subtle motion and variations in light and shadow as the wearer moves. As one advertisement for the design promised, it "stirs with every breath."
JEAN DESSÈS
Evening dress, autumn/winter 1953–54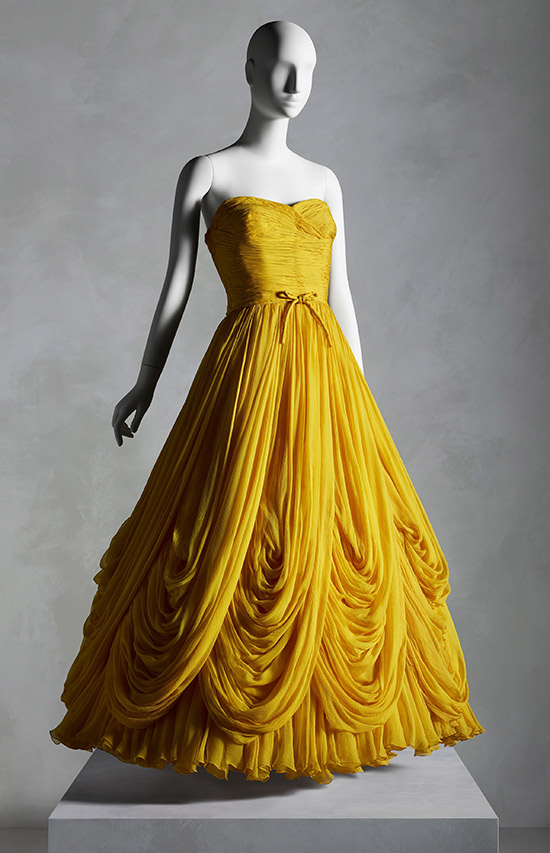 Jean Dessès
(French, born Egypt, 1904–1970)
Yellow silk chiffon.
Promised Gift of Sandy Schreier (L.2018.61.35). Image courtesy of The Metropolitan Museum of Art. Photo © Nicholas Alan Cope
Jean Dessès opened his own couture house in 1937, but received his greatest recognition following World War II, having successfully built an international clientele. Dessès gained a particular reputation for evening gowns of intricately pleated and gracefully draped sheer silks, which became signature features of his collections beginning in the late 1940s.
These fabrics, whose fragile nature necessitates expert handling, offered a pliancy that allowed Dessès to create endless variations of form. He often drew inspiration from a range of historical sources. Here, the influence of 1860s ball gowns is revealed in the dress's grand proportions and swags of drapery. Although Dessès's design captures the opulence of the era of haute couture's founding, his fluid draping and airy textiles modernize and soften the overall effect.


YVES SAINT LAURENT
"Aubade" evening ensemble, spring/summer 1958 
House of Dior (French, founded 1947)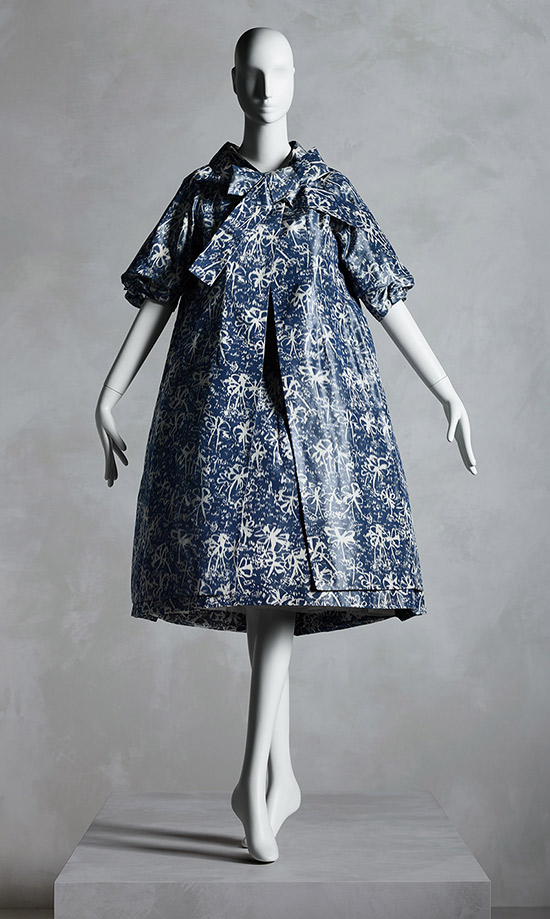 Yves Saint Laurent
(French, born Algeria, 1936–2008)
Blue-and-white warp-printed
silk taffeta.
Delicata (French, active 1950s–70s) Shoes, 1958
Blue-and-white warp-printed silk taffeta, white and tan leather.
Promised Gift of Sandy Schreier L.2018.61.60a, d, f–g). Image courtesy of The Metropolitan Museum of Art. Photo © Nicholas Alan Cope
Yves Saint Laurent consistently introduced forward-looking designs for the House of Dior, such as his "Trapeze" line (relaxed through the waist and swinging into a full skirt) which anticipated the A-line silhouette of the 1960s. Yet he continued to show the nipped-in waists and expansive skirts of past Dior collections. These styles appealed to clients with more conservative tastes, like Elizabeth Parke Firestone, for whom this dress was made. Firestone, the daughter-in-law of the founder of Firestone Tire and Rubber Company, was a longstanding couture client known for her sense of style. Her preference for romantic, feminine fashions aligns closely with Schreier's collecting tastes, and Firestone's wardrobe was the source of several acquisitions by Schreier. When placing an order with a design house, Firestone was equally attentive to every element of her wardrobe, often requesting additional fabric be sent to her shoemaker in order to have perfectly matched accessories.
CRISTÓBAL BALENCIAGA
Evening Dress. Summer 1961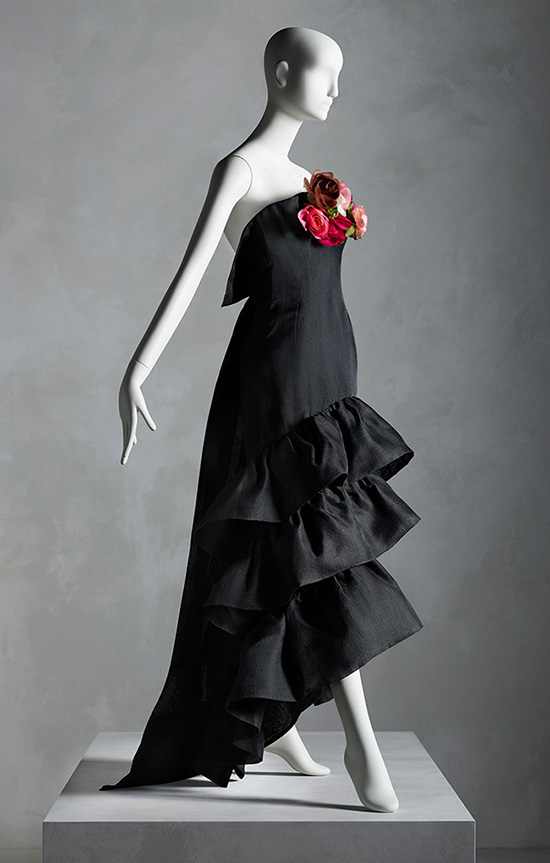 Cristóbal Balenciaga
(Spanish, 1895–1972)
for House of  Balenciaga
(French, founded 1937)

Promised gift of Sandy Schreier.
Image courtesy of  The Metropolitan Museum of Art. Photo © Nicholas Alan Cope
Cristobal Balenciaga was widely admired for the sculptural quality of his work, which he achieved through his expert use of materials. For this gown, Balenciaga found inspiration in the tiered ruffles of Andalusian flamenco dress, one of many references to Spanish cultural heritage that appeared regularly in his collections. His interpretation features deep flounces of firm but supple silk gazar, a fabric with sufficient body to provide shape without stiff interlinings but enough fluidity to move with the wearer. Each flounce subtly responds to movement, falling perfectly into place at rest.



KARL LAGERFELD
Dress, spring/summer 1984 
for Chloé (French, founded 1952)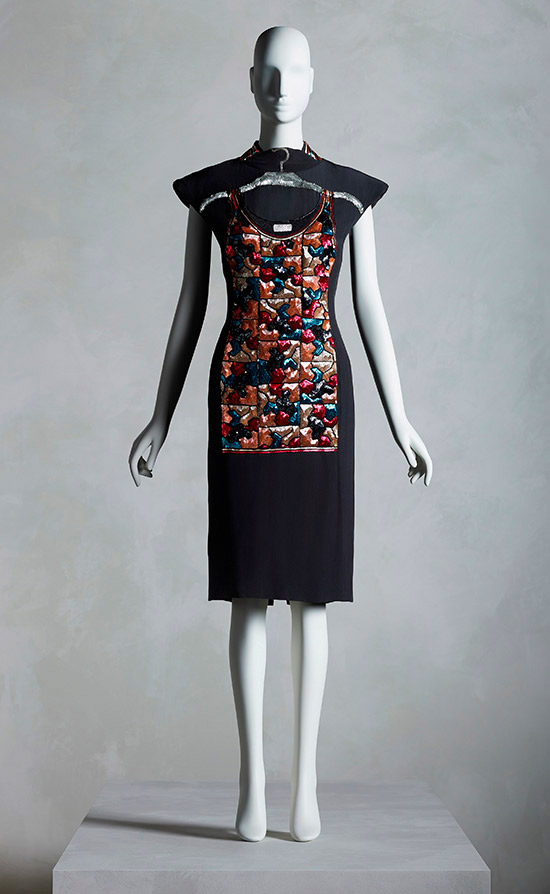 Karl Lagerfeld
(French, born Germany,
1938–2019)
Black silk crepe embroidered with polychrome sequins, white silk, and black and clear bugle beads.
Promised Gift of Sandy Schreier (L.2019.48.2). Image courtesy of The Metropolitan Museum of Art. Photo © Nicholas Alan Cope
This dazzling sheath was presented in Karl Lagerfeld's last collection for Chloé after nineteen years as head designer (he later returned for a brief period between 1992 and 1997). Always shrewdly aware of the reflexive and symbolic potential of fashion, Lagerfeld conceived of the garments in this collection as an homage to the needleworkers who produced them, a way of "paying his respects to the women who sew the clothes he and other designers envision."
Fittingly, he wittily synthesized the tools of couture into Surrealist accessories that included hats and jewelry concocted from a humble vocabulary of tailor's scissors, thimbles, pincushions, fabric swatches, and spools of thread.
The garments furthered the narrative of the collection by presenting a parody version of fashion. Lagerfeld utilized trompe l'oeil to create "folds" of fabric and a dress within a dress, as is exquisitely embroidered here.
PATRICK KELLY
Ensemble, autumn/winter 1988–89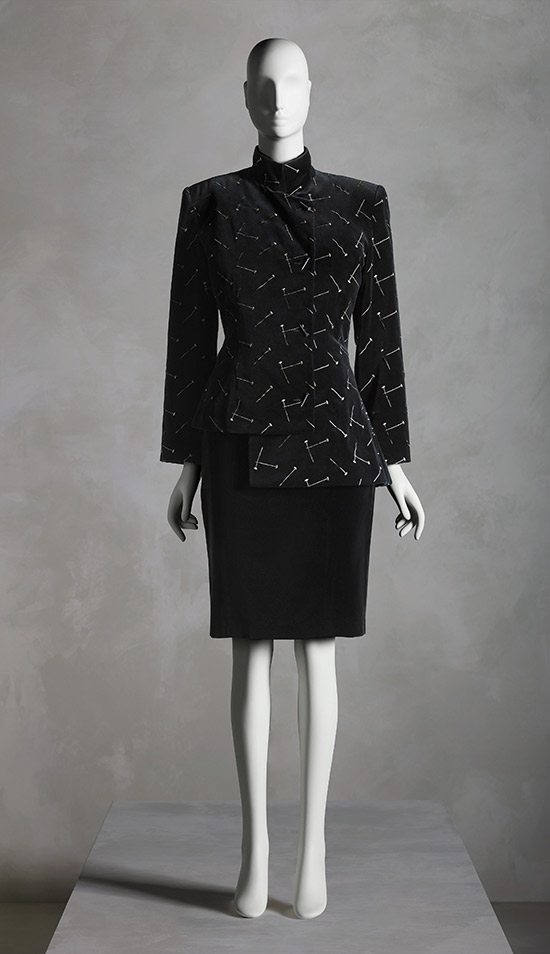 Patrick Kelly
(French, born America,
1954–1990)
Black silk velvet embroidered with silver metal thread.
Promised Gift of Sandy Schreier (L.2018.61.65a, b). Image courtesy of The Metropolitan Museum of Art. Photo © Nicholas Alan Cope
Patrick Kelly often shared an anecdote from his youth about how his grandmother would decorate his mended clothing with excess buttons to camouflage that they were mismatched. This playful appreciation for improvisation was something that he cultivated throughout his work. Here, the velvet jacket displays his fondness for novelty buttons; a line of flathead nails serve as closures. In a lighthearted flourish, the ensemble was accessorized on the runway with a matching toolbox purse. With exuberance and joy, Kelly regularly drew on a pastiche of autobiographical and kitsch elements that celebrated his Southern American heritage and his adopted home of Paris, among other inspirations. Kelly included a "List of Loves" as show notes the season he showed this ensemble that included fried chicken, the couturiere Madame Grès, his grandmother Ethel Rainey, and his target clientele of "All Women (fat, skinny and between)."
CHRISTIAN FRANCIS ROTH
"Breakfast" suit, spring/summer 1990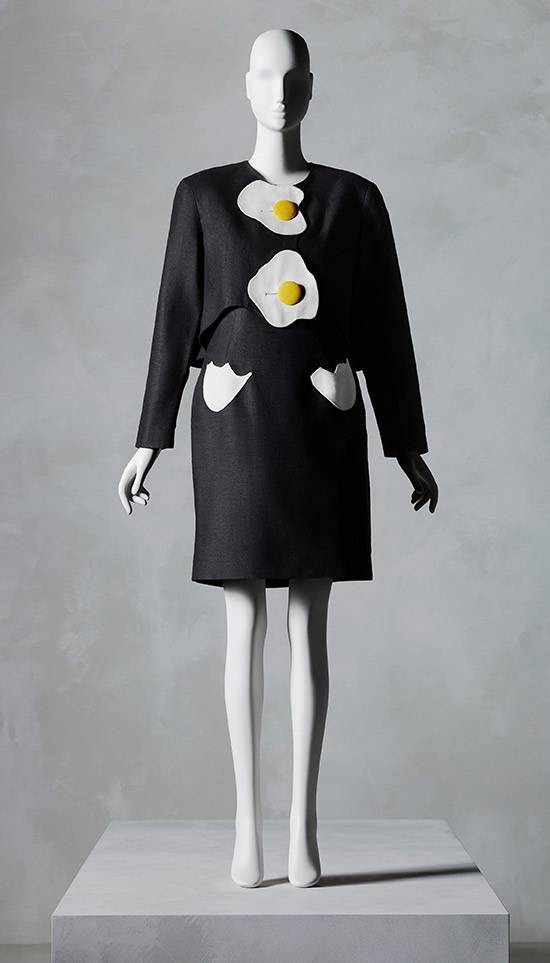 Christian Francis Roth
(American, born 1969)
Black linen plain weave with yellow and white fried-egg appliqué.
Promised Gift of Sandy Schreier (L.2018.61.49a–c). Image courtesy of The Metropolitan Museum of Art. Photo © Nicholas Alan Cope
Following a lineage of witty designs by creators that include Elsa Schiaparelli and Franco Moschino, this playful look by Christian Francis Roth employs the Surrealist strategy of displacing everyday objects from their normal environment. Here, a pair of fried eggs are fastidiously pieced down the center front of an otherwise staid linen ensemble. Aptly titled the "Breakfast" suit, the garment is beautifully constructed, stitched with a level of workmanship and seriousness that belies the joke. Roth became known for his engagement with art history and popular culture. His interest in humor and storytelling, combined with an avid devotion to detail, are hallmarks of his work. As the designer himself remarked: "Humor is very important. The quality has to be there, too, otherwise the humor falls dead and the designs just look silly."
Designers in the exhibition include:
Gilbert Adrian, Cristóbal Balenciaga, Pierre Balmain, Ugo Correani (for Karl Lagerfeld), Gabrielle Chanel, Jean Dessès, Christian Dior, Mariano Fortuny y Madrazo, Maria Monaci Gallenga, Rudi Gernreich (for Harmon Knitwear), Benjamin Green-Field (for Bes-Ben), Jacques Griffe, Maison Gripoix (for Chanel), Charles James, Stephen Jones, Patrick Kelly, Jeanne Margaine-Lacroix, Karl Lagerfeld (for Chloé and his own label), Jeanne Lanvin, Lasdon, Jeanne Le Monnier, Lucien Lelong, Madeleine & Madeleine, Alexander McQueen, Isaac Mizrahi, Sylvie Boué de Montegut and Jeanne d'Etreillis (for Boué Soeurs), Franco Moschino, Ana de Pombo (for House of Paquin), Paul Poiret, Paul Iribe (for Poiret), Georges Lepape (for Poiret), Zandra Rhodes, Roberto Rojas, Christian Francis Roth, Yves Saint Laurent (for Dior), Elsa Schiaparelli, Stephen Sprouse, Philip Treacy, Jessie Franklin Turner, Valentina, and Madeleine Vionnet.

ABOUT SANDY SCHREIER
The collector who always saw Fashion as an Art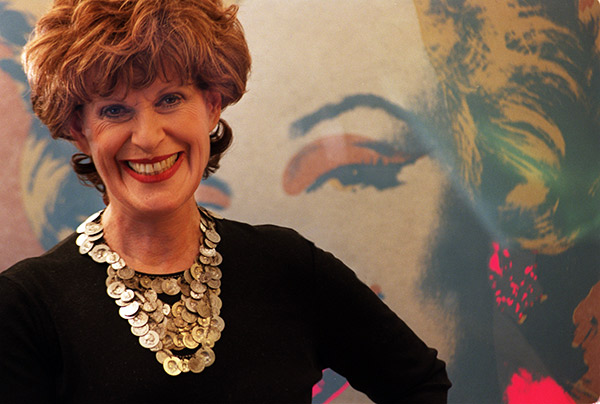 Ms. Schreier's interest in fashion began in childhood, when she accompanied her father to work at Russeks, the Detroit branch of the New York specialty store, where she met some of the city's most fashionable women. Seeing Ms. Schreier's enthusiasm for dress, these women began gifting her pieces of their couture, which she preserved rather than wore.

Ms. Schreier collected iconic works by designers long recognized for their leading roles in
shaping the direction of fashion, as well as innovative couturiers often underrepresented
in museum collections,
Ms. Schreier said: "I always saw myself as a fashion savior," "My passion for fashion as an art form drove me to search for the most innovative, creative, and breathtaking objects by well-known and lesser-known talents. I am elated that these pieces will live on as my legacy at The Met, where they can be conserved and shared with the public, designers, and scholars for eternity."
STATEMENTS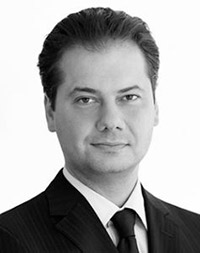 Max Hollein
Director of The Met

"Sandy Schreier's gift—one of the largest in recent Costume Institute history—dramatically enriches the Museum's holdings of 20th-century fashion,"  "We are thrilled and honored to receive these important treasures, and we look forward to resenting an exhibition that celebrates the exceptional artistry of the objects and reflects on the origins and impact of this tremendous collection."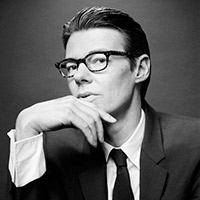 Andrew Bolton
Wendy Yu Curator in Charge of The Costume Institute

"Sandy's incredibly generous gift strengthens our collection immeasurably through the addition of historically significant pieces of 20th-century fashion,"  "Amassed through a deep passion for the art of fashion—as well as sheer determination—Sandy's gift introduces rare designs into our holdings, allowing us to tell a more nuanced story of fashion history through the achievements of its most innovative designers."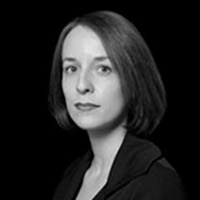 Jessica Regan
Associate Curator

"Sandy showed remarkable vision in preserving modern fashion at a time when few collectors appreciated it as an art form," "The exceptional objects in this gift reflect the discriminating eye and extraordinary dedication of a lifelong collector."
The exhibition is organized by Mr. Bolton, Ms. Regan, and Mellissa Huber, Assistant Curator. Shane Valentino and Nathan Crowley of LAMB Design Studio created the exhibition design along with The Met's Design Department. All headdresses are specially created for the exhibition by Stephen Jones.
CATALOGUE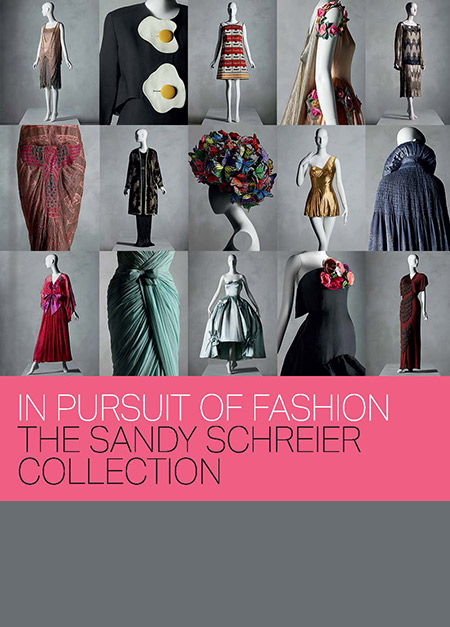 In Pursuit of Fashion:
The Sandy Schreier Collection

AUTHORS: Andrew Bolton, Preface and Interview; Jessica Regan and Mellissa Huber;
Photographs by Nicholas Alan Cope
9 ⅓ × 13 in.
204 pages; 174 illustrations
ISBN 978-1-58839-696-9
Published by
The Metropolitan Museum of Art
Distributed by Yale University Press
Hardcover, $50


In Pursuit of Fashion presents more than 80 outstanding works from one of the greatest private collections of twentieth-century fashion. Featuring not only iconic works by established designers but also pioneering looks by lesser-known couturiers, the ensembles, accessories, and works on paper—collected over several decades by Sandy Schreier—include many rare pieces that define key moments in fashion history.  A fascinating introduction, six informative chapters, and a lively interview with Schreier trace the progress of her collecting from its roots in Detroit to the present.


METROPOLITAN MUSEUM OF ART
1000 Fifth Avenue at 82nd Street, New York, NY 10028 
Phone 212 535 7710
https://www.metmuseum.org/