Philanthropist
Mass media magnate
Editor, writer and literary critic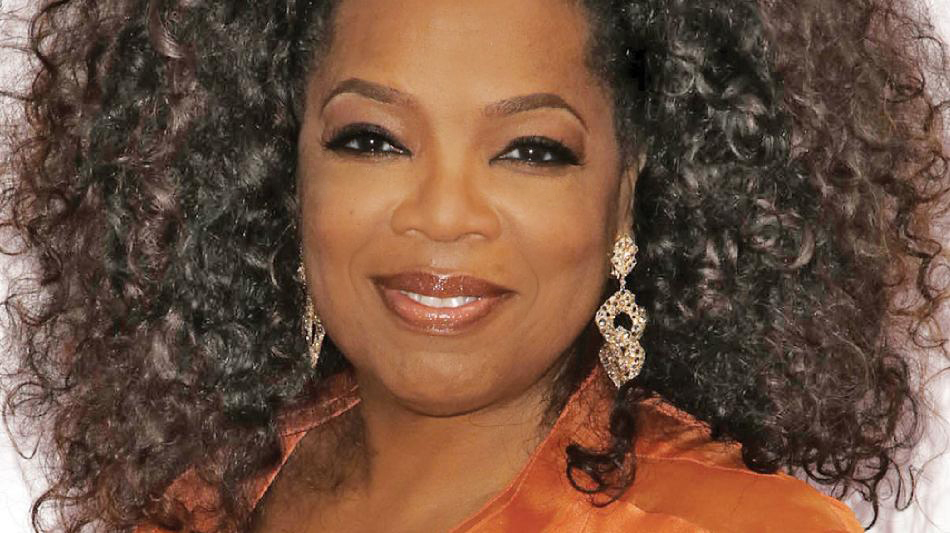 Biography
Philanthropy
Awards
Birth, Family and Youth
Oprah Gail Winfrey was born in January 29 1954, in Kosciusco, Mississippi, USA. Daughter of an unmarried teenage mother, Winfrey had a difficult childhood. She spent her first six years with her maternal grandmother. They were so poor that she often wore clothes made of potato sacks, for which the local children made fun of her. Her grandmother taught her to read before the age of three and became very popular at her local church due to her ability to recite Bible verses. At the age of 7, Winfrey moved with her mother to Milwaukee, Wisconsin.
At the age of 9, she suffered recurrent sexual abuse and became pregnant at the age of 14. Her son was born premature and died short after birth. She was then sent to live with Mr. Vernon, whom Oprah always considered as her father. Vernon, a barber in Nashville, Tennessee, was very strict with Winfrey, but he encouraged her to progress in her education which he deemed a priority.
Winfrey never let Vernon down, and at High School she became the best student of her class and the most popular girl of the school. She joined her high school speech team and came in second in the U.S. national dramatic interpretation contest. She won an oratory award, which secured her a full scholarship to study communication at Tennessee State University.


1. Oprah as a girl at her maternal grandmother's house. 2. The Most Popular Girl at school. 3. Her first award in 1972.
The Road to Success. Career
At 17, Oprah won the Miss Black Tennessee beauty contest and drew the attention of the local African-American radio station, WVOL, which hired her to read the news part-time. In the meantime, she continued with her studies.
At 19, she was hired by the TV channel WTVF in Nashville as the main reporter and, in 1984, by the age of 30, she moved to Chicago to host a low-rated talk show. In less than a year Oprah transformed the program into the city's most popular talk show, going from the third to the first place in the ratings. The show was renamed The Oprah Winfrey Show.
In 1986, Oprah was nominated for an Academy Award for Best Supporting Actress for her performance in the film "The Color Purple". In 1988 she launched Harpo Productions which produced her most successful show and which provided her with great wealth. Her Show became the most watched in TV history, broadcasted throughout the United States with an audience of over 14 million followers. The Show became international and was broadcasted worldwide.

In 2004, she launched O, The Oprah Magazine, considered the best editorial success in many years. Co-author of five books and influential literary critic, she introduced the Oprah's Book Club and her recommendations can make any of the selected books become a best-seller. In 2011, Winfrey launched her own TV channel, OWN. Currently, her wealth has been estimated at about $3.000 million.
Worldwide Celebrity
The CNN described Winfrey as "arguably the world's most powerful woman" and Forbes named her as "arguably the most influential woman in the world" in 2010.  In 2005, Business Week described her as the greatest black philanthropist in American history, and Time magazine stated that Winfrey was the only person who has appeared 10 times in the list of most relevant people of the 20th century and the beginning of the 21st century.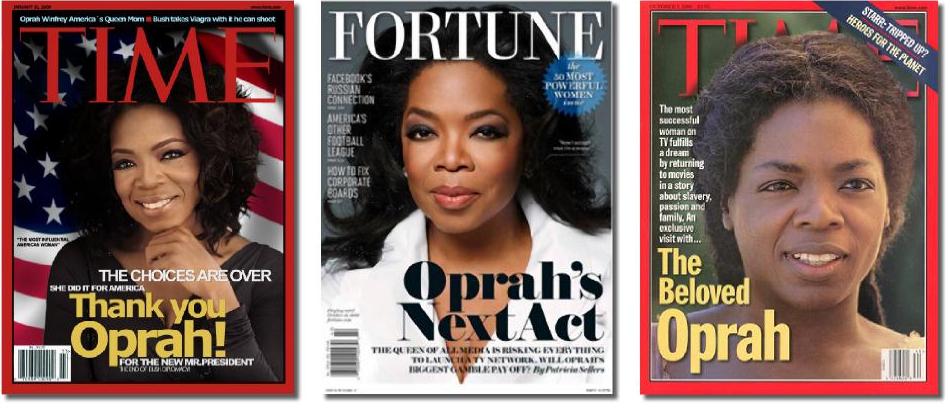 Her Dedication to Philanthropy
In 2004, Winfrey became the first African-American to enter the ranking of the 50 most generous Americans. By 2012, she had donated about $400 million to educational causes.
In 1998, she had created the Oprah's Angel Network, a charity that supported charitable projects and gave grants to nonprofit organizations around the world. Another of her great ideas, which was developed as a result of the devastation caused by Hurricane Katrina, was the creation of the Oprah Angel Network Katrina, which raised more than $11 millions, and she personally donated $10 million.
In 2014, Winfrey and her team filmed an episode of her show in South Africa, to bring attention to the difficult situation of children affected by poverty and AIDS. During the 21-day trip, they visited schools and distributed Christmas presents to 50,000 children. As a result of showing their situation in her program and after Oprah's appeal to donate, they received over $7 million from around the world.
Since 2012, she has donated more than 400 grants to the Morehouse College in Atlanta, Georgia. In 2013 she donated $12 million to the Smithsonian's National Museum of African American History.
Her Most Exciting Project
On 6th December 2002, Oprah Winfrey, together with Nelson Mandela, laid the foundation stone of the Oprah Leadership Academy for Girls, at Henley on Klip, Johannesburgo.

Oprah donated $40 million to build the Academy and also teaches a class via satellite. The Academy has more than 22 acres, and opened in January 2007 with 150 pupils, later increasing to 450.


Open Ceremony in 2007, and her first graduation in 2012
Decorations and Humanitarian and Professional Awards and Prizes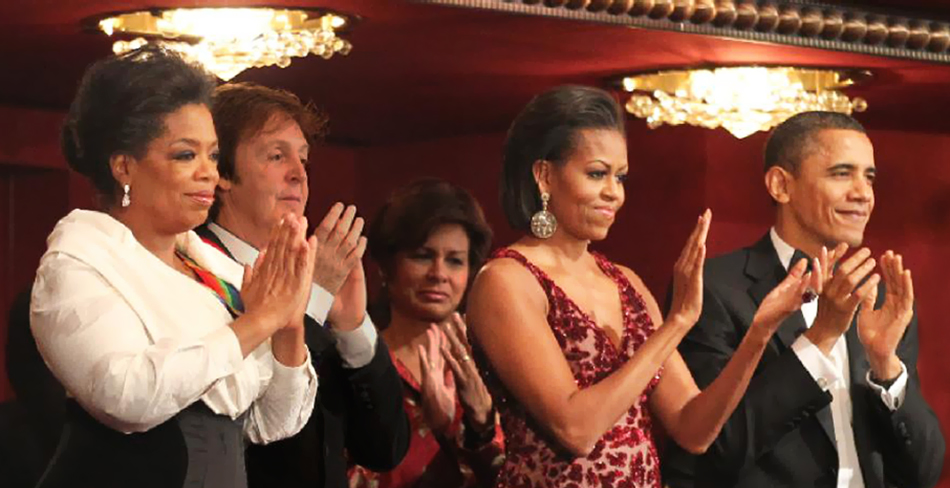 In 2014, she received from President Barack Obama the highest civilian award bestowed by the U.S.
In 2009, she was awarded an honorary doctorate degree from Duke University.
Winfrey received the first Bob Hope Humanitarian Award at 2002 Emmy Awards for services to television and film.
She was recipient of the Jean Hersholt Humanitarian Award, a special Oscar statuette given for humanitarian efforts.
In 2008, Oprah was named by the animal rights organization People for the Ethical Treatment Of Animals (PETA), Person of the Year for her contribution to condemn cruelty to animals and for highlighting the vegan diet in her program. Winfrey refuses to use fur or feature it in her magazine.
In addition, among many other professional awards, Winfrey has 45 Grammy awards.
One of the Most Important Philanthropists in the World
In 2012, Forbes magazine, for its 30th Anniversary, issued a special number on billionaires and philanthropists. Oprah appears in the cover photo with the two most relevant philanthropists in the world: Bill Gates and Warren Buffett.