Portrait of Samuel Henry Kress by the artist Leopold Seyffert. The Kress buildings are characterized by an Art Deco style. Designed by Edward F. Sibberty, the company's chief architect, several of these buildings have been recognized as historical landmarks.
Biography
His art collection
Patronage
Birth, Family and Profession
Samuel Henry Kress was born in Cherryville, Pennsylvania, on July 23rd 1863 and died in New York on September 22nd 1955.Kress was a businessman who founded the chain of "five and dime" retail stores S.H. Kress & Co, and achieved both a great success and a huge wealth.
Kress was the second of seven children born to John Franklin Kress and Margaret Dodson, immigrants of German and Irish origins. Samuel never married nor had children. He was a Mason.Intelligent, dynamic and precocious, Kress got his school teaching credentials by the age of 17. Every day he walked 3 miles each way to the schoolhouse to give class to 80 students.
This is How his Fortune Started
In 1887, when he was 24, Kress opened his first stationery and notions store in the small village of Nanticoke, Pennsylvania. As the business prospered he used his profits to open new stores. He named his stores "S. H. Kress & Company", and they were popularly known as the "Kress Five and Dime" stores. Unlike many businessmen who only focused on large urban areas, Kress' strategy consisted in opening stores in smaller cities in 29 states, wherever he felt there was business potential. He eventually had up to 264 stores across the United States.
The Kress stores became the most outstanding buildings in the cities they were established, always located at the main street. Kress was a great architecture admirer, and he started showing it in the elegant and unique design of his stores. Years later, after the creation of the Kress Foundation, he donated large sums of money for the restoration and maintenance of historical buildings in Europe.
By the mid-1920s, Kress had become a magnate and was living in a penthouse at 1020 Fifth Avenue in New York City, across the street from the Metropolitan Museum of Art, which he visited and contributed to with donations.
The Creation of a Great Collection
In 1920, Kress started collecting paintings and sculptures, primarily of the Italian Baroque, through the influential English dealer Joseph Duveen. In 1927, he made his first art donation to the Metropolitan Museum of Art: Peacocks, 1683, by Melchior d'Hondecoeter (1636-1695).
The Kress Collection went growing until it contained over 2,800 works of art. Considered as a collection of incalculable value, the Kress Collection encompasses works from the Italian school, including Cimabue, Duccio, Giotto, Botticelli, Fra Angelico, Filippo Lippi, Verrocchio, Raphael, Andrea del Sarto, Pontormo, Correggio, Bellini, Carpaccio, Giorgione, Titian, Lotto, Veronese, Carracci, Bernini, Strozzi, Tiepolo, Guardi, Canaletto, and Bellotto. The French school is represented with works from the early Renaissance to Poussin, Clodion, Watteau, Chardin, Boucher, Fragonard, Houdon, David, and Ingres. The German art is represented by Dürer, Grünewald, Altdorfer, Holbein, and Cranach. The Flemish school includes Petrus Christus, Bosch, Memling, Rubens, and Van Dyck. The Spanish school is represented by El Greco, Zurbarán, and Goya.
Founder of the National Gallery of Art
In 1941, Kress made the first of his many relevant donations to the National Gallery of Art for its opening, which included 375 paintings and 18 sculptures. After Andrew William Mellon, Kress is (together with Joseph E. Widener) one of the first donors to give his collection to the Institution, as later did Chester Dale, Lessing Rosenwald, and Ailsa Mellon Bruce.
Highlights of the Samuel Henry Kress Collection
at the National Gallery of Art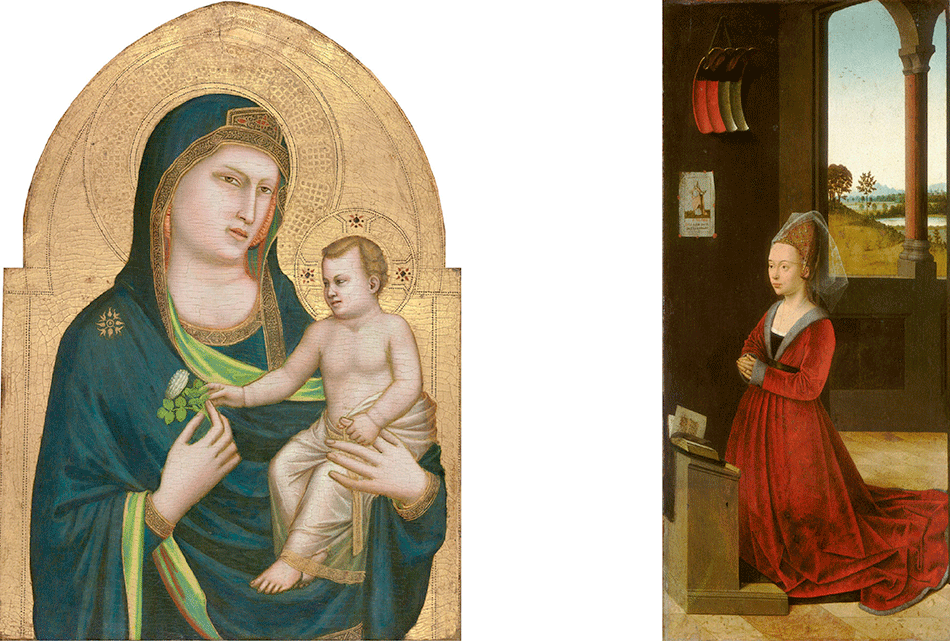 1: Giotto, Florentine, c. 1265–1337, Madonna and Child  c. 1310/1315, tempera on poplar panel, painted surface: 85.4 × 61.8 cm (33 5/8 × 24 5/16 in.) overall (including added strips): 87.7 × 63.2 × 1.3 cm (34 1/2 × 24 7/8 × 1/2 in.) 2: Christus, Petrus, Netherlandish, active 1444- 475/1476, Portrait of a Female Donor c. 1455, oil on panel, overall: 41.8 x 21.6 cm (16 7/16 x 8 1/2 in.)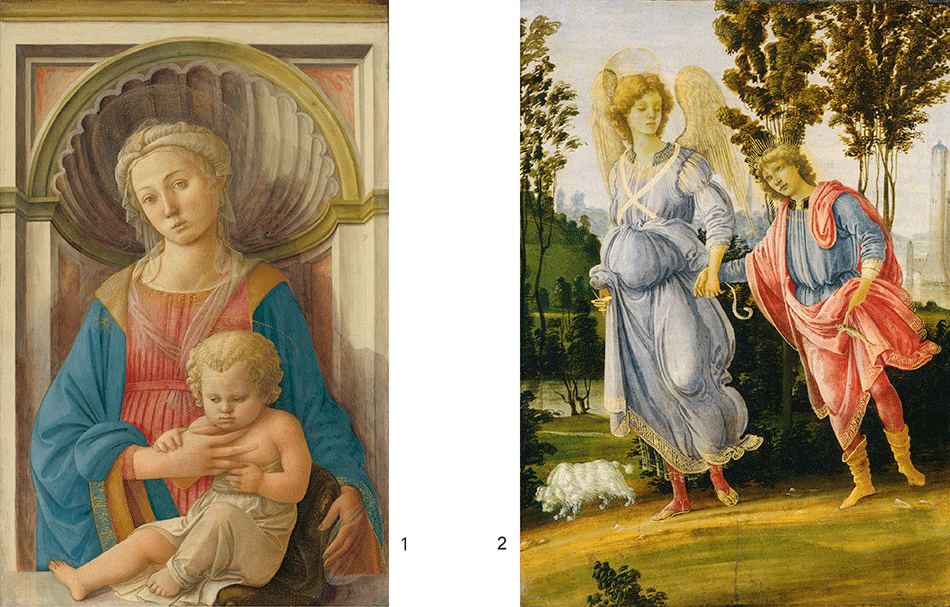 1: Lippi, Filippo, Fra, Florentine, c. 1406–1469, Madonna and Child c. 1440, tempera on poplar panel , overall: 79 x 51.1 cm (31 1/8 x 20 1/8 in.)  2: Lippi, Filippino,  Florentine, 1457–1504, Tobias and the Angel  c. 1475/1480, oil and tempera on poplar panel, painted surface: 32.7 x 23.5 cm (12 7/8 x 9 1/4 in.) overall: 34.45 x 25.4 cm (13 9/16 x 10 in.)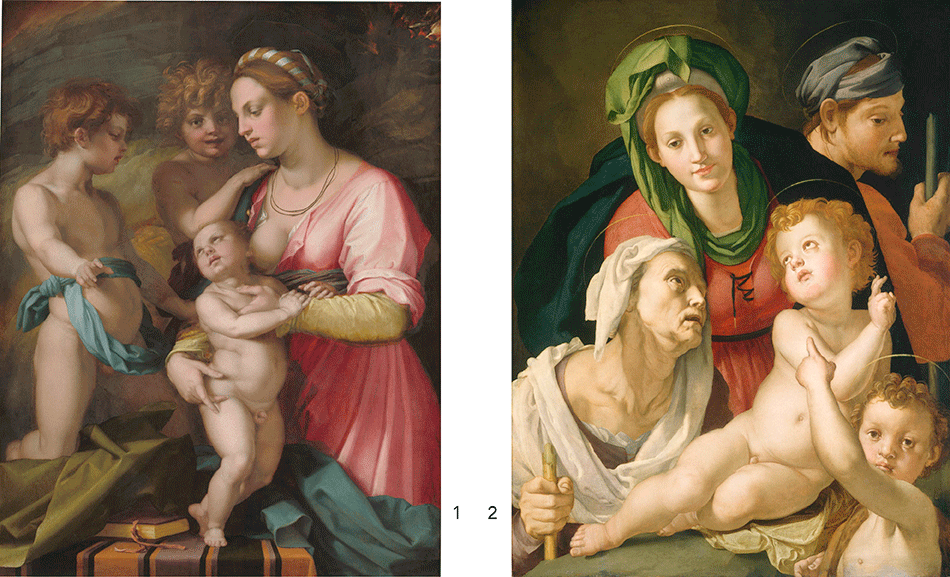 1: Sarto, Andrea del, Florentine, 1486–1530, Charity , before 1530, oil on panel, overall: 119.5 x 92.5 cm (47 1/16 x 36 7/16 in.)  2: Bronzino, Agnolo, Florentine, 1503–1572, The Holy Family  c. 1527/1528, oil on panel, overall: 101.3 x 78.7 cm (39 7/8 x 31 in.)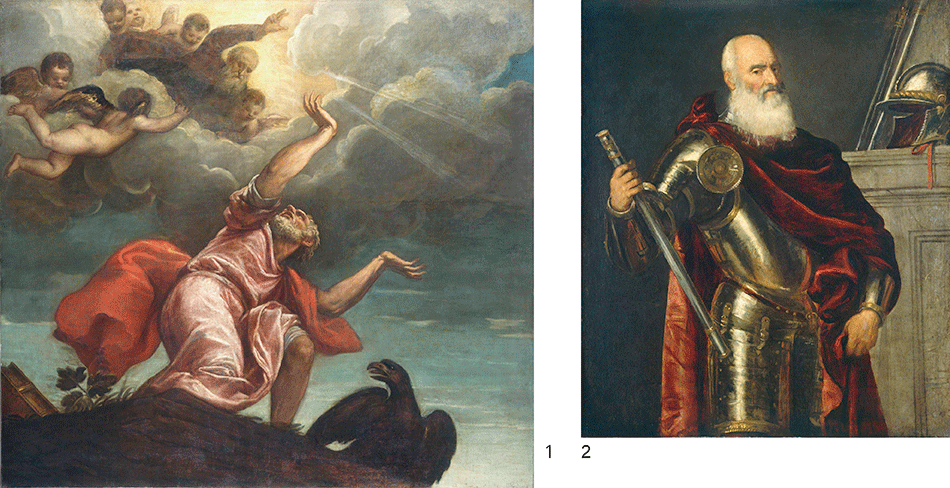 1: Titian, Venetian, 1488/1490–1576, Vincenzo Cappello probably c. 1540, oil on canvas, overall: 141 x 118.1 cm (55 1/2 x 46 1/2 in.)  2: Titian, Venetian, 1488/1490–1576, Saint John the Evangelist on Patmos  c. 1547, oil on canvas, overall: 237.6 x 263 cm (93 9/16 x 103 9/16 in.)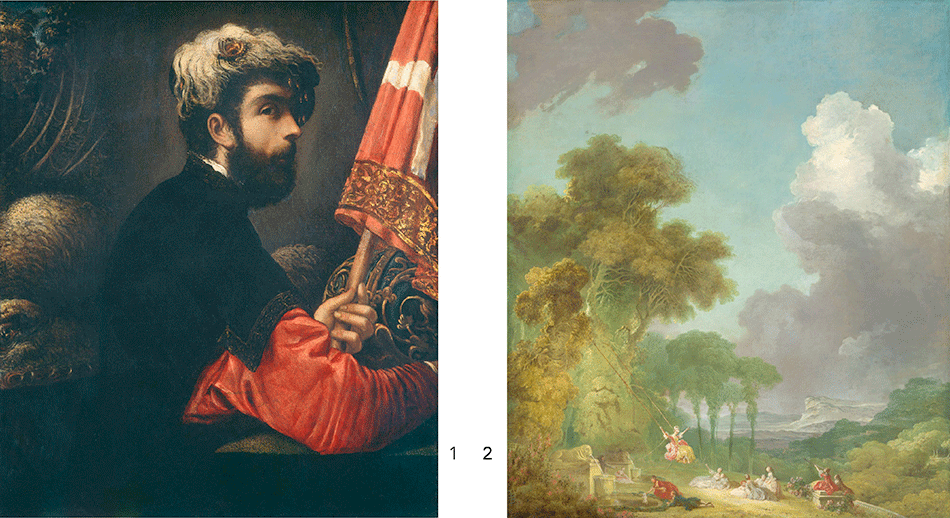 1: Tintoretto, Jacopo, Venetian, 1518–1594, Portrait of a Man as Saint George  1540/1550 , oil on canvas, overall: 83.8 x 71.1 cm (33 x 28 in.) 2: Fragonard, Jean-Honoré, French, 1732–1806, The Swing c. 1775/1780 , oil on canvas, overall: 215.9 x 185.5 cm (85 x 73 1/16 in.)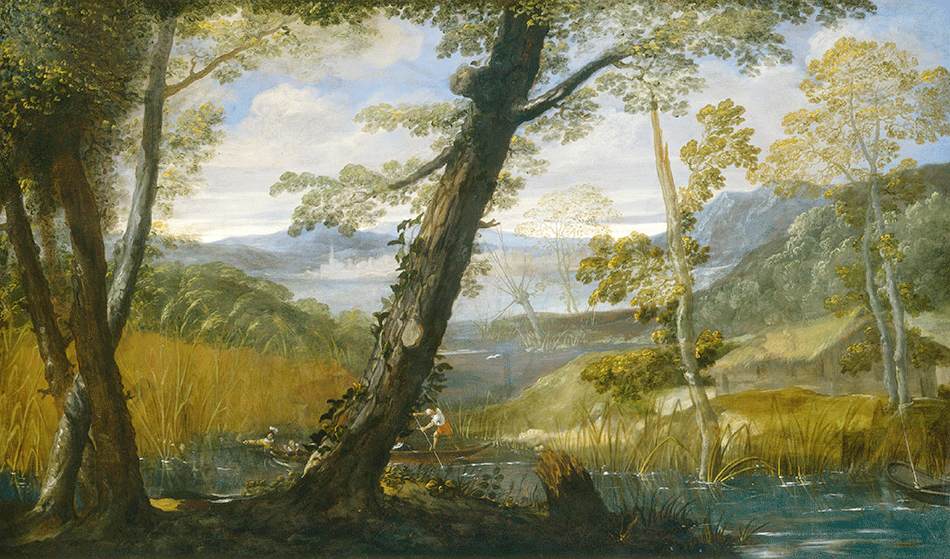 Carracci, Annibale, Bolognese, 1560–1609, River Landscape c.1590,  oil on canvas, overall: 88.3 x 148.1 cm (34 3/4 x 58 5/16 in.)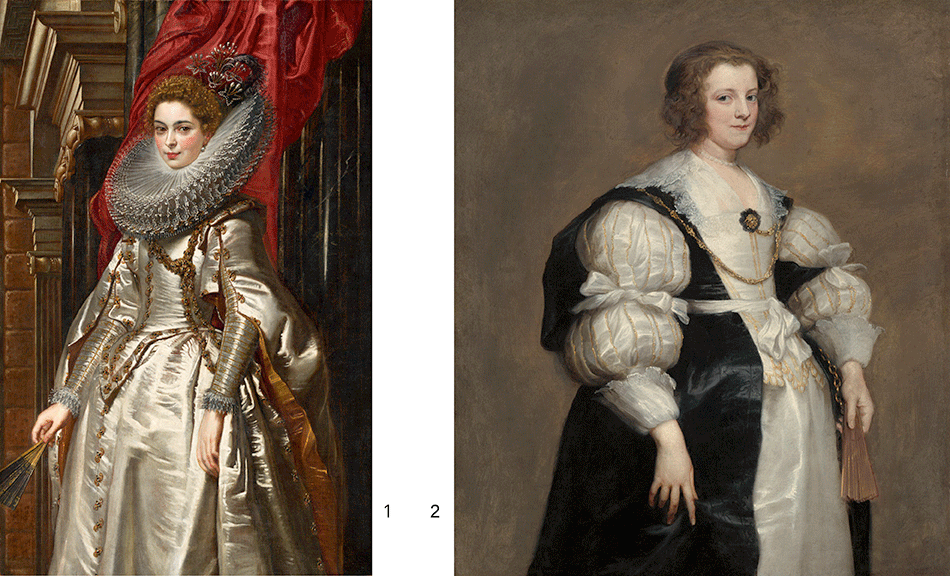 1: Rubens, Peter Paul, Sir, Flemish, 1577–1640, Marchesa Brigida Spinola Doria 1606, oil on canvas, overall: 152.5 x 99 cm (60 1/16 x 39 in.) 2: Dyck, Anthony van, Sir, Flemish, 1599–1641, Lady with a Fan c.1628, oil on canvas, overall: 109.7 x 97 cm (43 3/16 x 38 3/16 in.)¸framed: 151.5 x 134.6 x 16.5 cm (59 5/8 x 53 x 6 1/2 in.)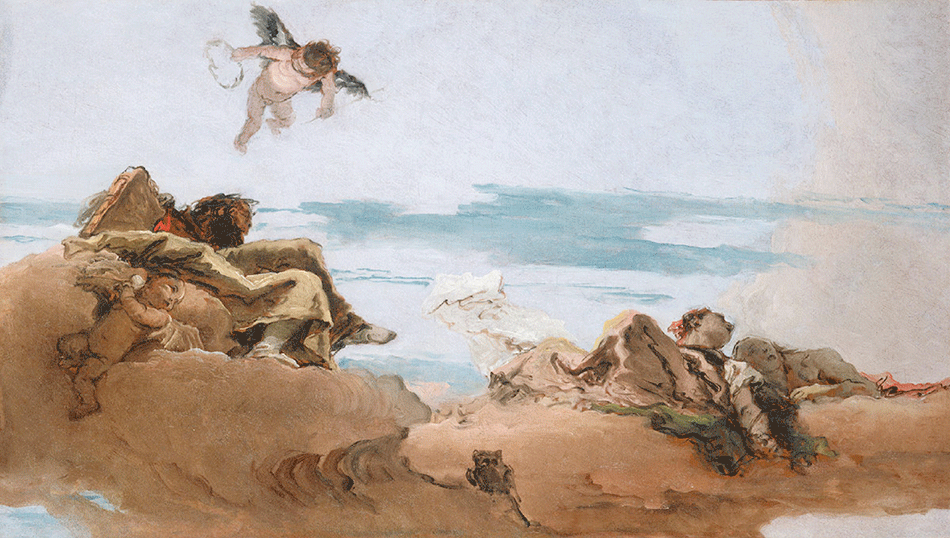 Tiepolo, Giovanni Battista, Venetian, 1696–1770, Study for a Ceiling with the Personification of Counsel  before c. 1762, oil on canvas, overall: 27 x 49 cm (10 5/8 x 19 5/16 in.)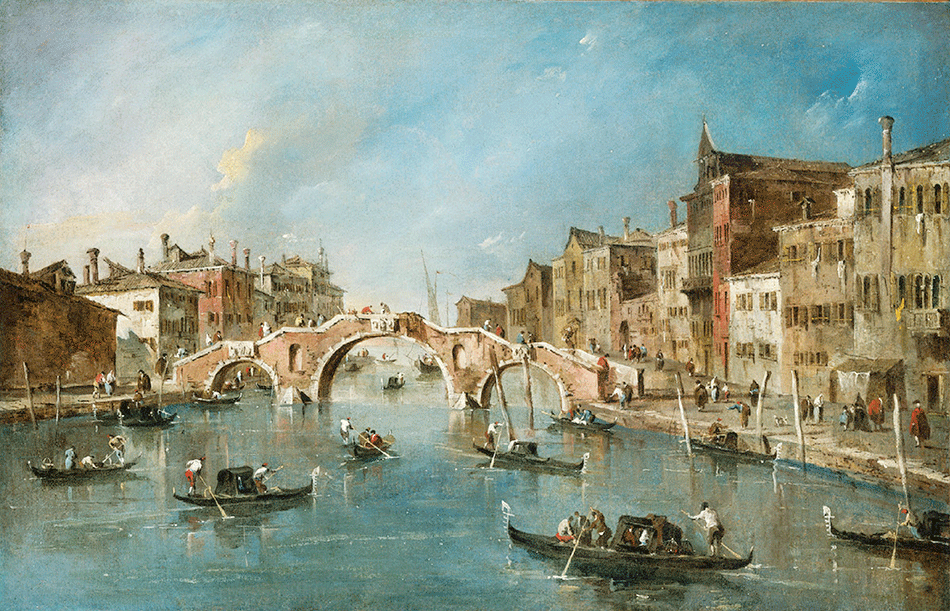 Guardi, Francesco, Venetian, 1712–1793, View on the Cannaregio Canal, Venice c. 1775-1780, oil on canvas, overall: 50 x 76.8 cm (19 11/16 x 30 1/4 in.)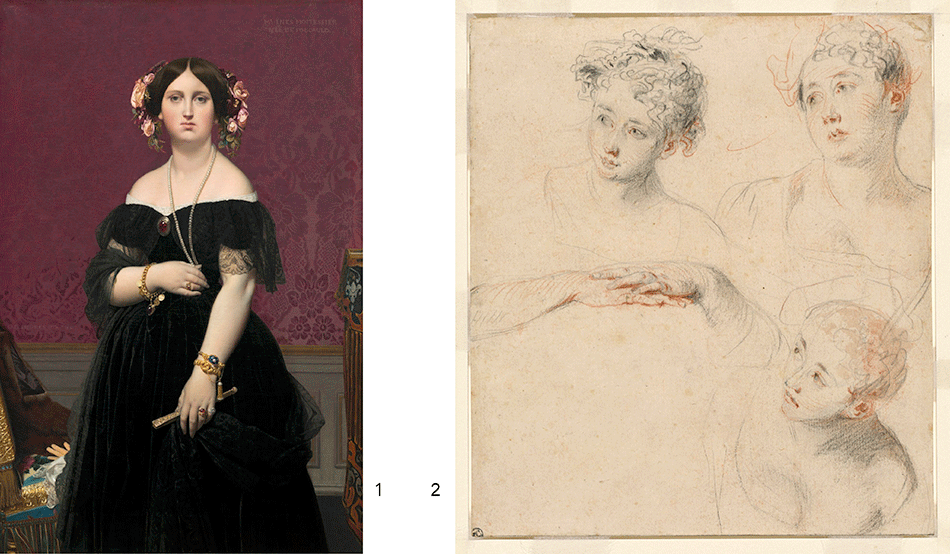 1: Ingres, Jean-Auguste-Dominique, French, 1780–1867, Madame Moitessier  1851, oil on canvas, overall: 147 x 100 cm (57 7/8 x 39 3/8 in.) 2: Watteau, Antoine, French, 1684–1721, Three Studies of a Woman's Head and a Study of Hands [recto] 1718/1719, red chalk and graphite with black chalk and pink wash on laid paper, overall: 17.9 x 15.9 cm (7 1/16 x 6 1/4 in.) 
See the whole collection of Samuel H. Kress
in the National Gallery of Art
The Kress Foundation Today
In 1929, by the age of 65, Samuel Henry Kress established the Kress Foundation to promote the knowledge and appreciation of European art in the United States and to make his collection as accessible as possible to the public. Kress donated the Italian government a large sum for the restoration of many architectonic treasures, and his first project was for the Palazzo Ducale in Mantua. Many works of his collection were donated to 40 museums of the small cities that used to have his stores and brought him his fortune.
Every year, the Kress Foundation devotes large sums to support scholarly projects on History of Art, conservation programs and digital resources related with the spreading of art.
 Annual Report of the Kress Foundation
_______________________________________________________________________________________________________________________________
Pages of the National Gallery of Art founders and benefactors

Chester Dale
Andrew William Mellon
Paul Mellon
Ailsa Mellon Bruce
Lessing Julius Rosenwald
 Joseph Early Rosenwald