LIMITED EDITIONS by LALIQUE, 2019
A glorious heritage in new flask creations
to hold luxury fragrances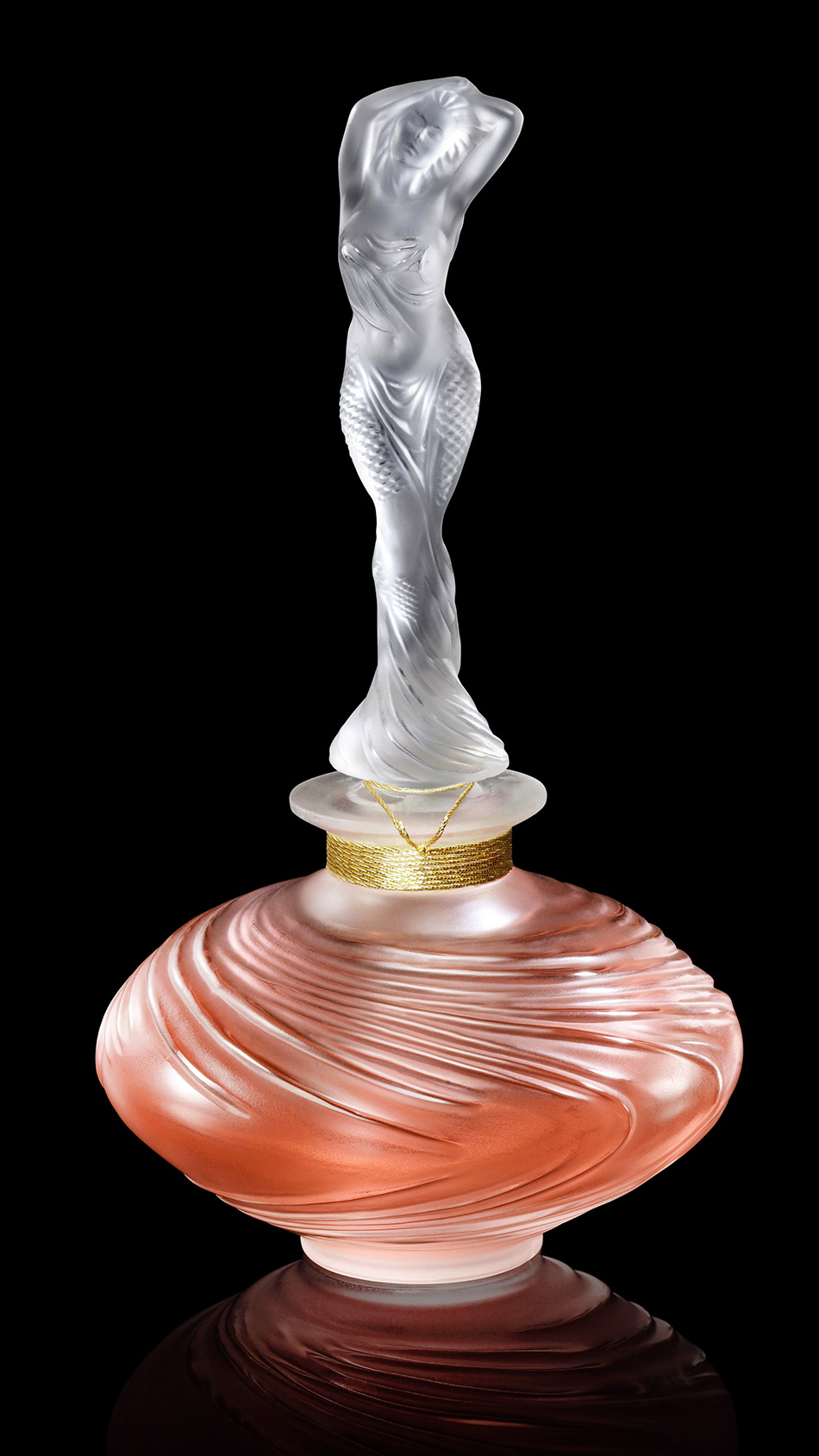 Each year Lalique's designers create a new flask and a new fragrance in limited editions. The designs are inspired by the rich legacy of René Lalique's creations. The fragrances interpret the subtle messages that the design suggests to the perfumer. In every detail, the design of the flask and the fragrance maintains the spirit of perfection and excellence that René Lalique imprinted on all his creations.


2019 leitmotiv: The MERMAID
From The aquatic world of René Lalique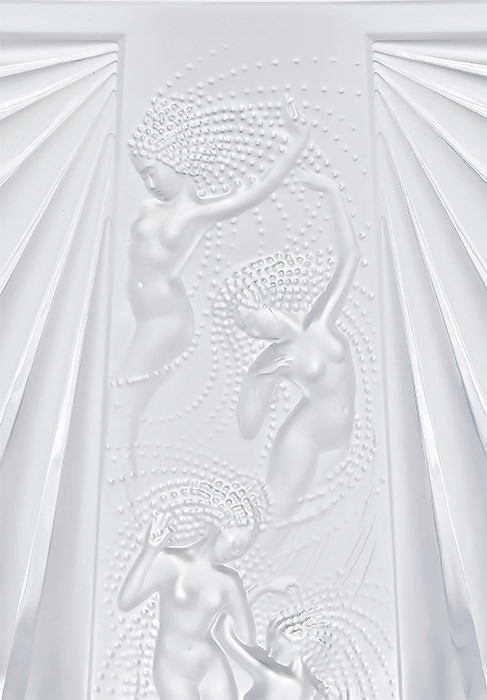 A passionate observer of Nature and Woman, René Lalique often combined his two favorite themes within the extraordinary aquatic world he created.

A shifting world, in turn mysterious and limpid as crystal, populated by sirens, nymphs and mermaids. Intertwined tresses and beads of water, draperies rippling like waves, curves as sinuous as the course of a stream…It is this imagery that inspires the stunning 2019 Limited Edition.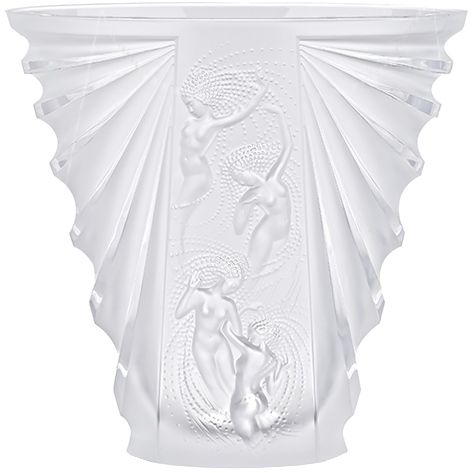 Detail of the original vase created by René Lalique where the figure of the current Mermaid is inspired.
© Lalique SA.

The Concept of Design 
> An exceptionally fine-detailed female statuette, the spectacular stopper is a true feat of glassmaking technique.
> The figure rises from a bottle that seems to prolong its swirling drapery.
> With their satin-finished crests and transparent hollows, the bottle's undulating crystal waves reveal the delicate seashell pink of the Lalique de Lalique Parfum.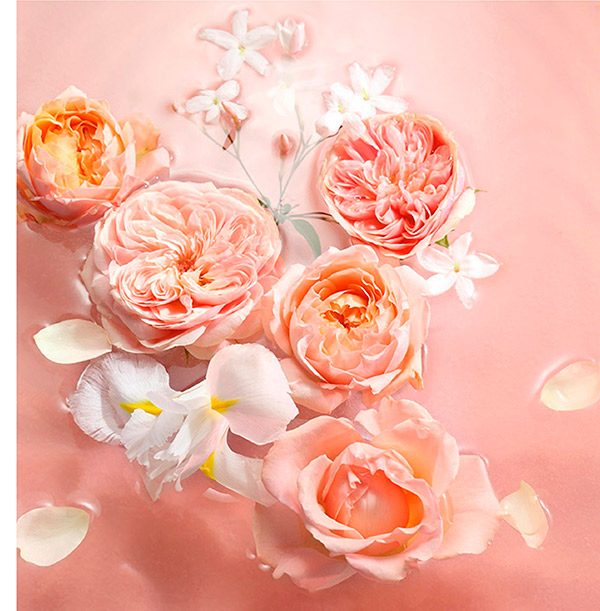 The Essences
The pearlescent glow of orris, jasmine blossoms, rose petals carried by a clove-scented breeze: when the stopper is lifted, the rippling curves of the bottle release a swirling wave of flowers.

The heart of the scent opens to reveal three fruity notes, nectar-scented pearls: exquisite blackberry, bright green blackcurrant leaf and crystal-clear pear. 

The vanilla, musks and sandalwood dry-down unfurls in an endless wake, as spellbinding as a siren song.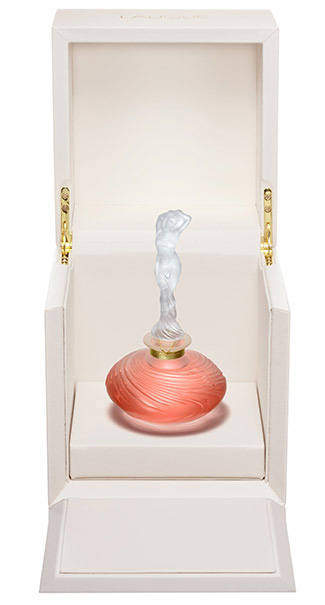 The Case
Also in this detail the designers have succeeded.
They have created the right frame with clean lines of extreme simplicity to not compete with the design of the bottle, so it can shine in all its splendor. The very solid box is made of wood, covered with a beige leather fabric, printed with a motif and gold hinges…. worthy of a high jewellery box to protect something very valuable!

For more information: lalique.com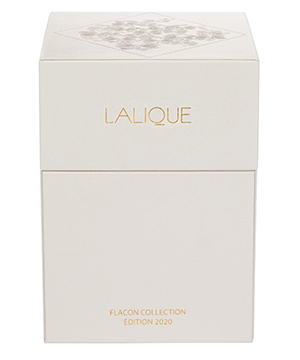 The 10 perfumes Lalique of LIMITED EDITIONS
are on display and can be admired at the Lalique Museum in Wingen-sur-Moder,
40 Rue du Hochberg, 67290, France.  Tel. +33 3 88 89 08 14
https://www.musee-lalique.com/en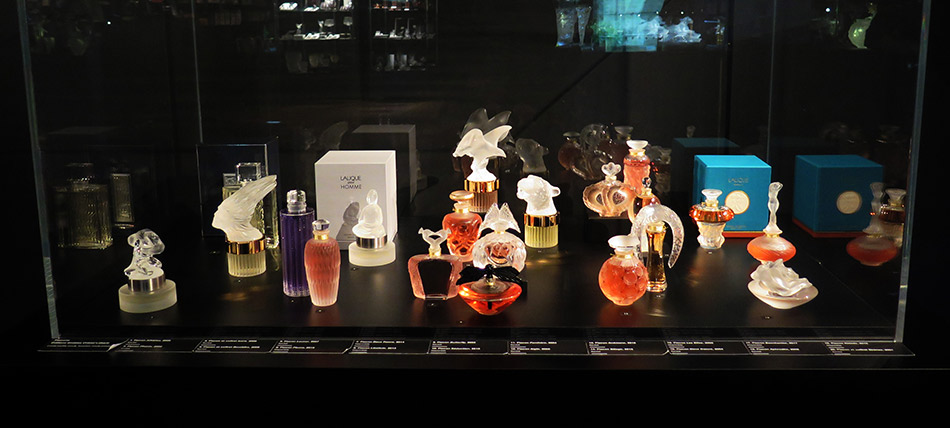 The Lalique Museum's collections include over 650 exceptional works that follow the career of René Lalique and his successors. Organised according to themes and chronology, it offers a broad panorama of Lalique creations including Art Nouveau jewellery, Art Deco glass and contemporary crystal.
Articles about MASTERS OF DESIGN SERIES
In blue, link to the published ones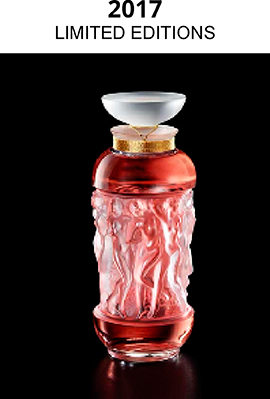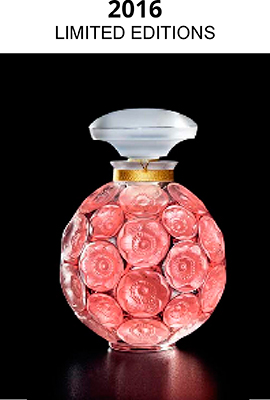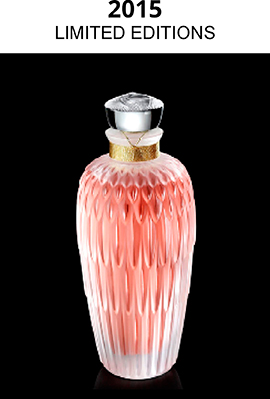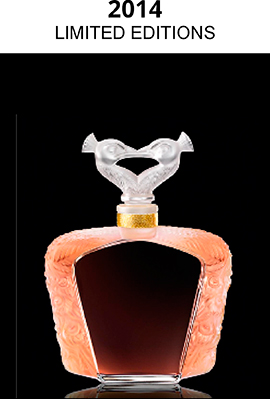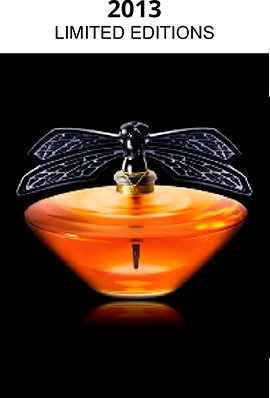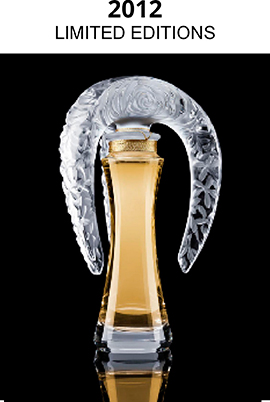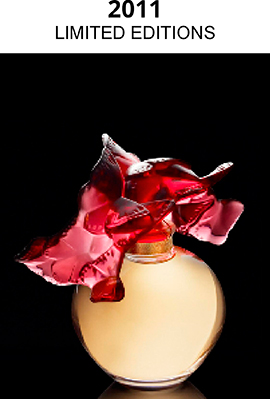 See also on perfume bottles: LALIQUE MUSEUM