BOSTON MADE:
Arts and Crafts Jewelry and Metalwork
Frank Gardner Hale and His Circle

November 17, 2018–March 29, 2020
MUSEUM OF FINE ARTS, BOSTON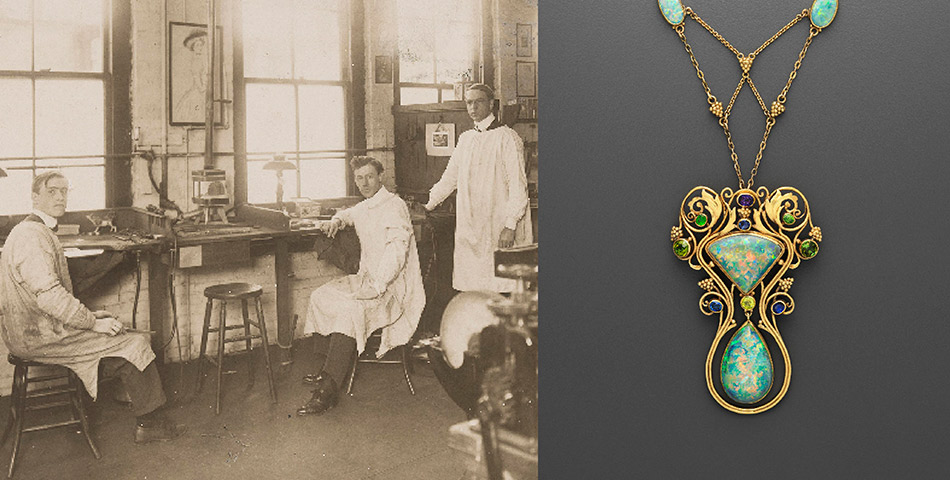 LEFT: This photograph shows Edward Everett Oakes, John Ballou, and Frank Gardner Hale (left to right), most likely in Hale's Southampton Street workshop, about 1909. RIGHT: An opal pendant, framed by scrolling gold elements accented with sapphires and green garnets and Hale's signature grape clusters, is one of the foremost examples of the colorful "Boston look."


More than 70 Objects Include Rare Works by Women Artists
Shown for the First Time in Generations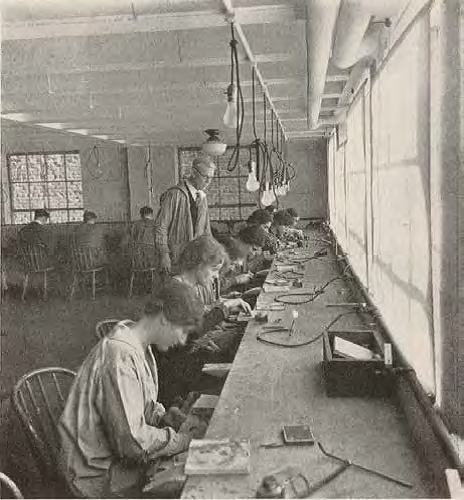 In the early 20th century, Boston boasted one of the most active and influential jewelry-making and metalworking communities in the nation. This is the first exhibition exclusively dedicated to the exemplary works of this vibrant and interwoven group of craftspeople—many of them women, who were offered unprecedented opportunities in education, training and patronage.
    The inclusive nature of the Arts and Crafts movement offered new opportunities for women, particularly those interested in jewelry and metalwork. Boston Made features the work of nine women artists, including pioneers Josephine Hartwell Shaw (1865–1941), Elizabeth Copeland (1866–1957) and Margaret Rogers (1868–1949), who were among the most prominent early Arts and Crafts metalworkers in the nation.  George Hunt instructs metals students at the School of the  Museum of Fine Arts. The segregated classroom has women on one side and men on the other

Sharing a belief in the ideals of the international Arts and Crafts philosophy
    The tight-knit community favored an aesthetic noted for uniting design and handcraftsmanship as well as for its use of color and precious materials. 70 works by 14 artists, including jewelry, tableware, decorative accessories and design drawings are shown together, as they would have been at the time of their creation. The objects invite visitors to explore the philosophy and artistry of the Arts and Crafts movement in Boston, as well as the stories of their makers and owners. 
    The exhibition prominently features the work of jeweler and enamellist Frank Gardner Hale (1876–1945) and silversmith Arthur Stone (1847–1938), both luminaries in their respective fields, including design drawings from the Hale and Stone archives at the Museum of Fine Arts Boston.
HIGHLIGHTS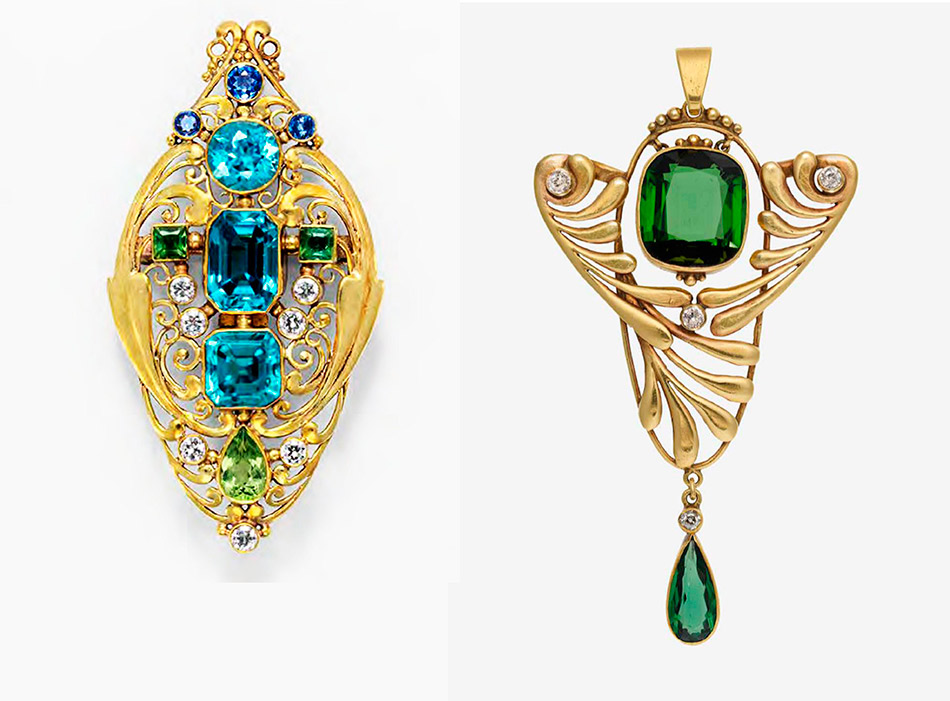 Frank Gardner Hale. LEFT: In this brooch, Hale deftly combines brilliant blue zircons with diamonds, sapphires, and green peridots in a delicate scrolling gold setting inspired by Renaissance styles. 
RIGHT: The balanced form and fine execution of this elegant tourmaline pendant framed in gold reflect Hale's strong foundation in design.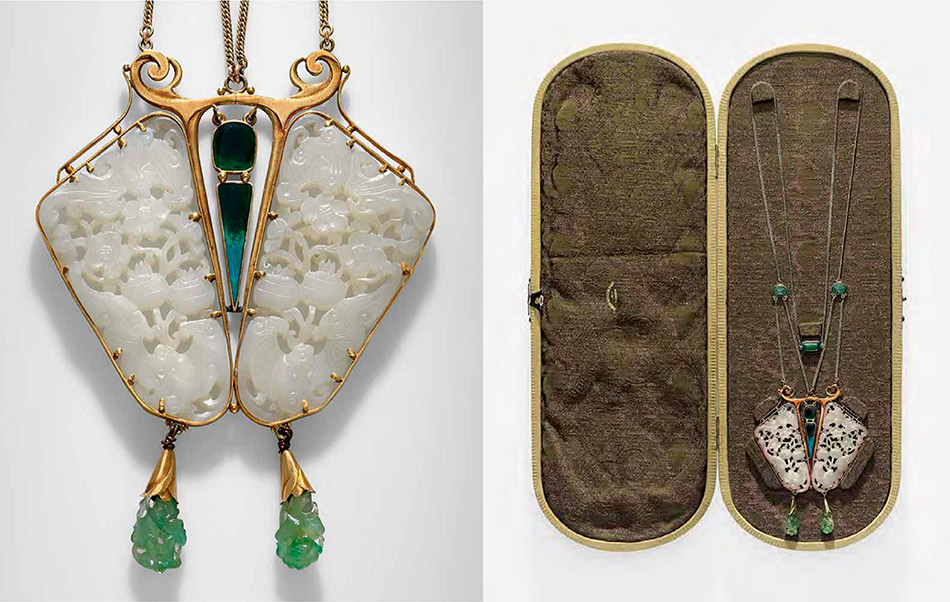 Frank Gardner Hale. Among the longest and most dramatic of the known examples by Boston jewelers, this necklace features a large butterfly pendant with carved jade wings, a blue-green enamel body, and gold antennae. It's rare to find an example of Boston jewelry in its original box. This monumental necklace, with its oversized pendant and extraordinarily long chain, is custom fitted into the box's brown and gold brocaded interior. The words "Frank Gardner Hale" and "Boston" are embossed in gold on the left side.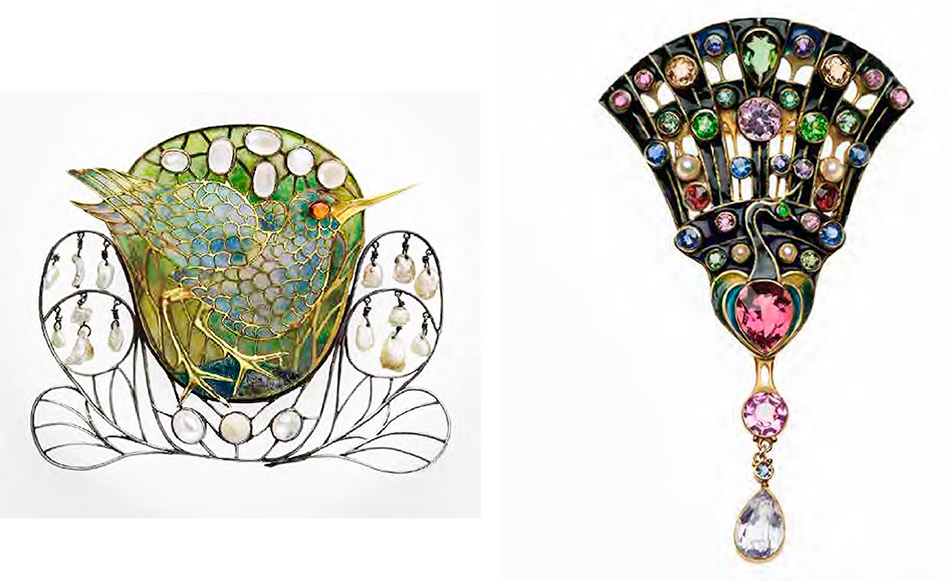 Frank Gardner Hale. LEFT: A finely enameled hair ornament (later converted to a brooch), with its backless enamel cells — essentially a miniature stained-glass window — is one of the most sophisticated ornaments made atthe Guild of Handicraft. RIGHT: Hale's peacock brooch was one of his most celebrated designs. His design drawings help clarify alterations made over time to this fragile piece, most likely by Hale himself.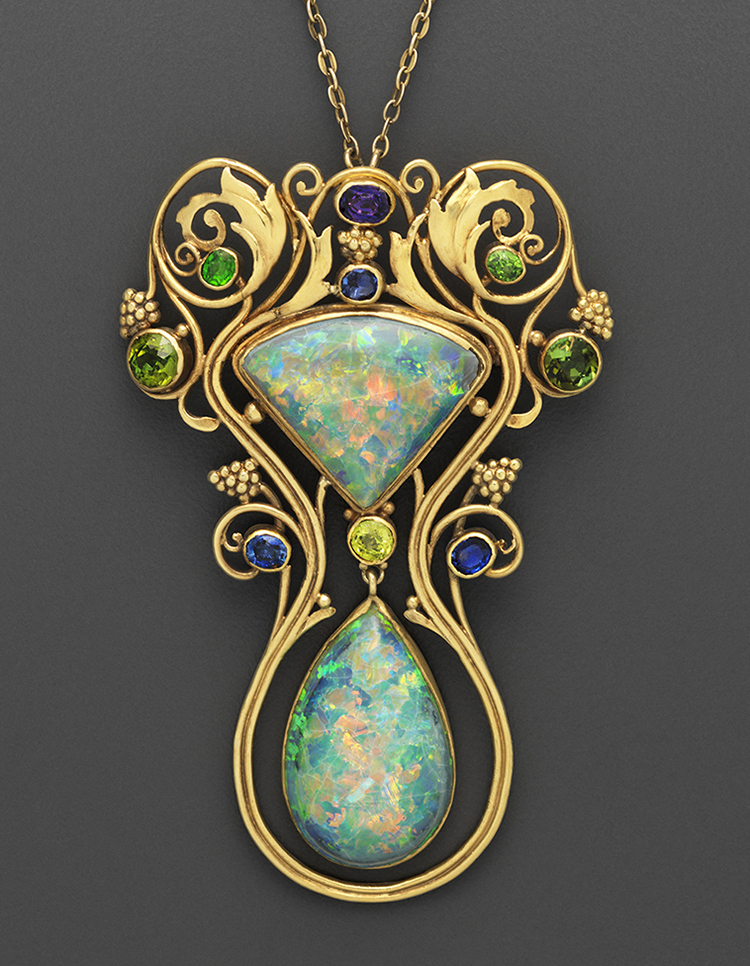 Frank Gardner Hale
detail
Gold, green garnet, sapphire, opal.
*The Susan Donald Collection.
*Photograph © Museum of Fine Arts, Boston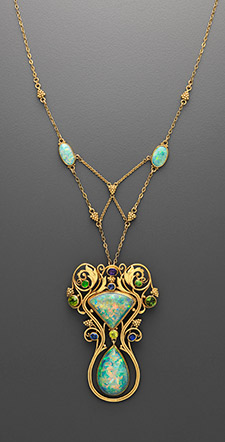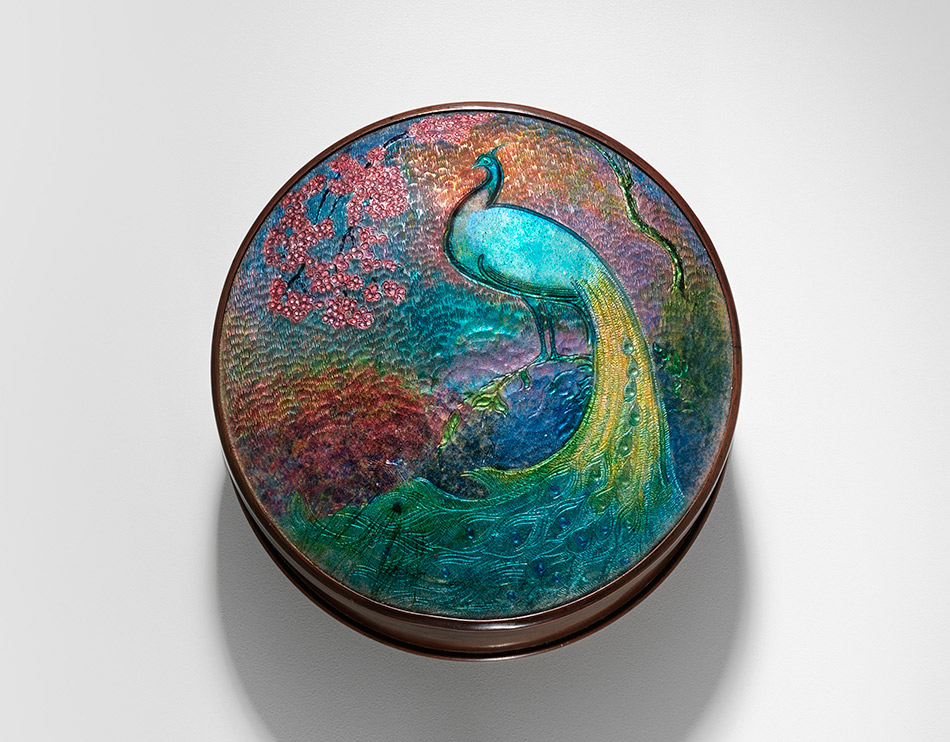 Frank J. Marshall (American, 1884–975) Enameled copper *Museum of Fine Arts, Boston. Gift of Lois and Stephen Kunian *Photograph © Museum of Fine Arts, Boston.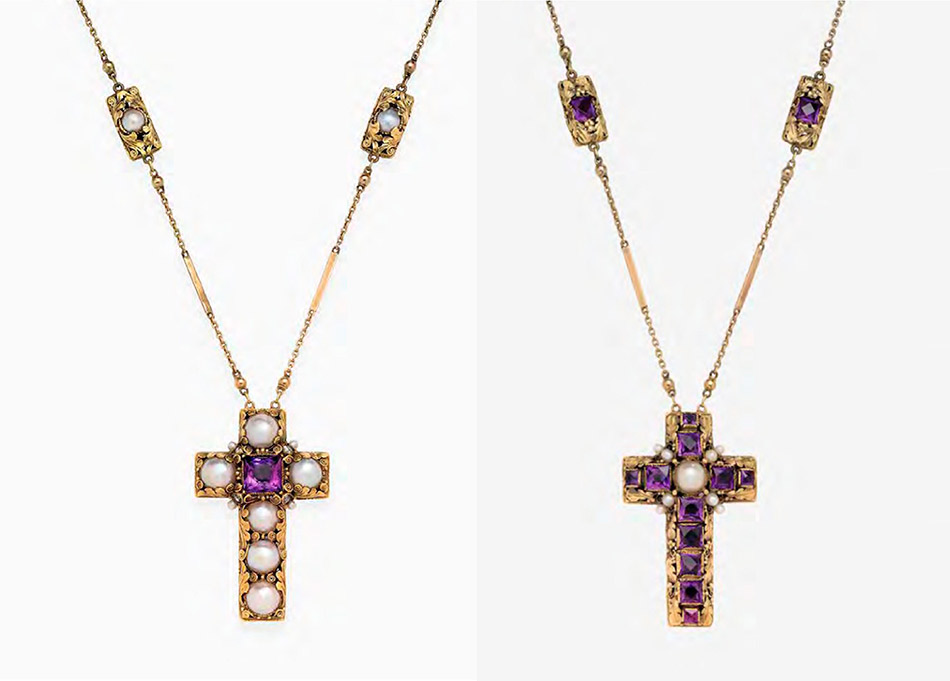 Edward Everett Oakes (American, 1891–1960) Often commented that the refinement of a jewel's reverse was as important to him as the execution of the front. This reversible necklace with a cross pendant features pearls on one side and amethysts on the other.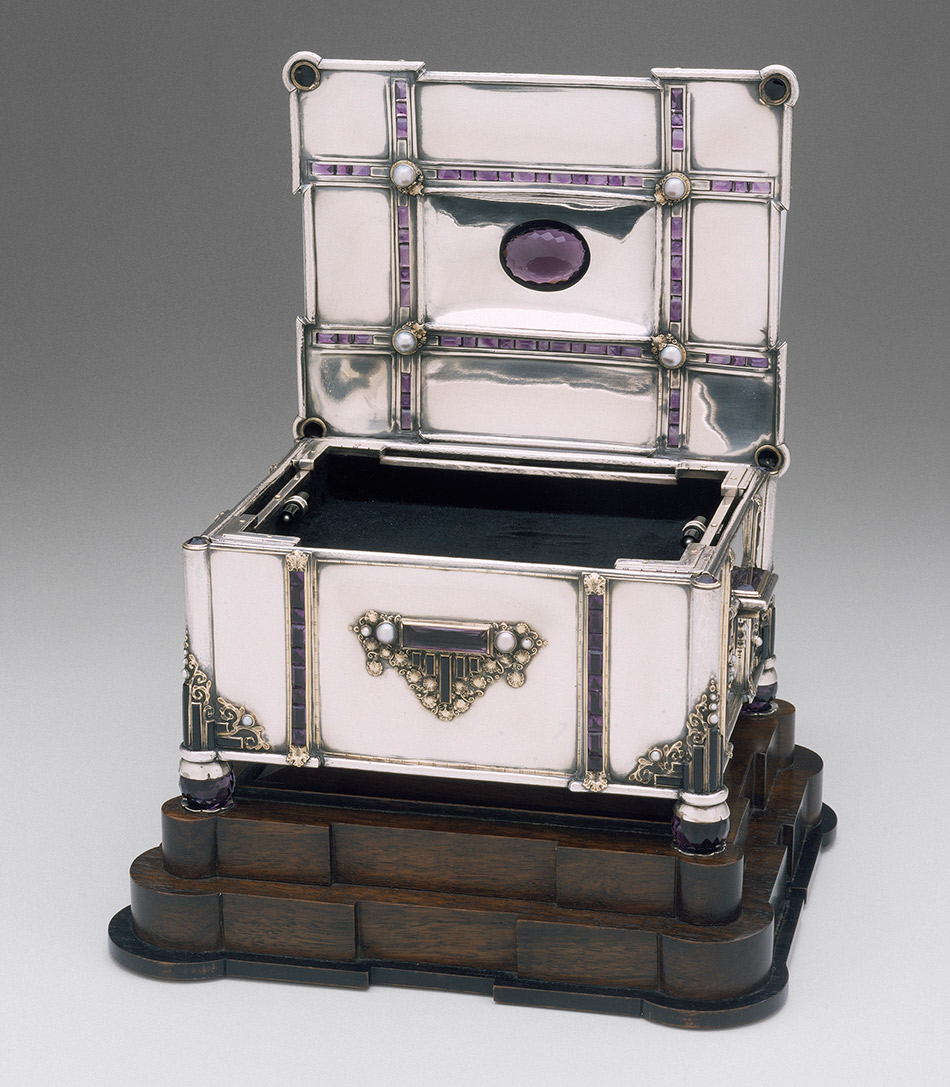 Edward Everett Oakes (American, 1891–1960) Jeweled casket, 1929. Silver, green gold, amethyst, pearl, onyx; laurel wood, velvet *Museum of Fine Arts, Boston. Museum purchase with funds donated anonymously *Reproduced with permission. *Photograph © Museum of Fine Arts, Boston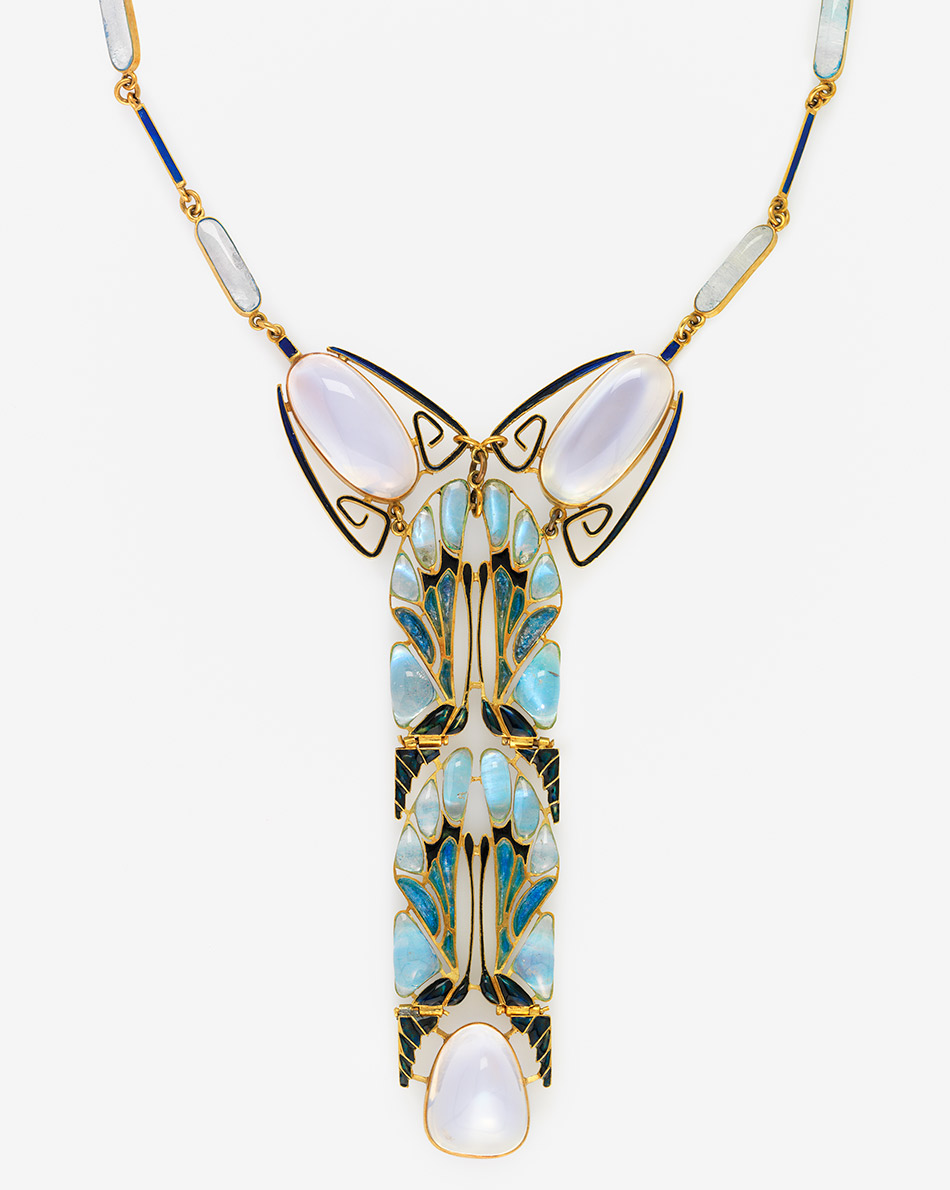 Frederick Partridge. (Inglés, 1877–1942) Inglés, principios del siglo XX. Oro, piedra de luna, esmalte y vidrio.  *Colección privada. * Cortesía, Museo de Bellas Artes, Boston.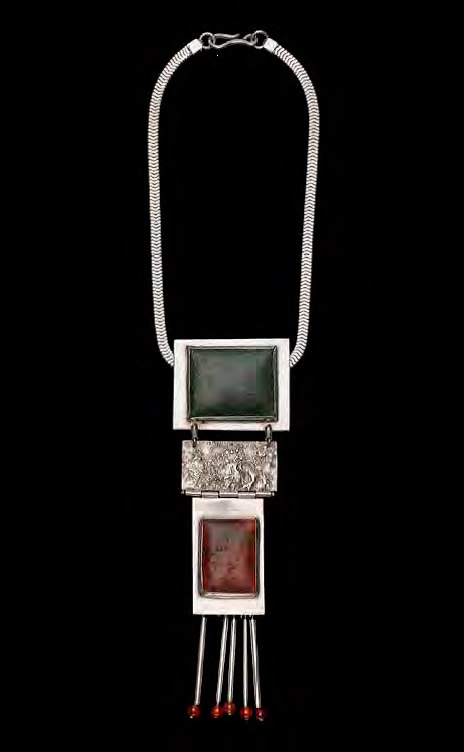 Miyé Matsukata. In this necklace highlights the depth and texture
of the green jade and red agate by contrasting them with
smooth silver mounts and a textured cast silver surface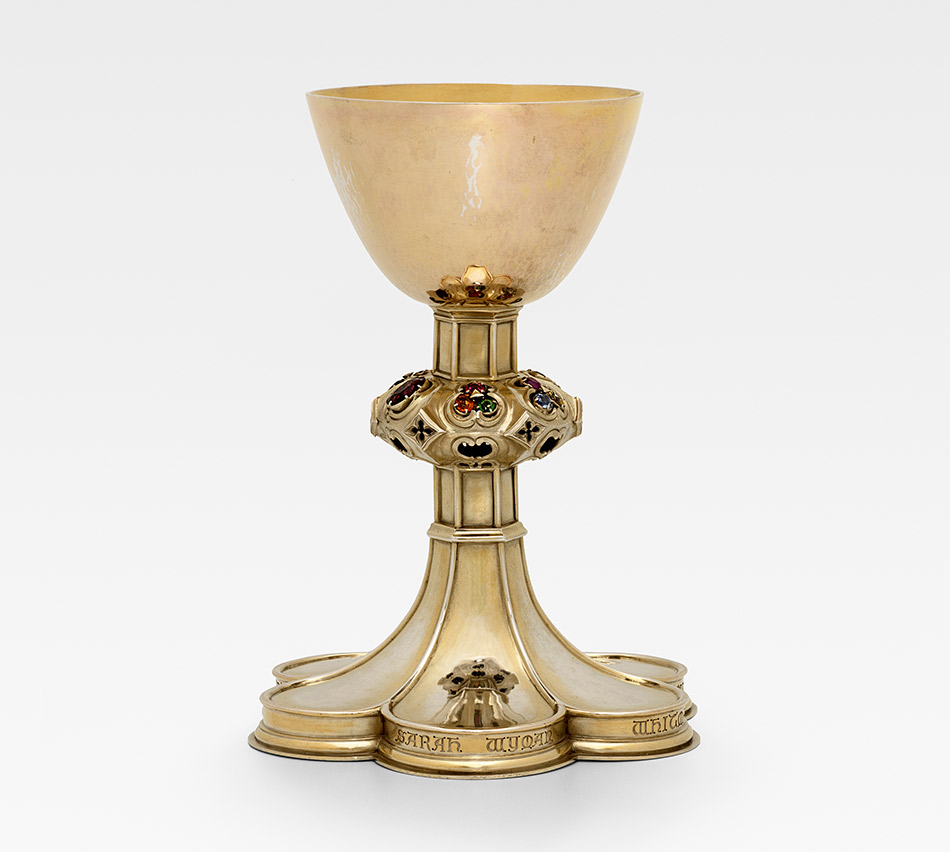 Sarah Wyman Whitman Memorial Chalice, 1905. Designed by: R. Clipston Sturgis (American, 1860–1951) and Made by Arthur Stone (American, born in England, 1847–1938) Gold-plated silver, alexandrite chrysoberyl, sapphire, tourmaline, cats eye chrysoberyl, citrine quartz, spinel, pyrope garnet, grossular garnet (hessonite), pink sapphire, yellow sapphire. *Lent by Trinity Church, Boston. *Photograph © Museum of Fine Arts, Boston.


The inclusive nature of the Arts and Crafts movement
offered new opportunities for women, particularly those interested
in jewelry and metalwork
    Boston Made features the work of nine women artists, including pioneers Josephine Hartwell Shaw (1865–1941), Elizabeth Copeland (1866–1957) and Margaret Rogers (1868–1949), who were among the most prominent early Arts and Crafts metalworkers in the nation. Each took advantage of new educational programs in Boston to develop her skills, participate in local and national exhibitions and competitions, sell her work through the Society of Arts and Crafts and other galleries, and earn a living from her craft. In 1913, the MFA acquired a gold and pearl brooch and a gold, emerald and pearl ring (about 1913) made by Shaw, making her the first female contemporary jewelry maker represented in the Museum's collection.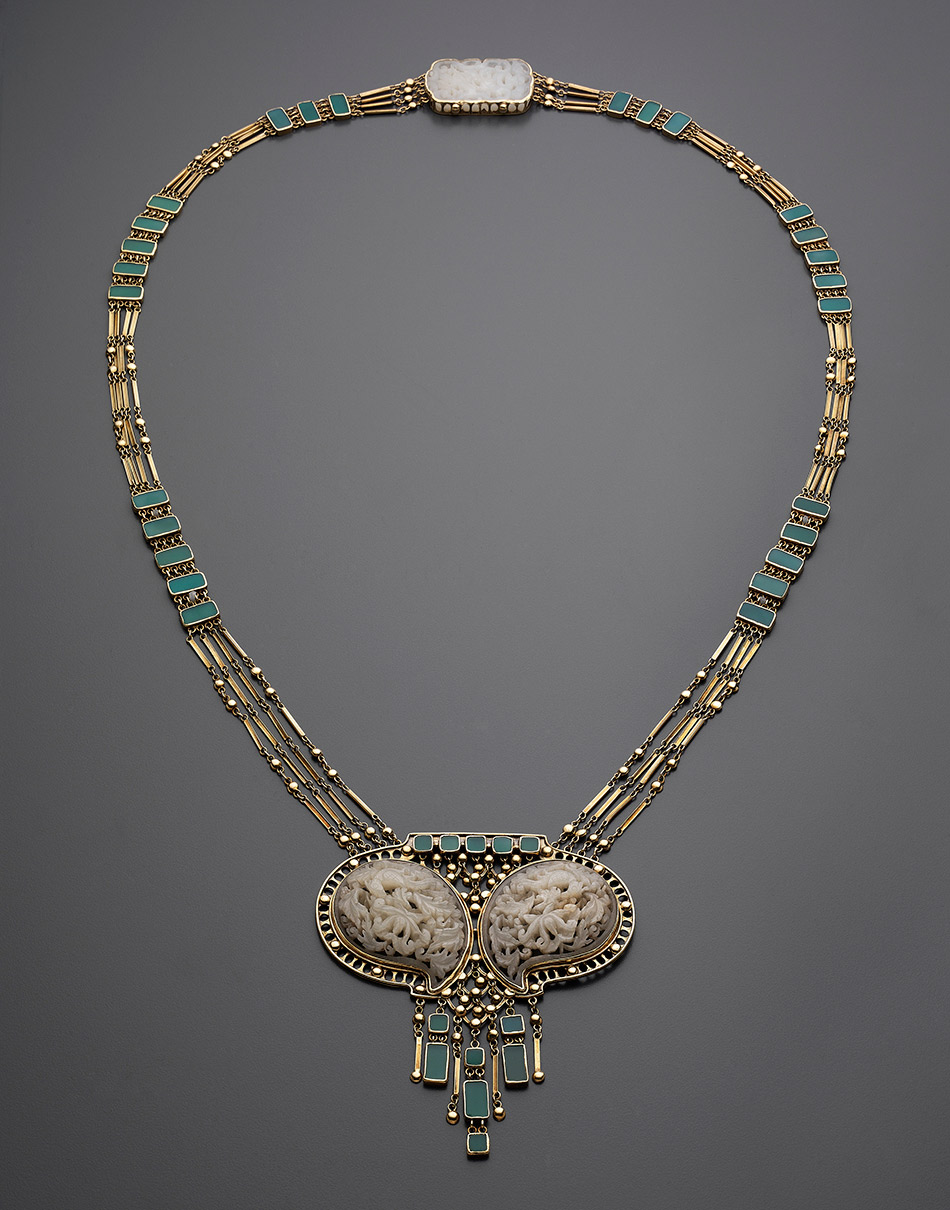 Josephine Hartwell Shaw (American, 1865–1941) Necklace. Gold, jade, colored glass. *Museum of Fine Arts, Boston. Gift of Mrs. Atherton Loring. *Photograph © Museum of Fine Arts, Boston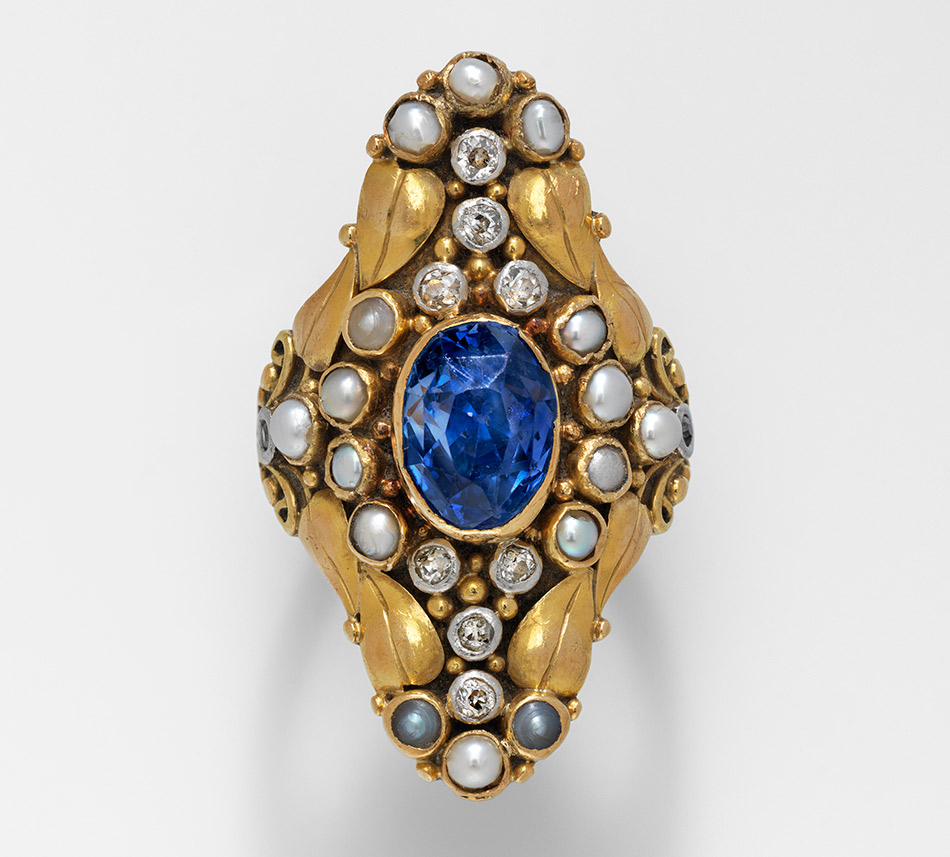 Margaret Rogers (American, 1868–1949) Ring. Gold, sapphire, diamond, pearl *Neil Lane Collection * Photograph © Museum of Fine Arts, Boston.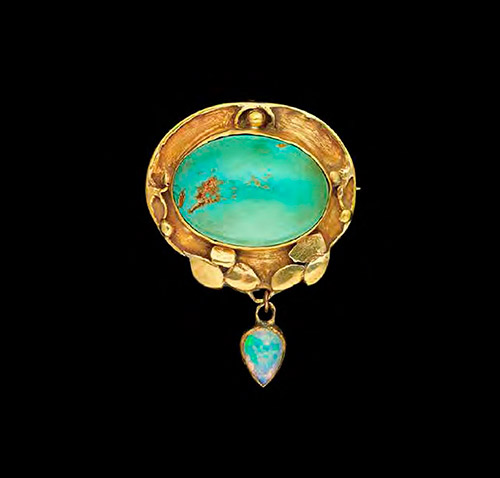 Elizabeth Copeland. Brooch with a turquoise in a floral-garlanded gold frame
 and a small opal drop, is strikingly similar to the one worn by Paxton's mother, Rose, in her portrait.
    The work of Shaw, Copeland and Rogers
is reunited with that of other female makers

Works including Lucretia McMurtrie Bush (1867–1953), Gertrude S. Twichell (1889–after 1947), Katherine Pratt (about 1891–1978), Mary Catherine Knight (1876–1956), Hazel Blake French (1890–1972) and Jessie Ames Dunbar (1876–1957), all of whom were successful in their time, but little known today.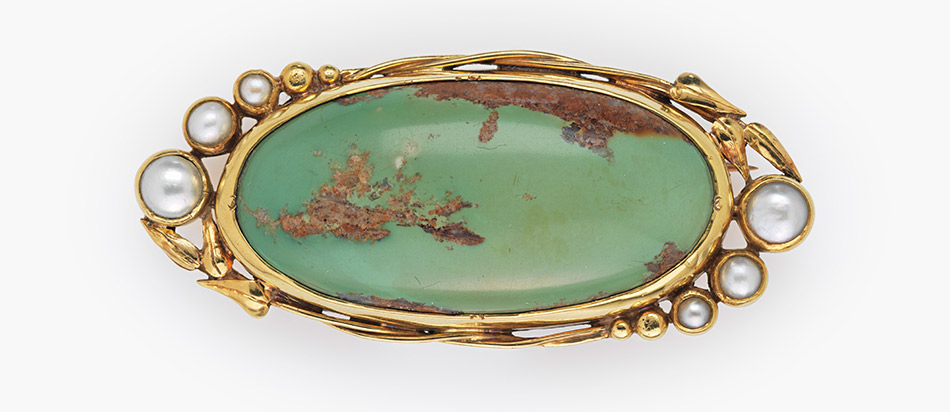 Lucretia-McMurtrie-Bush (American, 1867–1953) Brooch. Gold, turquoise, pearl .*Collection of Aram Berberian and Rosalie Berberian *Photograph © Museum of Fine Arts, Boston.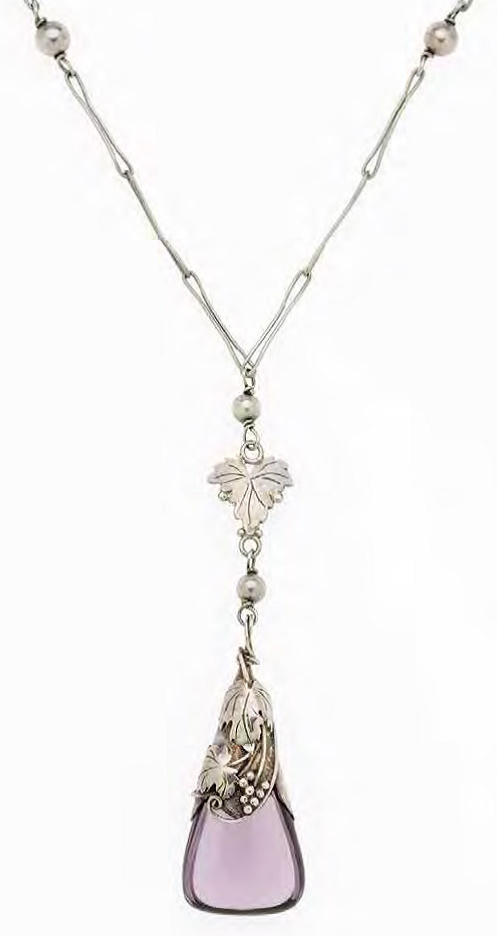 Hazel Blake French. Carefully selected glass from the rubble of the Sandwich Glass Company,
had it cut and polished, and set it like gemstones, as in this silver necklace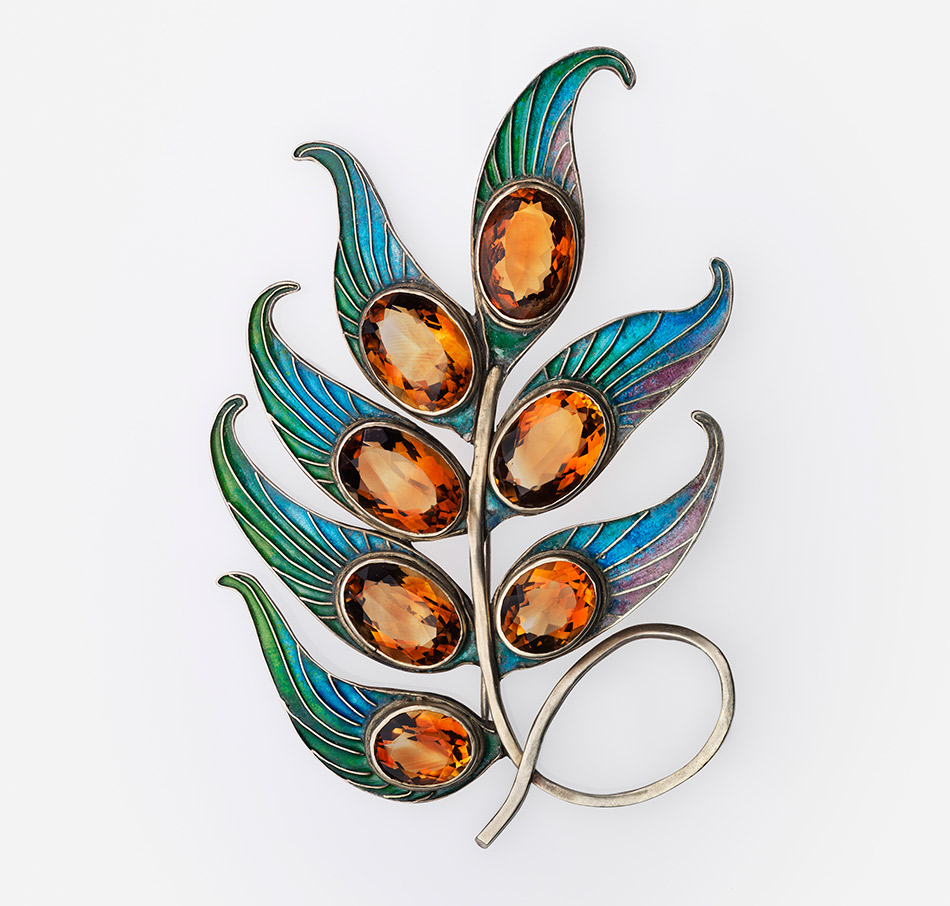 Gertrude S. Twichell (estadounidense, 1889–1943) Americano, principios del siglo XX. Plata, esmalte, citrino. * Terry y Paul Somerson. * Cortesía, Museo de Bellas Artes, Boston.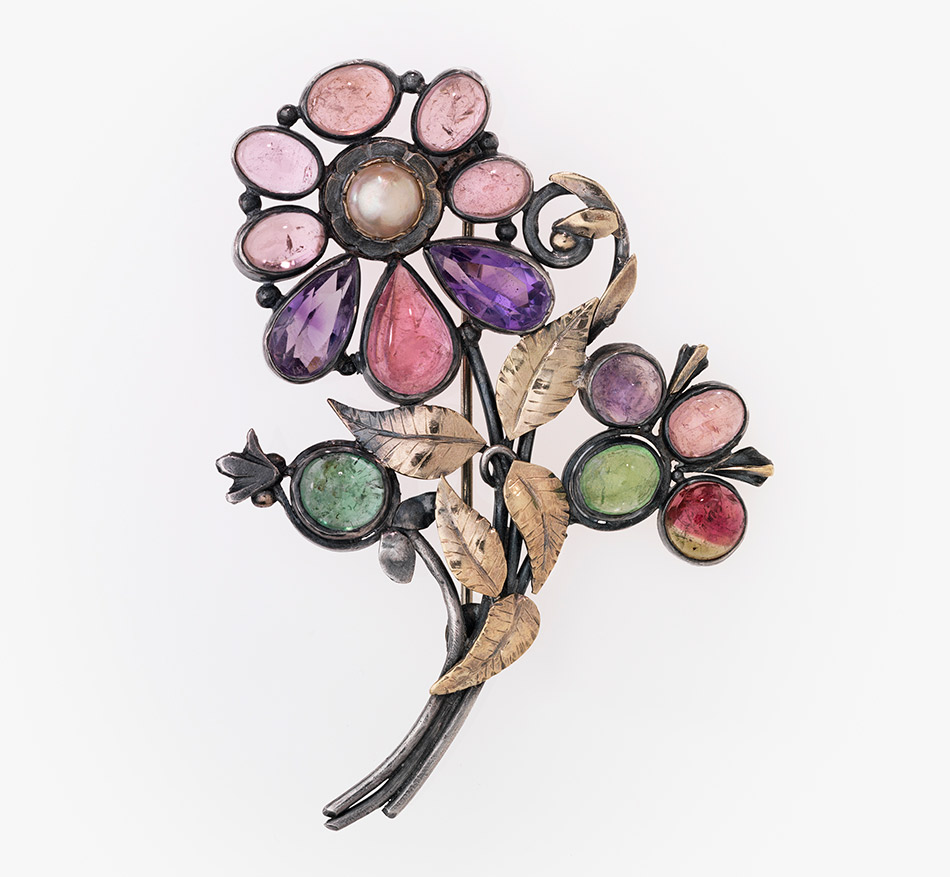 Jessie Ames Dunbar, (American, 1876–1957) Brooch. Silver, gold, red tourmaline (rubellite), amethyst, watermelon  tourmaline. *On loan from the family of the artist. *Courtesy, Museum of Fine Arts, Boston
    Work by each of these women is rare, and some of the examples in the exhibition, such as Bush's turquoise and gold brooch (1911–27, Collection of Aram Berberian and Rosalie Berberian), will be shown publicly for the first time in generations.


The Contextualized Age 
The exhibition explore the defining characteristics of Boston Arts and Crafts jewelry and metalwork, including color, materials and influence of historical styles. Additionally, a woman's dress (about 1906) and a painting—The New Necklace (1910) by William McGregor Paxton (1869–1941)—from the era contextualize the jewelry on view, illustrating how it would have been paired with clothing in the 20th century.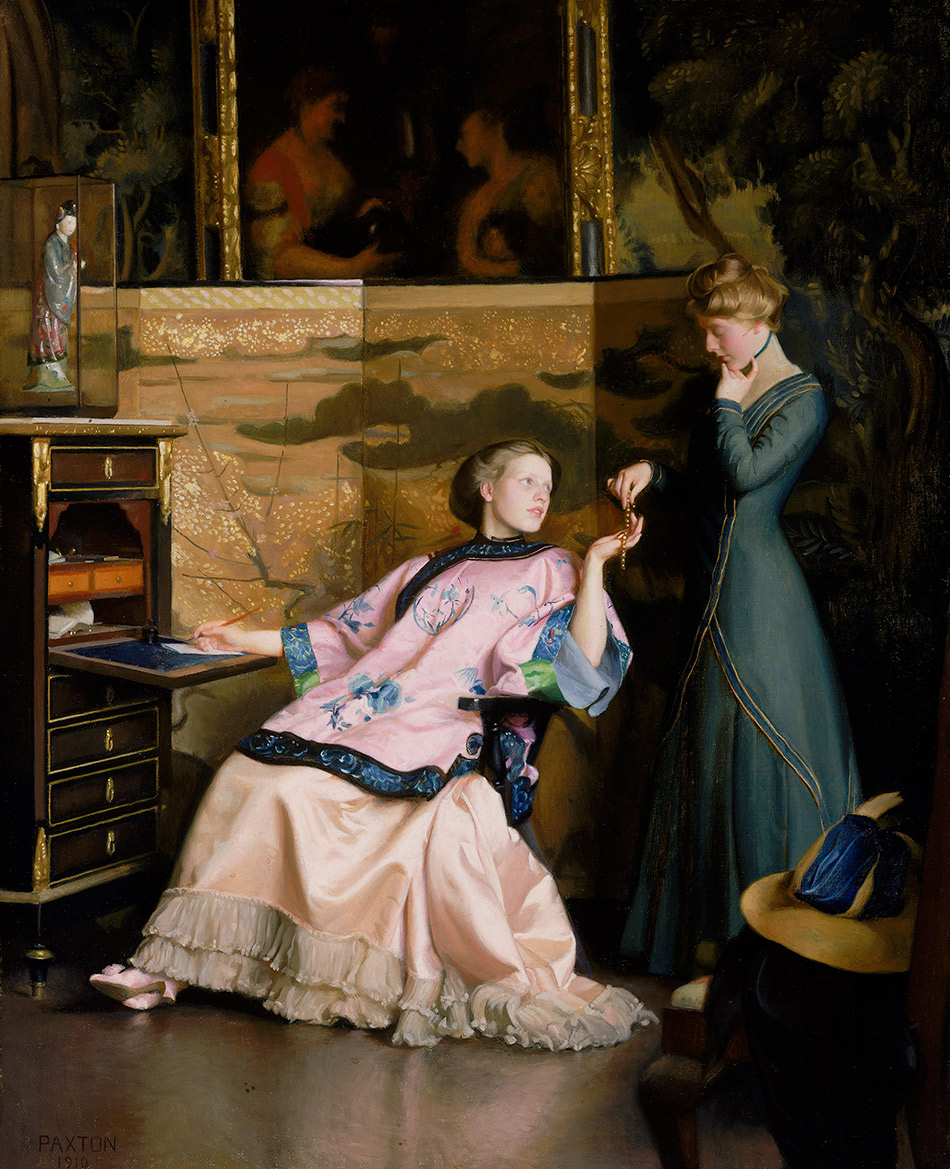 The New Necklace, 1910, William McGregor Paxton (American, 1869–1941) Oil on canvas. *Museum of Fine Arts, Boston. Zoe Oliver Sherman Collection. *Photograph © Museum of Fine Arts, Boston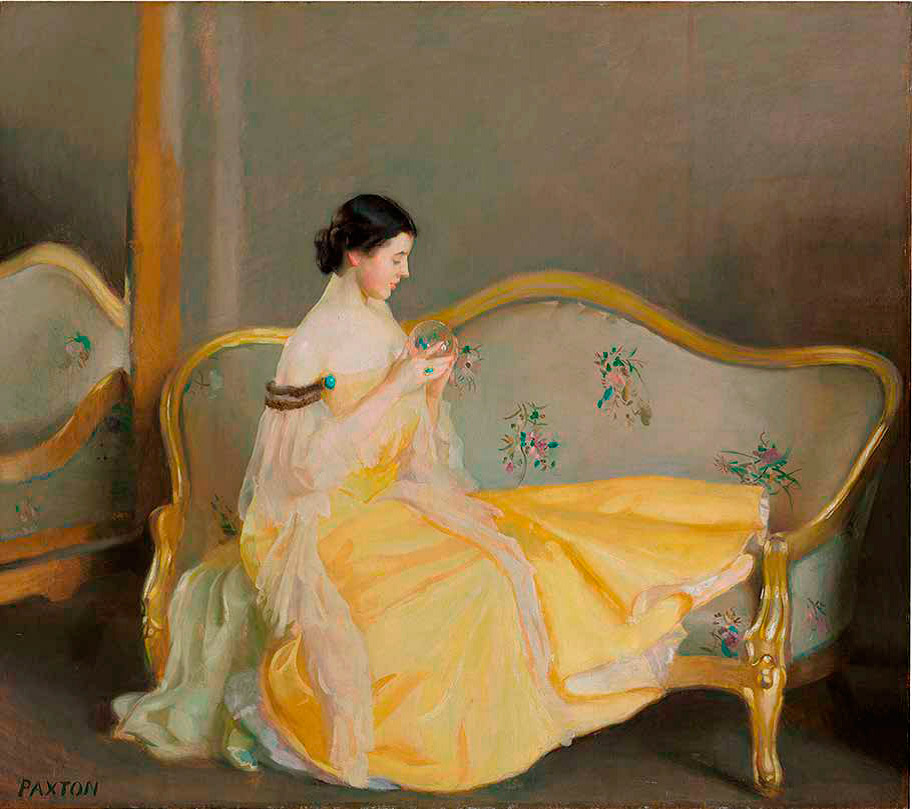 In The Crystal, William McGregor Paxton depicts his wife, Elizabeth Oakie, seated and wearing a yellow evening dress while contemplating a translucent orb. Pinned to her sleeve is a brooch quite similar to the one seen in the portrait of Paxton's mother, and on her right hand is a matching turquoise ring.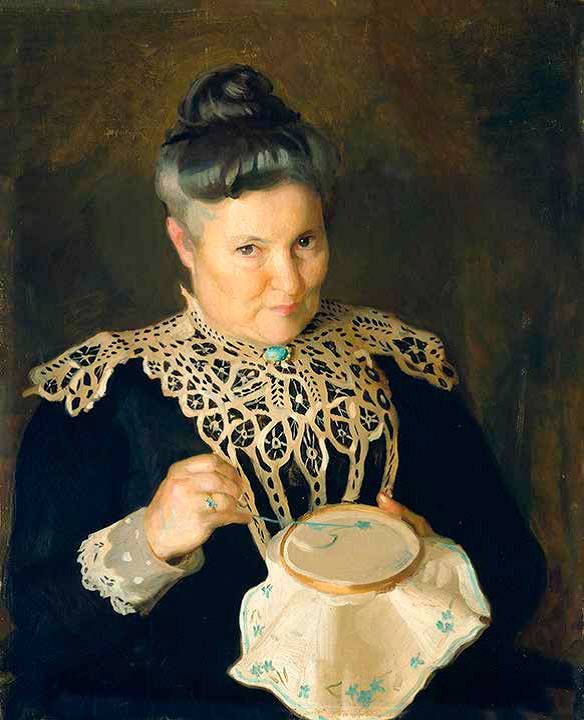 Brooches are very versatile ornaments. Here, William McGregor Paxton
portrays his mother wearing a black dress with an elaborate lace collar
 and a gold and turquoise brooch positioned at the neckline


THE FRANK GARDNER HALE ARCHIVE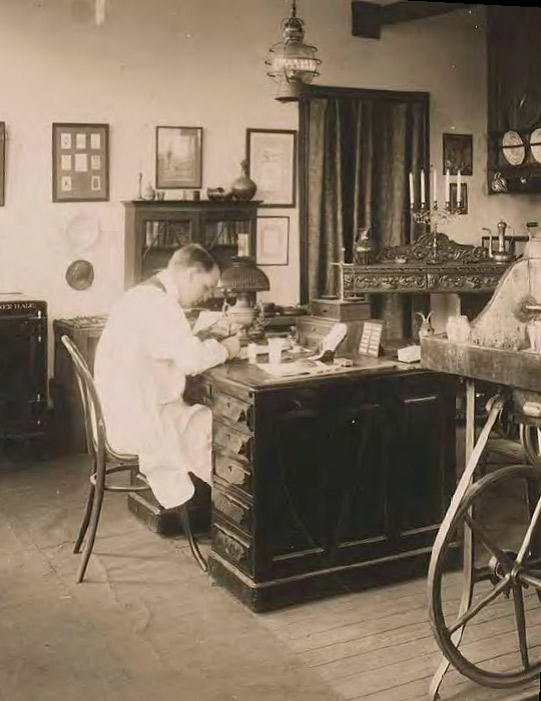 The Frank Gardner Hale Archive at the Museum of Fine Arts, Boston, contains a substantial compilation of original designs for jewelry, photographs, lecture notes, press clippings, correspondence, and other ephemera related to the artist's career as a jeweler. The material remained in the family until it was acquired by the MFA in 2014.

    Among the most compelling materials in the archive are scrapbooks containing original watercolor and graphite designs and photographs of Hale's jewelry—in particular, two large scrapbooks that appear to have been compiled after Hale's death, likely by his wife, Julia Dwight Hale. 
    Almost all of the drawings have pencil annotations indicating materials to be used. The specificity of these annotations indicates that the compiler had access to detailed information from Hale's records or from the correspondence on which the designs were originally drawn.

    The drawings are loosely arranged by color of the primary stone or by jewelry type, rather than chronology; the organization appears to be primarily aesthetic, forming a visual record of Hale's oeuvre in scale and materials. Regrettably, dates and client names are almost never discernible, as the sheets were cut to preserve only the jewelry designs.
Scrapbook paper designs from Frank Gardner Hale's archive
Museum of Fine Arts, Boston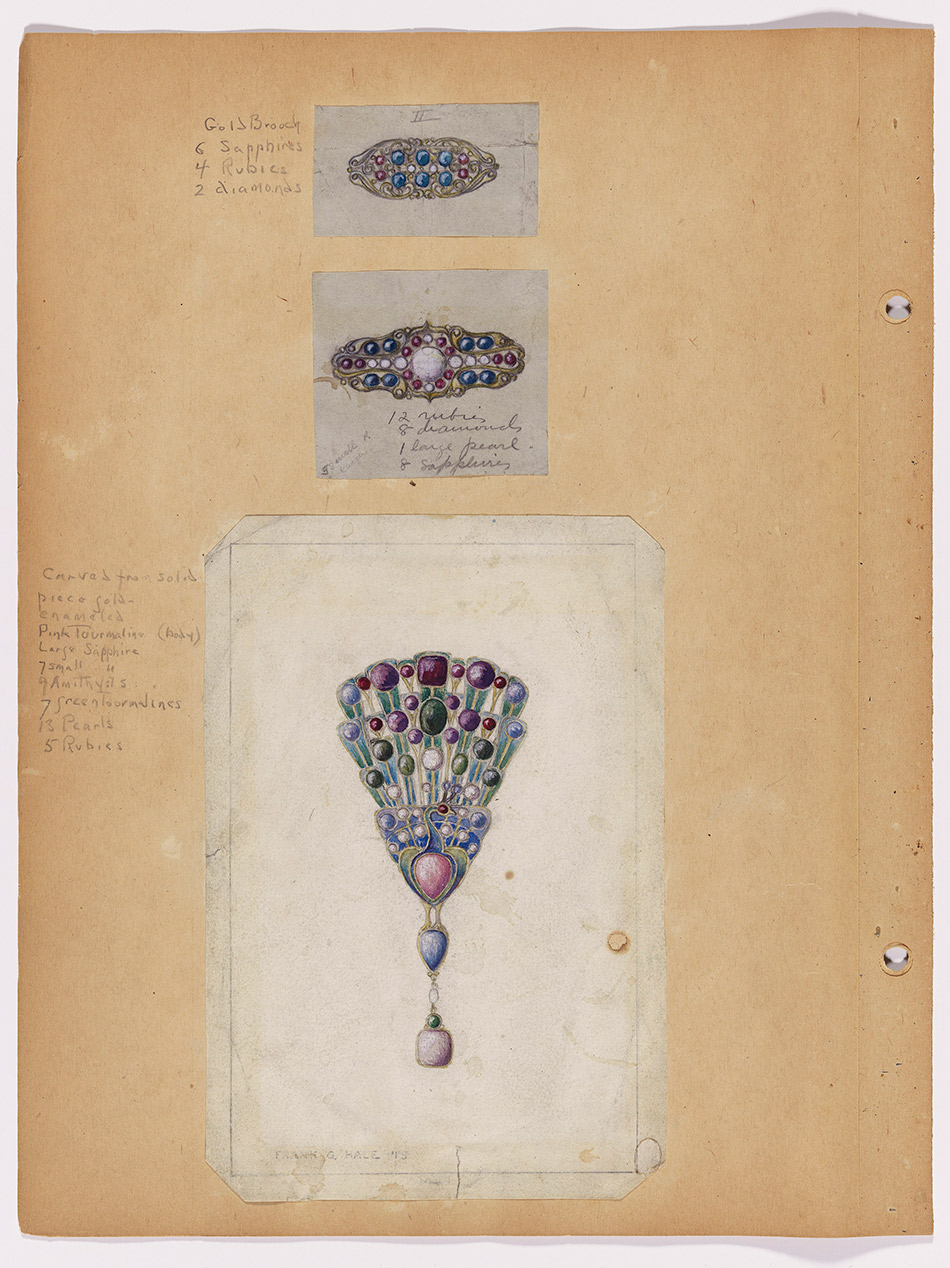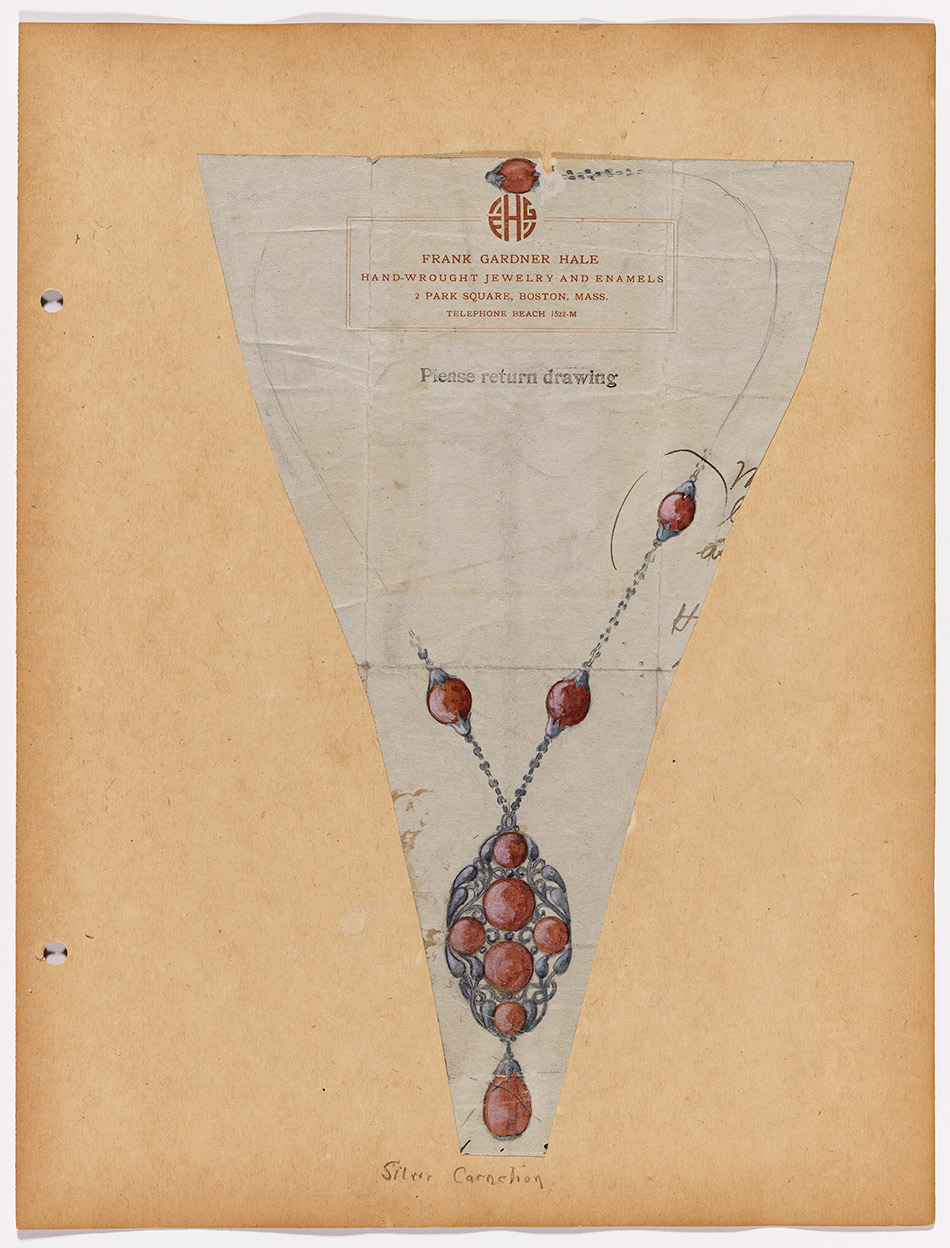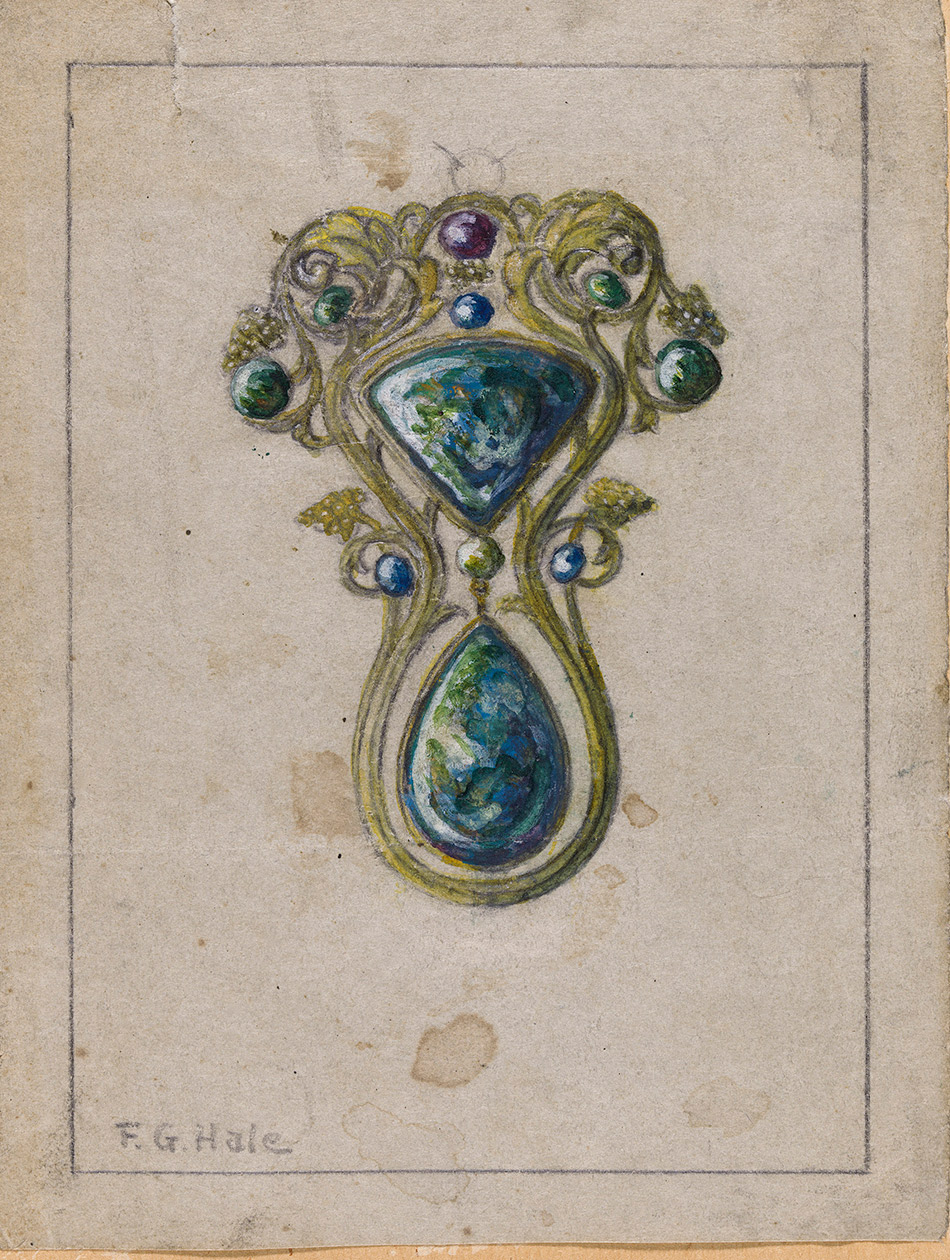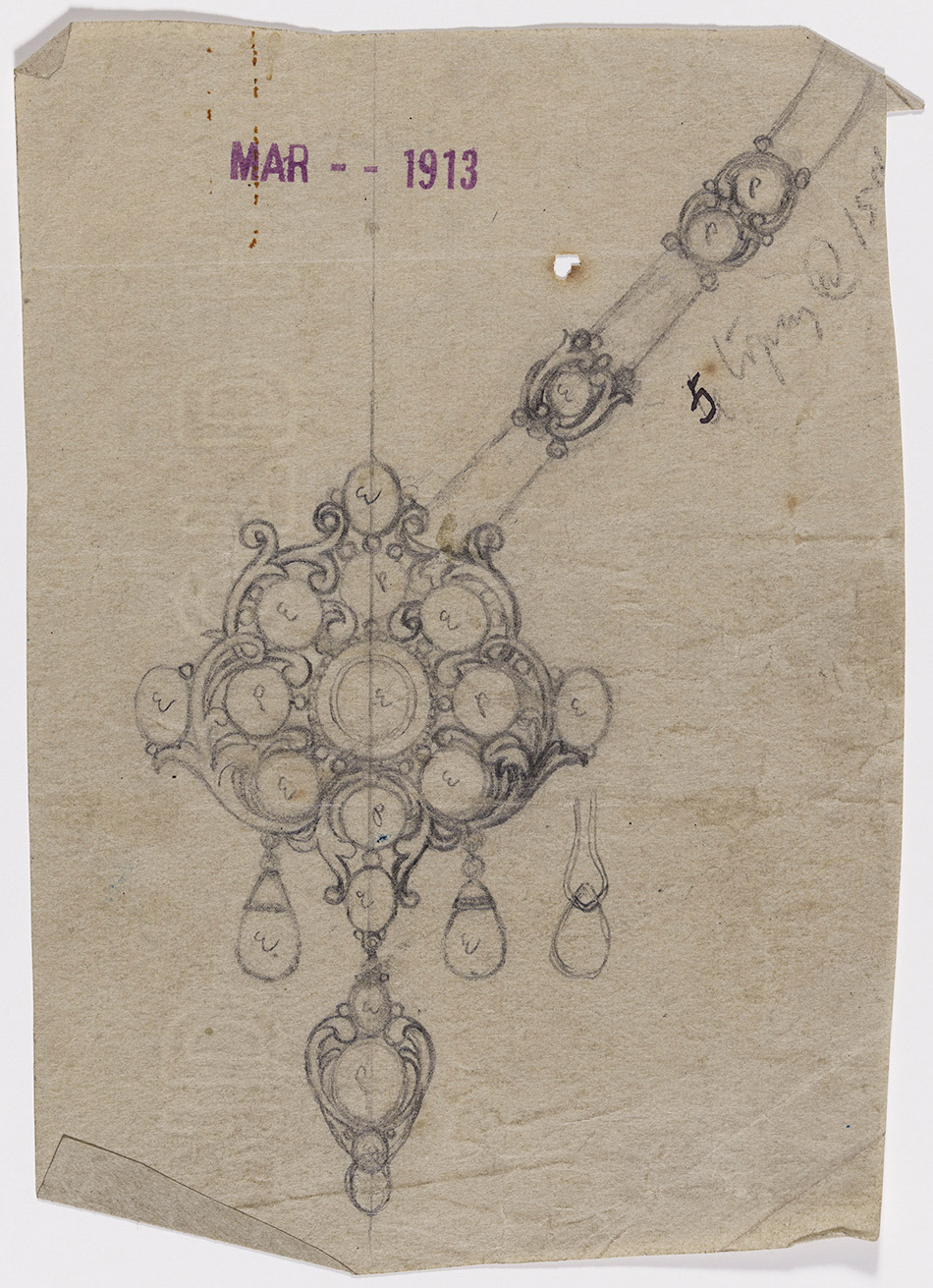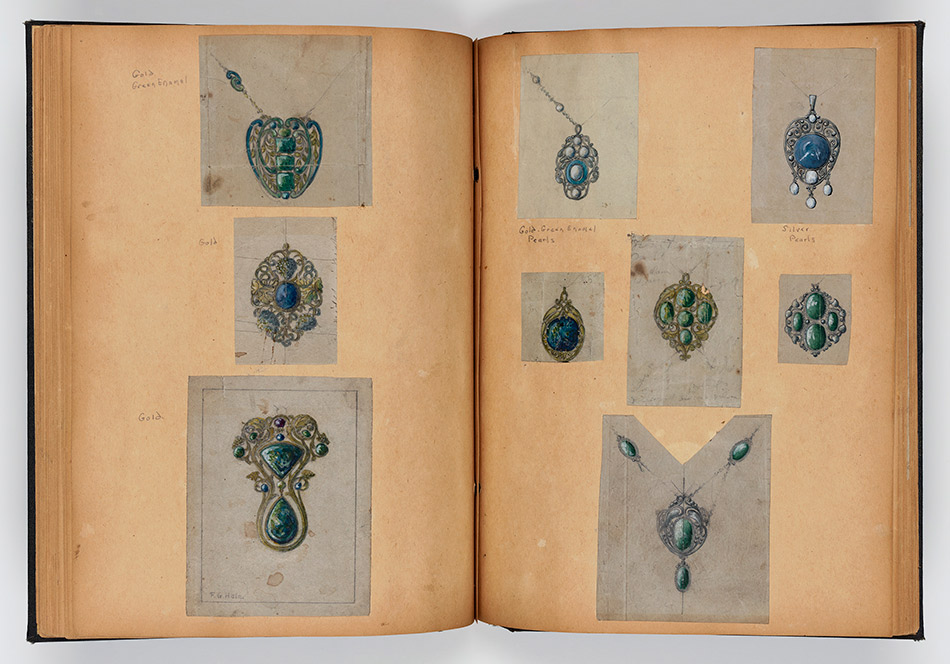 Organization. The exhibition was co-organized by Nonie Gadsden, Katharine Lane Weems Senior Curator of American Decorative Arts and Sculpture; Meghan Melvin, Jean S. and Frederic A. Sharf Curator of Design; and Emily Stoehrer, Rita J. Kaplan and Susan B. Kaplan Curator of Jewelry.
Sponsors. Presented with support from the Rita J. and Stanley H. Kaplan Family Foundation, Inc. / Susan B. Kaplan, Jean S. and Frederic A. Sharf, and Dyann and Peter Wirth.

The CATALOGUE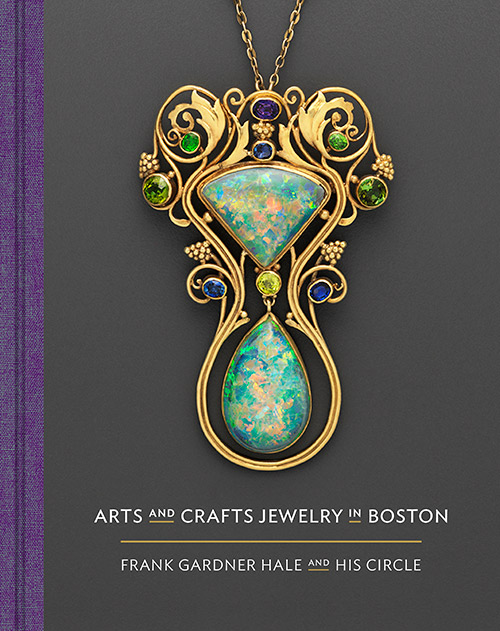 Arts and Crafts Jewelry in Boston:
Frank Gardner Hale and His Circle
Authors: Nonie Gadsden, Meghan Melvin and Emily Stoehrer
Hardcover: 224 pages
Language: English
Dimensions: 8 x 0.5 x 10 inches
Publisher: MFA Publications,  (November 2018)
ISBN-10: 0878468579
ISBN-13: 978-0878468577
The catalogue reproduces dozens of ornaments in dazzling color, accompanied by design drawings from the extensive Frank Gardner Hale Archive at the MFA.
The authoritative text by scholars of jewelry and design history explores how Hale and his contemporaries expressed Arts and Crafts principles in the creation of jewels of enduring allure. Generous support for the publication was provided by the Andrew W. Mellon Publications Fund.
SEE ALSO ABOUT JEWELS  
GOLDEN KINGDOM, Luxury and Legacy in the Ancient Americas, Metropolitan Museum of Art
EAST MEETS WEST, Jewels of the Maharajas from The Al Thani Collection, Legion de Honor Museum
MAGNIFICENT GEMS, Medieval Treasure Bindings, The Morgan Library & Museum
READ MY PINS, The Madeleine Albright Collection, Legion de Honor Museum
JOAQUIM CAPDEVILA, Book
VER TAMBIÉN SOBRE JOYAS              
EL CUERPO TRANSFORMADO, Metropolitan Museum of Art
GOLDEN KINGDOMS, Lujo y legado en las antiguas Américas, Metropolitan Museum of Art
JOYAS DE LOS MAHARAJAS, Museo Legion de Honor
EL LIBRO JOYA, Lujo en la Edad Media, The Morgan Library & Museum
LEE MIS BROCHES, Colección de Madeleine Albright, Museo Legion de Honor
JOYA TIBETANA Y DEL HIMALAYA, Colección privada
JOAQUIM CAPDEVILA, Libro en idioma catalán
MUSEUM OF FINE ARTS, BOSTON
Avenue of the Arts  465 Huntington Avenue
  Boston, Massachusetts 02115  617-267-9300
https://www.mfa.org/