Read My Pins
The Madeleine Albright Collection

November 19, 2016 – January 29, 2017

Pins and Brooches with political message
Yet the jewelry's true interest lies not in their materials or monetary value but in the roles they played during her political service: Albright used her pins as silent yet visually outspoken codes to foreign officials and the press. Pins could be adopted for various reasons—a shining sun or a patriotic flag would reinforce a positive alliance with the United States, for example, while more difficult negotiations might bring out wasps or snakes.
More than 200 jewels with creative design
Read My Pins presents a remarkable range of pins and brooches from the personal collection of Madeleine Albright. The majority of these pieces were collected and worn during Albright's service as US Ambassador to the United Nations (1993–1997) and as the first female Secretary of State (1997–2001), under President Bill Clinton. The assortment is eclectic, international, and representative of nearly a century of jewelry design.
Albright served the US government during a remarkable period in history, and many of the notable landmarks of her tenure can be decoded through the visual iconography of her pins. These pieces document and symbolize moments of political upheaval and also convey the patriotism of this Czechoslovakian-born diplomat. Whereas George H. W. Bush famously said "Read my lips" to convey a campaign promise, Albright encouraged, "Read my pins," demonstrating that jewelry had become part of her personal diplomatic arsenal. These objects became delicate instruments with which she applied pressure during intense negotiations, and into which she invested humor as she represented the United States on the international stage.
The Pins, the Brooches and the messages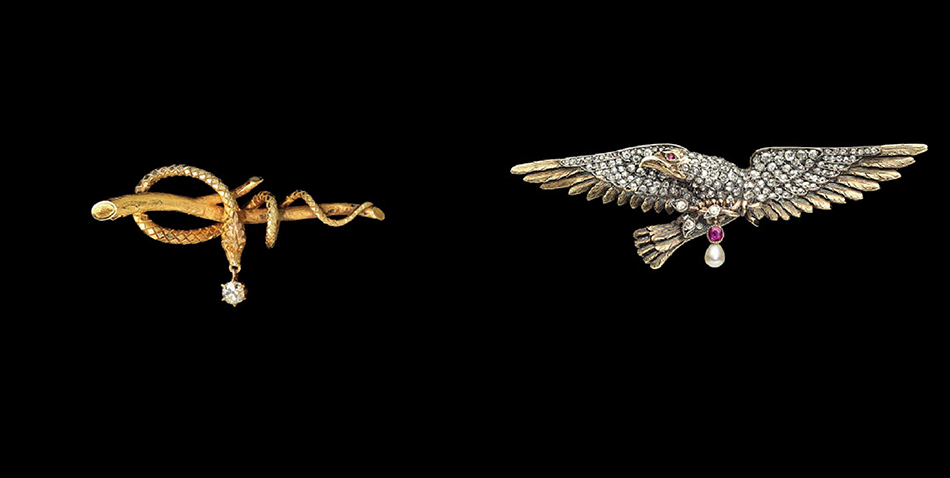 LEFT: Serpent, circa 1860. Designer unknown. Photography: John Bigelow TaylorSecretary Albright wore this serpent pin to meet with Iraqi officials in October 1994. It was her way of sending a message after being referred to as an "unparalleled serpent" in the Iraqi press.RIGHT: Secretary of State Diamond Eagle, circa 1890. Designer: Unknown. Photography: John Bigelow TaylorWorn by Secretary Albright in 1997 during her oath of office as the first female Secretary of State of the United States of America.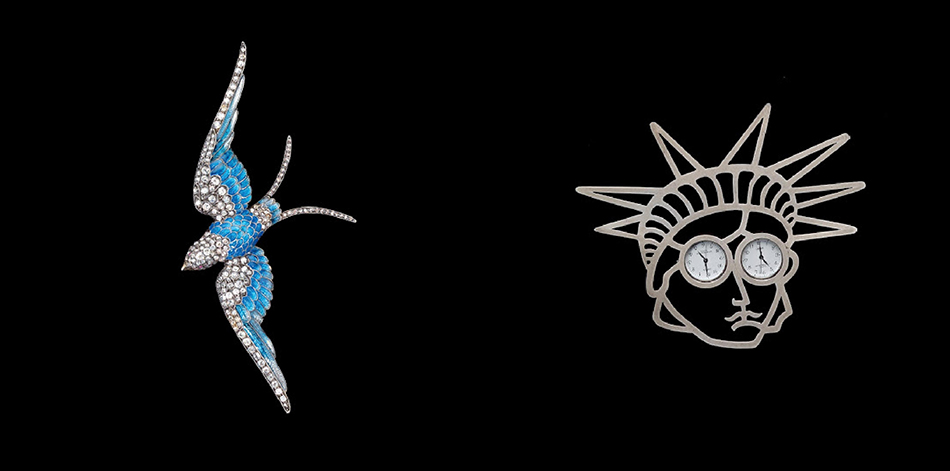 LEFT: Blue Bird, circa 1880. Designer: Anton Lachmann. Photography: John Bigelow Taylor In 1996, airplanes carrying four Cuban-American fliers were shot down off the coast of Florida. At a press conference, Secretary Albright wore the blue bird pin with its head pointing down in mourning of the victims.
RIGHT: Liberty, circa 1997. Designer: Gijs Bakker. Photography: John Bigelow TaylorJewelers from around the world were invited to create pins that would send messages of their own. The clocks are arranged so that Secretary Albright and who ever she is speaking with can read the clock simultaneously.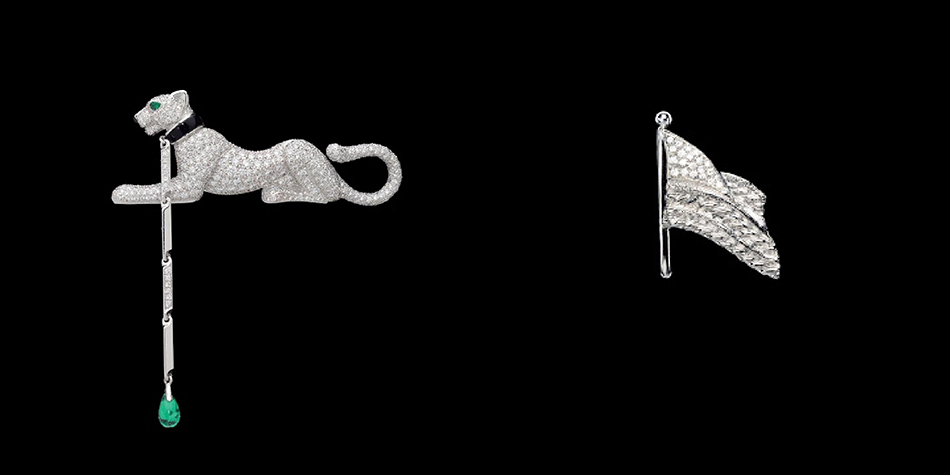 LEFT: Panther, circa 2003. Designer: Katel Riou, Cartier. Photography: John Bigelow TaylorIn her tenure, Secretary Albright supported a diplomatic initiative, the Kimberley Process, to ensure much-coveted stones are traded legitimately.
RIGHT: 9/11 Flag, circa 2001. Designer: David Yurman. Photography: John Bigelow TaylorDavid Yurman created this American flag pin in support of families affected by 9/11.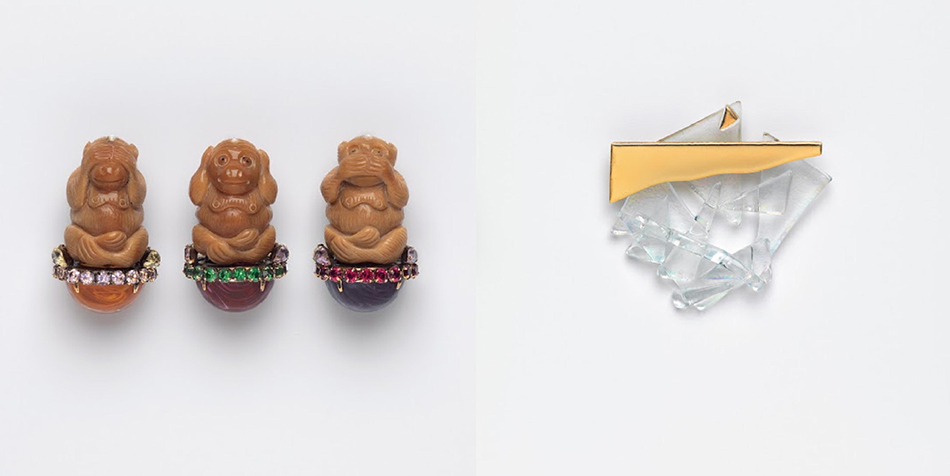 LEFT: Hear No Evil, Speak No Evil, See No Evil, 2000. Designer: Iradj Moini. Photography: John Bigelow TaylorSecretary Albright wore the monkey pins on a visit to Moscow for a meeting with Russian President Vladimir Putin. In her memoir, Albright says "he saw no evil" and denied human rights violations were being committed.
RIGHT: Breaking the Glass Ceiling, 1992. Designer: Vivian Shimoyama. Photography: John Bigelow TaylorSecretary Albright's pin reflects the glass ceiling in her ideal condition: shattered. This pin was most recently seen at the 2016 Democratic National Convention in Philadelphia.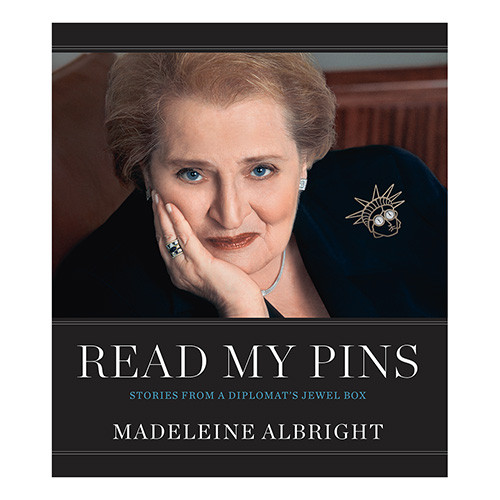 Catalogue
Hardcover, 176 pages
$ 45
From New York Times: Bestselling author and former secretary of state Madeleine Albright, Read My Pins is a story and celebration of how one woman's jewelry collection was used to make diplomatic history. Exploring the use of the pin or brooch as a means of personal and diplomatic expression and featuring a gallery of fascinating photographs, this unique, intimate, and revealing biography offers a whole new side of Secretary Albright, one of our most beloved public servants. 
A Conversation with Madeleine Albright
Sponsors
This exhibition is being presented in San Francisco with appreciation to the following sponsors: Katie Albright and Jake Schatz, Dagmar Dolby, Ambassador James Hormel, Ambassador Eleni Kounalakis and Markos Kounalakis, Laura and Gary Lauder, Jillian Manus, Diane L. Morris, Diana Nelson and John, Atwater, Barbro and Bernard Osher, and the Lisa and John Pritzker Family Fund. Additional support is provided by the Susie Tompkins Buell Fund. Generous support for this exhibition has been provided by Bren Simon. Support for the catalogue has been provided by St. John Knits.
"Read My Pins: The Madeleine Albright Collection"
has been organized by the Museum of Arts and Design, New York.
SEE ALSO ABOUT JEWELS  
GOLDEN KINGDOM, Luxury and Legacy in the Ancient Americas, Metropolitan Museum of Art
BOSTON MADE, Arts and Crafts Jewelry and Metalwork, Museum of Fine Arts, Boston
EAST MEETS WEST, Jewels of the Maharajas from The Al Thani Collection, Legion de Honor Museum
MAGNIFICENT GEMS, Medieval Treasure Bindings, The Morgan Library & Museum
JOAQUIM CAPDEVILA, Book
VER TAMBIÉN SOBRE JOYAS              
EL CUERPO TRANSFORMADO, Metropolitan Museum of Art
GOLDEN KINGDOMS, Lujo y legado en las antiguas Américas, Metropolitan Museum of Art
JOYAS DE LOS MAHARAJAS, Museo Legion de Honor
EL LIBRO JOYA, Lujo en la Edad Media, The Morgan Library & Museum
LEE MIS BROCHES, Colección de Madeleine Albright, Museo Legion de Honor
JOYA TIBETANA Y DEL HIMALAYA, Colección privada
JOAQUIM CAPDEVILA, Libro en idioma catalán
Legion of Honor
Lincoln Park | 100 34th Avenue
San Francisco, CA 94121 | 415.750.3600
Link to the Museum Website:
http://legionofhonor.famsf.org/exhibitions/read-my-pins-madeleine-albright-collection